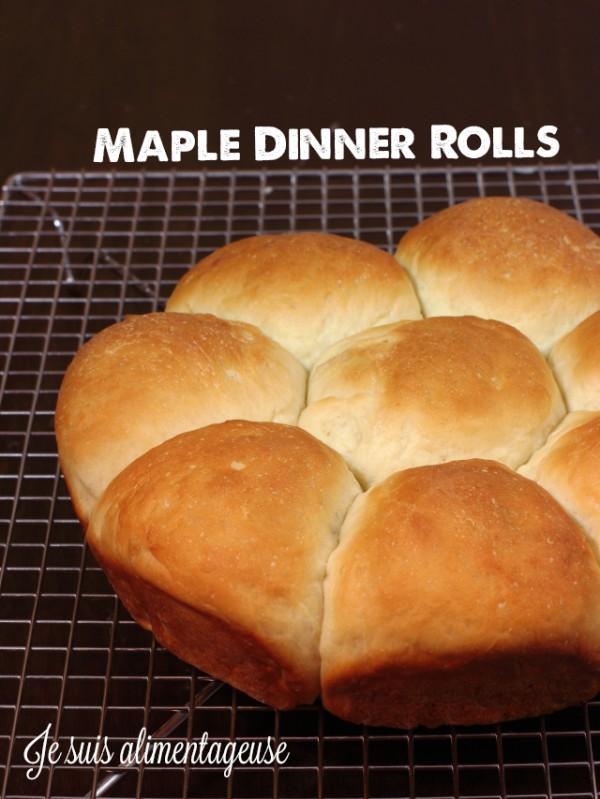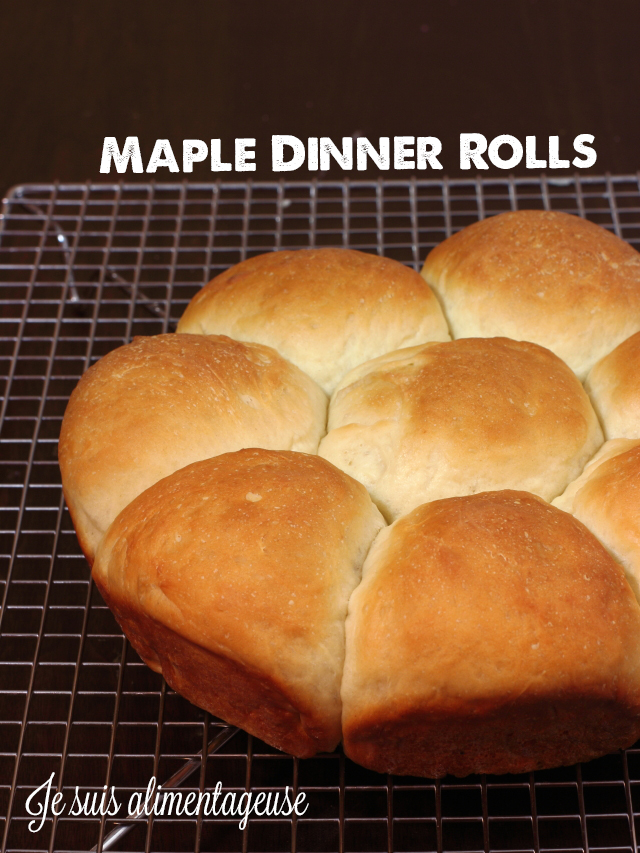 I've been a little obsessed with bread lately. I know it's probably not the greatest for my hips, but damn it's good for my tastebuds. I had been angsting about my inability to bake bread until I finally tried making dinner rolls before Christmas. They were good, but not my best. And then I tried it again with these vegan maple dinner rolls and they turned out so well. Awesome, even. Fluffy, but not so fluffy that when you take a bite, the bread seems to just flatten into a thin pancake lined by the edges of your bite.
Fresh from the oven, these vegan maple dinner rolls were warm, melting in your mouth with a hint of maple flavour (amp it up to 1/4 cup maple syrup and reduce the amount of water if you want it more maple-y). Perfect for these chilly winter days that have been nipping at my nose whenever I'm outside. But I love bread so much, it's a problem. I love the smell of my house when bread's baking in the oven. It's just too wonderful.
I'm going to get carried away with my love for this bread…I'd better get to today's Happy & Healthy Saturday post: New Years Resolutions. Mine this year is something that came up in my last post was about the New Year's party I attended. In the midst of a slightly buzzed conversation, both my confident alter-ego and I agreed that I was average looking. Not pretty. Just average.
Nobody should think themselves as average. Or ugly. Wouldn't the world be a better place if they found beauty in everyone? Especially themselves. If people thought they were beautiful, they wouldn't feel the need to conform to other people's ideas of beauty. Nobody would feel the need to tear someone else down to make themselves feel better. We wouldn't have tabloids picking apart people's bodies for every flaw. Pretty much we'd have world peace if we thought we were beautiful.
Right..?
Anyway, it become one of my resolutions: To find beauty in myself.
And I think you should too. It's not a change in perspective that can happen overnight. I'm not going to fall in love with my broad shoulders overnight. Or my oversized calves that make boot shopping difficult. Or my dry skin in the winters.
But you know what we all can do?
We can find the little things about ourselves that we love.
And see those instead of the flaws in the mirror. See what's beautiful about you.
I'll go first. It's a little awkward, talking about what I love about myself, but if I'm ever going to see myself as more than average… it needs to be done. Not just things you like. Not just things you deem pretty.
Things you love. Things you think are beautiful.
It may just be crickets out there in the comments because nobody wants to go first, although, I guess I technically went first…but I think it's something important. So bear with me. I want you to share what you think is beautiful about yourself. What do you love about yourself?
I love my hair. I love my lips. I love the nape of my neck. I love my smile. I love the inside of my wrists (I know it's weird, haha).
I am learning to love my body. It's hard, and it's a never ending battle. But it's going to happen. My resolution this year is to love my body. And I hope you will too (if you don't already).
So now it's your turn! Tell me what you love about yourself. Please don't leave me hanging out here.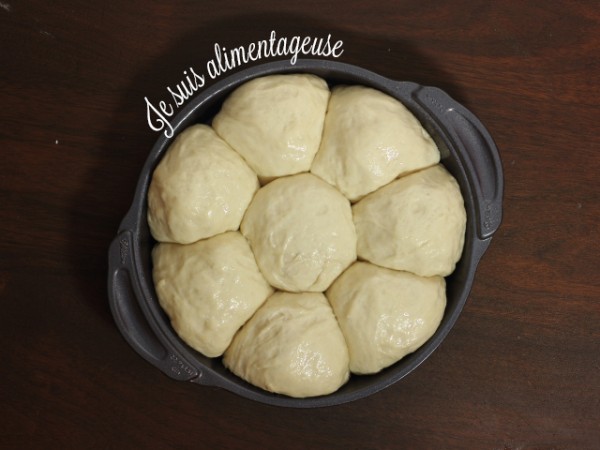 I hope you enjoy the recipe for these vegan maple dinner rolls. If you want them to be more maple-y, as I mentioned before, increase the amount of maple syrup, decrease the amount of water, and you may also need to decrease the amount of flour (just go about 1/2 cup at a time, adding bit by bit when you hit the 2 cup mark to see if you need more).
To see what the other H&H bloggers wrote, check out the links below!

Recipe adapted from Angela's Vegan Fluffy White Dinner Rolls on Oh She Glows
Vegan Maple Dinner Rolls
Ingredients
1 package active dry yeast (2 1/4 tsp)
1 cup warm water
3 tbsp maple syrup
2 tbsp melted coconut oil (not too hot or it'll kill the yeast) + more for the bowl, pan, and to brush on top.
1 egg replacer (1 tsp egg replacer + 2 Tbsp warm water)
1 tsp sea salt
2 1/2-3/4 cups flour
Instructions
Stir together the active dry yeast, warm water, and maple syrup and let sit for about 10 minutes until foamy. Add the melted coconut oil and egg replacer and mix until combined.
Gradually add in the salt and 2 cups flour, using a dough hook with your stand mixer or your hands until sticky. Add the remaining 1/2 cup flour a little bit at a time, until the dough either starts to pull from the sides of the mixing bowl. The dough will still be a little sticky, but not so sticky that it won't come off your hands easily.
Let the dough rise in a warm place in a well-oiled bowl (turn the dough to coat in oil). Cover with plastic wrap and let rise until doubled in volume for about 45 minutes. Gently punch down the dough and start dividing into small balls (I did 8 large rolls, but the original recipe divided them into 12). Place them into a lightly-oiled 9-inch baking pan/pie pan and let rise again in a warm place/above the preheating oven. until they fill the pan (about another 15-20 minutes). Preheat oven to 400F at this point.
Brush about 1 tbsp of melted coconut oil on top of the buns to get a nice, golden sheen when baked. Bake for 20-25 minutes until the buns have risen and become a nice, golden brown.
Remove from oven and let cool. Enjoy warm, but once cooled to room temperature, store in an airtight bag/container.