Vegan meringue nests are a festive make-ahead dessert for the holidays
that are actually pretty simple to make but they look impressive.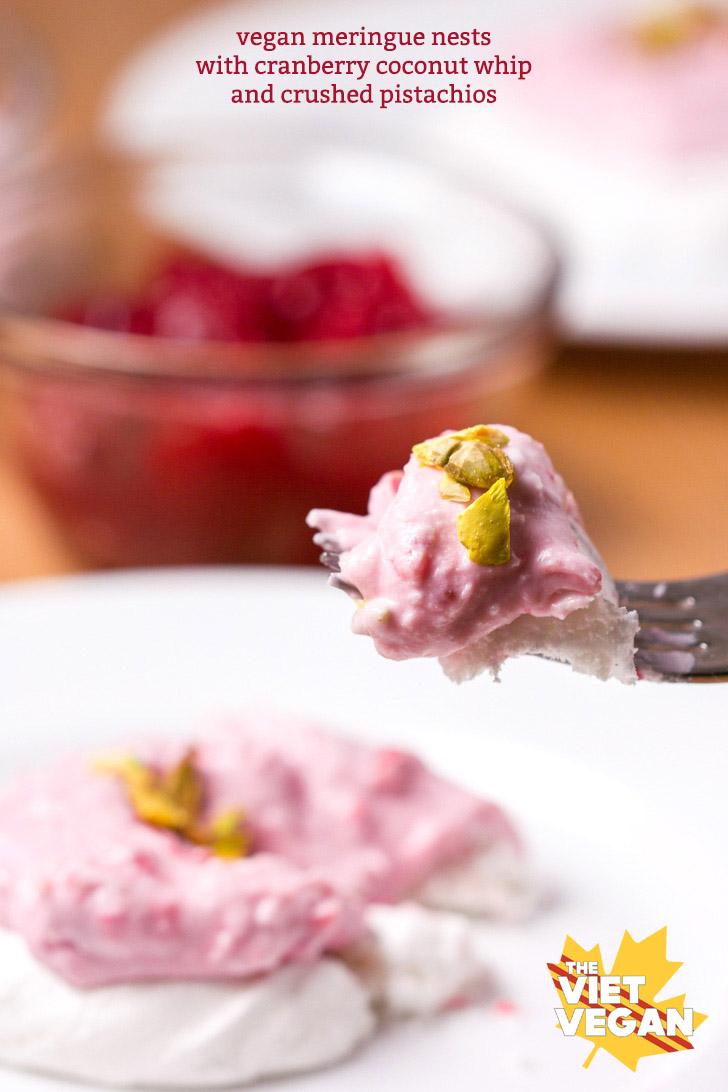 This week is a busy week for TVV. I actually was supposed to post my food blogger cookie swap recipe yesterday but I totally didn't post it because I got too busy with work, but I'll post to tomorrow. It's a BOMB snickerdoodle recipe though, so you should probably watch out for it tomorrow (in your inbox, in your IG feed, y'know, however you find yourself here these days). Today's post is a part of the Vegan Mystery Box Challenge!
VMBC is hosted by Sam from It Doesn't Taste Like Chicken and Andrew from One Ingredient Chef. Basically, Sam and Andrew pick some ingredients—Chopped-style—and challenge a ton of other bloggers to get creative and make something with it. This challenge included cranberries, coconut milk, and pistachios!
This year, the vegan world was exploding with possibilities thanks to aquafaba, aka chickpea water (like the stuff most people just pour off from the can). Earlier this summer, I experimented with this super awesome meringue adapted from Goose Wohlt, the genius behind the discover that is aquafaba.
There are so many things I want to try! Macarons (remember when I was obsessed with these things pre-vegan days?!), lemon meringue pie, marshmallows, swiss meringue buttercream, mousse, choux pastry!! So many things that weren't possible for vegans are now perfectly plant-based. AHH I'M SO EXCITED. Burrito Boy always kind of laughs at me every time I get frazzled with excitement about veganizing foods I love.
These meringue nests are elegant, wonderfully crisp on the outside and chewy on the inside. The cranberry coconut whip is rich and just sweet enough when combined with the meringues, and then you sprinkle some pistachios on top. It's a texture bomb of awesome: crisp, light, crunchy, chewy, and creamy!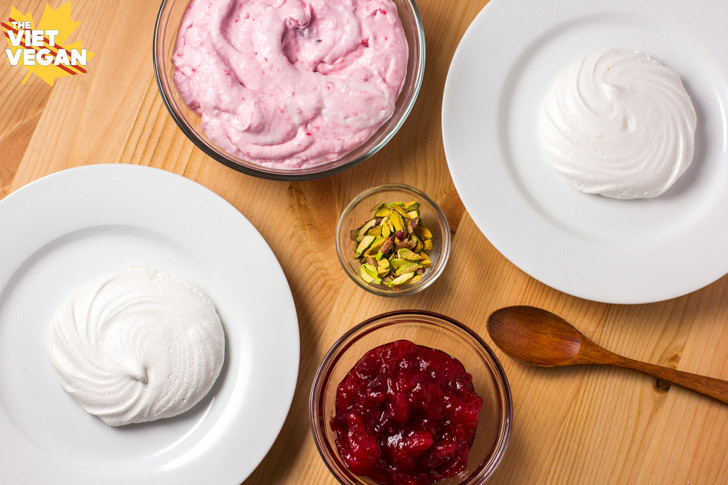 With Christmas coming up, lots of people are planning their holiday feasts and desserts, and these vegan meringue nests are something you can make up to 3 or 4 days ahead of time. During feast when the desserts come rolling around, you don't need to worry about making room in the oven for these. Cranberry sauce is already on the menu (another thing that's easy to make ahead), so just grab a couple tablespoons of it, a can of coconut milk and a handful of pistachios and you're good to go.
Check out the other VMBC posts! So much vegan goodness!
Stay tuned for my snickerdoodle recipe coming out tomorrow, friends.

Yield: 16-24
Vegan Meringues Nests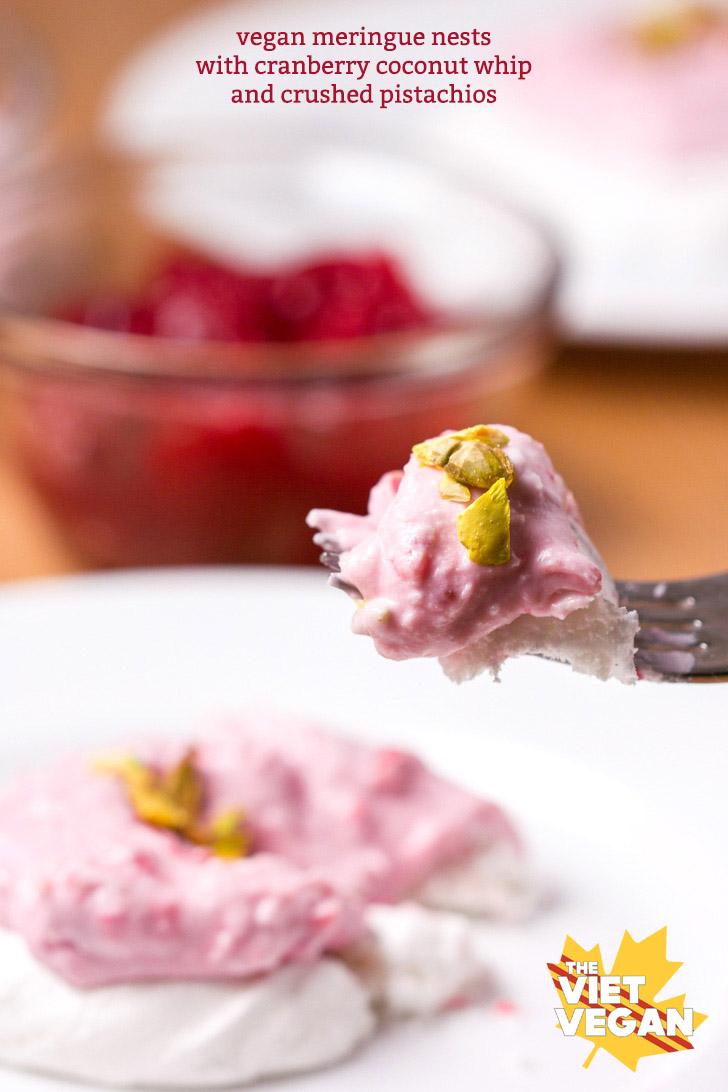 Cook Time
1 hour
30 minutes
Ingredients
1 1/4 cup white granulated sugar
3/4 cup aquafaba (canned chickpea water, strained)
1 can full fat coconut milk, refrigerated overnight
3 tbsp of your favourite cranberry sauce*
1/4 cup crushed pistachios
Instructions
For the meringues:
Using a small blender or food processor, pulse the white granulated sugar until fine but not powdery—like castor sugar. Set aside.
Preheat oven to 200ªF/95ºC.
Using an electric beater or stand mixer, beat the aquafaba on low for about 2 minutes until foamy. Turn up to beat on high until you get stiff peaks.
Stop the mixer and add in 1 tbsp of the ultrafine sugar. Start beating slowly to incorporate then increase speed to the highest until sugar is incorporated. Repeat until all sugar is added. Beat well until you have a very glossy meringue. Dip the tip of your finger in the meringue and rub it between your fingers—you should not feel any grains of sugar. Whip the meringue until all sugar is dissolved.
Transfer mixture to a piping bag fitted with a star tip (doesn't matter which star tip really, whichever you like).
Onto a prepared baking sheet (with parchment paper or Silpats) pipe 2.5-3 inch circles of the meringue to make the cookies. For a more traditional "nest" shape, Start in the middle, pipe outwards and pipe a second layer on top of the outer layer to make the nest shape. I didn't do that, but you definitely can.
Bake meringues for 1.5 hours at 200ªF, then turn off the heat, crack the oven, and let them cool and set inside the oven. Basically walk away for an hour or so. Once cool, remove from oven and remove from parchment paper or Silpats.
To prepare the cranberry coconut whip:
Remove your can of coconut milk from the fridge and open it up.
Pour out the liquid (add it to smoothies or baked goods) and scoop out the coconut cream.
In a large mixing bowl, whisk the cream with the cranberry sauce until combined.
To assemble just before serving:
Spoon a heaping tablespoon of the whip over meringues and sprinkle some crushed pistachios on top. Enjoy with a fork or be a rebel like me and just eat it with your hands.
Notes
* I'd give you a recipe for the cranberry sauce but I just sort of threw a bag of cranberries, maybe half a cup of sugar, and some meyer lemon juice in a pot and cooked until it resembled cranberry sauce