This vegan miso spinach pesto pasta is the perfect way
to use up that ambitious amount of spinach you bought
and get some greens in ya!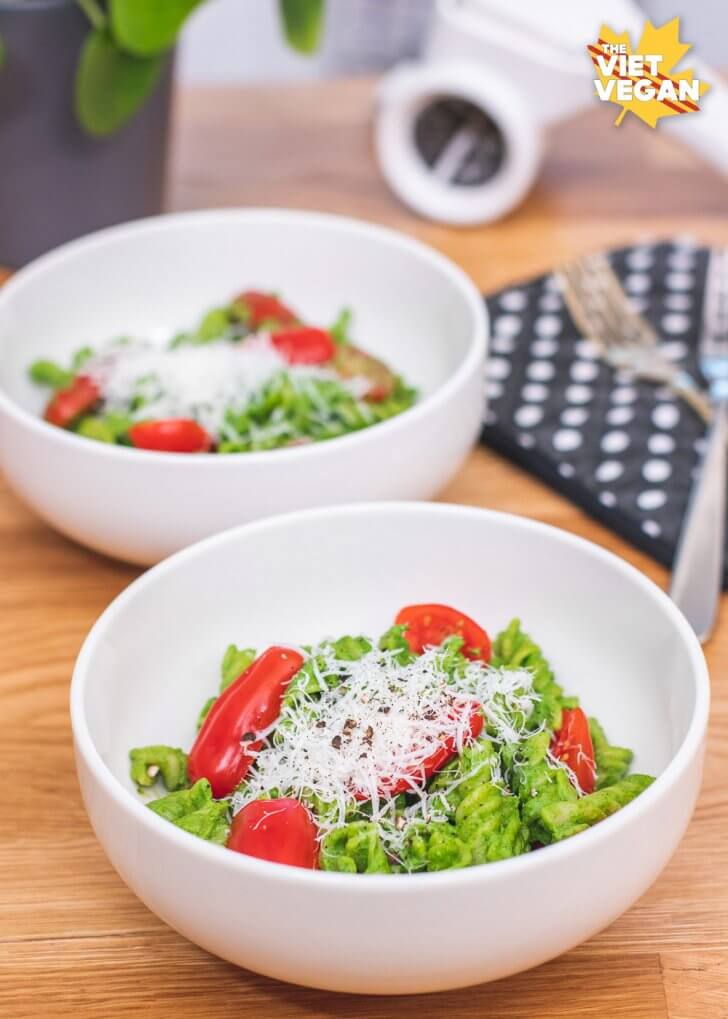 Happy long weekend! Spring is here and it's full of rain, gloomy weather, and the tease of a bright sunny day for the brief moment a little sun peeks through the clouds. But the past few days have been nothing but chilly weather and a constant state of dampness I do not approve of. The only thing that's good about this weather is that it's perfect for a cozy bowl of this vegan miso spinach pesto pasta!
Now that things are finally totally unpacked, all we have left to do is put some art on the walls and get back to our normal lives! I finally set up the lights and camera and filmed my first recipe video in the new kitchen. I'm so much happier with this space. It's bright, light, and finally accessible for my stove for cooking on camera.
I won't be using my gas stove except for cooking Beyond Sausage and Beyond Meat Burgers outside. Otherwise, my house and furniture will smell like cat food for a couple days haha.
We've even started to have a proper tidying/cleaning routine in the morning and after dinner. Our kitchen is generally quite clean and ready for friendship, and our living room is game for having people stop by. It feels good to finally have a space we love.
Now that I'm getting back into my work routine, I've also been inspired to cook more, clean out the fridge more regularly, and stay on top of our pantry stores. Stay tuned for more recipes coming to the blog, and even more Vietnamese recipes!
Also for anyone wondering what kind of cheese I used to grate over my pasta, this is it. I bought it at Fortino's, I have no idea the brand name, all I know is that it's vegan and is from Italy and really good XD
Inspired by Crazy Vegan Kitchen