I'm at a certain point in my life where there are people around me who are just sailing through life. They're getting married, buying houses, having kids, getting new jobs doing exactly what they want to do…I love it. I love that my friends are successful. Surrounding myself with successful people inspires me to be more successful, but at a certain point, I can feel these external influences feeding into that little voice in my back of my head being like, "Lisa, you are never going to be able to afford a house," or "Lisa, you can barely manage your time for your work, blog, and social life now, how could you ever have time for a kid?".
There are so many things I want to do and I just don't have the time or the money for them. I'm trying to eat out less, spend less, waste less food. My mom raised me to focus on what I need, not what I want, but nobody really ever breaks it to you how hard that is. Especially when it comes to random cute stuff…I bought a Luna (as in Sailor Moon Luna) hat that is SO CUTE and I love it. I don't regret the purchase but that was definitely a want over a need.
Not counting the hat, over the last few years, I've started to really look at the things I have in my hands before I buy them and ask myself, "Do I really need this?"
It's helped me curb a lot of impulse purchases that probably would have just cluttered up my space and it's made me really think about what I want in my life. I only buy kitchen appliances that I need and love. I pick out sheets that I could wake up with every day and be happy. I spend out where I think it's productive, but I could probably spend even less on key items that I think I need.
It's a little overwhelming because even after my efforts over the last year or so, I'm still not as set as I'd like to be. I'm still wasting more food than I'd like, still spending a little too much on takeout and restaurants, but I think I'm still making progress. Eating more at home has definitely helped, and eating an actually filling breakfast at home has prevented me from buying a snack or a meal while I'm out.
Enter a warm bowl of hot oatmeal. I've mentioned this before on the blog, but growing up I was not a fan of oatmeal. It was too mushy, too soft…not enough contrasting texture. But I've since learned that the keys to delicious oatmeal are first, cooking it on the stovetop, and second, the stuff you put on top of it. Extra protein with pumpkin seeds and hemp seeds, a little extra flavour with coconut, and of course, I'm back at it with some California Cling peaches because those babies are juicy AF—preservative-free and usually packed in their own juice because SCIENCE! Gotta love canning. Plus, according to a study done at Oregon State University, canned peaches have 4x more Vitamin C and 10x more folate than fresh peaches. So that's pretty cool.
For the pictures, I only put in 4 slices, but after I took the shot I added another 4 slices of peaches to my bowl, because let's be real that's the best part (and I'm not just saying that because this is sponsored). Eddie kept telling me to stop eating the peaches out of the can because I wouldn't have enough for him/the photos.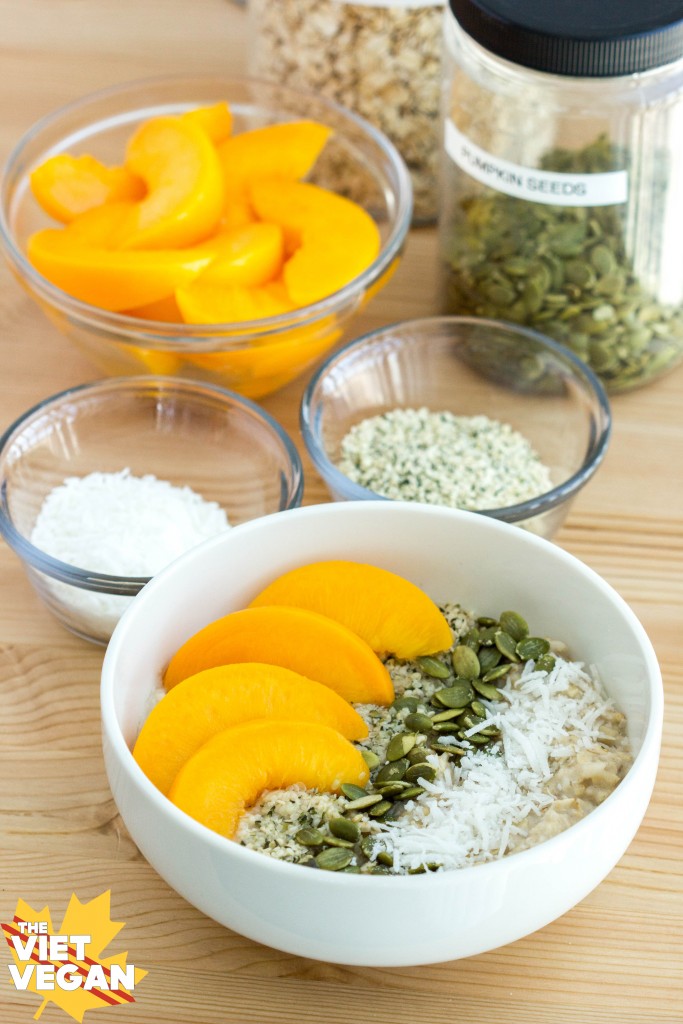 If you want to make these oats SUPER creamy, you could try substituting some of the water for soy creamer or soy milk, to get sort of a peaches and cream effect, but honestly I prefer my oats to just be with water. You do you. Just make sure you add peaches. Feel free to add other things as well: dried cranberries, flax seed, coconut butter, almond butter… YUM. Happy breakfasting, folks.

Yield: 2
Oatmeal Peach Breakfast Bowl
Ingredients
2 cups old-fashioned rolled oats*
3 cups water
1 pinch of salt
8-12 slices of canned peaches, drained
2 tbsp hemp seeds
3 tbsp pumpkin seeds
2 tbsp unsweetened coconut shreds
Maple syrup to taste
Instructions
In a small saucepan over medium heat, stir to cook oats, water, and a pinch of salt. If you want your oats to be extra peachy, blend about 4-6 slices of peaches and add to the oatmeal (reduce about 1/4 cup of water). I prefer to eat the actual slices of peaches with the oatmeal, but they would impart a yummy peachy flavour.
Stir occasionally to keep oats from sticking/burning at the bottom, and remove from heat once reached desired consistency (I like them when they're gloopy with a bit of a chew still to them). Add more water if you like it to be thinner.
Divide oatmeal into two bowls and arrange canned peach slices, hemp seeds, pumpkin seeds, coconut shreds, and if you like your oats a little sweeter, add a drizzle of maple syrup.
Serve immediately and this will fill you up with energy and protein for a few hours at the least!
Notes
*If you want to make this GF, make sure you use GF Certified oats because some companies share processing plants with gluten products, which makes any celiac's bellies sad.
Disclaimer:
This recipe is sponsored by the California Cling Peach Board. All opinions are my own. They provided information about the nutritional information but I've always been a lover of canned peaches<3. I only choose to work with brands and companies I believe in, I will never write about a company I don't love. Thank you for supporting my blog by reading my sponsored posts! It's awesome to be paid for recipes I already love to make.