These vegan red curry braided dumplings are packed with fragrant curry flavour! Super easy to make and would be beautiful for celebrating Lunar New Year!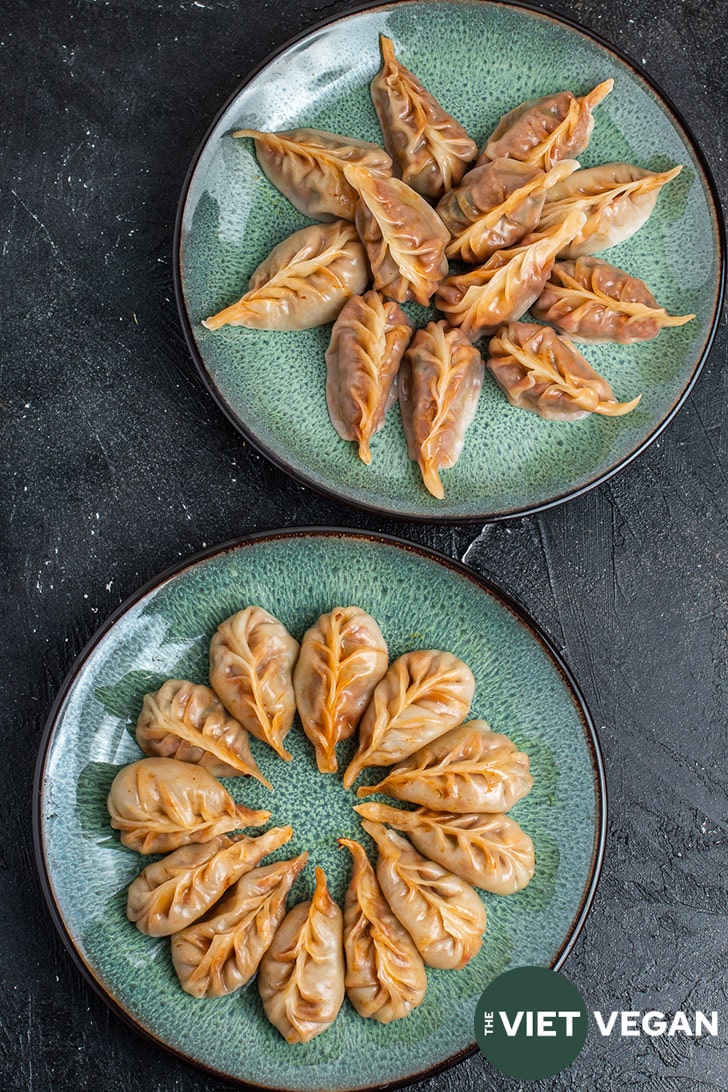 Lunar New Year celebrations are going to be a lot different for me this year and I feel a little sad that I won't be able to spend time with my family this year. I've been leaning into nostalgia and making more Asian dishes like these red curry braided dumplings to fill that void for me.
Vietnamese Lunar New Year celebrations with my family include a lot of dishes like bánh chưng, xoi gac, bánh cuốn, or bánh ít tràn. It always depends on what my family feels like cooking, but the steamed rice cakes are always a part of LNY, and this year was the year I meant to go film it at my grandparents to share the recipe.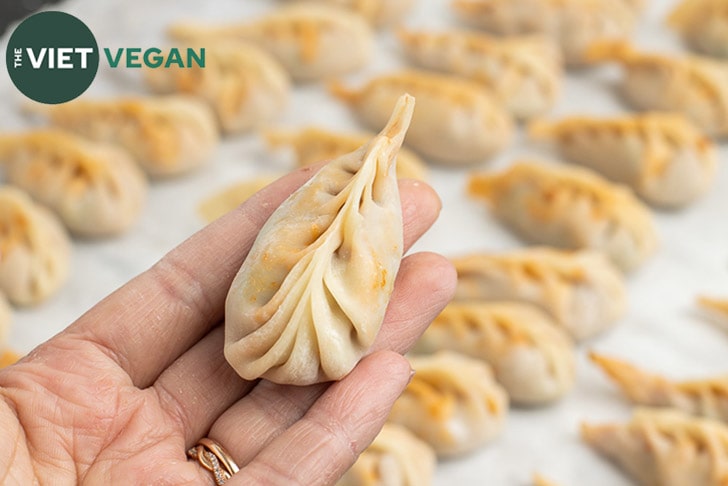 Unfortunately with shelter-in-place happening, I've opted to stay home until it's safer, so I'll be sharing some other creations to celebrate LNY instead.
I love folding dumplings, and I've shared different dumplings like vegan wontons in the past, where I like to use square-shaped wrappers to create the coin envelope fold.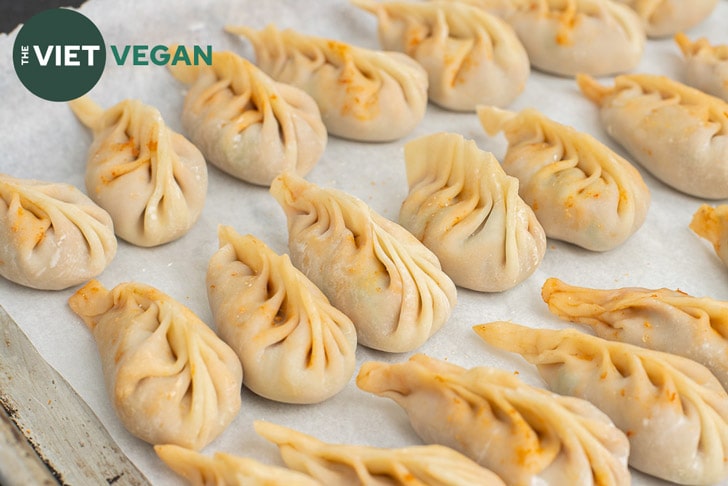 These dumplings can be folded any way you like, I typically opt for the crescent moon shape, where you pleat in the middle and fold three pleats from there, or just do what I do and pleat all the way from one side to the other, using one side as the flat side, and the other as the pleated side. It'll create a crescent shaped dumpling with a curved "shark fin" type pleat.
This time around I decided to try doing braided dumplings, where you fold three pleats on one side, then three pleats on the other, then you tuck that in and then continue to alternate pleating to create a braid down the centre. I show my method in my youtube video but I'm still not super good at it, so it's a bit difficult to see the technique clearly.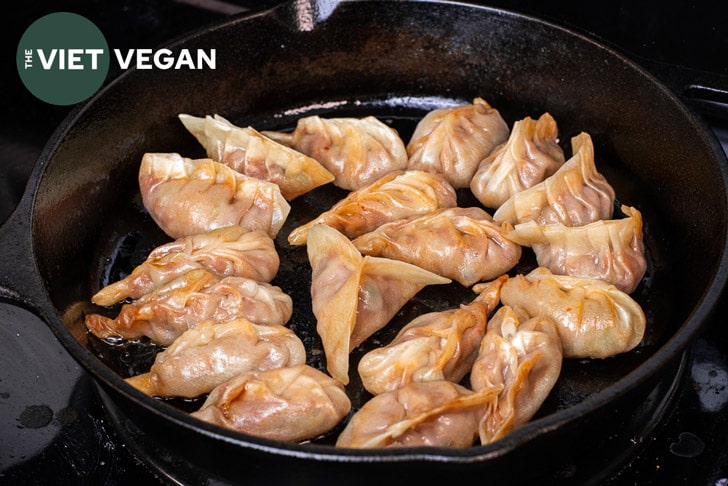 If those folding techniques sound complicated for you, feel free to do the triangle dumpling shape I have shown above, where you simply fold three sides of the circle into the centre, and create a triangle shape. It's super simple and is very easy to both eat and cook!
Whatever way you decide to fold, I recommend using a mixture of water and cornstarch (or simply just water), to wet the edge of the dumpling so that it will better adhere to itself. This helps create a better seal and will prevent your dumpling from exploding when cooked.
As you're folding, I also recommend trying to prevent too much air from being inside the dumpling. The more air you have inside, the more steam will build up and may cause your dumpling to burst.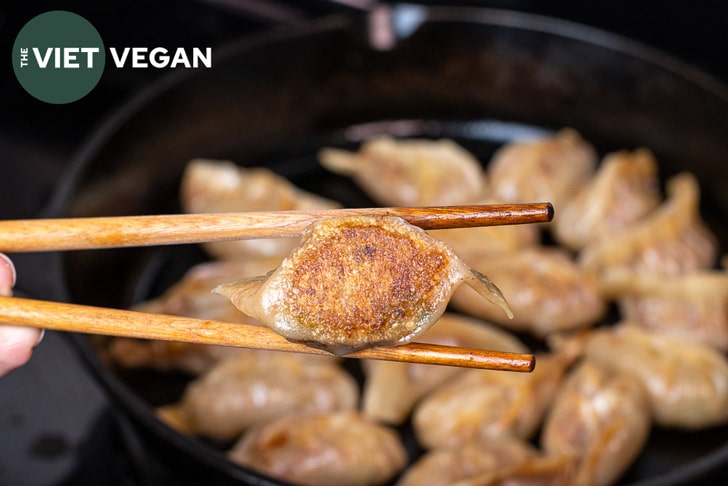 As for cooking methods, these dumplings hold up very well with either steaming or steam-frying. Steaming is quite simple: on a perforated piece of parchment paper, arrange dumplings in a single layer on a bamboo steamer basket or in a layered steamer pot, then steam for about 10 minutes until fully cooked and dumpling wrappers are tender.
For steam frying (my personal favourite way to eat dumplings), I like to coat the pan with 1-2 tbsp of vegetable oil, arrange the dumplings in a single layer, and cook for 3-4 minutes until the bottoms have just crisped and are slightly browned. Then add 1/4 cup of water around the pan, cover with a lid, and let steam to cook the tops of the dumplings. Remove the lid one the steam has evaporated (about 5 minutes), and enjoy!
The crispy bottoms with the tender filling and chewy dumpling wrappers are such a great combination of textures and flavours! These red curry braided dumplings are a party of spicy curry flavour that is super easy to put together.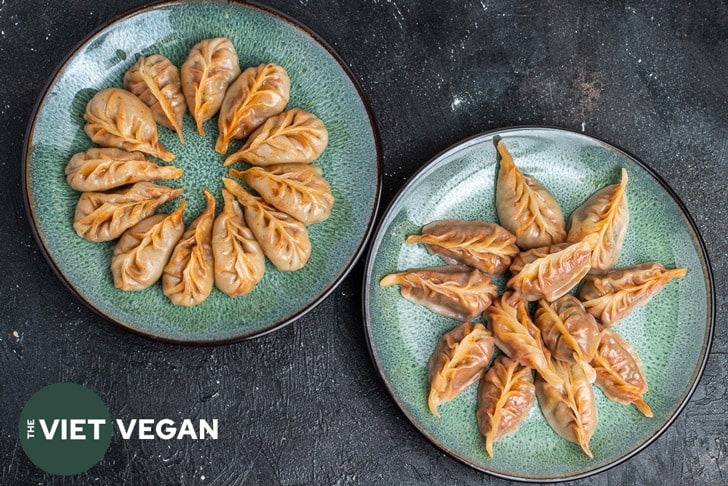 Yield: 3-4 servings
Vegan Red Curry Braided Dumplings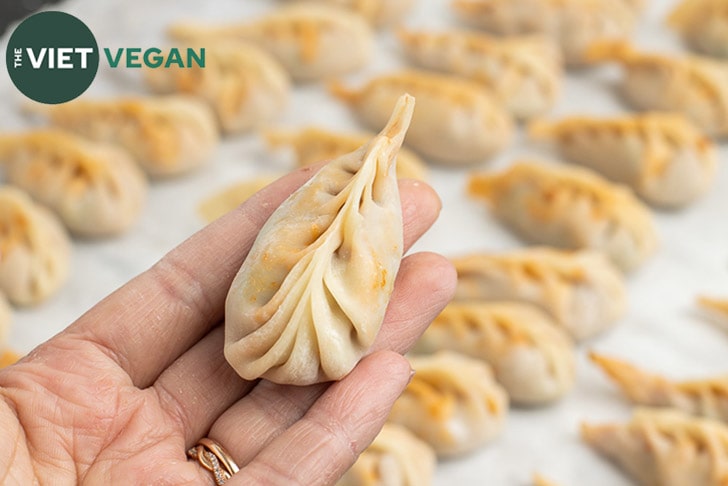 Total Time
1 hour
20 minutes
Ingredients
Red Curry Dumpling Filling
3 green onions/scallions, finely chopped
1 inch of fresh, peeled ginger, microplaned or grated
2 cloves garlic, finely minced or pressed
12 oz (340 g) vegan ground meat (I used Impossible)
2 tbsp red curry paste (use 1 tbsp if you don't like it too spicy, or switch to yellow curry paste)
1/4 cup of coconut milk
1 tbsp (15 mL) of vegan fish sauce (sub 2 tsp soy sauce if you don't have vegan fish sauce)
1 tbsp (15 mL) of soy sauce (ideally low sodium)
1/4 tsp white pepper
For the dumplings
~40 vegan dumpling wrappers
2 tbsp water
1 tsp cornstarch
1 tbsp vegetable oil
1/4 cup water (per batch of dumplings in the pan)
Instructions
In a large mixing bowl, combine green onions, garlic, grated ginger, vegan ground meat, red curry paste, coconut milk, vegan fish sauce, soy sauce, and white pepper. Mix well until everything is incorporated
To make the cornstarch slurry, combine water and cornstarch and stir well. This will be used to help seal the dumplings.
Add 1 tsp of filling to the centre of each dumpling wrapper, and use the cornstarch slurry around the edge of the dumpling and crimp to seal, using whatever dumpling shape you desire. Place folded dumplings on a parchment paper lined baking sheet, and cover with a damp tea towel to keep them from drying out. Repeat until all your filling is used up.
You can flash freeze your dumplings, then transfer to an airtight container to store for later, or move forward with cooking.
To steam fry your dumplings, preheat a heavy bottomed nonstick or well-seasoned cast iron pan over medium heat. Add 1 tbsp of vegetable oil to the pan and tilt the pan to coat. Arrange dumplings around the pan in a single layer, ensuring that each dumpling sits on a little bit of oil.
Cook for about 3-4 minutes until you see the bottoms of the dumplings begin to brown. Add 1/4 of water and cover immediately, allowing the steam to cook the dumplings through for another 4-5 minutes or until the steam fully evoraporates.
Remove the lid and serve dumplings immediately!
Alternatively, if you prefer to steam your dumplings, arrange on a parchment lined bamboo steamer basket or a lined steaming pot, and steam for 10 minutes until tender.