Bánh cuốn chay (aka Vietnamese stuffed rice rolls) are tender and chewy, stuffed with a savoury filling and topped with vegan Vietnamese dipping sauce!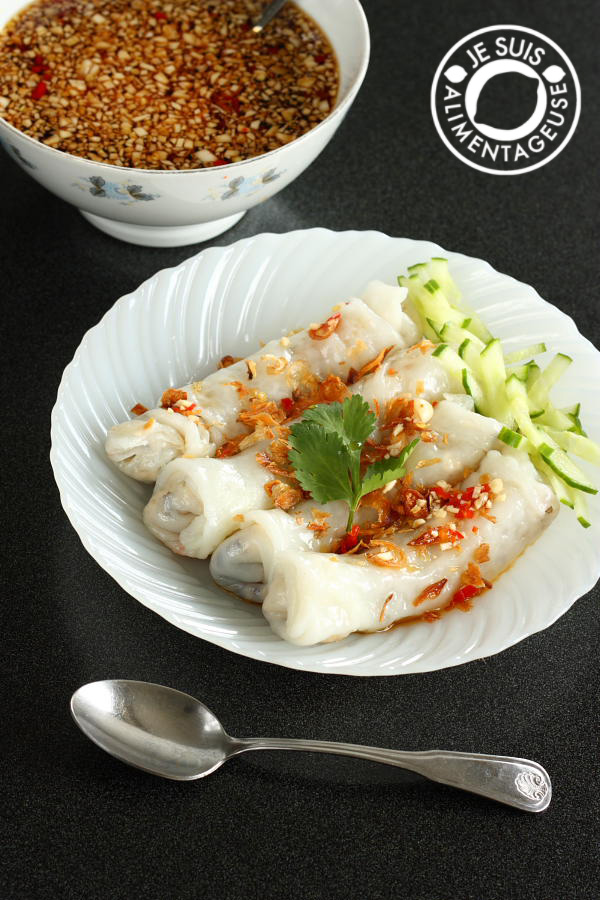 Bánh cuốn vs bánh ướt
Depending on where in Vietnam you're from, this dish is either called bánh cuốn or bánh ướt. Roughly translated, bánh cuốn means "folded cakes/noodles" while bánh ướt translates to "wet cakes/noodles". I think the English name for these would be Vietnamese steamed rice rolls, even though our version is cooked covered in an oiled pan.
I grew up knowing bánh ướt to be steamed and not pan-fried, and typically made of very thin sheets of rice noodle. Both are topped with chả lụa, aka Vietnamese sausage, cucumber, herbs, and fish sauce. But bánh cuốn tends to be stuffed.
What my family calls bánh ướt would be considered the Chinese dish, Cheung Fun, which is similar but is typically stuffed with shrimp (or dried little shrimps from the grocery store). I know lots of other Southern and Northern Vietnamese people call what I consider bánh cuốn to be bánh ướt. In any case, they're very similar dishes!
How to serve:
Typically, bánh cuốn are stuffed with a ground pork mixture, and topped with fried onions. My family serves bánh cuốn with chả lụa, and lots of extra veggies like green leaf lettuce, cucumbers, mint, and cilantro. Since my grandpa is an avid gardener, we serve these steamed rice rolls with a ton of fresh Asian herbs on top. I've been lucky to find vegan chả lụa from the Asian markets by me, so they are a must have on these steamed rice rolls.
The fish-sauce based Vietnamese dipping sauce is generously poured on top, making these rolls my absolute favourite thing to eat. When I went vegan, I thought I wouldn't be able to eat this ever again! Luckily my mom proved me wrong.
One day, she woke up early and made me these before she went to work. It was a huge platter of about 40 rolls and I was ecstatic. I had some vegetarian dipping sauce to drizzle on top and everything was perfect.
I asked my mom to teach me how to make this to share with you. I'm really thankful to my family for taking the time to teach me how to make bánh cuốn chay!
My Family's Recipe & Cooking Method:
For Mother's Day, my mom, my grandmother, and I all gathered in the kitchen to learn how to make bánh cuốn chay. My mom cooked two at a time and was a BEAST at mastering the rhythm. It was intimidating at first, but once she showed me how to do it once, I just dove in.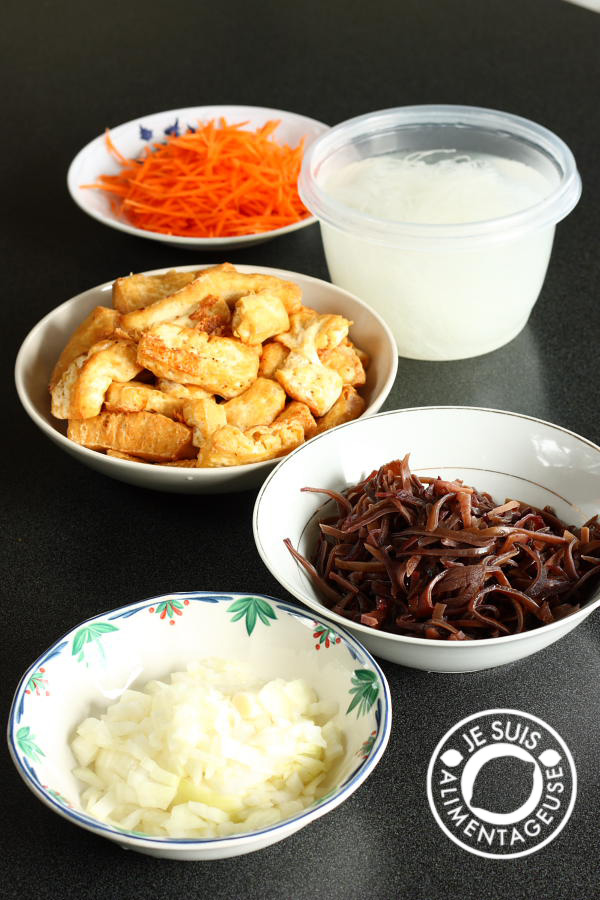 Surprisingly, I was able to get the rhythm of making these bánh cuốn chay down pretty quickly. Honestly, the most difficult part was flipping the rice crepes over flat. They kept flipping all to one side so it was a pile of rice crepe. They're quite sticky and refused to come apart (kind of like bunched cellophane).
The bottom of the crepe is smooth and oily, while the top part of the crepe is bubbly and crispy. We tuck the crisp side inside, while the outside is smooth and unctuous. Bánh cuốn chay is so good because of the combination of textures: savoury filling, chewy crepes, crunchy fried onions, and crisp freshness from the greens? It's a classic.
Yield: 30-40 rolls (about 6-8 servings)
Banh cuon chay - Vietnamese Vegetarian Stuffed Rice Rolls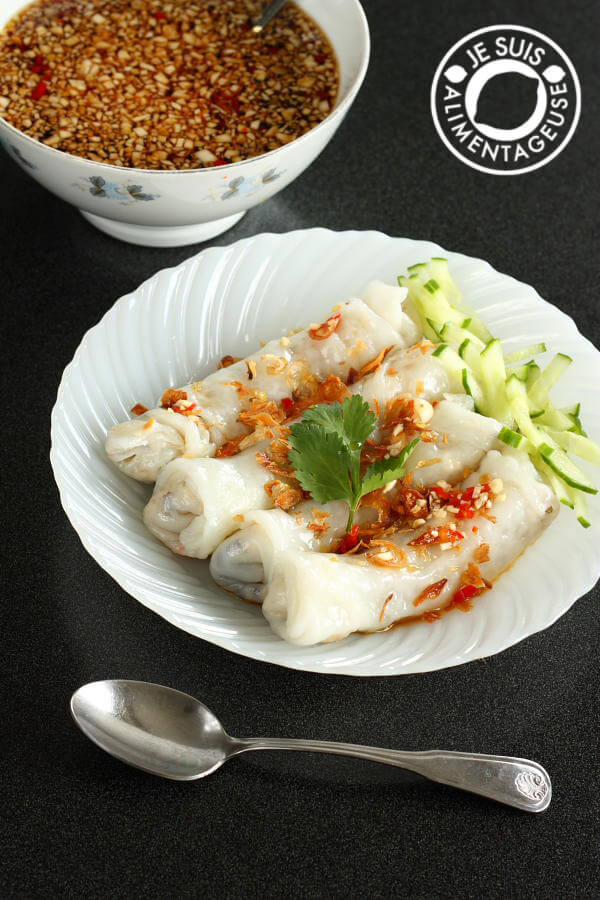 These Vietnamese stuffed rice rolls are tender and chewy, filled with a savoury filling to be topped with vegan Vietnamese dipping sauce!
Ingredients
For the batter
1 lb rice flour (one bag from the Asian markets)
1 L + 1/4 cup warm water
2 tbsp vegetable oil
For the filling
2 tbsp vegetable oil
1 medium onion, diced
1 large carrot, grated or finely diced
3 bundles of mung bean/glass noodles, approx. 3 cups dried
2 cups of chopped fried tofu (about 3 cups of fried cubes, chopped is about 2 cups)
1 cup wood ear fungus (dried, often called Black Fungus, can be found in Asian markets)
salt and pepper to taste
To serve:
Instructions
For the Batter
Combine rice flour, warm water and oil in a bowl. Stir well until all the rice flour is hydrated. Set aside.
For the Filling:
Soak glass noodles in hot water for 10 minutes. Once they're pliable/soft, drain and use scissors to cut into 1 cm pieces. Set aside.
Soak the wood ear fungus in warm water until soft. Slice into small slivers and set aside for cooking.
In a large pan over medium heat, stir-fry the onion and carrots with oil for 3-4 minutes until the onions are translucent.
Add the chopped noodles, sliced fungus and about 1/2 tsp salt and continue cooking, stirring continuously for about 5-7 minutes (the noodles will get softer and absorb the moisture from the cooking process.
Add the chopped tofu and another dash of salt. Continue until everything is cooked through, then remove from heat and set aside.
Preheat a small, non-stick pan over medium high heat and pour one ladle-full of batter (make sure you stir the batter before pouring) onto the pan. Cover with a lid and cook for about 1 minute. Take the lid off the pan and continue to cook for another minute.
Flip the crepe onto a cutting board/plate and fill the crepe with the filling. Tuck in edges then roll to wrap the filling. Transfer to a platter.
Repeat until all ingredients are gone. If you want to do the 2 pan process that my family taught me, see the notes below.
Serve with vietnamese dipping sauce and the greens mentioned in the ingredients list.
Notes
My family's Two Pan Method:
Heat two small non-stick pans on medium high and keep the rice crepe batter with a ladle beside the stove. Also set up a plate or cutting board for you to fill and wrap the crepes (I recommend wearing vinyl gloves if you don't think your hands can handle hot crepes).
Keep the filling you just cooked next to the plate/cutting board for quick access.
Stir the batter well to mix the settled rice flour. Pour a ladle-full into preheated pan #1 and cover with a lid. Let cook for about 1 minute, then remove the lid (keep on heat).
Now pour a ladle-full into pan #2 and cover with the lid that you took off pan #1. Flip pan #1 over onto the cutting board/plate and pour another ladle-full onto pan #1 and take the lid from pan #2 and cover pan #1.
Now take a spoonful of the filling and place in a strip in the middle of the crepe (on the crispy side). Tuck in the edges then roll to keep the filling inside. Move to a plate and then flip the crepe from pan #2 onto the cutting board (the crispy side will be facing up).
Fill pan #2 with batter (make sure you stir before pouring) and take the lid from pan #1 and put it on #2. Fill the crepe and repeat the process!
It sounds complicated but once you do it, you just get into a rhythm and before you know it, you're out of ingredients and you've got like 2 platters of rice rolls!