This recipe for this vegan ricotta pear, ham & cheese tart is sponsored by California Pears and is such a simple and summery light meal! Perfect alongside some sangria or rosé ;)
My body has been craving baked goods and fresh fruits because during all this time at home, I've been watching The Great Canadian Bake Off while lusting after all the fresh summer fruits that are coming into season. I don't know how anyone can watch that and not want to bake up a storm of cakes, tarts, breads, pastries and cookies?! Of course, since it's summer, and during the heat waves I've been pumped about enjoying California Pears as a snack for breakfast or a mid-day pick up for when I want something sweet but won't weigh me down.
I've strategically been buying California Bartlett pears in varying shades of green so I can stagger the ripeness and enjoy them when they're as ripe as I like them! The greener they are, the crunchier they tend to be, and as they ripen the turn yellow and become those juicy, soft, pears that are just so dang delicious. Plus they have the bonus of being good sources of fibre, Vitamin C, potassium and folic acid, so I feel pretty good about reaching for a second pear after I devour my first one.
With this vegan ricotta, pear, ham and cheese tart, I can realize my Great Canadian Bake Off dreams with my own vegan savoury baked goods and not feel the crippling pressure of a timed challenge and judges. (Also I'm vegan, and they use an awful lot of butter, milk, and eggs on that show)
Both Eddie and I are suckers for anything made with puff pastry, so naturally, this sweet and savoury tart was polished off in a matter of minutes.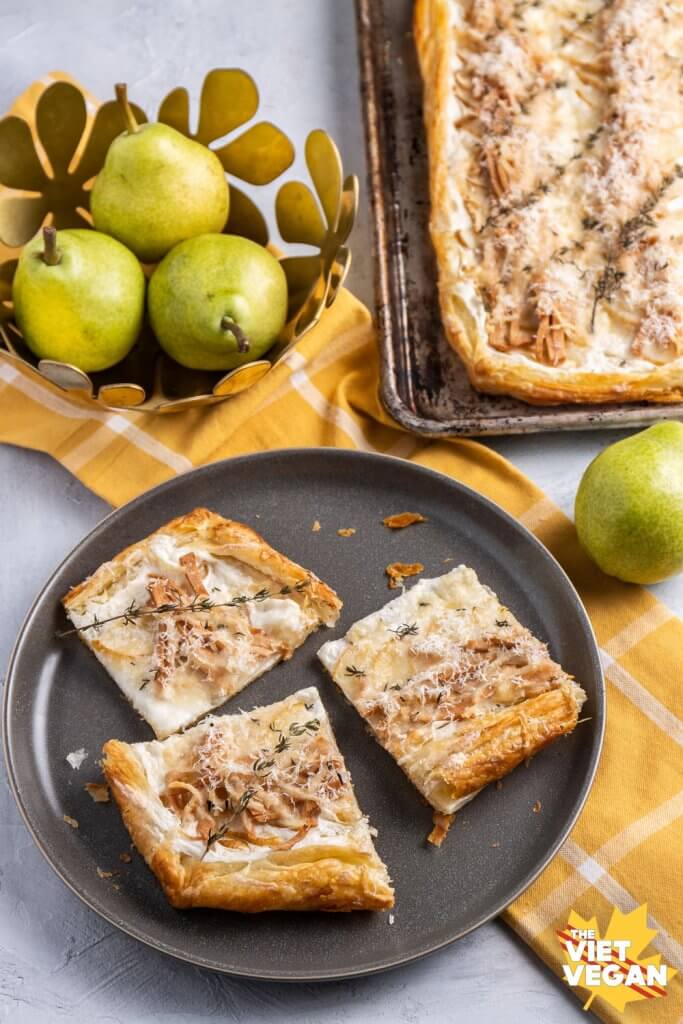 My birthday month is finally here and it's unreal to me how quickly summer has come and nearly gone, even though we're all cooped up inside and trying to navigate how life will resume once our communities are trying to figure out what to do next to keep everyone safe. Having tons of fresh fruit and veggies around has been making me feel a lot better about not being as out and about as I normally would in summers (hiking with friends especially!)
With my birthday coming up in a couple weeks, I'm struggling to figure out the best way to celebrate safely while still being able to feed my friends on some sort of socially distant outdoor excursion. Sharing birthday cake isn't really feasible right now, but having a picnic basket of sandwiches and some ripe California pears seems like a delicious and portable cliff-side repose.
In any case, this flaky tart is a creamy, sweet, and cheesy good time, anchored with the saltiness of the vegan ham. I definitely will be making this again and again (especially since the log of vegan ham I have is HUGE) and Eddie just wants more puff pastry meals like this. I mean, how can you go wrong with puff pastry?!
This recipe is sponsored by California Pears! Learn more about the 60 family farms that grow these delicious summer gems by visiting CalPear.com!
Yield: 3-4 servings
Vegan Ricotta, Pear, Ham, and Cheese Tart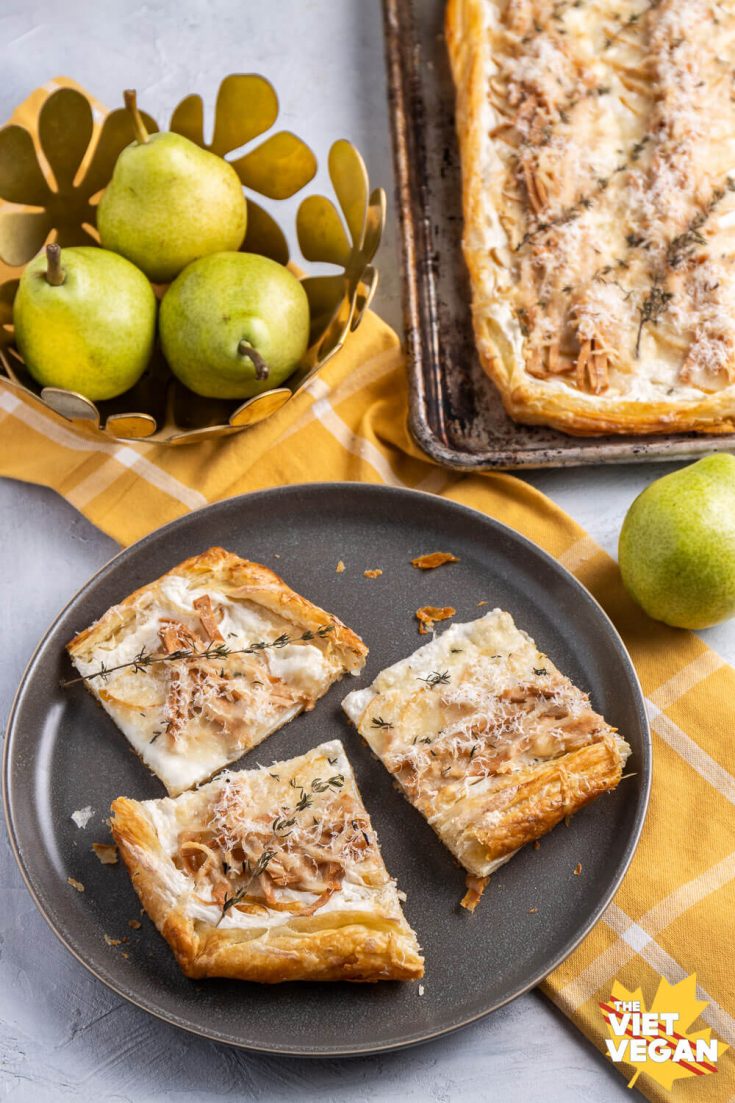 This vegan ricotta, pear, ham and cheese tart is an elegant tart made with puff pastry and beautiful California Pears. Sweet and savoury; this is the perfect light, summer meal.
Ingredients
Vegan Puff Pastry (1 package is 500g)
1.5 cups vegan ricotta (I used Tofutti, but you can also make your own)
2 ripened California Bartlett Pears, washed, cored and thinly sliced
1.5 cups vegan ham, finely sliced and cut into thin strips (I used Nelakee soy ham roll, but you can slice up vegan ham deli slices)
2 cups vegan cheese (you can use cheddar or mozzarella, I used mozza flavour Nabati cheese here)
12 sprigs of fresh thyme (you can use dried instead)
Optional: 1/2 cup shredded vegan parmesan/romano
Instructions
Preheat oven to 400 F (205C)
Roll out your vegan puff pastry until it's about 1/4 inch or 1/2 cm thin. Lightly score around the edges to create a border, then firmly crimp the edges to create a "crust". Prick the whole middle area with a fork to discourage large bubbles or steam pockets from forming.
Spread out the vegan ricotta into a thin layer as the base for your toppings. You can use more or less, depending on how you like the vegan ricotta. Tofutti's ricotta is kind of sweet, so it's understandable if you want to use a bit less.
Arrange the thinly sliced California pears on top of the tart, creating 3 rows of sliced pear.
Add the strips of vegan ham in 3 rows on top of the pears, laying them across the pear to allow the pears to peek out from underneath.
Add a light layer of vegan cheese on top to insulate the pears and adhere the vegan ham to the tart. Feel free to add vegan romano or parm on top for extra cheesiness.
Top with the sprigs of fresh thyme, then bake for 35-40 minutes, until the edges of the crust area nice golden brown.
Remove from oven and let cool on a wire rack until cool enough to eat. Slice into squares and enjoy!