This vegan spicy chicken salad is perfect for lunches!
Put it on a salad, in a sandwich or in a wrap; so full of protein and this one has excellent spicy flavour.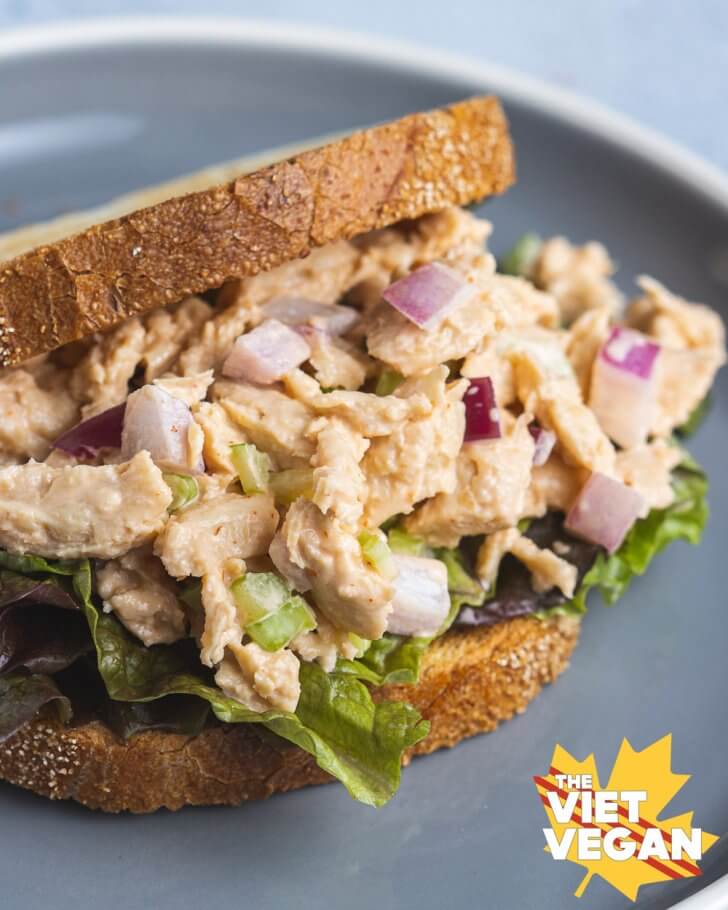 So last night I shared this classic version of a vegan chicken salad, and today's recipe is my preferred version, vegan spicy chicken salad! It's slightly easier and way more lazy-friendly (only because there are only 6 ingredients total). Plus, with sriracha, comes a hit of heat and garlic, and those are possibly my two favourite flavours of all time. Like any of my fairly lazy, lunch-oriented recipes like my vegan egg salad, buffalo chicken, or my chickpea salad pasta, this is something you can use as the main component for your lunch: be it pasta salad, salad, a wrap, or a sandwich!
Unrelated to the sandwich, last week I had my first chiropractic adjustment in my entire life. Years ago, I had seen this hilarious old commercial from Rhett & Link and it had not only terrified me of being broken but also made me very self conscious of my body. I definitely was not into someone getting up in my space like that. However, I must inform you that I now believe in the weird science that is chiropractic care. It took my doctor 5 minutes to figure out what was going on, and 10 minutes to crack me in 4 different places, do a quick massage in the one problem spot and I had immediately felt better.
She also appealed to my Questioner nature (for any of you who are fans of Gretchen Rubin's four tendencies framework) by explaining what and why she was doing what she was doing. She even pointed out which vertebra was causing the pain. But after four adjustments, a spot massage, and a bit of IcyHot, I walked out of there without doing that weird back-pain slow waddle as you try to stand fully upright, which is what I had been doing for the last two weeks.
I can sit for more than a couple hours at a time, I can bend over without worrying about being stuck, and I've been able to work out again mostly pain-free. Of course, as soon as I was feeling better again, I got too overconfident and was running down my stairs. Guess who missed the last step and fell, only to throw out my back again?
Yup. It was this idiot.
The rest of the night was spent icing my back, then putting a hot pad on it while horizontal on the couch. It made for a very unproductive evening, but worth it, since right now I only have about 20% of the pain I had before. I can only imagine I'd be much worse otherwise. Unfortunately, I've had to suck up the cost of going to the chiropractor again this week because I want to be able to dead lift again without feeling like I'm going to break my back. I feel so old, yet I'm getting hormonal acne even in my last few months of my 20s.
My body is betraying me.
Anyway, my aspiration to be better to my wallet (and my body) means eating more homemade meals and not falling prey to my McDonald's french fry cravings or my Tim Horton's Beyond Sausage sandwich trips. I'm regularly whipping up this vegan spicy chicken salad to bring some pep to my lunch! I've noticed a huge difference actually over the past couple weeks. My general energy levels (aside from my busted back) are really good, my "lows" aren't as dysfunctional and debilitating as they used to be, and my "highs" last longer and I can be productive for longer, even when I push myself a little too far.
Figuring out creative/work/life balance has still been an adjustment, but I've definitely noticed an uptick in overall mood, digestion, and sleep ever since I started working out regularly. If you're interested in watching my video about my fitness journey and how that's been going, you can watch the video here.
And if you're interested in watching me be really weird and hungry-hyper, definitely watch me make this vegan spicy chicken salad sandwich (especially if you've never heard of soy curls before).
Yield: 3-4 servings
Vegan Spicy Chicken Salad
Ingredients
115 g soy curls (half a bag/2 cups)
1 tsp mushroom broth powder (or any bouillon paste)*
3 cups (750) boiling water
1/4 cup (35 g) red onion, finely minced
1 rib celery (60 g), finely diced
1 tbsp (15 mL) hot sauce (I used sriracha)
1 tbsp (15 mL) lemon juice
1/3 cup (88 g) vegan mayo
Instructions
Rehydrate soy curls with 1 tsp mushroom broth powder (or any bouillon paste) and boiling water. Let sit in the water for about 10 minutes, then drain and squeeze out as much water as you can.
In another bowl, combine red onion, celery, hot sauce, lemon and vegan mayo.
Roughly chop the soy curls and toss in the mayo mixture to combine.
You can enjoy immediately but it always tastes better when you let it sit overnight for the flavours to mingle!
Notes
*this just adds a bit of extra seasoning and flavouring for the soy curls, you don't have to use any in the hydrating liquid, but it makes it better!