Sweet, creamy vegan Thai iced tea with a layer of dairy-free cheese foam that tastes like a cheesecake in drinkable form! It's decadent but not too sweet.
This recipe includes an Amazon affiliate link. The Viet Vegan is a participant in the Amazon Services LLC Associates Program, an affiliate advertising program designed to provide a means for sites to earn advertising fees by advertising and linking to Amazon.com.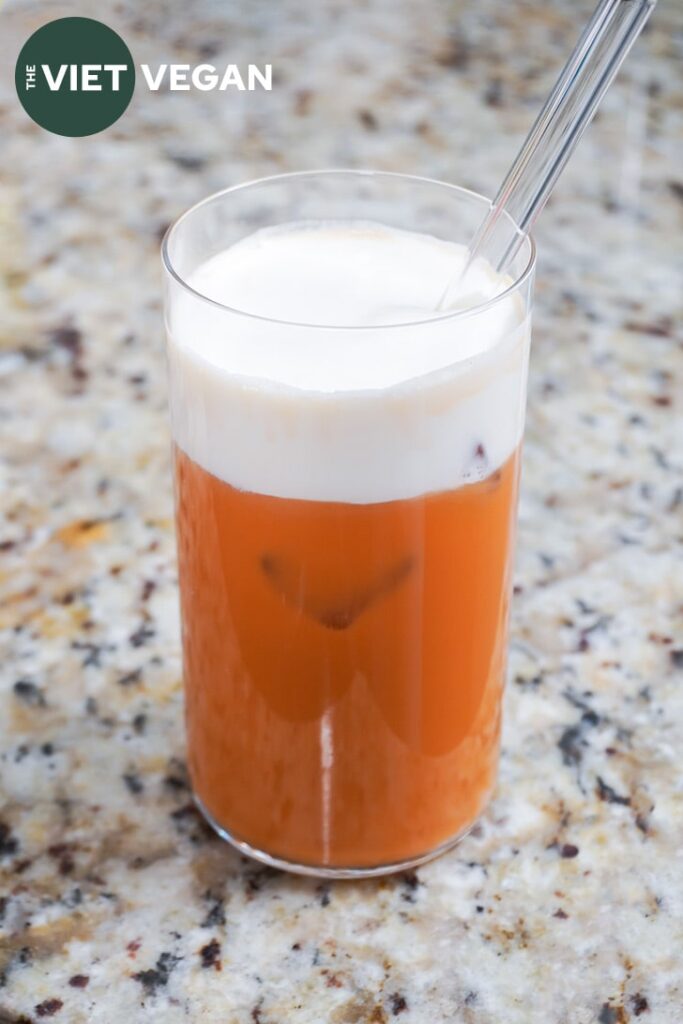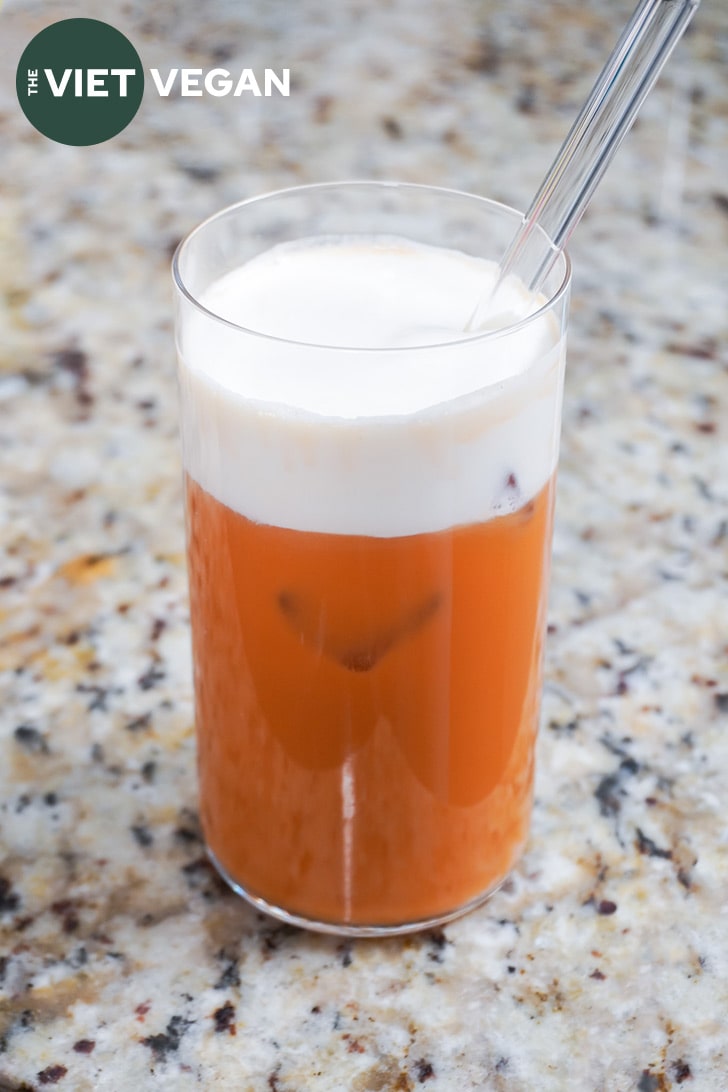 One of my favourite drinks to order alongside some spicy Thai noodle takeout is Thai iced tea! This vegan version of Thai iced tea has the creaminess and classic vanilla flavour to the black tea, topped with a twist:
I added a layer of thick, dairy-free cheese foam, which tastes like a cheesecake but in liquid form. I was skeptical of the concept of "cheese foam" and wasn't sure if I could make a vegan one, but this is DELICIOUS.
For the tea, I used the Cha Tra Mue (affiliate link) brand that includes the typical orange hue I see in restaurants. There are various other brands of Thai iced tea mixes I'm sure, and most of them are typically vegan. You would add your own condensed milk once brewed, so there shouldn't be any dairy in the tea mix itself. The bag I bought is HUGE and I've had dozens of homemade vegan Thai iced teas already, and I have several dozens more.
Dairy-free substitutes for Condensed Milk
Like in Vietnamese coffee, Thai iced tea is served with a generous amount of sweetened condensed milk. This adds both creaminess and sweetness, without diluting the final tea.
I typically buy Nature's Charm, which comes in oat or coconut base. The coconut is more widely available but the oat has the typical texture that the dairy version does. I find the sweetened condensed oat milk at Coven!
The only problem with plant-based condensed milks is that they typically don't pack the same creaminess that the dairy version does. For the dairy-free Thai iced tea, I circumvent this by brewing an extra strong tea with less water. This way, you can add plant milk/coffee creamer to add creaminess without diluting the vegan Thai iced tea.
If you can't find vegan sweetened condensed milk, you can just use sugar and make sure you use a plant-based coffee creamer to pack the same creaminess. It won't be exactly the same but it'll do the trick!
Vegan Cheese Foam
I never thought I'd see the day where I could make my own dairy-free cheese foam, but here we are! Cheese foam is like liquid cheesecake that sits on top of your tea. It perfectly balances the bitterness of tea, and the brewed tea cuts through the decadence of the cheese foam. You get a luxurious drink, with a hint of saltiness that has you going back for more.
Some vegan cream cheese brands have more salt in them, in which case, I would omit the added salt. But if yours doesn't, add a pinch or two of salt at the end of the mix before you add it to your drink. It'll really add that extra layer of oomph!
There are two methods I've tried to make a dairy-free cheese foam. The first is a bit more involved, where you whip the vegan whipping cream before folding in the vegan cream cheese. The second is where you throw all the ingredients into an electric milk frother or use a hand blender with the whisk attachment to do it all at once. The end result of the lazy way does have a less cloud-like topping, but it is still luxurious.
Depending on the day, the lazy way means I have a very delicious drink with less effort.
More Home Café drinks
Yield: 2 drinks
Vegan Thai Iced Tea with Vegan Cheese Foam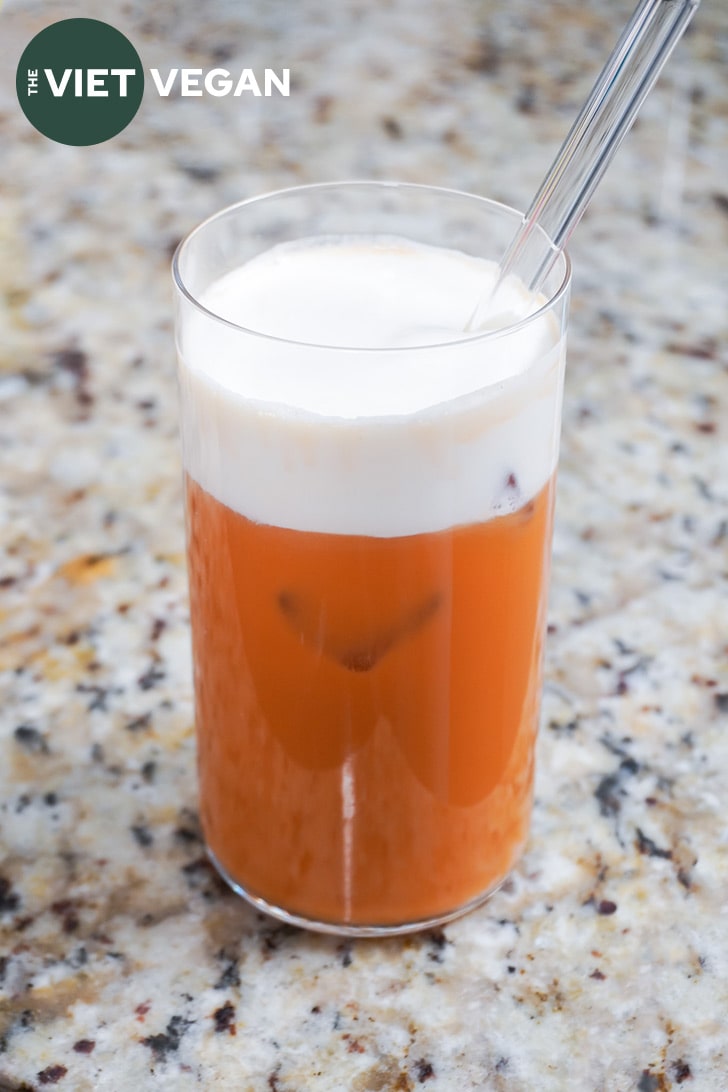 Thai iced tea is one of my favourite drinks to get with my takeout! It's sweet and creamy but not overpowering. It's the perfect complement to spicy noodles!
Ingredients
Vegan Thai Iced Tea
1 cup boiling water
1-2 tbsp plant-based condensed milk (or use 1-2 tbsp sugar instead)
1/2 cup plant-based milk
8-10 ice cubes
Vegan Cheese Foam
2 tbsp plant-based cream cheese
2 tbsp plant-based milk
1/4 cup plant-based whipping cream
2 tbsp icing sugar
Optional: a pinch of salt
Instructions
Brew 2 tbsp loose leaf Thai Tea mix in one cup of boiling water for 4 minutes.
Once brewed, remove the tea leaves and mix in the plant-based condensed milk or sugar, then add the plant-based milk. Set aside to prepare the vegan cheese foam.
Vegan Cheese Foam (longer way but thicker cheese foam)
Prepare the vegan cheese foam by mixing plant-based cream cheese and plant-based milk together to create a loose paste. Set aside.
Meanwhile, whip the plant-based whipping cream with icing sugar until you get nearly stiff peaks.
Then add in the plant-based cream cheese and gently fold in until incorporated. Add a pinch of salt if your cream cheese doesn't have any salty flavour.
Vegan Cheese Foam the Lazy way
In an electric milk frother or using a whisk on an electric mixer, combine the plant-based cream cheese, milk, whipping cream, and icing sugar and put it on the cold froth setting. I had to do it 1.5 times to get it fully incorporated.
Add a pinch of salt if needed.
Assemble the drink
Pour the brewed tea with plant condensed milk and plant milk over ice between two glasses. Stir to chill, then pour cheese foam on each glass. Enjoy!