This Basil Seed Drink with Malva Nut (Nước hột é đười ươi) is a refreshing Vietnamese drink and a childhood favourite!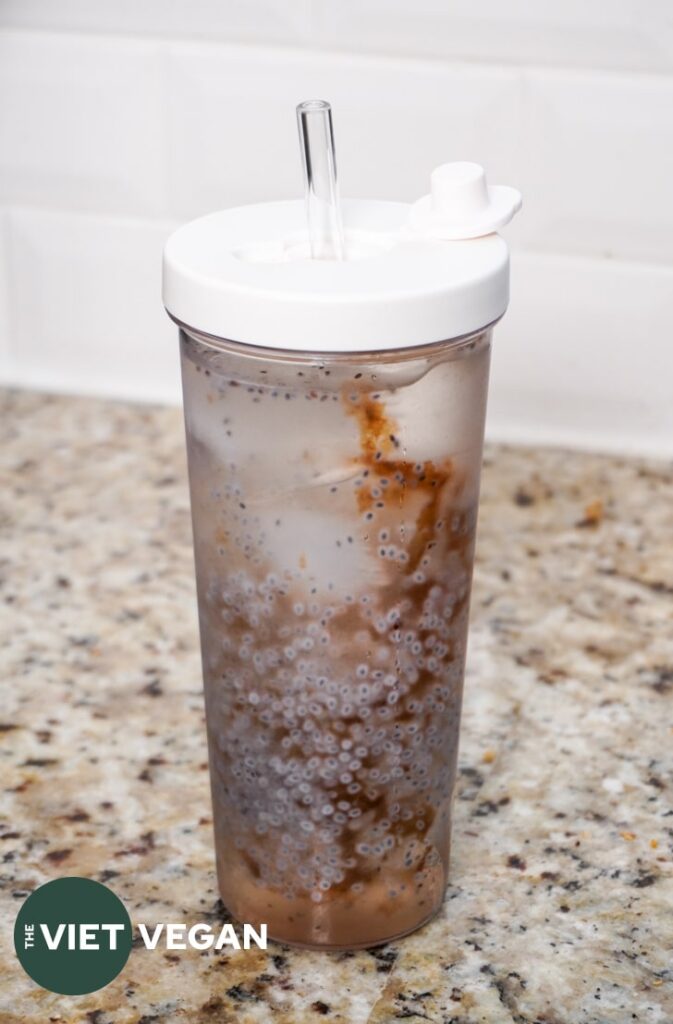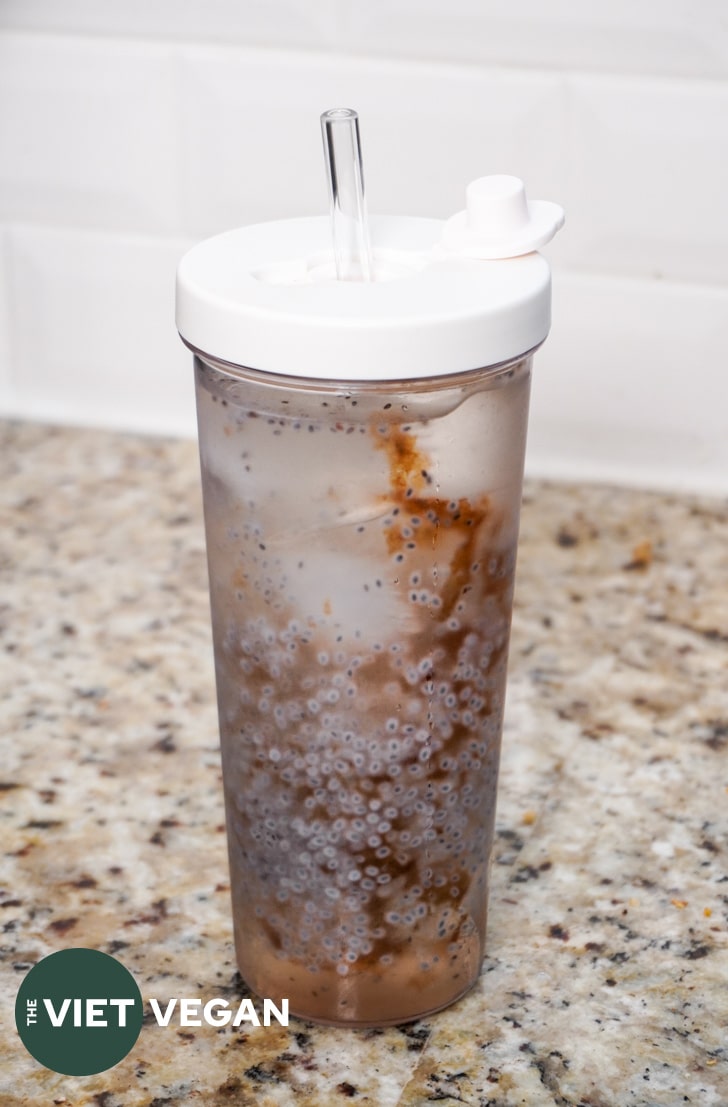 Growing up, my family was always very conscious of how foods and our environment affected our moods, our bodies, and our digestion. I'm not entirely sure why my family was so concerned about "cooling" or "yin" foods. In the summers, my grandpa would constantly say watermelon, chrysanthemum tea and this basil seed drink were all very cooling and would praise me anytime I had them.
This drink is all about textures! I grew to love this basil seed drink with malva nuts because it was lightly sweet and such a fun texture. The hydrated basil seeds may look off-putting to some. They have a delightful grape-like texture and are satisfying to chew as you drink.
The malva nuts have kind of a hairy spongey texture, which may sound unpleasant. But adds a nice, easy texture between sips of chasing basil seeds to chew in your mouth.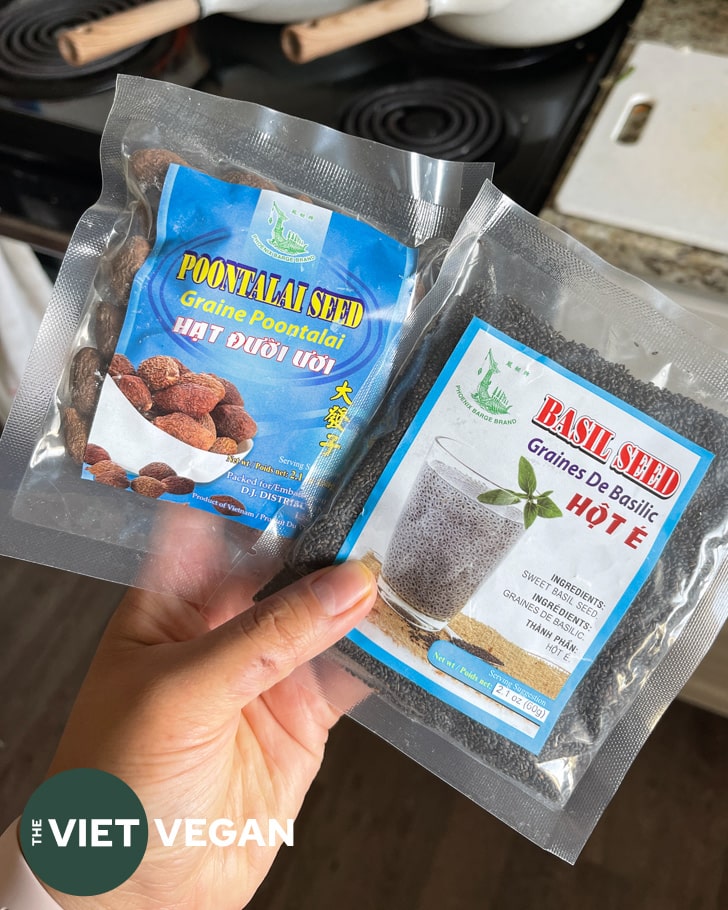 Where to find Sweet Basil Seeds and Malva Nuts
The ingredients for this drink were all found at my local Asian market. If you have a market that carries Thai and Vietnamese foods, you are more likely to find them!
I've shared the photo of the packaging of both ingredients above. You may find malva nuts listed as poontalai seeds.
Rock sugar is also sold at the Asian market as well, but you can use other sweeteners too. I just find rock sugar has that specific flavour that is so nostalgic for this drink. You can try it with maple syrup, palm sugar syrup, brown sugar, or even white sugar!
For more fun or nostalgic Vietnamese drinks, try avocado shake, Vietnamese coffee, or milk tea!
Yield: 4 servings
Basil Seed and Malva Nut Drink - nước hột é đười ươi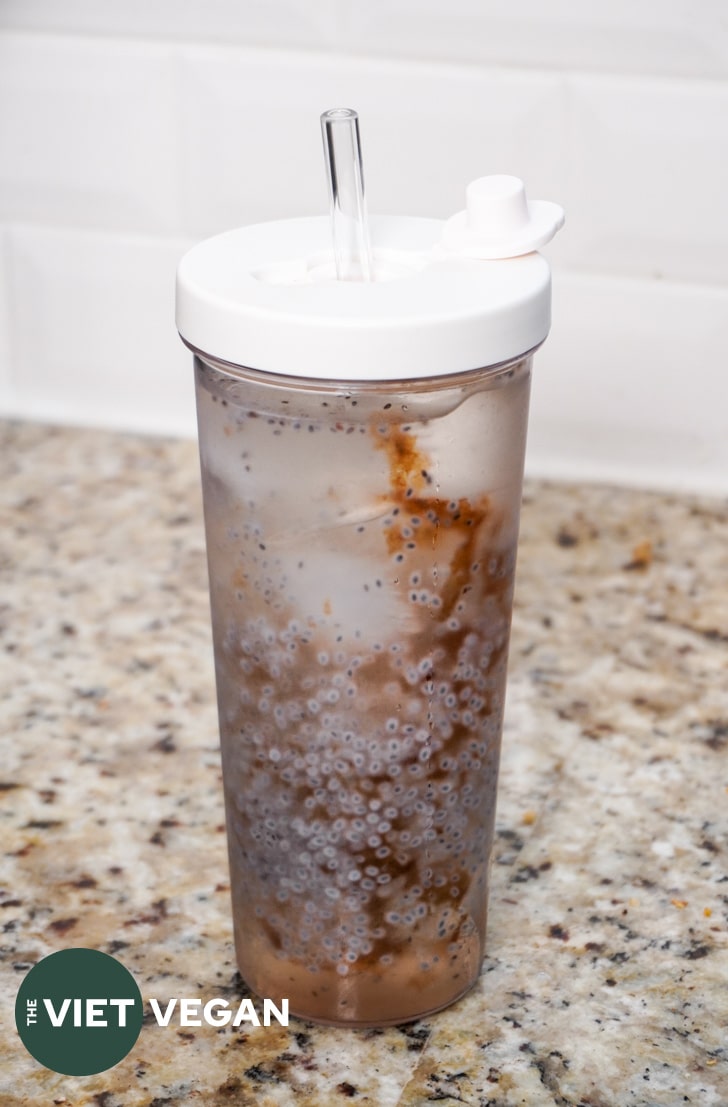 Ingredients
Basil Seeds
3 tbsp sweet basil seeds
4 cups (1 L) of filtered water
Malva Nuts
4 malva nuts (or poontalai seeds)
2 cups (500 mL) of water
Rock Sugar syrup
1/2 cup rock sugar crystals
1 cup water
To Serve (per cup)
1/4 cup (60 mL) hydrated basil seeds
pulp from one malva nut
2-3 tbsp of rock sugar syrup (to taste)
1 cup (250 mL) filtered water
3-4 ice cubes
Instructions
Basil Seeds
In a large jar, combine 3 tbsp sweet basil seeds and 4 cups (1 L) of filtered water and stir well. Stir every 30 min to make sure all the seeds get hydrated. This should take about 2 hours to fully hydrate. Store in fridge.
Malva Nuts
In a pint-sized jar, combine 4 malva nuts and 2 cups water. Let hydrate for at least 2-3 hours, best results is to allow to hydrate overnight in the fridge. Store in the fridge.
Rock Sugar Syrup
In a small pot, combine 1/2 cup of rock sugar crystals (roughly) and 1 cup of water. Cook over medium heat until the rock sugar has dissolved. Let cool and transfer to a jar to star in the fridge.
To serve
Per serving (about 2 cups/500 mL), add 1/4 cup hydrated basil seeds, the pulp from one malva nut (discard the fibrous skin), 2-3 tbsp of rock sugar syrup (to taste), 1 cup of filtered water, and 3-4 ice cubes. Stir well before enjoying!