Chao is to me, as tomato soup is to Canadians.
When you're sick, seeking comfort, or miss a taste of childhood,
vegan Vietnamese chao is what you eat.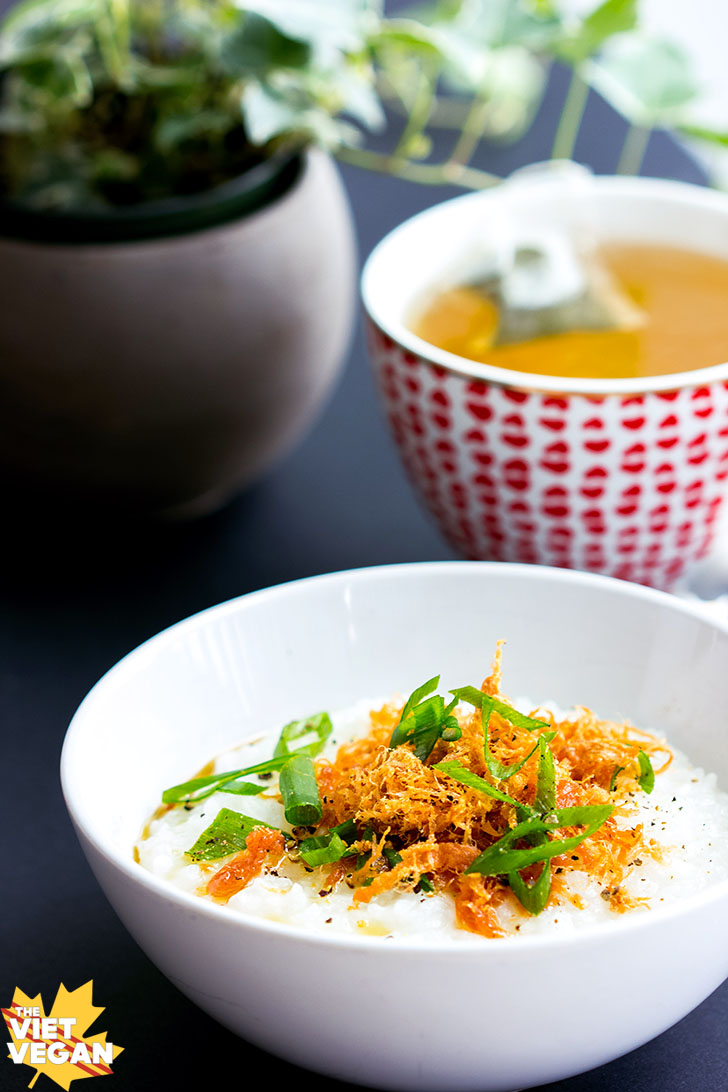 Happy New Year everyone! I hope you all have had a safe and exciting New Year's Eve. Mine was full of BB's friends and I was kind of bummed about not really hanging out with my friends for NYE. Don't get me wrong, my night was full of lots of nerdy talk: Pokemon Go that's coming out, Star Wars with BB sort of scolding me for not being able to power through the end of episodes 5 and 6 so we can go watch TFA, and even some talk of anime. Has anyone watched the new anime from Netflix called The Seven Deadly Sins?
As someone who is typically against the idea of New Years Resolutions, I feel weird about setting some. Why does there need to be an occasion for you to break bad habits or form new productive ones? But today seems like the kind of day where I identify my weaknesses and strive to do better. And while it sort of irks me that I feel like I'm joining the masses of resolutions, I have habits I want to kick.
The first being more available to spend time with friends. Ever since I started dating Burrito Boy, I've sort of disappeared into a hole and I rarely come out. It's not just BB, to be honest: it's work, then blog work, then family, and then there's the general coziness of my home that I don't want to leave. Plus now that I live outside of the city, it can be really frustrating to go into the city, especially when I typically work until 6 or later on weekdays. I never thought staying home would be so enticing before. My bed seems more inviting, my kitchen seems full of more entertainment and possibilities than a restaurant, and my tiny borrowed TV plays all the Netflix I need.
Long story short, there are a lot of barriers to me finding time to hang out with my city friends, and then they all have their own schedule too.  But I want that to change. I need to be better at being productive so I don't have to work so late. I need to clean small messes more often so I don't get overwhelmed and spend half a day just cleaning my apartment. I'm notorious for letting my recycling pile up and take over a corner of my den so I need to be better at doing that on a regular basis.
I've met my goal about cleaning my bathroom more often, so that it's almost always at a standard where I can have impromptu guests over and it's not embarrassing. Things have started to have homes so I lose them less often, and dirty clothes are typically within 2 feet of the hamper.
Hey, I'm all about small steps of progress here.
Possessions and knick-knacks have stopped cluttering my space as much because I've gotten much better at culling and avoiding random purchases of things. I still have a ton of things, but I've stopped adding! And that's exciting to me.
I've made more time to read, although I still think I could read more. I make my bed every day. I drink more water, drink less pop. And I definitely could eat out less. And my sweet tooth seems insatiable but I've been supplementing sweet treats with other indulgences like apples or pears cut up with peanut butter, or orange segments dipped in dark chocolate.
Identifying my "gold stars" of 2015, as Gretchen Rubin would have it, have made me quite happy with my progress. So I'll continue to set general goals for better life habits here:
Stay on top of clutter. Stop letting the recycling overflow.
Vaccuum more often.
Be more productive and stay focused on work
Meet personal deadlines better (I always let them slide, e.g. I meant to have this blog post up on Thursday)
Make more time for friends
Go to bed earlier (these 2 am nights needs to stop)
Ever since listening to Happier Podcast and reading The Happiness Project
 and Better Than Before
, I've been extremely conscious of my daily habits and tendencies. I'm saying thank you more, my general demeanour is brighter, and it's taught me a lot about myself. What are your goals? They don't need to be resolutions, they can be ongoing goals you've had.
Randomness aside, this is one of my favourite super easy meals that I cook when I'm sick or feeling kind of bleh. Simply rice and water to make congee, with some delicious toppings that remind me of childhood. I found shredded soy floss at King's Café in Toronto for $6 and I was so excited! I had no idea that was even an option for me, and I kind of missed eating it.
It's pretty bland as a base, but the toppings you add make it better. I used to add salted egg when I was a kid, but now you can add oversalted tofu scramble to contrast the unseasoned rice, you can add avocado and soy sauce to add extra creaminess and a sushi-like flair, or you can add faux chicken or faux pork for a more traditional Vietnamese chao experience. It comes together in about 30 minutes, and is super easy to make.
Hope you all had a Happy New Year, and stay tuned until Monday because I'll be launching my big Veganuary project that I've started teasing on Instagram =)

Yield: 4-6
Vegan Vietnamese Chao (Congee)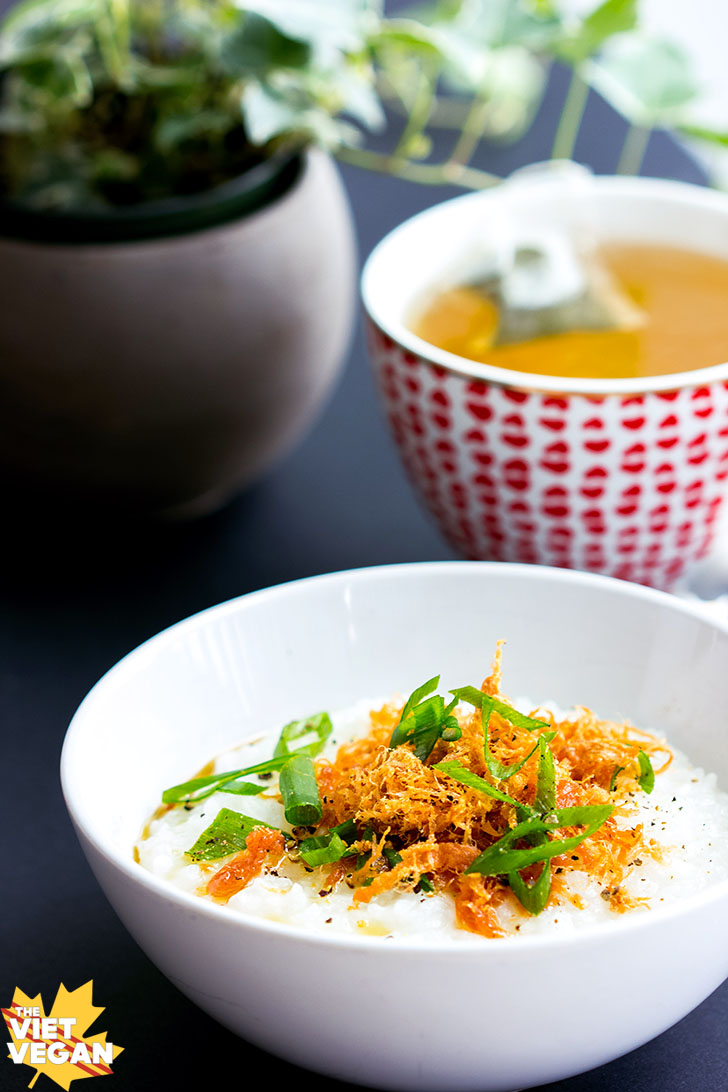 Ingredients
1 1/2 cups white jasmine rice
6 cups water
To serve in each bowl:
Chopped scallion
1 tsp toasted sesame seed oil
Soy sauce to taste
Black pepper
3 tbsp shredded soy floss (can be found in specialty sections of Asian stores)
Instructions
Rinse and drain rice twice, then in a large pot, combine drained rice and water. Bring to a boil and let simmer, stirring frequently until rice has doubled and resembles the same texture of oatmeal (about 25 minutes). Add more water if you like your congee a little thinner, but I like mine pretty clumpy. Take off the heat and serve with a drizzle of toasted sesame seed oil, scallions, soy sauce ,black pepper, and if you have access to it, shredded soy floss.
Disclaimer: This post contains affiliate links. Using them for your purchases makes no difference to you, but I get a small commission if you use them. Thanks for supporting TVV and reading =)