Bánh tráng nướng is a popular Vietnamese street food that is savoury, rich, and crisp! I've made a vegan banh trang nuong with vegan alternatives because I just had to try it.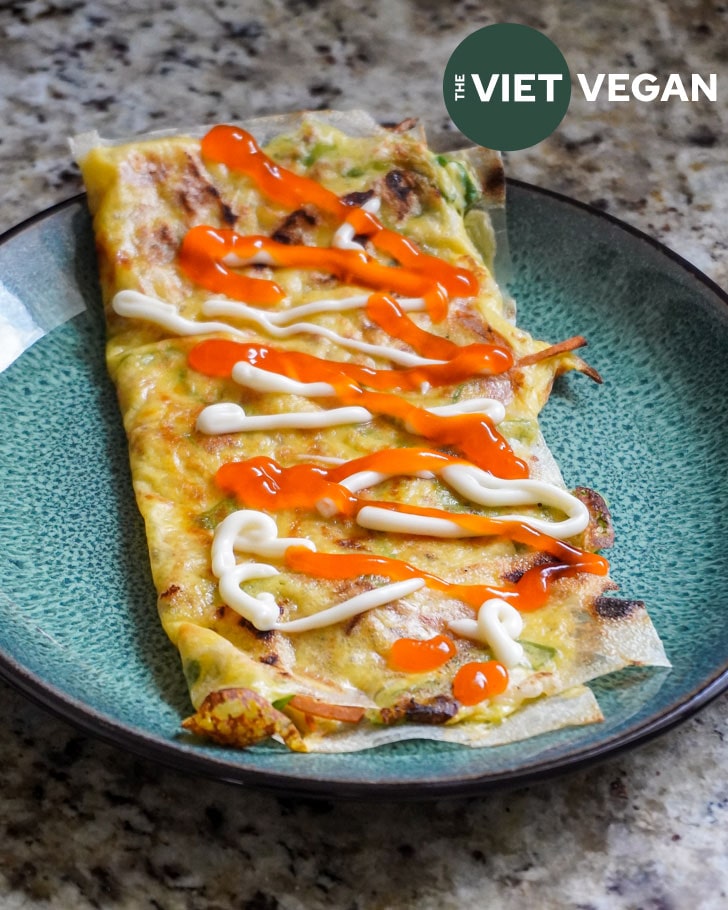 Original Banh Trang Nuong
The original bánh tráng nướng is a street food! Vendors cook it on a grill over hot coals, with tons of green onion, a chicken or quail eggs, Vienna sausage and laughing cow cheese. It originates in Đa Lạt, but I have seen this on social media everywhere in Vietnam. Some also serve it with dried shimp, fried shallots, or chili crisp instead of butter. So I think it's regional and personal preference!
I've seen it served rolled up, folded in half, or cut into triangles like a pizza to share with friends. I guess that's why they call this Vietnamese pizza, even though it really has nothing to do with the pizza we see here in North America. I've also heard some people call bánh xèo Vietnamese Pizza but that makes even less sense to me.
Banh Trang Nuong Chay
This veganized Vietnamese version is the perfect breakfast or snack that packs tons of flavour and protein and is pretty quick and easy to make.
I'm making it on a griddle with vegan egg, vegan margarine, slivered vegan ham deli slices, and mozzarella cheese. Sometimes we just gotta use what we have.
What I see some other recipes for bánh tráng nướng online use are sriracha, which works if that's all you have. But the last time I went to Vietnam (in 2009), everyone used this bright orange tương ớt. It is sweeter and smoother, and doesn't have the same body or spice as sriracha.
Since it's topped with vegan kewpie mayo, I find the sweetness and the richness together make the perfect combo. It makes sense why this orange chili sauce and mayo were always what I saw being served alongside fried foods in Vietnam. Ketchup wasn't as popular, but mayo and spicy chili? Yes.
Yield: 1 serving
Bánh Tráng Nướng Chay - Vegan Rice Paper Vietnamese Pizza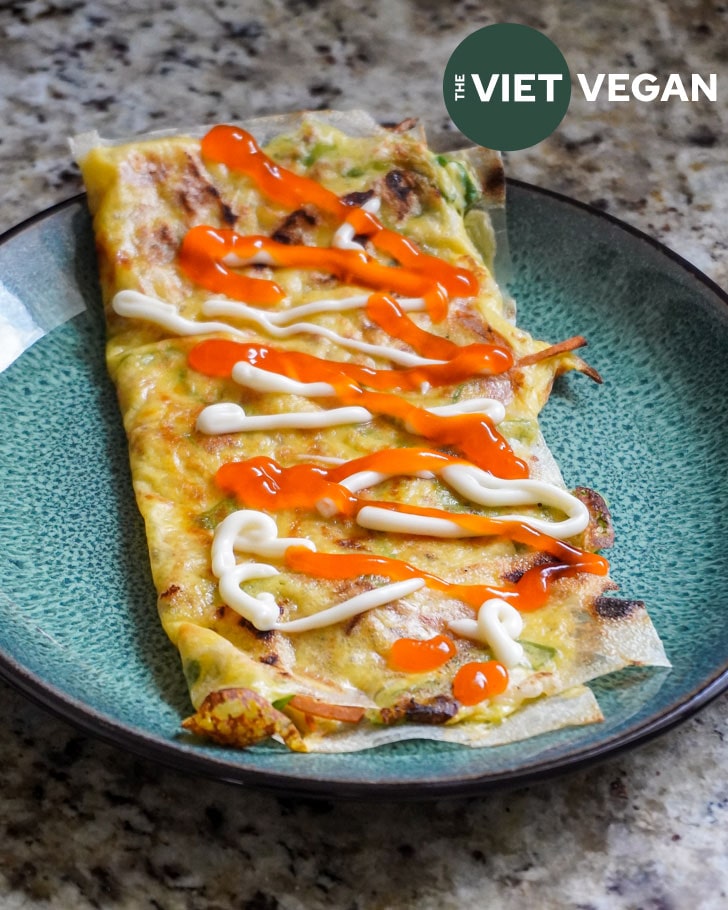 This veganized Vietnamese street food is the perfect breakfast or snack that packs tons of flavour and protein and is pretty quick and easy to make.
Ingredients
1 piece of rice paper (I used square but the round kind work too)
1 tsp vegan margarine
1/3 cup vegan egg alternative
1 green onion, finely diced
2 slices of vegan ham or hot dog, finely slivered
1/4 cup vegan cheese of your choice (If you have something like vegan laughing cow, use that!)
Garnish:
Vegan Kewpie Mayo (regular vegan mayo also works too)
Vietnamese chili sauce (you can also use sriracha)
Instructions
This is traditionally made over a grill, but since I don't have that, I'm using a pan or a griddle. Over medium heat (350 F), add the dry rice paper and allow to crisp.
Melt vegan margarine on top, then add your vegan egg alternative.
Quickly add diced green onions, and mix well to coat the rice paper in a thin even layer.
Add slivered vegan ham or hotdog and vegan cheese, and let that melt for a minute or so. You can leave this "open" like a pizza, and top with vegan kewpie mayo or Vietnamese chili sauce, or fold in half, then top with mayo and chili sauce.
Enjoy hot! Traditionally served with a piece of newspaper to hold the hot folded "pizza".