Vietnamese Stir Fried Chow Mein (Mi Xao Chay) is a childhood classic that my mom used to make for lunch or a quick meal all the time!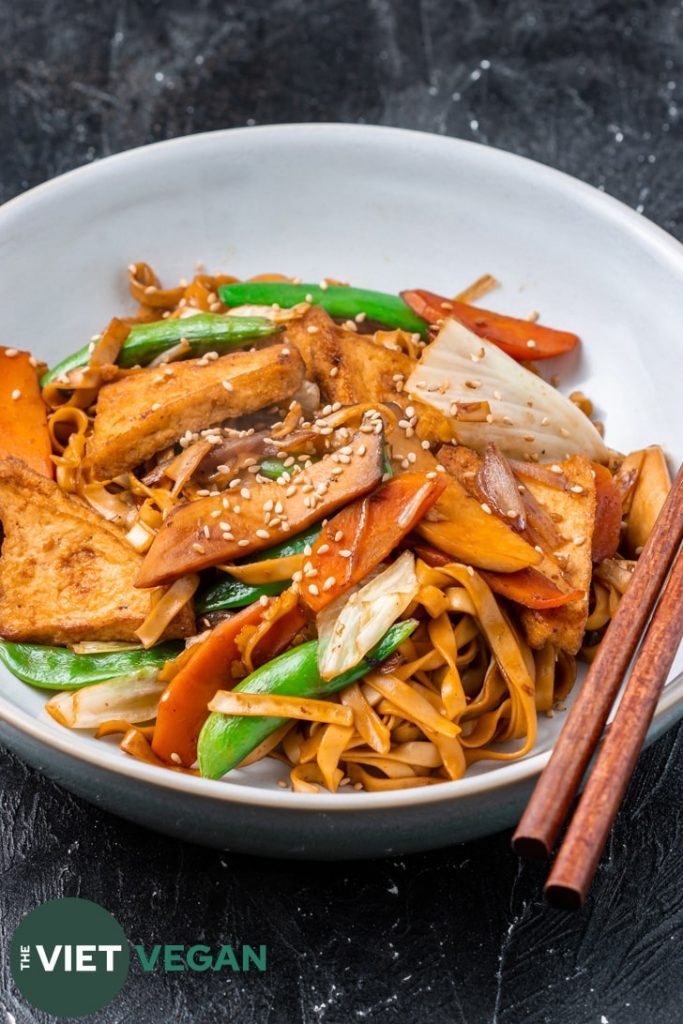 There are so many different renditions of stir fry sauces: from hoisin-based to oyster sauce, to mee goreng or classic soy-sauce based stir fries. Some add extra acidity with a wedge of lime or calamansi, but Vietnamese stir fry tends to focus on being savoury and spicy!
What Makes This Vietnamese Stir Fry?
While I love a thick and saucy stir-fry, my favourite is always the Vietnamese style one that is light, savoury, but mostly a "drier" texture. Vietnamese stir fried chow mein's main flavour bases are dry bouillon granules (traditionally chicken flavour) and soy sauce.
If you have vegan fish sauce, you can use that in place of the soy sauce as well. If you want extra colour and umami flavour for your stir fry, my mom uses a splash of dark soy sauce! However, you can omit that if you don't have it. My mom always had mushroom flavour dark soy sauce in the house, but regular dark soy sauce works well too.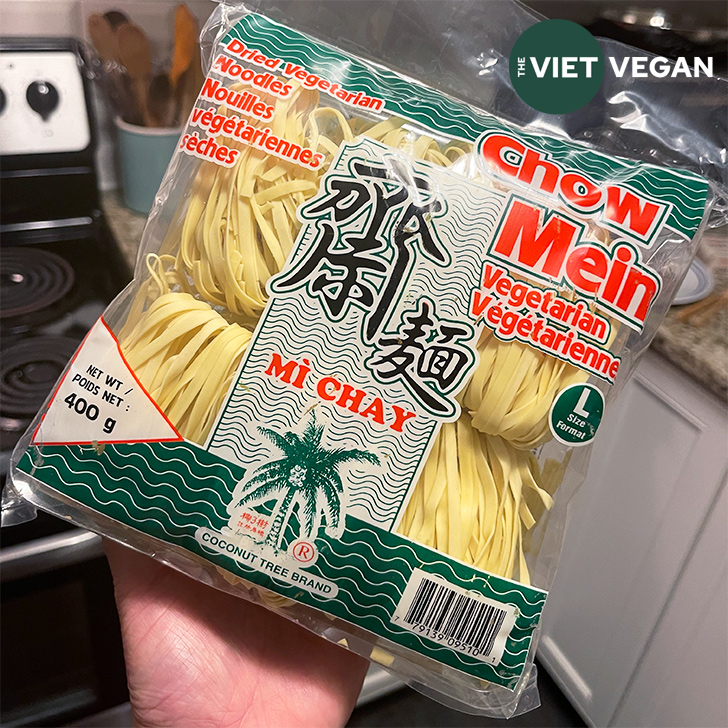 Where do you find Vegan Chow Mein noodles?
I bought my chow mein noodles at Nations, the Asian market in my city. These ones are egg-free and use food colouring for the yellow colour. There are a couple brands that are vegan-friendly, so be sure to read the label. If you can't find chow mein noodles, feel free to substitute with rice noodles, udon noodles, or mung bean thread.
Can I use other noodles?
Of course! If you can find other styles of noodles like lo mein, you can cook this basically the exact same way. Use whichever noodle you prefer.
For any wheat-based noodles, I'd recommend cooking them until nearly done (think al dente), as they will continue cooking as you stir-fry with the sauce. Overcooked noodles will break as your stir-fry with the sauce and they also won't absorb the sauce as well.
For rice or mung bean based noodles, soak in warm water for 20-25 minutes until the noodles have softened. I have a version of this Vietnamese style stir fry with rice noodles from a few years ago! They'll be pliable and will require additional water to cook as your stir-fry. Soaking the noodles first and then stir-frying will have better texture than if you cooked the noodles in boiling water and then stir fried.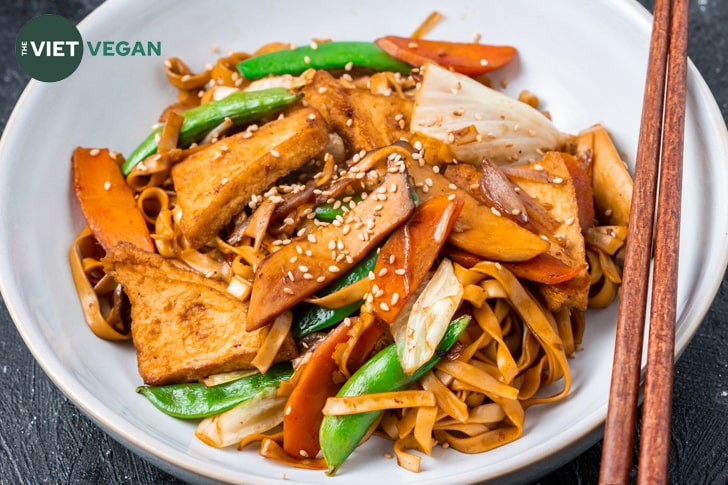 What Other Veggies Can I use?
The great thing about this Vietnamese stir fried chow mein is that you can customize it with whatever veggies you like! You cook the vegetables in two batches: first starting with the harder, crunchier veggies, then with the more tender veggies that require less cooking. This way you get your veggies evenly cooked while still maintaining a tender crisp texture!
Firmer Veggies for Stir Fry:
Broccoli stem
Carrot
Cabbage
Celery (cut on a diagonal cooks the best here)
Bok Choy
Gai Lan
Cauliflower
Bell Peppers
Baby corn
Bamboo shoots
Zucchini
Tender Veggies for Stir Fry:
Snow peas
Snap Peas
Frozen veggies (like broccoli, corn, and cauliflower medleys would be added here)
Fresh sweet corn
Broccoli florets
Broccolini
How to Store Vietnamese Stir Fried Chow Mein
You can easily double or triple this recipe to use up leftover vegetables in the fridge and make a batch to eat over a couple days. My mom used to make me HUGE batches of this to bring back to university after I came home for a visit.
I'd recommend eating within 3-4 days. I wouldn't recommend freezing leftovers, as the vegetables would get too soft and the noodles would lose texture, but if you don't mind that, you could freeze for reheating in the microwave later!
Yield: 2 servings
Vietnamese Stir Fried Chow Mein (Mì Xaò Chay)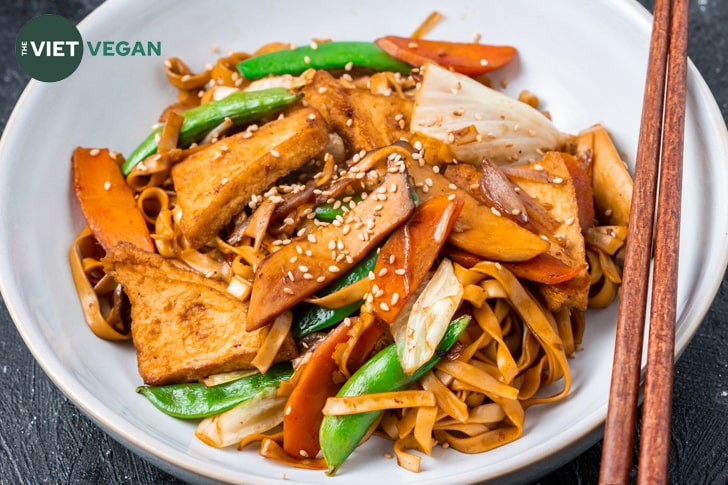 Ingredients
5 bundles of dried vegan chow mein noodles
1-3 tbsp vegetable oil (added as needed)
5-6 pieces of fried tofu, sliced
1-2 shallots (or half an onion, sliced)
1 small carrot, thinly sliced into halved diagonal pieces
1 king oyster mushroom, sliced
2 tsp mushroom broth powder
Water to deglaze the pan (about 2-3 tbsp just around the edges of the wok as needed)
2 cloves garlic, minced
3-4 cabbage leaves, roughly chopped into 1 inch squares/pieces
8-10 snap peas or snow peas
1-2 tbsp light soy sauce
1 tbsp dark soy sauce
1/2 tsp black pepper (or to taste)
Sriracha/chili sambal to taste
Sliced scallions/Toasted sesame seed to garnish
Instructions
In a pot of boiling water, cook wheat-based chow mein noodles until just tender (time depends on the brand, mine said 2 min). They'll continue to cook and absorb sauce when you stir fry.
Drain noodles and set aside (you can toss in a bit of oil to keep them sticking if you like)
In a large wok, heat up 1 tbsp of vegetable oil and add your slices of fried tofu.
Panfry until both sides are golden, then remove from pan.
Add another tbsp of oil to the pan if your tofu has absorbed the oil. Add sliced onion, carrot, and mushroom with about 1-2 tbsp of water to the pan and stir-fry on medium heat for about 3-4 minutes until the carrots have softened.
Add in minced garlic and stir-fry for about 30 seconds until fragrant.
Add mushroom broth powder and your softer veggies (cabbage and snap peas) and stir fry for another minute or two to soften those. Add the fried tofu back in at this point as well. You may need to add another tbsp or two of water to deglaze your pan.
Add the cooked (or soaked noodles), light and dark soy sauce, and black pepper, with an additional tbsp of oil to loosen the noodles if you didn't toss the noodles with oil after cooking. Add another 1-2 tbsp of water if you need to as well.
Stir fry well until noodles are evenly coated in sauce. Taste to check for flavour and adjust with more soy sauce if you need more seasoning!
Add spice with sriracha or chili sambal, and garnish with toasted sesame seeds or sliced scallions on top!
Notes
If you're using rice noodles or mung bean vermicelli noodles, soak noodles in warm water for about 20 minutes, until soft and pliable. Drain before adding to the stir-fried vegetables with sauce.