Egg fried rice was something I used to have all the time as a kid.
My mom made it to use leftover rice from last night's dinner to make breakfast.
Now I bring you vegan egg fried rice—all the nostalgia, none of the animal products!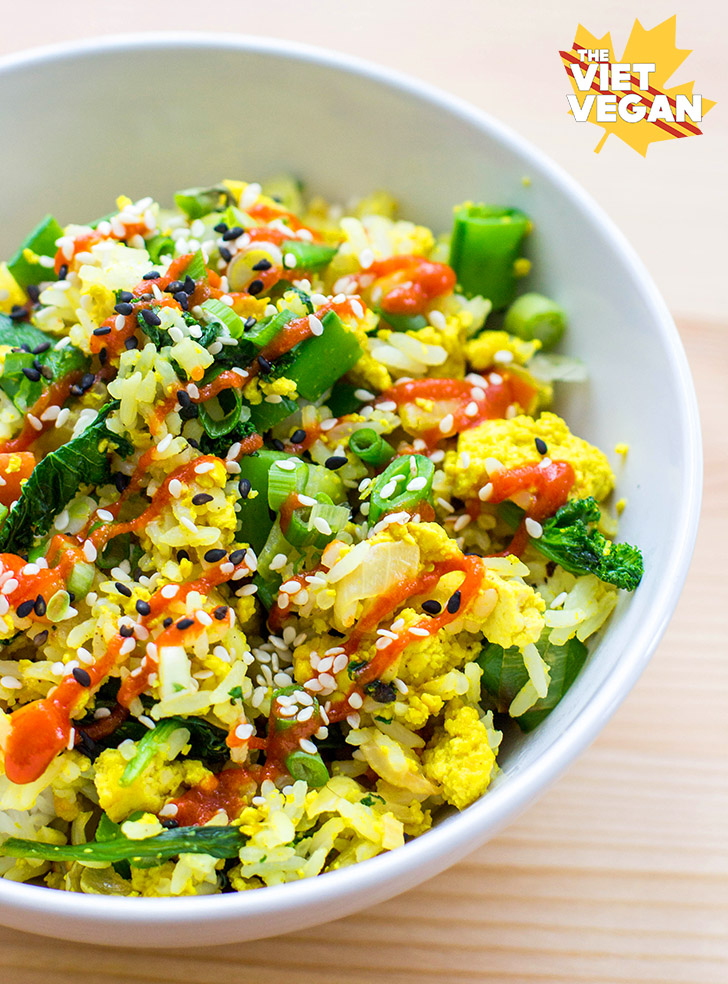 It took me a long time to realize that I'm an artist. I'm not talking about everyone's inner artist. I'm talking about that tugging and pulling in your chest that doesn't stop until you let it out. Through dance, music, paints, furniture, makeup, wood—there are so many ways to unleash that feeling.
My mom made it a priority that I would experience art in different ways—I took drawing classes (for a very brief time because I am NOT good at drawing), piano for 12 years, dance for 8, I studied photography in school and I was encouraged to write something every day. This of course was in between hours of extra worksheets, phonics, math books, quizzes and brain-exercising games that my tiger mom was famous for. Art was something extra—it was fun—but as my mom told me often, it was never supposed to be a career.
In the height of my ballet years, I longed to dance all day every day. My mom discouraged me from pursuing that as a career, contrary to what she told me as a child, I think that it is very possible to make a living with dance. While I am glad I stopped, it's not an environment that I would have thrived in. Although even now, when the mood strikes and the music comes on, that yearning comes out and begs to extend from my chest to my toes. Every now and then I dig out my old pointe shoes and put them on, relishing that sensation of my shoes perfectly forming to my feet as I gingerly test out the strength of my ankles en pointe.
Even when I was in school, I felt like I was steered towards hard sciences: I always excelled in science and math, consistently receiving 90s in those courses, but for some reason, I was compelled to keep at the arts. I opted for Latin and Classics, Music, Italian, French, English, Writer's Craft, even though I would rarely hit higher than 85 in those courses. I worked at least twice as hard at the arts classes in comparison to the science and math courses, but never reached the same recognition of achievement that I would from my math tests.
It's easy to assess science and math—there is often a right and wrong answer. There's correct methodology or a proper formula to follow, and as a result, it's easier to test a student's knowledge of those things. I was always so focused on evaluation and grades that I didn't stop and think about how anyone can truly assess the arts.
How do you measure the artistry of words? From a prescriptive view (meaning following grammatical rules dictated by academic committees), sure, there are "proper" ways to use a comma, to construct sentences, etc. In fact, I take a lot of pride in my grammatical knowledge, and I like to employ that in my writing here and at work. But even though I know the "rules", I often manipulate and push against them, because sometimes what I want to say doesn't fit within the boundaries of grammar.
Can you evaluate how a photo makes you feel? You can look at the technical aspects of a photo: composition, depth of field, exposure, quality, etc. But how do you grade the story that it tells? Can you calculate the feelings you get from looking at a photo? Beautiful photography takes the conventions and techniques of capturing a photo and manipulates it to tell a story through the photographer's eyes. Everything is relative, so how can you know what you see is the same as what another person sees?
All of my life, I've been told to follow a rubric and produce work that meets someone else's expectations—but rarely does any of that help me unleash that incessant pulling that makes me seek out my piano, move my body, uncap my pen, or look through my viewfinder. To me, everything is art, and it took me until this year to realize that I am in fact, an artist. A creator who wants to evoke nostalgia with food, inspire with photography, move people with my words.
If only I had known that sooner, I would have capitalized on that source of energy within me to create a living out of what drives me. I'm sort of doing it now, but it's not quite there yet. I'm lucky enough to be creative at work, but I can do more. I can be better.
I am forever grateful for technology like cameras, computers, Internet, YouTube, and more for enabling aspiring artists like me to be able to create for a living. So here's to me, finally acknowledging the artist within who was hidden in the boxes that tell us who to be and how.
========
In more post-related news, I made a video to show you how to cook one of my favourite ways to clean out the fridge! Vegan egg fried rice is perfect for that random chunk of tofu scramble that you couldn't finish and lingering veggies that are either kind of sad or forgotten in the fridge. The best way to get delicious vegan egg fried rice is to use leftover rice! I usually turn off my rice cooker and leave the lid of it ajar overnight and make this for lunch the next morning.
My mom would use chicken broth granules to season the rice, but obviously we're not using that. I've substituted mushroom broth powder (in the past I've used mushroom broth granules but I didn't buy that last time) and it tastes super delicious and nostalgic.
Please check out my latest video, and it would mean so much to me if you hit subscribe! I've been having a total blast shooting and editing these videos, even though it takes up to 6-8 hours to make each video >_< But like I talked about in this post, making these videos is one of the many ways that I let that artist's yearning come out.
Enjoy!

Yield: 4
Vegan Fried Rice
Ingredients
2 tbsp oil of your choice
2 green onions, finely chopped and whites separated from greens
2 stalks celery, finely chopped (~1/2 cup)
1 medium carrot, finely chopped (~1/2 cup)
1/2 cup frozen peas
1/2 cup snap peas, chopped
3 florets broccoli, chopped (you can also include some chopped broccoli stem if you have any. Add that in with the celery)
2 tsp mushroom broth powder
1/2 tsp chili flakes
1/4 cup water
2-3 cups of shredded kale
1 cup leftover tofu scramble
3 cups cooked leftover white rice
2 tbsp soy sauce (use tamari if GF)
Black pepper to taste
To Garnish
Sriracha (to taste)
A sprinkling of sesame seeds
Instructions
Sauté whites of chopped green onion in oil over medium heat until it looks transparent (or sweaty).
Add celery, carrot, and chopped broccoli stem, if using. Sauté until slightly softened (about 3 minutes). Add frozen peas and cook until they've thawed.
Add snap peas and broccoli. Add in mushroom broth powder (or granules), chili flakes, and water and stir to cook until the broccoli and peas are bright green. Add kale and stir until wilted.
Add leftover tofu scramble and rice. Season with soy sauce and black pepper and stir to coat. Taste and adjust seasoning as desired.
Remove from heat and serve with sriracha and sesame seeds!