This tofu egg scramble is a Vietnamese take on a household favourite. We use it to stretch out vegan egg while bolstering the protein and calcium content with tofu!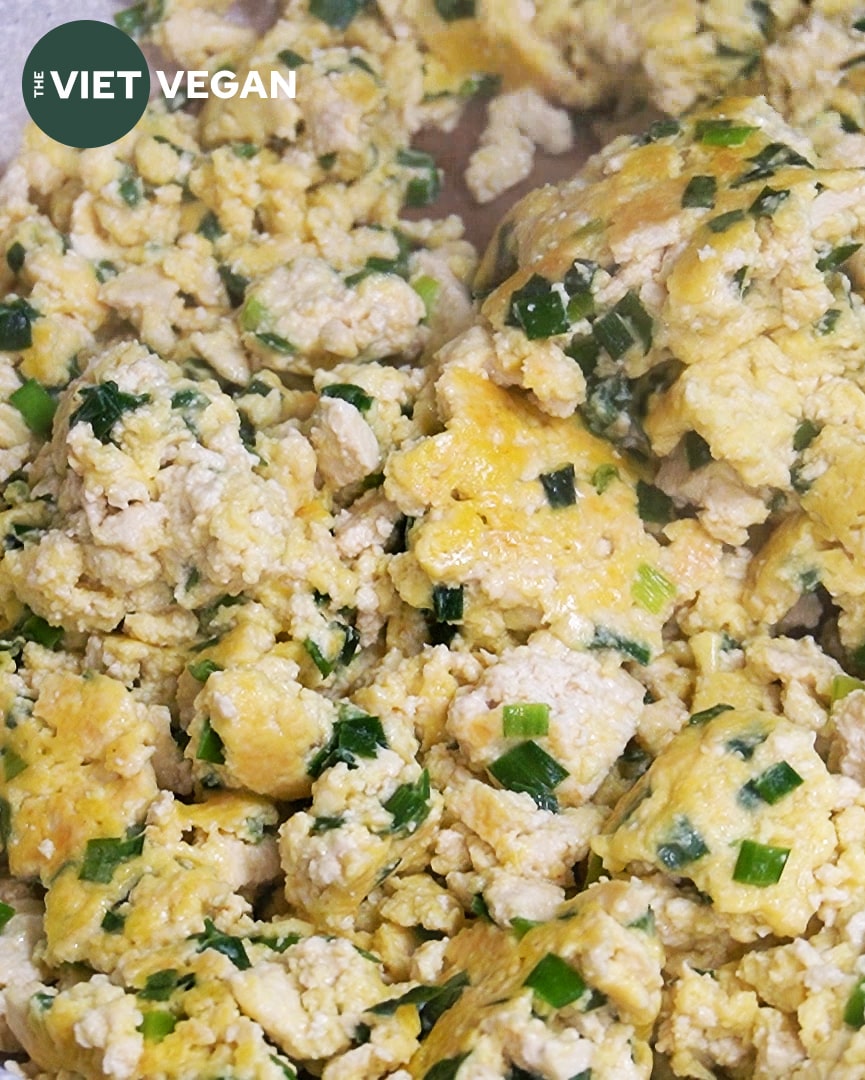 With Bean eating more solids and also being a lot more mobile, I've been batch cooking meals a lot more often. Now I just pull out leftovers for meals when it's just me with Bean. Bean has been hard to keep up with sometimes, so I have to be efficient in the kitchen!
This Vietnamese tofu egg scramble has delicious savoury flavour! It is perfect to eat with toast and potatoes, with rice, or my favourite: on banh mi! Quick pickled carrots and daikon, cucumber, pâté, vegan mayo and vegan butter.
If this recipe seems similar to you, it's because I have a version made only with JustEgg on the blog already. Lately, I've started using tofu in addition to the plant based egg mixture. It stretches out the Just Egg AND it adds extra nutrition with tofu. We are big fans of frugality here.
JustEgg tends to be our go-to vegan egg alternative. I've done a breakdown of the other plant-based liquid eggs I've tried before if you'd like to check it out!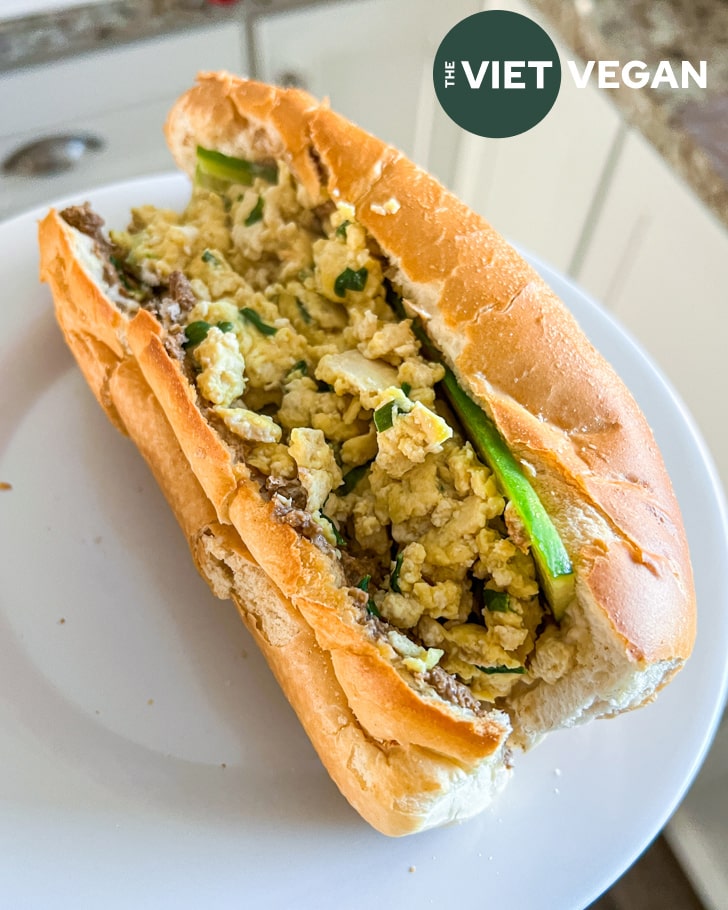 I've seasoned this Vietnamese tofu egg scramble so it is savoury but not overly salty. While I do feel comfortable feeding sodium to Bean, I do try to limit their intake so as not to completely overdo it.
So if you like it saltier, feel free to season with extra soy sauce or vegan fish sauce. You can also use black salt for eggier flavour! I like having it slightly under-seasoned anyway because when I eat it over rice or on banh mi, I have other seasonings on top of that too.
Yield: 4-6 servings
Vietnamese Tofu Egg Scramble (vegan!)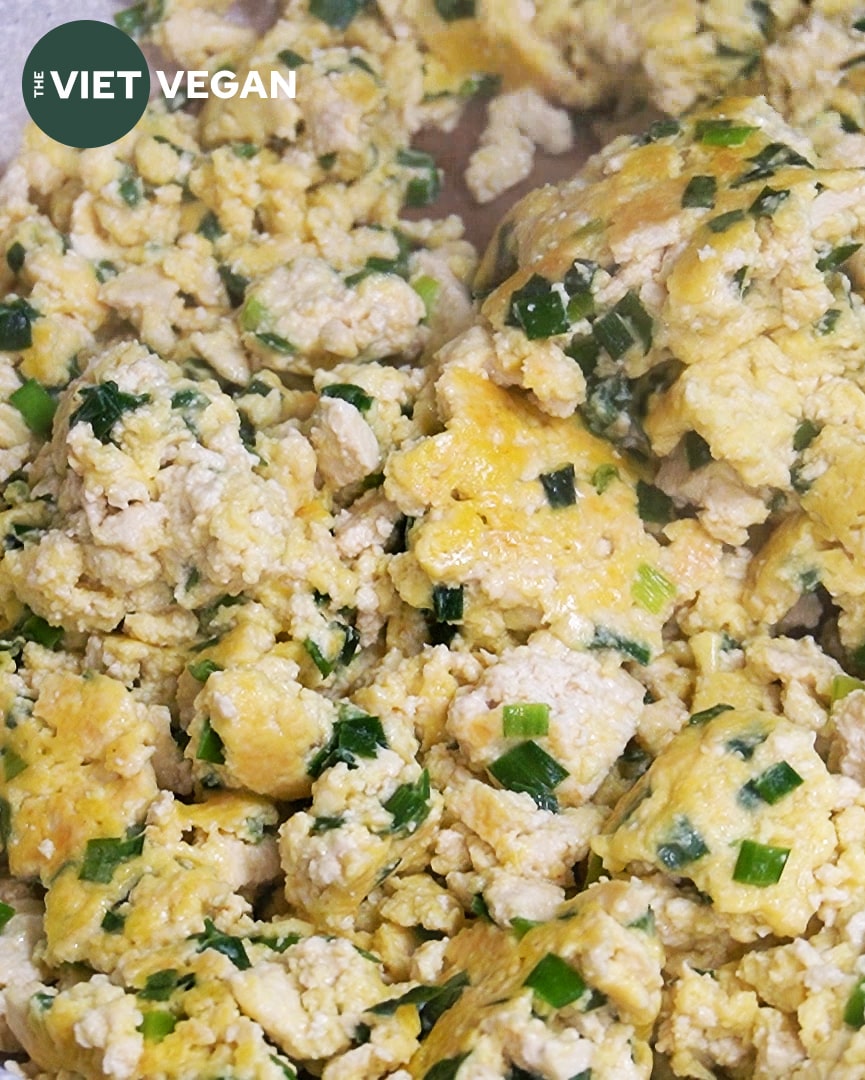 This Vietnamese flavour profile with classic scrambled tofu is made eggier with a boost of JustEgg's vegan egg for the ultimate eggy texture.
Ingredients
1 block of extra firm tofu (400 g)
350-500 mL of JustEgg (I sometimes use a full carton, sometimes I use less. It's up to you!)
2-3 tbsp water
2 tbsp vegan fish sauce
1 tsp sugar
1 cup chopped flat chives OR 3 green onions, diced
1/2 tsp white or black pepper (or to taste)
1 tbsp vegetable oil
Optional: 1/2 tsp kala namak (black salt) for extra eggy flavour.
Instructions
In a large pan, use a fork to break up the block of tofu. I like having organic pieces of various sizes in but feel free to break it up as big or small as you like.
Add 350-500 mL of JustEgg. The more you add, the bouncier the overall scramble will be. I have cartons of 500 mL but I also sometimes just use a full 355 mL bottle.
Use a bit of water to get any remnants of the vegan egg mixture out of the carton and add to the pan.
Season with 2 tbsp vegan fish sauce, 1 tsp sugar, 1 cup chopped flat chives or green onions, and 1/2 tsp white or black pepper. Stir to mix everything well. If you want extra eggy flavour, add black salt (you can reduce the vegan fish sauce to limit the sodium)
Turn on the element on medium heat and start to cook, stirring occasionally. Add about 1 tbsp vegetable oil if you find things are starting to stick (I have a pretty good non-stick pan so I don't usually find I need this but it depends on the day)
Cook until you have some bits that are lightly browned and the mixture has a nice, bouncy texture from everything being cooked through.