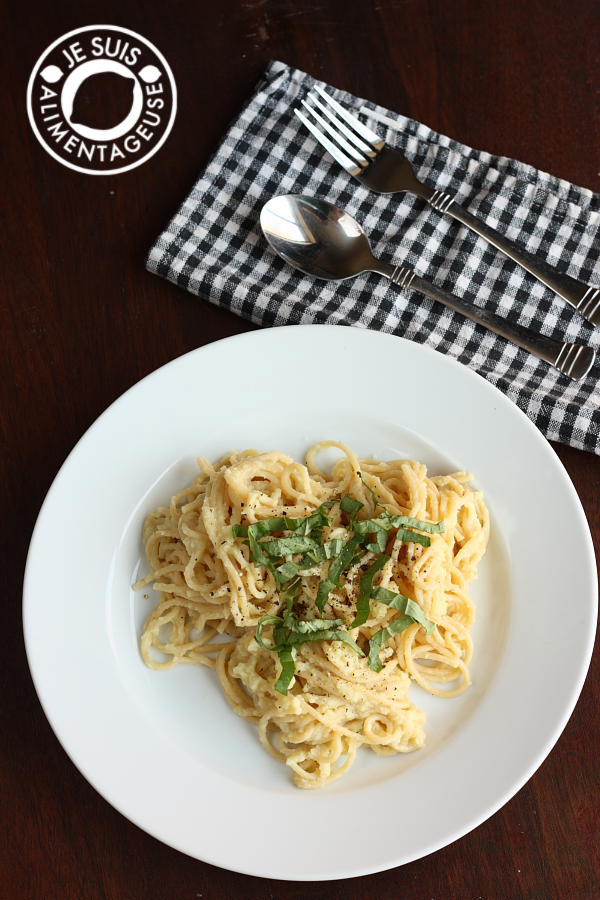 Before I start raving about this vegan cauliflower sauce, I want to talk about how I can't believe I've finished my first two semesters of my Master's! It's been an extremely steep learning curve and I've learned so much about my field, my writing ability, and myself over the past eight months. Isn't it funny that as a student, we don't really pay attention to when calendar years end, but once the academic year ends in April (or June for those not in university), we are suddenly filled with a rush when we finish our last exam and are free for the summer. That is, if you're like me and are taking summer classes, then you have a blissful couple weeks before school starts again.
This is my first summer in Toronto. I know its May right now, but it's been at least 18 degrees in Toronto for the last few days and it's been days of cropped pants, sandals, and a light sweater to bask in the bright sunny day. It may as well be summer in the city! Summer in Ottawa was beautiful on some days, but muggy and HUMID on most. I've heard that summer in Toronto is sweltering and my apartment has little to no circulation I am just counting the days before it gets unbearable in here.
But in the meantime, I'll enjoy the last few days of turning on the stove and not dying of heat stroke. So turn on the stove, make a batch of this amazing vegan pasta sauce and enjoy. Cauliflower seems to be the "in" vegetable right now. I've seen cauliflower pizza crusts on Pinterest, cauliflower bread sticks, roasted cauliflower "chicken wings"… I saw this AMAZING cauliflower sauce by Lindsay at Pinch of Yum and it looked so delicious I wanted to drink it. It had some cheese and milk in it and I decided I wanted it to be vegan. Now I just used more broth instead of milk to thin the mixture, but feel free to add milk substitutes like coconut milk or almond milk if you want this to be creamier.
It's so versatile, and I feel way better about eating this than I would eating some really fatty, creamy, and cheesy Alfredo sauce. Just give it a try!
Yield: 6-8 cups of cauliflower sauce (depending on how big your cauliflower is)
Cauliflower Pasta Sauce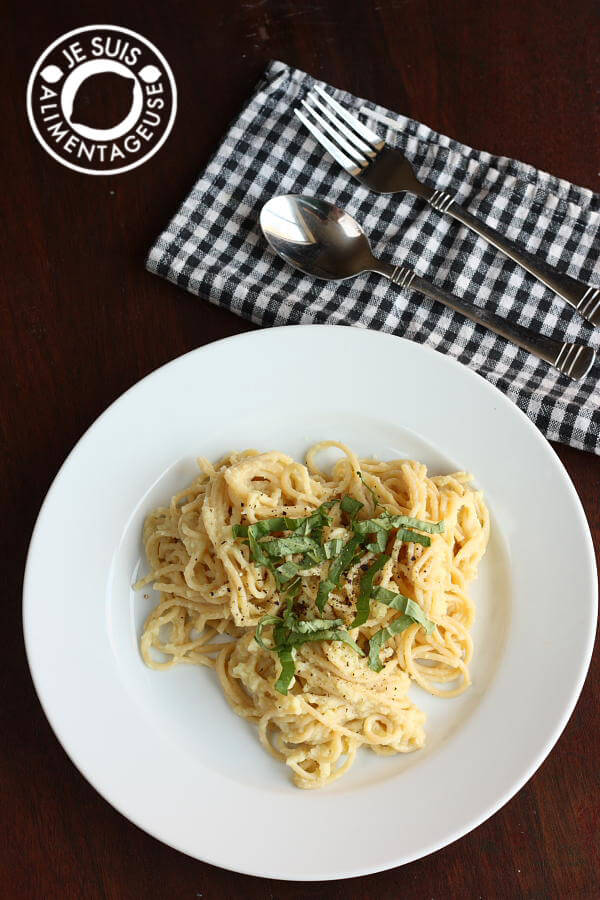 Ingredients
- 2 tbsp olive oil
- 2 medium onions, diced
- 6 cloves garlic, chopped
- 2 vegan bouillon cubes
- 1 medium-sized cauliflower, cut into florets
- 3/4 cup nutritional yeast
- 1 cup of the cauliflower broth
- salt and pepper to taste
- Optional Garnishes: parmesan cheese, chopped basil leaves, a squeeze of lemon juice
Instructions
In a large pot of water, boil the cauliflower florets for about 15-20 minutes or until fork tender. Do not drain! Keep the broth for later =)
In a small pan, pan fry the onions, garlic, olive oil, and bouillon cubes until the onions are translucent and the garlic is fragrant.
Once cooked, use a slotted spoon to take out the cauliflower and puree both the cauliflower and onions in a food processor.
Add nutritional yeast, and broth until it reaches your desired pasta-sauce consistency (I added about 1 cup).
Add salt and pepper to taste and use it over pasta, risotto, as a white sauce on pizza, heck, even add a bit of extra broth to make it a white gravy!