Creamy smooth cauliflower soup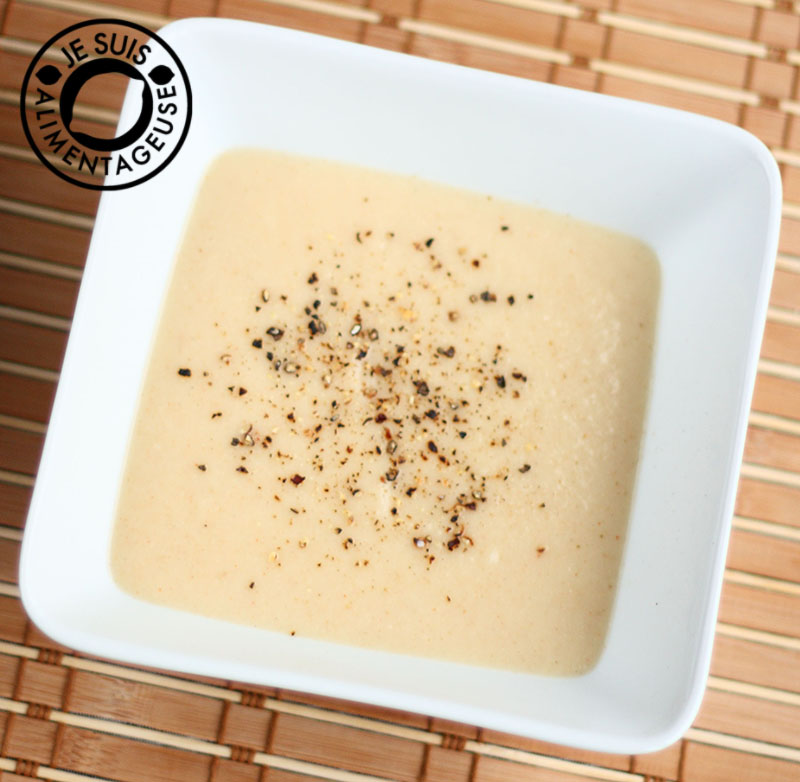 Whether or not you're new to cooking, sometimes, you just totally and completely mess something up. It can something simple like vinaigrette—you added too much salt but you don't have any more lemon juice so now you have this overly salty dressing. And sometimes it's something that's a bit more catastrophic, like your Thanksgiving turkey.
There have been so many times where I make something that I've made hundreds of times before, but I forget to buy one vital ingredient that makes or breaks the recipe. Then I try to deviate and come up with something on my own and it totally fails. Like when I tried to use skim milk instead of a mixture of whole milk and cream to make alfredo sauce. It curdled and just looked completely awful.
But then sometimes, you deviate and you do it right. It comes out as perfect as you imagined, and without a recipe, without a guide. It was just you, your ingredients, and your pot, and every spoonful was velvety and delicious. This, my friends, was one of those times.
A glorious moment, and it felt grand.
Yields 4-6 servings
Cauliflower Soup
A light and creamy soup that is great for a light lunch.
15 minPrep Time
30 minCook Time
45 minTotal Time
Ingredients
1 medium yellow onion, diced
2 cloves garlic, minced
3 generous tbsp butter (vegetable oil if you want to make it vegan)
3 tbsp flour
1 tsp garlic powder
1 tsp onion powder
6 cups vegetable broth (or until the cauliflower is covered in liquid)
1 head cauliflower, rinsed and cut into small florets
1 cup old white cheddar, grated
Salt and pepper to taste
Instructions
Cook the onion and garlic on medium low heat in the butter (or oil) until translucent and soft. Add the flour to make a roux, stir and add 1 cup of broth. Add the garlic and onion powders and stir to incorporate. Add the remaining 5 cups of broth and cauliflower.
Cover and bring to a boil on medium heat, then lower to medium-low and let simmer for about 30 minutes or until you can piece the cauliflower easily with a fork.
Purée with an immersion blender or in a regular blender. Keep blending even if you think it's ready. The smoother it is, the creamier and better it is. It's like liquid velvet.
Stir in the grated cheddar until melted and incorporated.
Serve with pepper, and salt if you like it (but I didn't think it needed it at all).
7.6.4
146
https://thevietvegan.com/cauliflower-soup/
Enjoy!