The Vietnamese equivalent to chicken noodle soup
but plant-based!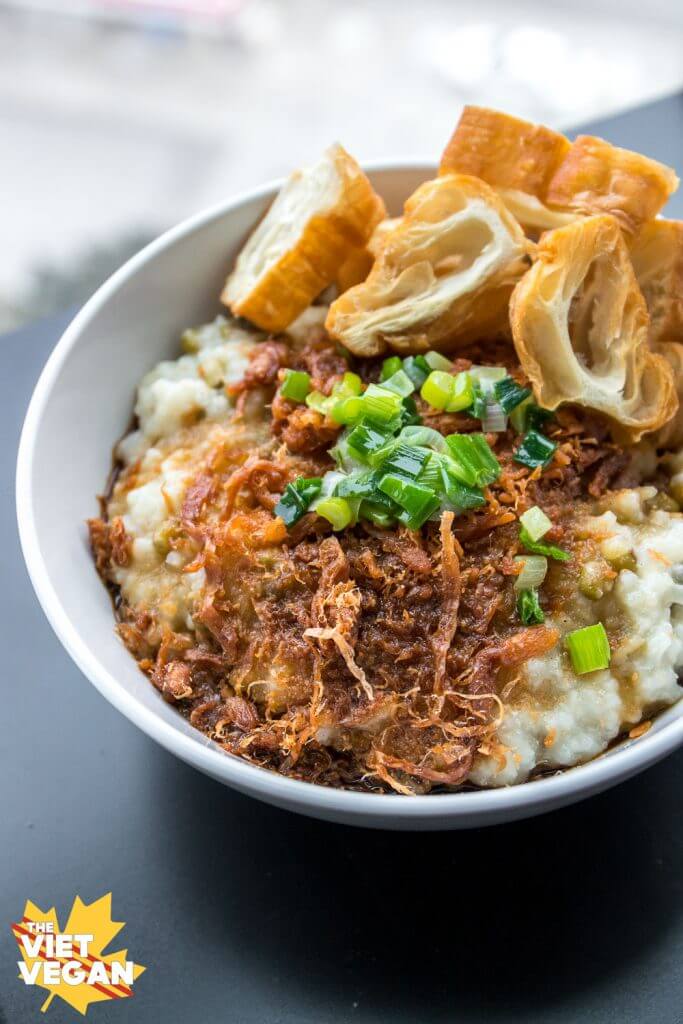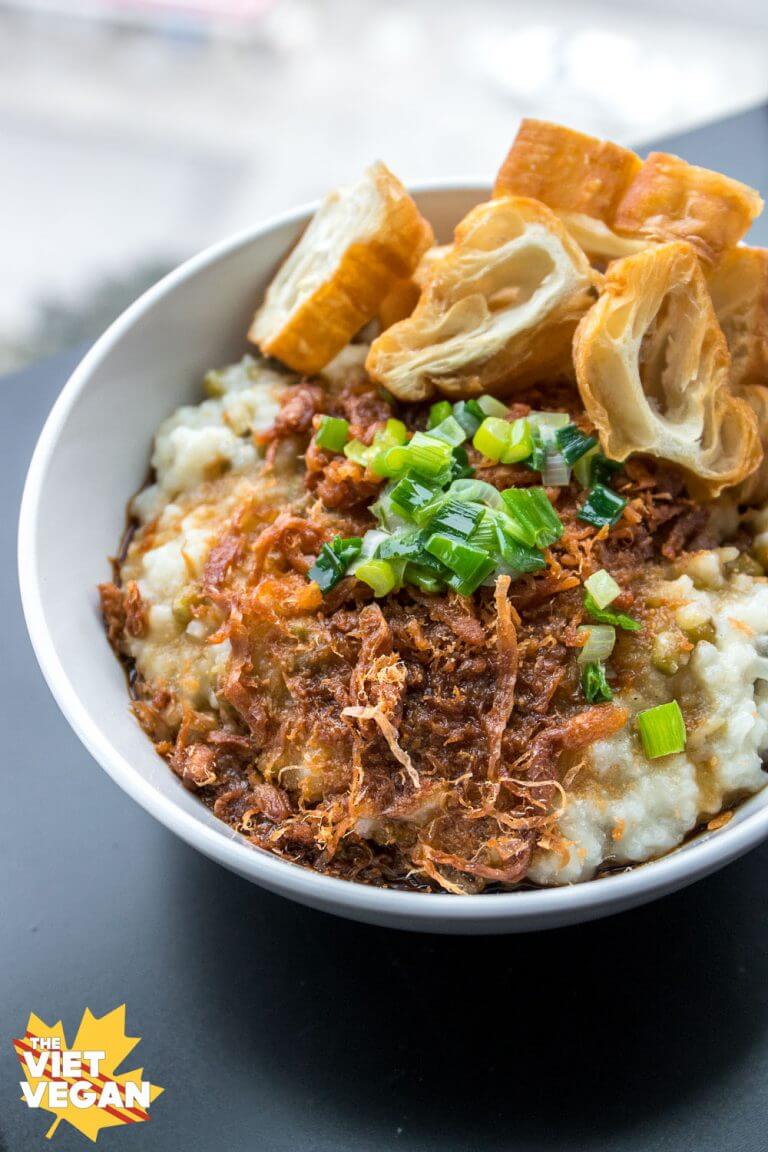 The last time I was sick, I think I was only down for maybe 2 or 3 days until I was bouncing back. This time I was down for much longer. Maybe it was a combination of burn out, holiday stress, and just being around sick people that got me sick for a solid week. I had made some vegan chicken noodle soup, but I still didn't feel like I had fully gotten over my cold.
I was craving something that reminded me of home, so naturally my palette went back to rice. I've already shared a similar recipe like this before, but as it is the Vietnamese remedy for when you're sick, there are different versions of it depending on where you're from. I wanted the classic, sticky and simple cháo that my mom used to make, but with a bit of extra protein. Other people have added green lentils or red lentils, but I decided to stick to tradition and go with green mung beans.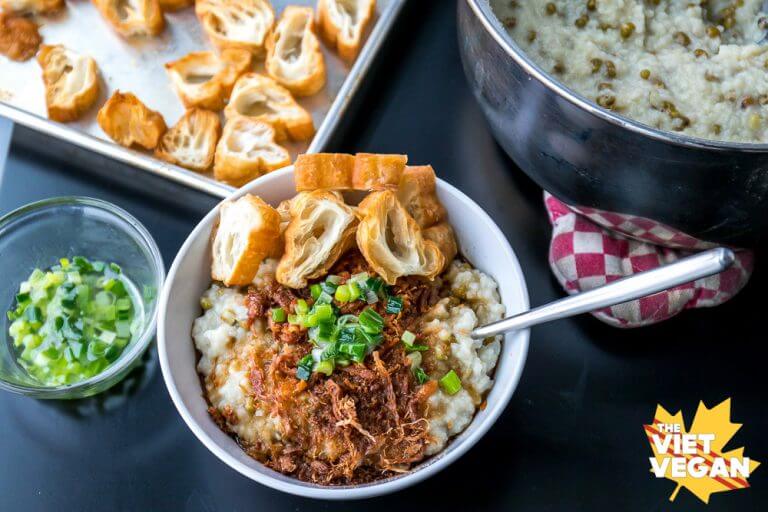 Green mung beans are more often used in sweet desserts like chè, but they're common in this rice porridge. It's like a stick-to-your-ribs, savoury, filling and easy to eat bowl of warmth. The extra protein and fibre from the mung beans means that you won't get hungry again after an hour, but rather you'll be satiated for a bit longer so you don't have to get up from your bundle of blankets. Plus, with the frigid weather billowing around the city, I thought this was the perfect time to make something that warmed you with every bite.
I've made this for myself and Eddie a few times, and he doesn't quite have the love for it that I do. It's not for a lack of trying, he's definitely fine with eating it when I make it for dinner, but it's not the same sort of nostalgia I imagine many other Vietnamese people feel when they eat it. One day when I have kids, I really hope that they feel the same sort of connection with this bowl of comfort that I do.
I've been thinking a lot about kids lately. I guess that's rather normal for people my age—so many of my friends are having kids right now. Through the Facebook feeds and Instagram shares, I can see them learning about parenting and it's interesting to witness them fall into certain stereotypes. What kind of stereotype would I fall into?
Would I be like my mom? My dad? (yikes)
There are so many unchartered waters for me—I've honestly been mulling over this simple question: How do you teach your kids to be good? When you really think about it, there's not a whole lot of incentive out there to be good. You see good people get run down by the system, good people get sick, good people die in accidents, good people often seem to not surmount to anything at all. Meanwhile, you see rather devious and amoral people rise to the top and it seems as though in order to be successful in this day and age, one must be selfish and at their core, not kind at all.
What sort of incentive is that?
How can you teach someone the merits of goodness and kindness when it seems as though people don't care?
If someone has the magical answer, I'd love to hear it.
Meanwhile, I will seek comfort in this bowl of childhood memories and hope that it will pull me out of this lingering cold.
If you're a visual learner, I hope this recipe video is helpful. I still haven't quite gotten the hang of talking about rather abstract and random topics like this on video yet, so in the meantime, I'll just be rambling with words to you, dear readers.
Happy New Year =P

Yield: 8-10 servings
Cháo ??u Xanh Chay – Vegan Rice Porridge with Green Mung Beans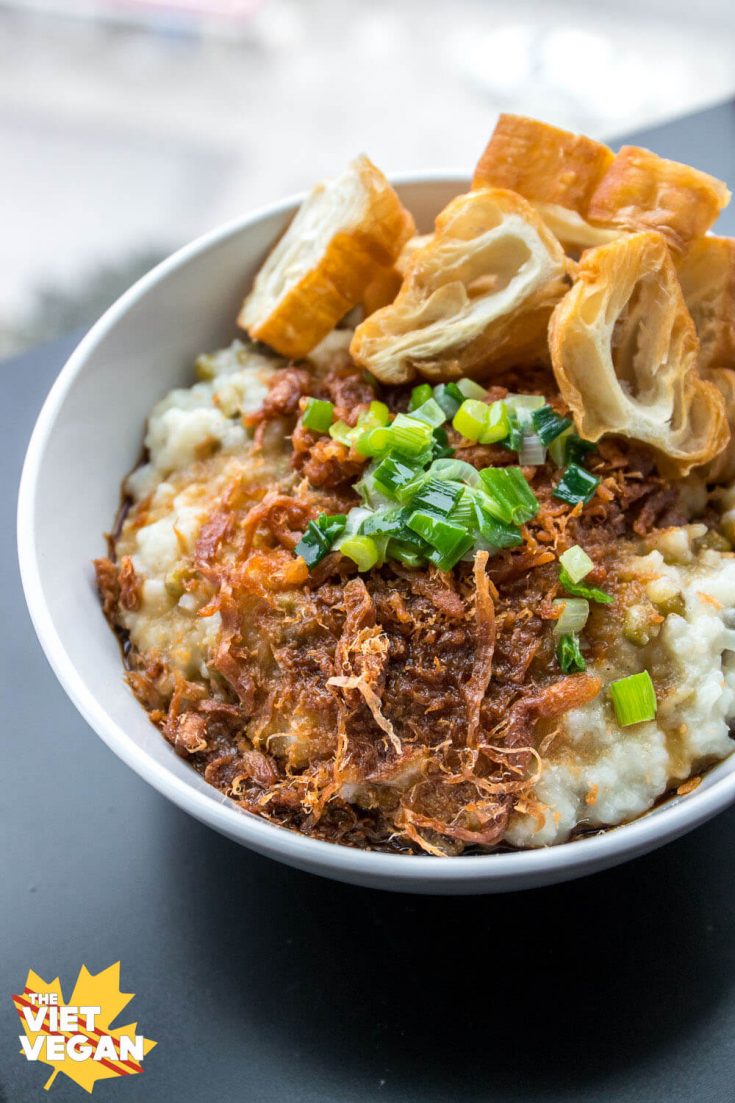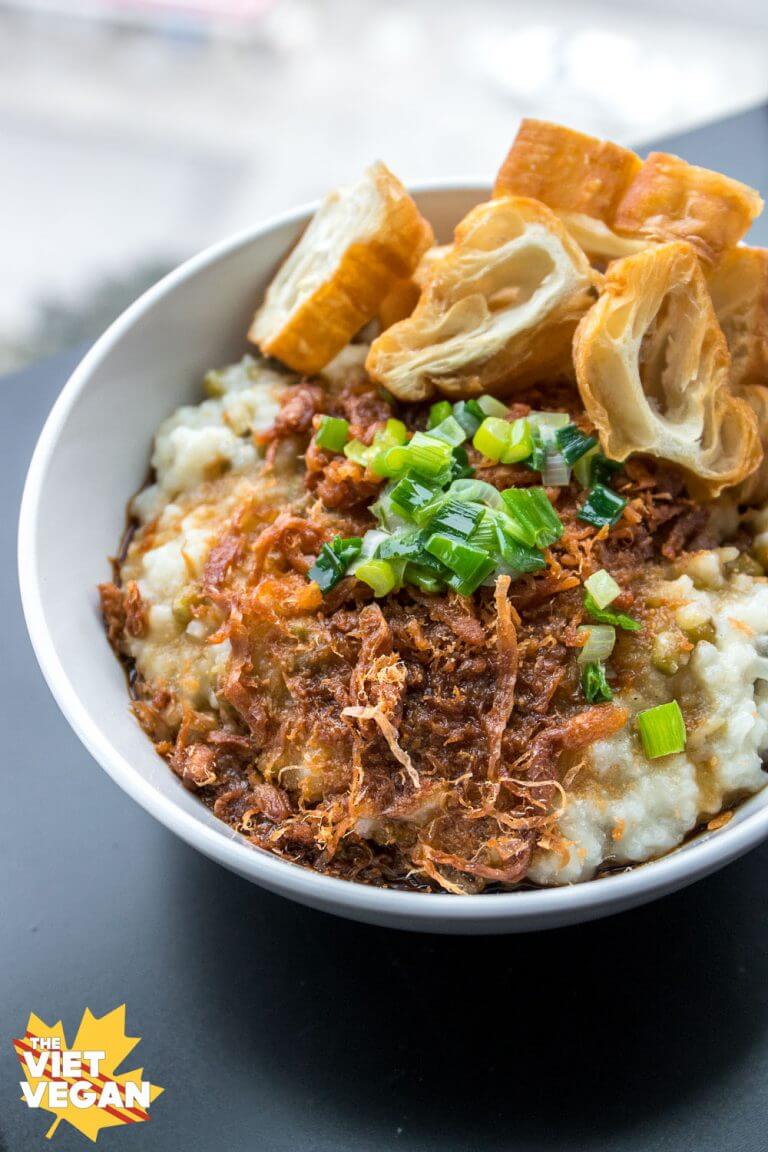 Ingredients
1 cup dried green mung beans*
2 cups white jasmine rice
13 cups water
A pinch of salt
Green Onion Oil:
1 green onion, finely diced
2 tbsp grapeseed or vegetable oil
Toppings:
Vegan Pork Floss (I found mine at Kings Café in Kensington Market)
White pepper to taste
Soy Sauce to taste (use tamari or a GF soy sauce if avoiding gluten)
Chinese donut (don't use this if you're avoiding gluten)
Instructions
Soak your green mung beans in cool water in a large bowl overnight. The beans will double in size so be sure to put in enough water for them to be covered.
In a large pot over medium heat, add drained mung beans, rice, and 10 cups of water to the pot. Add a pinch of salt and raise heat until water comes to a boil.
Lower to a steady simmer (medium-low heat) once the water is bubbling, and stir every few minutes to keep rice from sticking and burning to the bottom.
Keep cooking until the rice breaks down and absorbs all the water, you make need to add more water if the mixture becomes too thick but the rice hasn't broken down yet. I ended up adding about 3 more cups of water, but it might depend on the kind rice you're using or how much liquid the mung beans have absorbed. Just keep some water close by to add as needed (see my video to see the consistency I go for). It typically takes about 30 minutes.
Once the mung beans have cooked through and rice has broken down, turn off the heat and set pot aside.
For the green onion oil:
In a microwave-safe bowl, combine green onion and oil and microwave for 30 seconds. Alternatively, you can heat up the oil in a small pot and add green onion. Cook over medium heat until the onions look melted. Remove from heat (this might also be more effective in the pot if you double or triple the ingredients for green onion oil). Set aside.
To top the chao:
Add vegan pork floss, green onion oil, white pepper, and soy sauce to taste. You can also lightly toast sliced Chinese donuts for extra crunch, but some enjoy eating it soft as they are as well.
Enjoy!
Notes
*If you don't have the time to soak the mung beans overnight, you can soak them for 1 hour in warm water.
You can use rinsed and drained dried green lentils in place of mung beans in this recipe. Start off with 10 cups of water and keep adding water as it cooks in case the lentils need less water. If you're cooking with red lentils instead of mung beans, add them after cooking the rice for about 10 minutes.