This cilantro garlic rice recipe is sponsored by USA Rice <3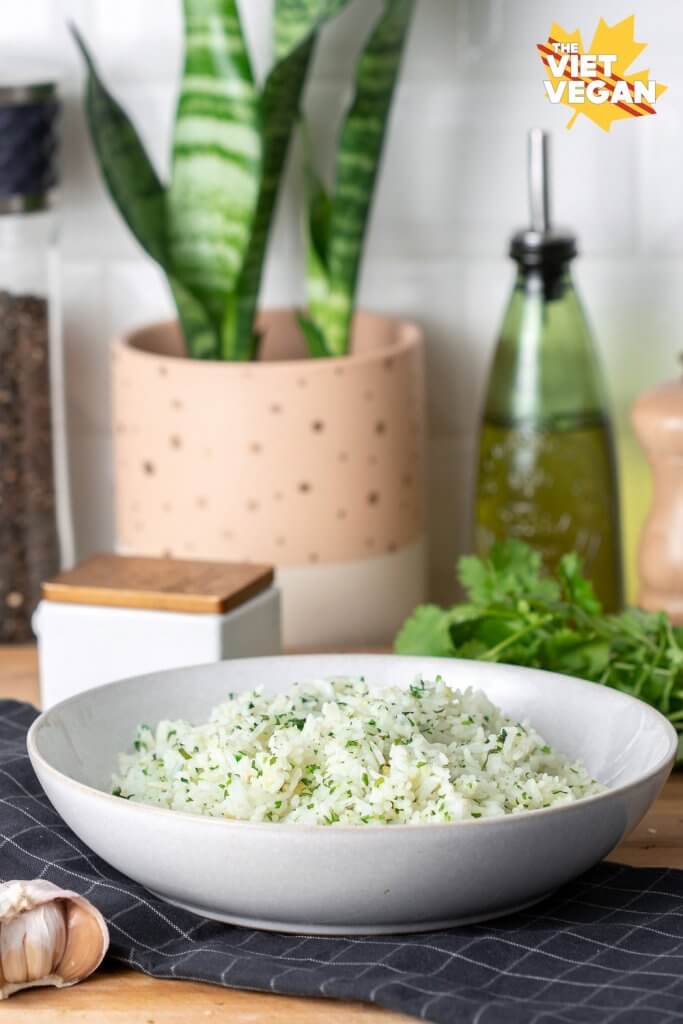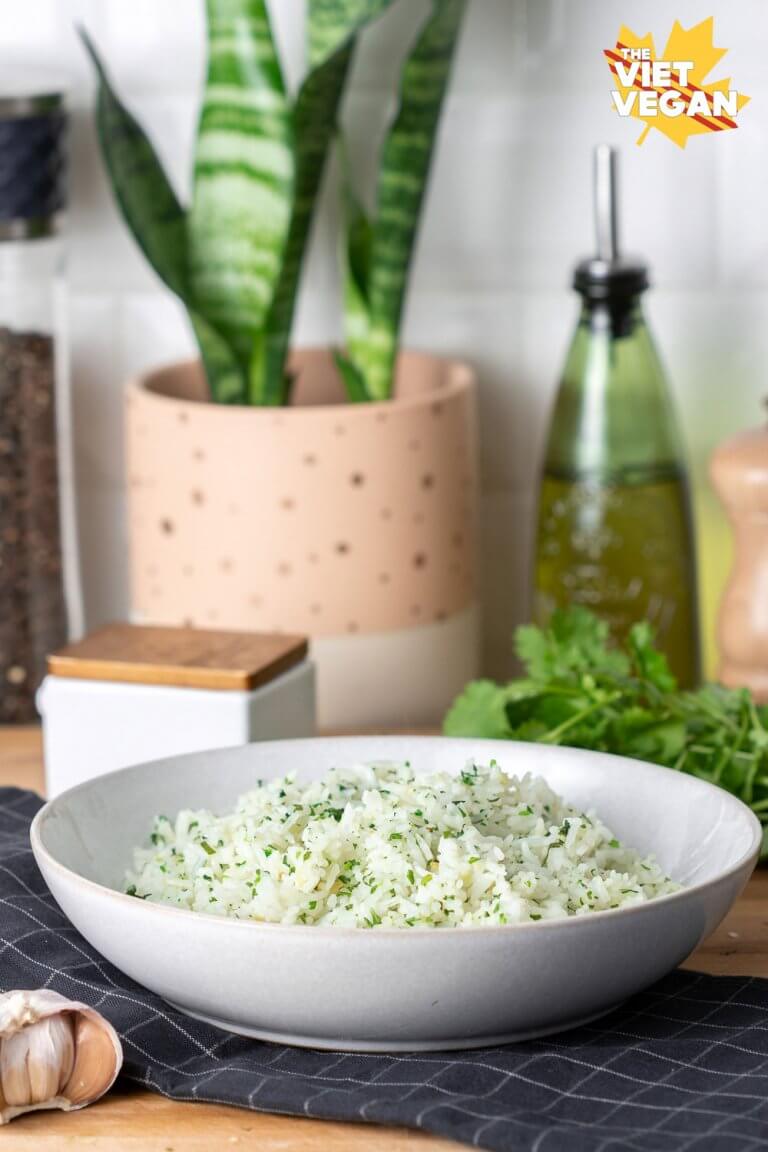 With both Eddie and me being home all the time to eat food, we've been taking every advantage of cooking everyday (well, by me, I mostly mean me), and I've been really enjoying taking about an hour every day to cook us a full meal and eat together. I've been making this cilantro garlic rice anytime we manage to go to the grocery store and snag fresh cilantro, especially since I always have hoards of rice in my pantry. It's such a great pantry staple and can be used in so many different cuisines.
If you don't have a rice cooker yet, I HIGHLY recommend it. It was my first ever appliance I ever had after I moved away from home for school, and it has stayed with me ever since. It's easily my most used appliance! I've learned to cook full meals in my rice cooker (tomato rice, rice and beans, etc), but by far my favourite way will always be plain white rice to eat alongside various Vietnamese dishes just like how I grew up eating it.
If you don't have a rice cooker, you can just as easily use an Instant Pot or cook over the stove, USA Rice has instructions for how to cook each variety of rice on the stove (based on long, medium, or short grain rice, or whether its white or brown rice).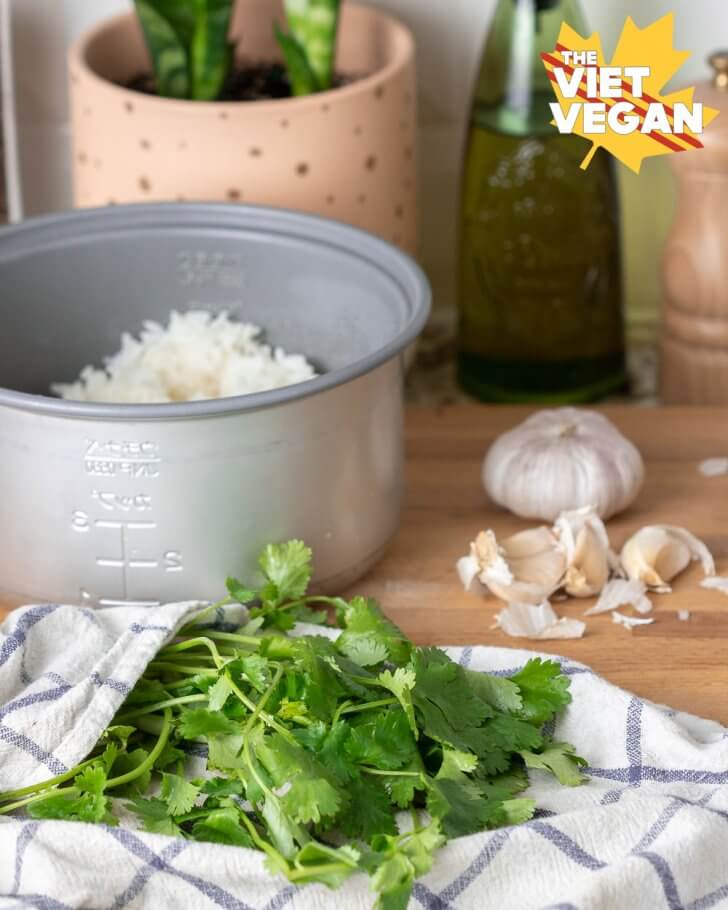 You can cook a giant batch of rice and either refrigerate or freeze it for adding to meal prep, soup, or wraps later, but my favourite way (especially since I have a rice cooker), is to simply start that first before cooking other components in my meal. Since my rice cooker only has the capacity to cook up to 3 cups (and it's just me and Eddie anyway), we end up cooking 1-2 cups of rice every day, and whatever we don't eat that day, we let cool completely, store in an airtight container in the fridge, and cook up the next day.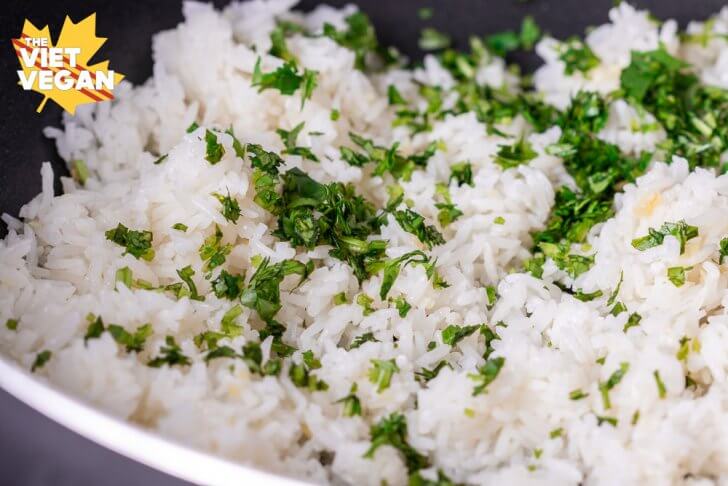 One of the really simple ways we like to re-purpose day-old rice is to stir-fry it. I prefer using day-old rice over freshly cooked because day-old rice is perfectly cooked through, but a little bit dried out so it better absorbs the flavours you are infusing into it. That being said, using fresh rice is totally delicious too, the texture will just be a bit softer in your final dish.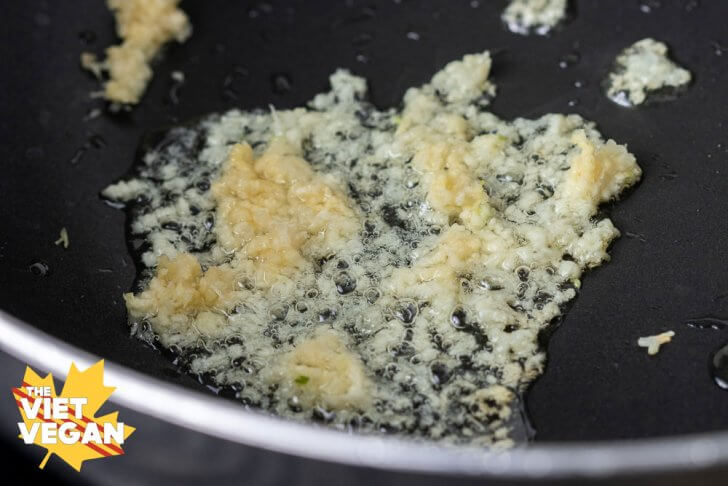 For this dish, I started with about 4 cloves of crushed garlic to infuse into some oil. After a quick fry of the oil, the oil captures that zippy and earthy garlic flavour, and I toss in the cooked rice into the wok. Stir it well to break up the clumps of the rice and heat through, and listen for the dry popping frying sound, which means you're going to have some tasty hot rice!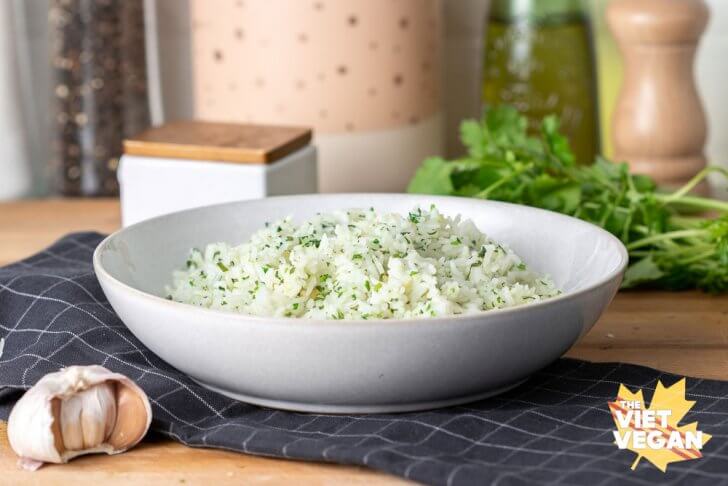 Just as the rice is done, I stir in the chopped cilantro. I want the cilantro to melt into the rice, but not lose its vibrant green colour, so it's best to add just as you are finishing the rice.
It's a great, gluten-free base for any meal (honestly I also eat savoury rice dishes for breakfast and makes a fantastic pre-workout meal), and contains potassium, Vitamin B6, and magnesium! Also I learned that rice triggers your brain to produce serotonin, which is wild and makes so much sense to me now. No wonder I always turn to a bowl of chao to make me feel better <3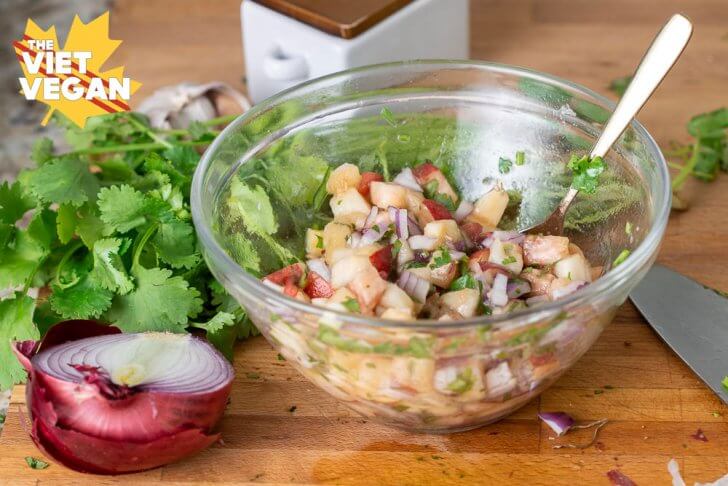 Lately I've been eating rice with a lot of Vietnamese-style dishes, but one of my absolute favourite things to do with rice is to layer it like a burrito/taco bowl and add protein, a fresh salsa, and lettuce to round out my meal.
On this day, we made vegan fried fish, a simple peach salsa (peach, onion, lime juice, salt and more fresh cilantro), and a handful of lettuce for a super fresh, summery meal.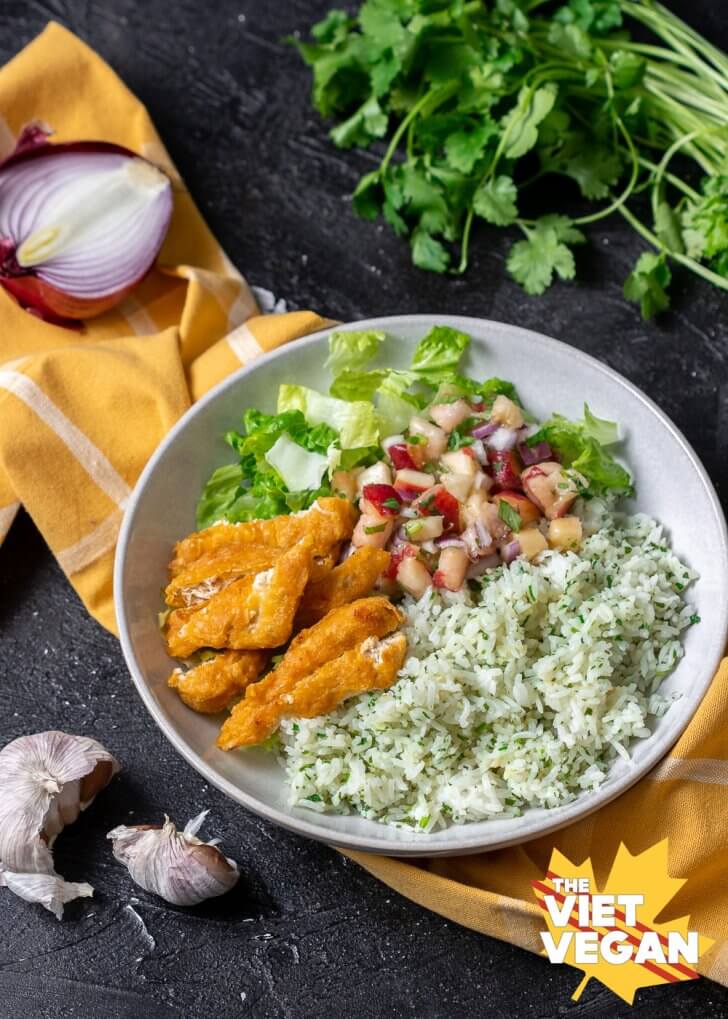 Y'all know my priorities tend to focus on reducing my environmental impact whenever I can, so I like to buy U.S.-grown rice here in Canada since that's about as local as we can get. Reducing how far our food has to travel is always a great thing, and I encourage you to really look at the foods you buy and consider how far they must travel before including them on your dinner table!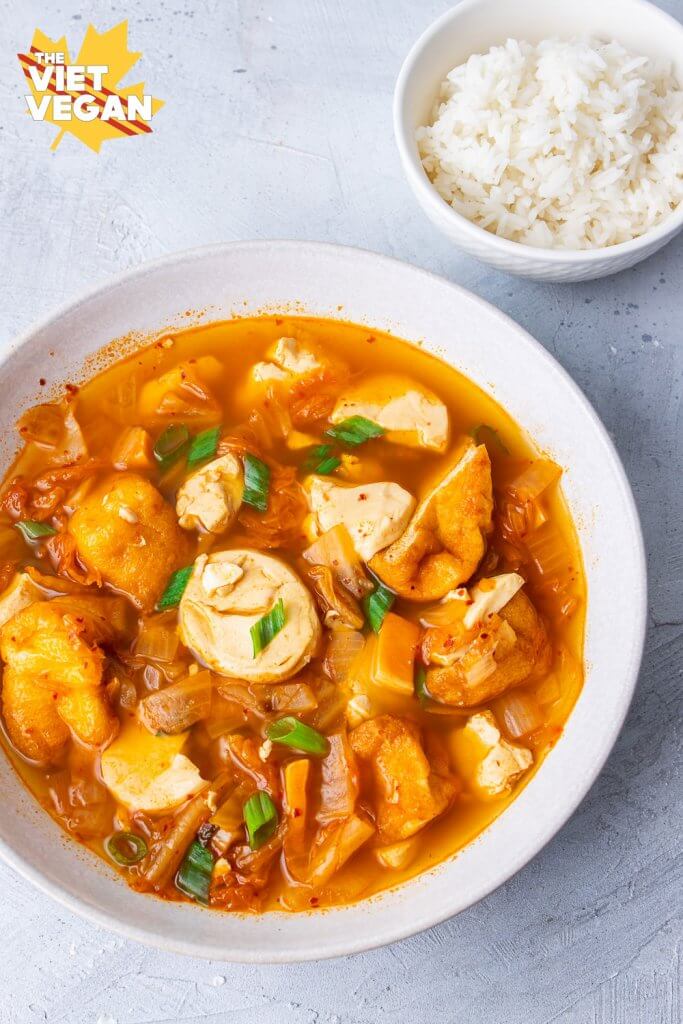 Like I mentioned earlier, us being home all the time has forced me to be creative with the pantry staples that we have, and USA Rice challenged me to think of 5 ways I eat rice over 5 different days, and not gonna lie, it was not a challenge at all! I already eat rice nearly every day haha.
Here's how we've been eating rice this week:
Steamed rice alongside Kimchi jiggae (sour kimchi and soft tofu stew), pictured above
In some epic vegan fish taco bowls with peach salsa
Stir fried in a kimchi stir fry (with cabbage and seasoned TVP)
Steamed alongside classic Vietnamese dishes like this braised eggplant and braised tofu dish.
Cooked up alongside some bits and bobs in my fridge in a risotto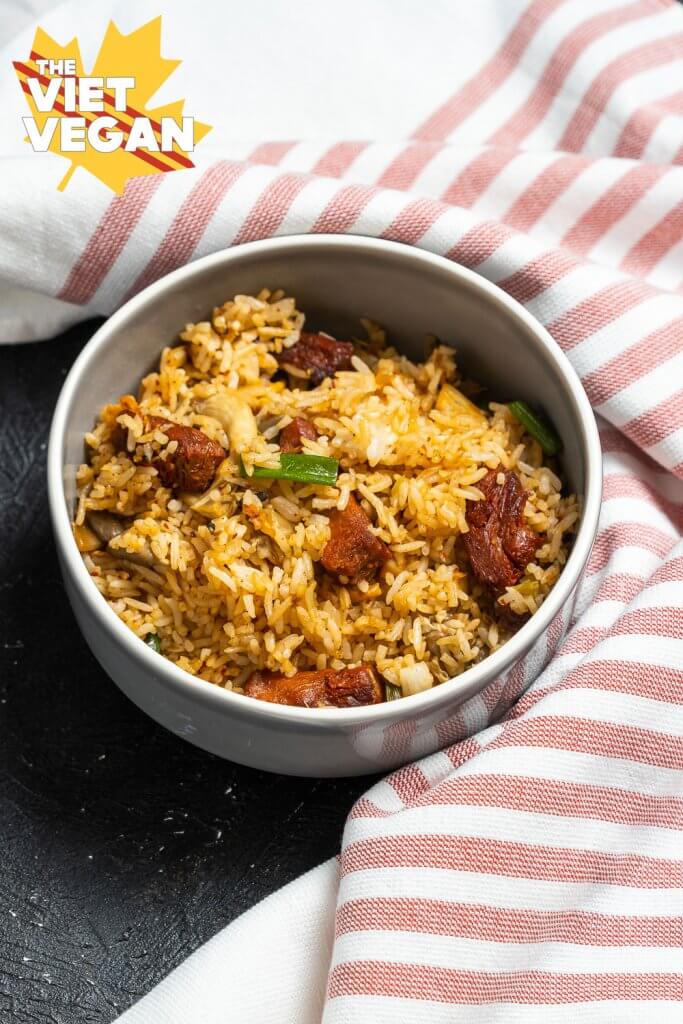 A big thank you again to USA Rice for sponsoring this recipe and enabling me to talk about one of my absolute favourite foods: RICE! I hope you enjoy this super easy cilantro garlic rice (bonus if you have lime juice to add some acidity to it, but I left it out this time since I added it to the peach salsa)
Yield: 2 servings
Cilantro Garlic Rice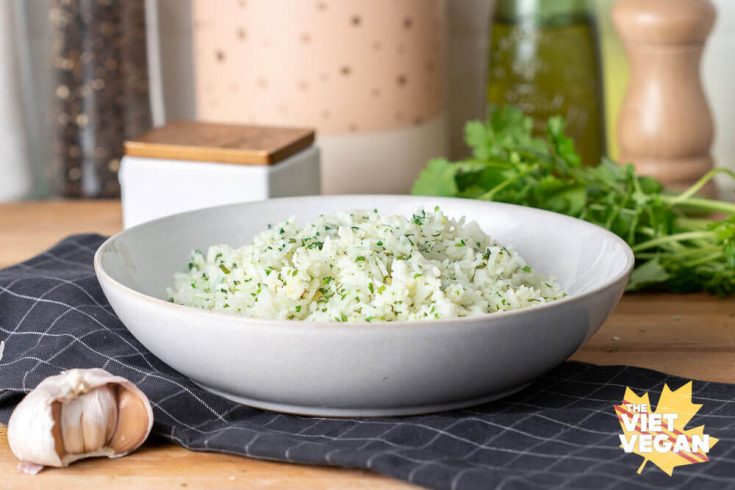 This super fragrant cilantro garlic rice is a favourite of mine to use up day-old white rice and infused delicious herby and garlicky flavour. It's great for bowls, tacos, or a side!
Ingredients
1 tbsp (15 mL) vegetable oil (any neutral flavoured oil that can withstand high heat like sunflower, canola, or a vegetable blend)
4 cloves garlic, crushed (or finely minced)
1.5-2 cups (approx 800 mL when cooked) of rice, cooked (it doesn't have to be exact)
1/4 cup (15 g) finely chopped cilantro (stems and leaves)
1/2 tsp (2.5 g) kosher salt or salt to taste
Instructions
In a large non-stick pan, heat oil over medium heat.
Fry the minced garlic until fragrant, about 45 seconds.
Add the cooked rice (can be day-old or freshly cooked), then mix well to break up the rice and mix the garlic and oil into the rice.
Once the rice has heated through, add chopped cilantro and salt and mix well. Taste for seasoning, add salt if more is needed, then enjoy!