This vegan cheddar cheese ball is a CLASSIC holiday appetizer
It is scrumptiously creamy and wonderfully spiced, it'll be devoured in a matter of minutes (I'm talking from experience)
Ever since I made a jalapeno cilantro cheese ball last year, I've been OBSESSED with cheese balls. Unfortunately, I have very little willpower and I know that I will just devour a whole cheese ball if I don't have a crowd to share it with. So every year, Eddie and I host FRIENDSMAS, which is an opportunity for me to eat this epically creamy, classic vegan cheddar cheese ball without going overboard and submitting to a food coma.
Friendsmas this year was a bit of a blur, I'll have a quasi-vlog of it coming to the YouTube channel later this month, but it was just such a lovely whirlwind of a night where I cooked up a storm, tried some experiments, and had a delicious time chatting with friends. Our appetizers included Eddie's favourite: sausage rolls, a spread of some classic vegan cheeses (the farmhouse Jalapeno Daiya block & some Earth Island cheddar slices), a variety of crackers, and of course, this STUNNER. I actually totally meant to make my jalapeno cheese ball again for Friendsmas but I had forgotten to get jalapenos AND cilantro, so I decided to just change gears and go with the classic cheddar. IT WAS A HIT.
Our friend group has a lot of skeptics when it comes to vegan food, and when full on vegan cheese alternatives are in their face, so many of my guests were suffering through eating plain DRY crackers, which are ok in their own way, but I just tried to pretend they weren't avoiding the cheeses and asked "Hey! Have you tried my cheese ball?!" And before I give them a chance to say why they're eating plain ol' dry crackers, I smeared some of the cheese ball on a Ritz cracker and watched their faces go from "Oh no" to "…wait whaaaat?!"
What a vindicating and validating feeling. Most of the friends we have now I met after I went vegan, so they didn't know that I used to be a meat-lover and cheese-monster, so I know how to hit those umami, creamy, cheesy spots in the right way. Y'all that cheese ball disappeared within 15 minutes. I've never seen one of my appetizers get crushed that fast. Needless to say, I knew I had to snap a photo and post it on the blog ASAP because I can't wait to hear how you get those same reactions from your friends and family.
I hope you make it and enjoy it! Tag me on Instagram and show me how it goes! I'm @thevietvegan pretty much everywhere, and I always love when you send me pics of you trying my recipes. I hope your holiday potlucks and parties are a delightful fun time and that you can enjoy some delicious vegan cheese ball instead of some plain, ol' dry crackers haha.
Yield: 1 cheese ball, serves 4-6
Vegan Cheddar Cheeseball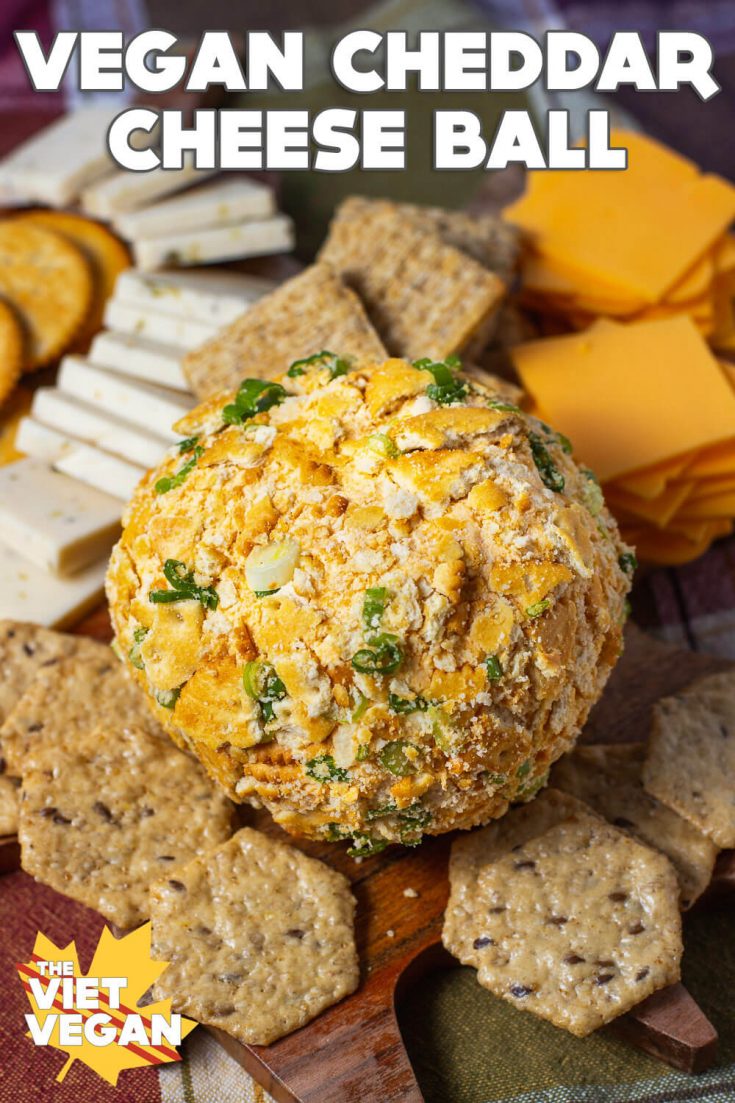 Ingredients
1 block (200 g/7 oz) of your favourite vegan cheese to eat cold, I use Mexicana or Daiya Farmhouse block
1/2 tsp garlic powder
1 tsp paprika powder
1/2 tsp onion powder
1/4 tsp kosher salt
1 cup (1 whole tub/227 g) vegan cream cheese
1 sprig, green onion, finely chopped
6 Ritz crackers, roughly crushed
Instructions
In a food processor (you can also just use a cheese grater), process until you have uniformly fine bits of the cheese block. The smaller the better.
Add the garlic powder, paprika, onion powder, and salt, and continue to process until the spices are evenly distributed.
Finally add the vegan cream cheese to the food processor (or bowl if you're not using one), and process until the whole mixture if uniformly chunky and spicy, ensuring that the cream cheese is well dispersed and no chunks of cream cheese remain (you'll naturally have chunks of cheddar cheese and you want that).
Turn over onto some plastic wrap or reuseable cloth wrap and shape into a ball. Refrigerate fully covered to firm up and marry all the spices, ideally overnight.
Before serving, in a bowl, combine chopped green onion and crushed Ritz crackers. Unwrap the chilled cheese ball and roll in the onion/cracker mixture to coat completely. You'll have some of the mixture leftover, but you can just use that to reshape/recoat the cheeseball as it gets eaten. Serve on a cheese board surrounded by other vegan cheese, crackers, fruit, vegan deli slices and olives for a delicious vegan charcuterie & cheese board!