Kale and walnut pesto: add some green superfood to your pesto =)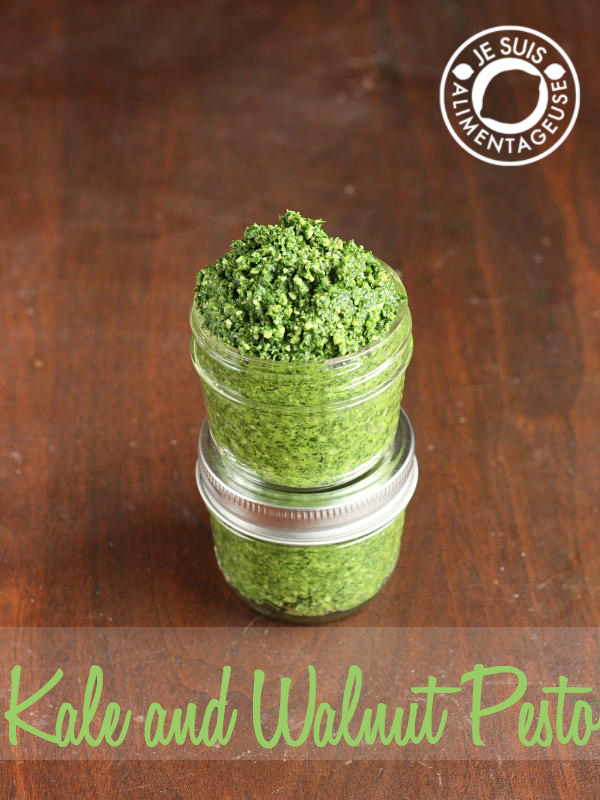 If this is your first time reading this blog, you need to learn right now that I am a huge fan of kale. For people who know me and have experienced my cooking, you know that I eat this soup at least once a month. After I have anything with kale in it, I just feel super good and I can feel my body thanking me for all the vitamins and nutrients. Does that sound cheesy? Seriously though, I can feel my body soak in all the vitamins. It's probably why kale is so popular in green smoothies.
Today was supposed to be a Pi Day post, but the past couple of weeks I've been feeling so bleh lately, I didn't bake it in time. Maybe it's a combination of weather changes, school stress, and/or a lack of sleep, but I've just not been feeling all that great lately. With spring just around the corner, I'm so excited for the veggies that start to come! Cucumbers are in season, same with tomatoes and parsnips. And then summer rolls in and you get those seasonal asparagus, broccoli, peppers.
That's one thing I'll miss about living in Ottawa. I was so close to the Byward Market, which had all the delicious farm fresh veggies. I know there are farmer's markets in Toronto, but I'm always either out of town or busy during the day… or I sleep in. Whoops. I guess that's what happen when you're semi-nocturnal.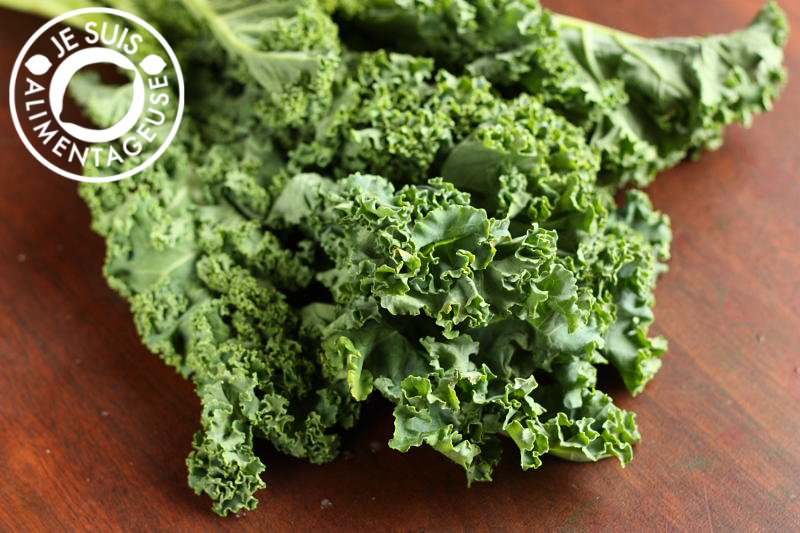 A childhood friend of mine asked me to look into pesto made with kale. First of all, I love pesto. I don't really like eating pasta too much, but on the off-chance I do, it either needs to be smothered in cheese or covered in fresh, basil pesto.
The first time I ever had pesto was in Italy. It was at the restaurant in our hotel, and we had to dress up semi-formally for the dinners. I saw this weird green stuff on my pasta. I think I was 17 that year. I asked my fellow bandmates what the heck we had for dinner, and I distinctly remember the bassoonist looking at me incredulously and saying, "It's pesto..?"
I thought, wow, okay, I need to learn about food. And one bite-full into that fresh, bright, basil pesto, and I fell in love. Pesto became the apple of my eye, in terms of ways to eat pasta. It was so fresh and vibrant, full of deep olive oil flavour on top of freshly made italian penne. I think in that dish alone, I vowed to one day live in Italy. I always loved Perugia and Siena. And the tomatoes. Gawwwd the tomatoes alone I think are worth the move to Italy. And Chris is part Italian anyway, so he is totally 100% on board with this decision.
So try this kale pesto. It's great on top of toast, mixed with goat cheese for a spread on sandwiches, destined for pasta, heck, my lovely meat-eating readers could marinate a roast with it if your heart so desired. The parmesan (or nutritional flakes) adds a deeper, salty flavour. The walnuts add depth. The grapeseed oil adds a bit of light to the deep, green kale, and the drizzle of lemon juice just brightens everything up.
Kale and Walnut Pesto
A great way to implement raw kale into your diet for a great source of vitamin A, potassium, vitamin C, and iron. (And many, many other things: http://www.webmd.com/food-recipes/features/the-truth-about-kale)
Ingredients
1 bunch Kale, stems removed and leaves ripped into smaller pieces(about 8 cups of Kale)
1/3 cup walnuts (use sunflower seeds for nut allergies)
1/3 cup shredded parmesan cheese (use nutritional yeast flakes if making vegan)
1/2 cup grapeseed oil** (See note)
juice of 1/2 lemon
A pinch of salt
Instructions
Using a food processor, blitz the walnuts, salt, kale, lemon juice, and parmesan cheese until pieces are uniform in size.
Drizzle grapeseed oil over pesto and use a fork to mix the pesto with the oil. Feel free to adjust the amount of oil to your liking.