This Lentil Barley Rice Cooker meal is an easy one pot side dish or main that is perfect for college students, busy parents, or just busy people.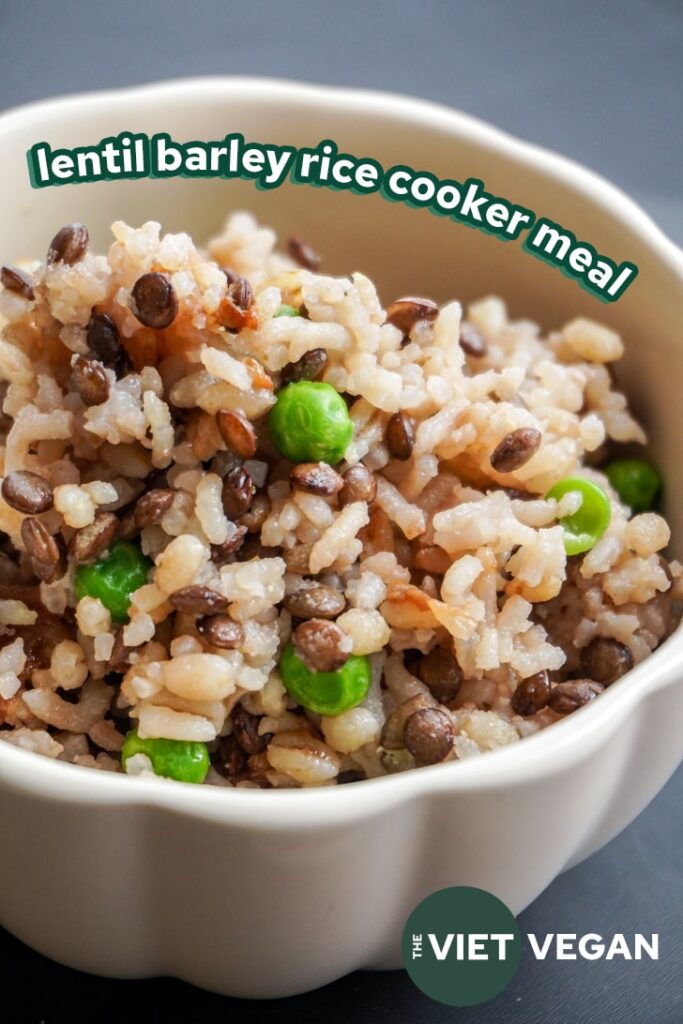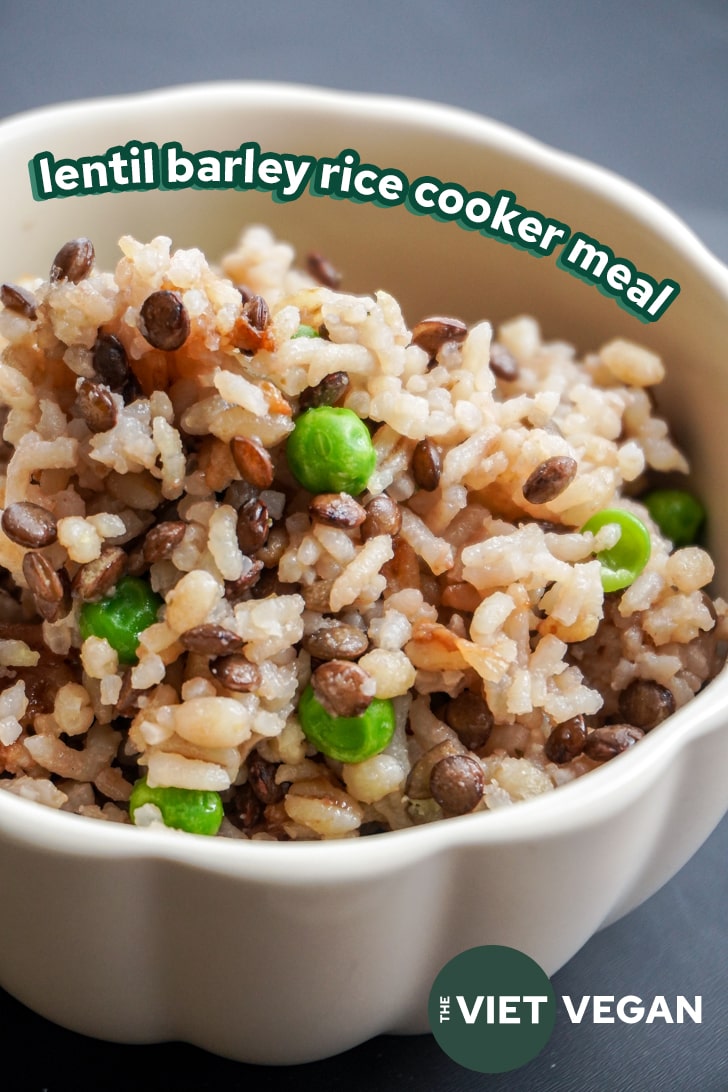 I've been finding myself in a cooking rut lately. So, I needed an easy dump and go meal that I could set and forget and come back to that my toddler would like. This lentil and barley rice cooker meal uses pantry staples that I almost always have on hand. It doesn't require any time on the stove or chopping, and has fibre, protein, carbs, and even some veggies.
Substitutions
I have not tested this with any other combination, but here's what I surmise will work:
Jasmine rice: You can use any long or short grain white rice. If you want to use a brown rice for even more fibre, I would suggest you let the rice soak (with the barley and lentils) for at least half an hour before you hit "cook". This should hopefully reduce your need to wait for the steaming to finish after the rice cooker flips to "Keep Warm". Your mileage may vary as I haven't tested that.
Lentils: Dry whole lentils is ideal here. Hulled lentils or mung beans would work too–however the ratio of water to legume has not been tested for anything else other than whole lentils. Brown, green, beluga, whatever lentil should work interchangeably for this lentil barley rice cooker meal. If you want a mung bean sticky rice, I have a rice cooker recipe for that here.
Pot Barley: Use any semi-hulled whole grain you like! Quinoa, farro, buckwheat, millet, whichever! Some grains might be thirstier than barley. You can add a touch of extra water, mix it in, and steam longer if it's not fully cooked through. Quinoa and millet may need less water than the pot barley. You can also use pearl barley, it just has less fibre (and slightly less nutrition) than pot barley. I had to look up the difference between pot and pearl barley, but both would work in this recipe.
Bouillon Powder: I used Bulk Barn's vegetarian chicken bouillon powder. Alternatively, a bouillon cube, Massel Chicken Stock (the accidentally vegan one), or broth instead of water for the pot.
Frozen Peas: You can add that frozen corn/carrot/pea medley, you can add broccoli florets, whatever your heart desires. I love frozen peas because they're more protein dense than most other veggies. I've also added frozen spinach pellets to the pot, closed the lid and hit "Cook" on the rice cooker again to heat it through. You don't have to add peas at all if you have another vegetable side.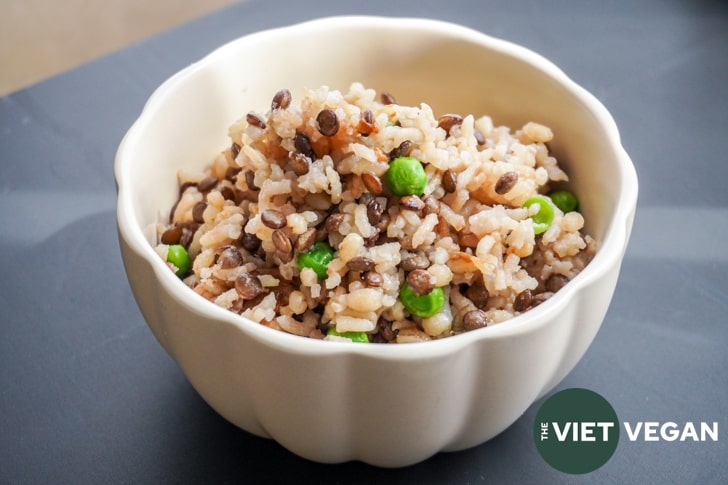 Rice Cooker Substitutions
My recipe for this lentil barley rice cooker meal is tested using a pressurized rice cooker. I have a 3-cup Tiger rice cooker. This recipe would work with any other of the typical pressurized rice cooker brands like Cuckoo, Zojirushi, Toshiba, etc.
Thanks to Ally Lazare, I have a recipe amendment for those who are using regular rice cookers (like the ones with a glass lid). Since those are not pressurized rice cookers like the Tiger rice cooker I have. Ally said to fill to the 3 cup line and to let the rice steam on Keep Warm (again don't take off the lid) for a little longer. I would suggested 25-30 minutes. So hit cook on that rice cooker and come back in an hour.
For my Instant Pot users, I've tested it to get the correct measurements. I have those in the recipe notes below. Basically drain as much water out after you rinse, and then add 2 cups water. Pressure cook on Multigrain for 20 minutes and then let naturally release so the barley full cooks through.
Want more easy rice cooker meals? Let me know in the comments and I'll test some more out!
Yield: 4 servings
Lentil Barley Rice Cooker Meal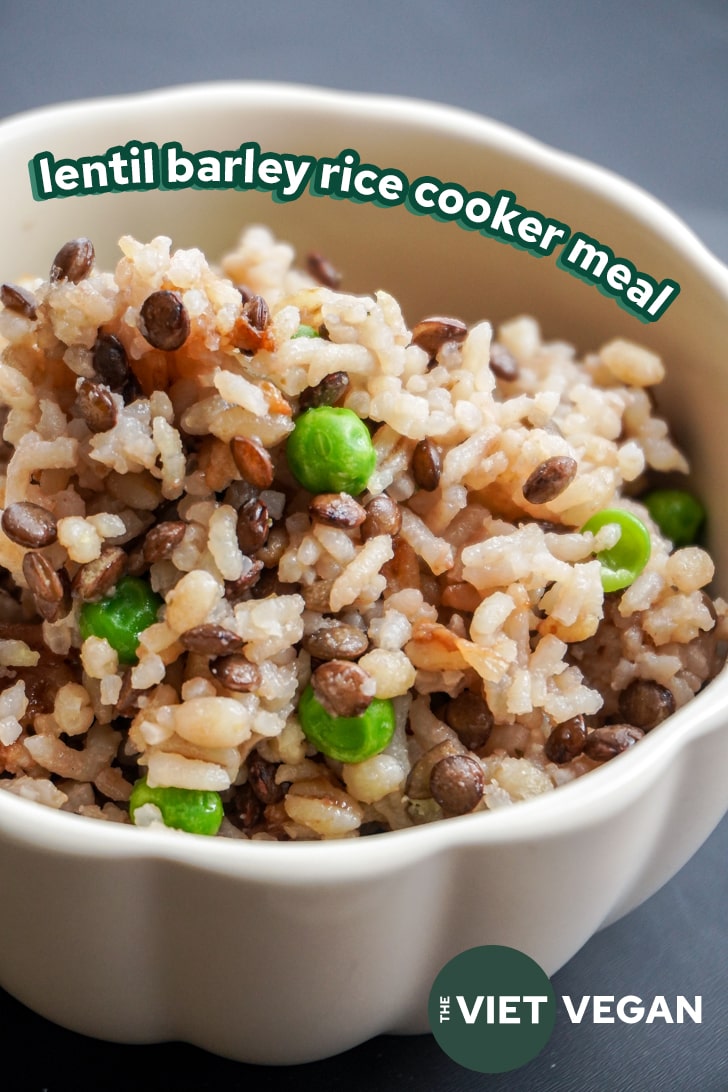 Ingredients
3/4 cup jasmine rice
1/3 cup brown or green lentils (I used French Green)
1/3 cup pot barley (pearl works fine too)
Water to fill to the 2.5 cup line on your rice cooker
2 tbsp vegan chicken bouillon powder (or you can use broth instead of water)
1/2 tsp onion powder
2 cloves garlic, minced (I used dried garlic)
Optional: 2 tsp olive oil
1/2 cup frozen green peas
Instructions
Wash your jasmine rice, lentils, and pot barley and rinse 2-3x until the water is fairly clear. Add everything to the rice cooker pot and then add enough water until you reach the 2.5 line on your rice cooker pot (I just aimed between 2 and 3 since my pot doesn't have 2.5)
Add vegan chicken bouillon powder, onion powder, and garlic and stir to combine. Add olive oil if you want here as well.
Plug in your rice cooker and switch to cook and let it cook. See recipe note for different rice cooker and Instant Pot methods.
Once it flips to "Keep Warm" DO NOT OPEN IT. Let it steam for at least another 20 minutes for the lentils and barley to full cook through.
Once you've waited 20 minutes, open the lid and add your frozen peas and mix through to heat through the peas. Serve and enjoy!
Notes
This recipe is made with measurements for a pressurized rice cooker (with a steaming vent). I have a Tiger pressurized rice cooker, but this recipe should work with any of the same kind of rice cookers (Cuckoo, Zojirushi, Toshiba, etc)
Rice Cooker Types: If you have a non-pressurized rice cooker (your average rice cooker with a glass lid), up the water measurement to 3 cup line in your cooking pot as a lot more water steams out. Do not remove the lid once it flips to Keep Warm, allow to steam for 25-30 min for best results.
For Instant Pot Users: After rinsing your rice, lentils and barley, drain well (I just tip it sideways and carefully drain, no need to use a strainer. Add 2 cups water (same measurements for everything else), and pressure cook on Multigrain setting for 20 minutes. Let naturally release for at least 12-15 minutes for the barley to full cook through.