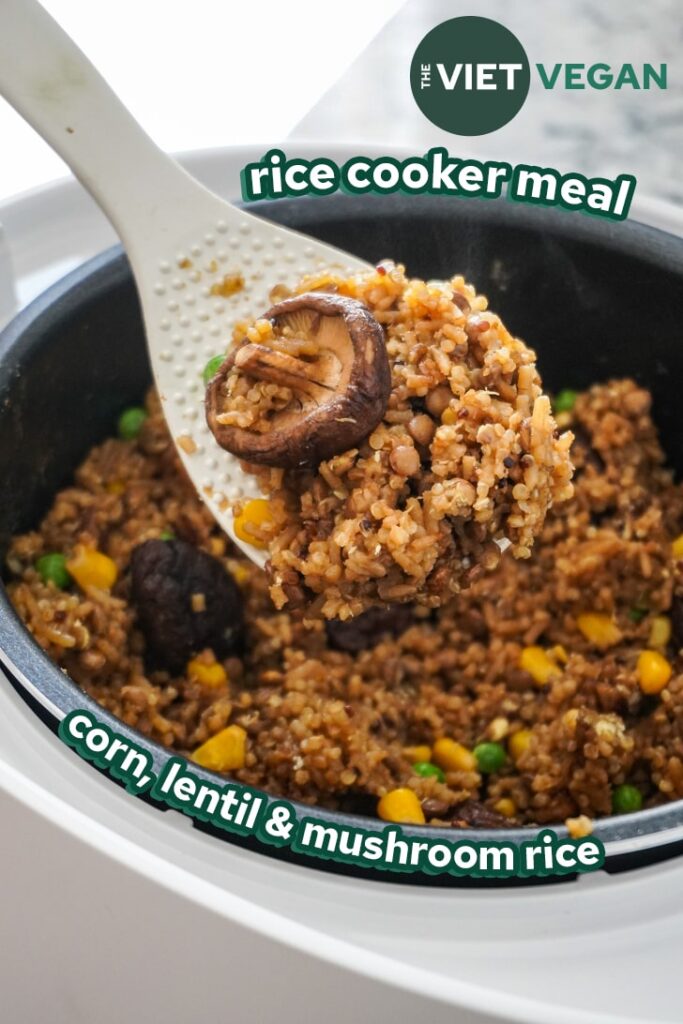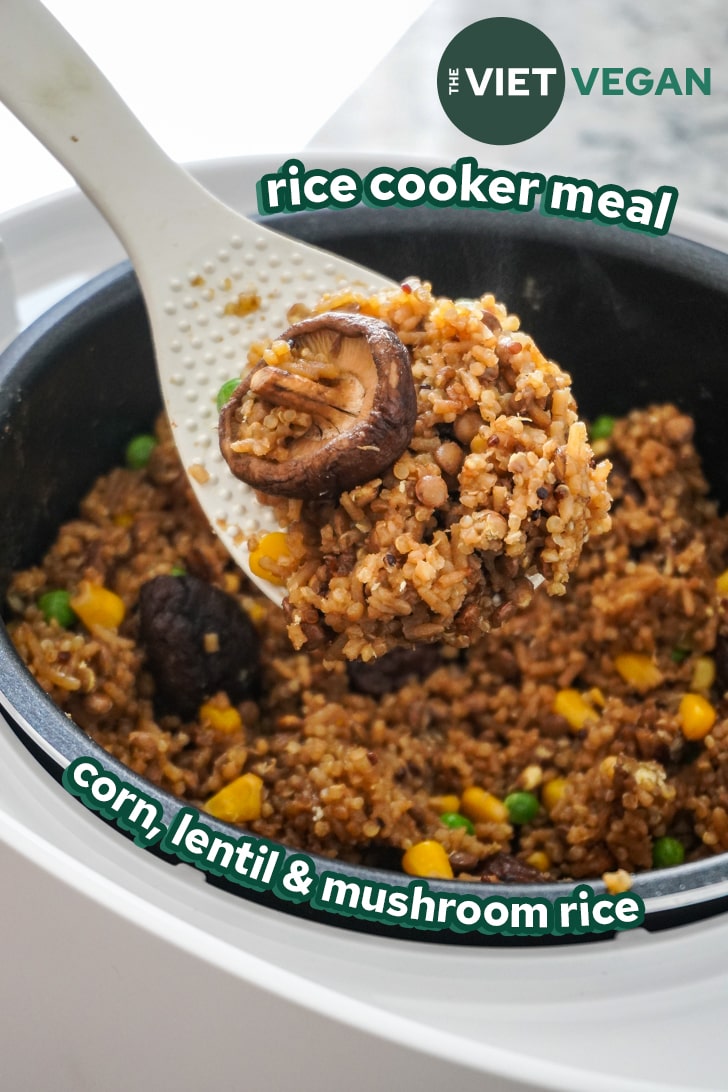 I'm back with another rice cooker meal! This quinoa, corn, lentil & mushroom rice cooker meal is budget-friendly and an easy hands-off kinda meal. I've been making more of these set-it-and-forget-it kind of meals because as a toddler-mom, I just don't have the time to stand by the stove to stir as much as I used to.
What kind of rice cooker do I need?
I'm using a Cuckoo rice cooker (affiliate link) which is a multi-functional rice cooker that builds up a pressurized steamy environment for the rice to cook, yielding fluffier grains. I find this helps with cooking the other grains faster and better as well. Up until recently, I had a Tiger 3 cup rice cooker, but the inner pot got damaged and I couldn't find a replacement, so I've started using this new Cuckoo rice cooker.
If you have the kind of rice cooker that just has a loose lid, you will find it won't build up as much steam. You will need to add a bit of extra water to compensate for the lack of pressure and the loss of steam. For this quinoa, corn, lentil, and mushroom rice cooker meal, I haven't tested it, but I would guess you will need an extra 1/2 cup of water (so 2.5 cups total)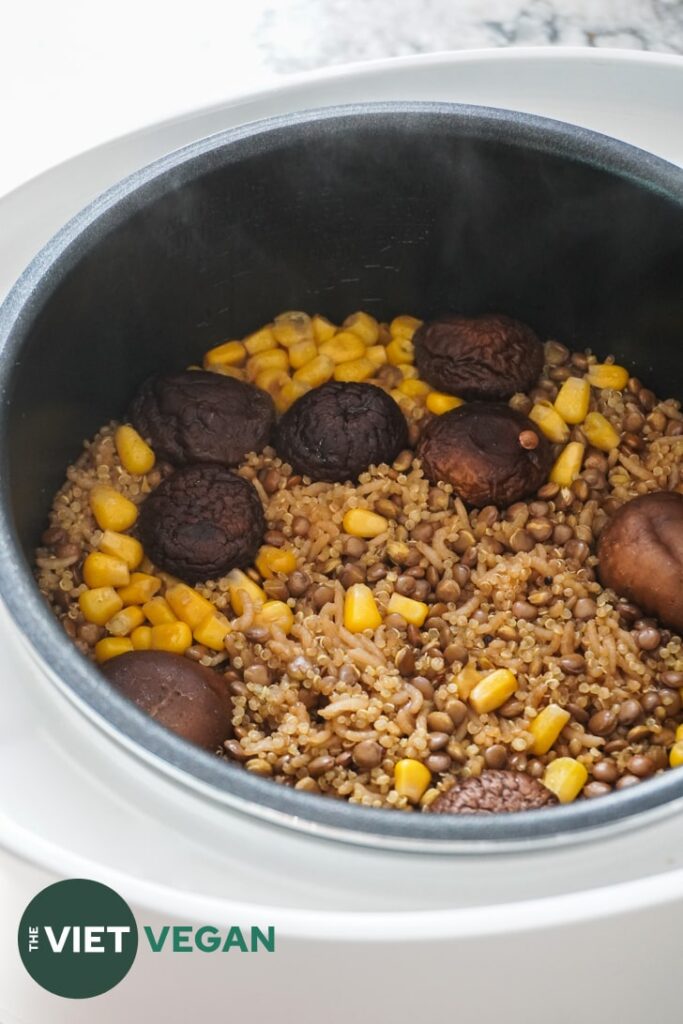 Can I use an Instant Pot to cook this?
Yes! I haven't tested this recipe in the IP yet, but my last rice cooker meal worked great on the Multigrain setting in the Instant Pot with less water. I used about 2 cups water for that recipe, but barley is a thirstier grain than quinoa, so I would estimate you will need 1 + 3/4 cup water (or maybe less) for best results with this mushroom rice cooker meal that uses quinoa instead of barley.
Yes! I have since tested this recipe and it is PERFECT with 1.5 cups of water (soak your mushrooms in it just like the reg rice cooker), and use the Rice setting for 12 minutes, then allow pressure to naturally release (about 20 minutes).
Yield: 4-6 servings
Corn, Quinoa, Lentil & Mushroom Rice Cooker Meal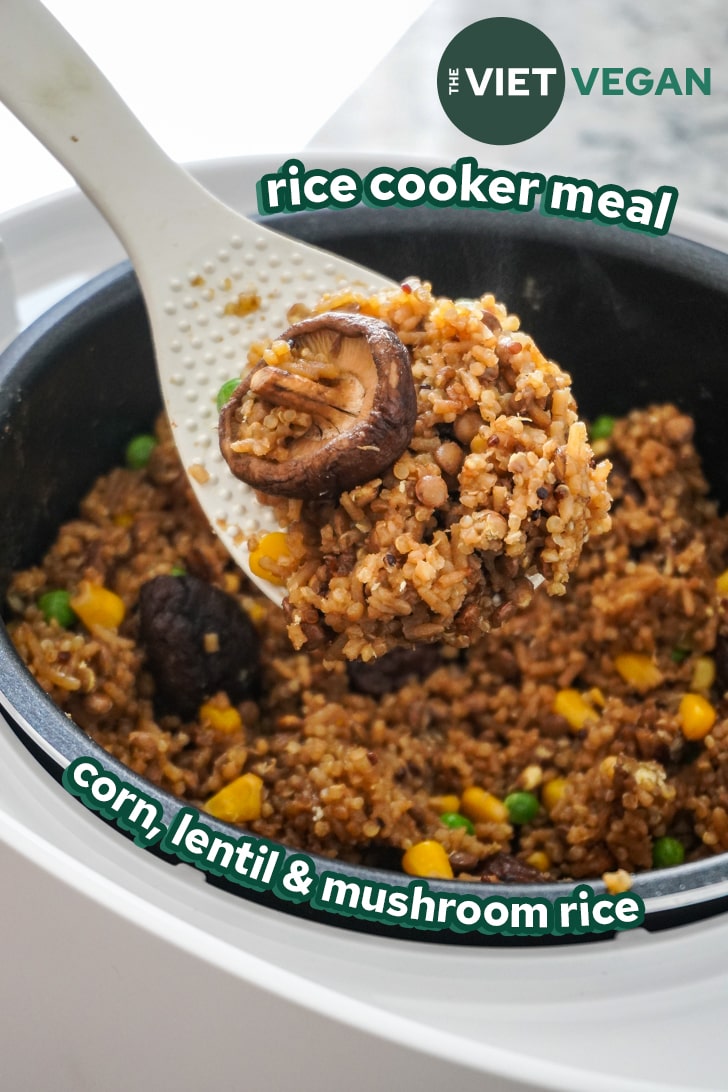 Additional Time
20 minutes
Total Time
1 hour
30 minutes
Ingredients
2 cups water (500 mL) water
8 dried shiitake mushroooms
3/4 cup (180 mL/145 g) jasmine rice
1/3 cup (75 g) brown or green lentils
1/3 cup (55 g) quinoa
1/3 cup (70 g) canned corn (can sub frozen)
1 tsp (8.5 g) dark soy sauce
1 tbsp (12 g) mushroom stock powder*
1 tbsp (15 mL) sesame oil to top
1/2 cup (80 g) frozen peas
Instructions
In a measuring cup/bowl, soak dried shiitake mushrooms in 2 cups (warm) water. Let soak for about 10-20 minutes (the longer the better) to hydrate the shiitakes.
In a large mixing bowl, combine jasmine rice, lentils and quinoa. Add water and rinse and drain until the water runs relatively clear (I did two rinses).
To your pressurized rice cooker pot, add jasmine rice, lentils, quinoa, canned corn, dark soy sauce, mushroom stock powder, frozen peas, sesame oil, the shiitake mushrooms AND the soaking liquid.
Mix everything to combine and then set to cook. If your rice cooker just flips to Keep Warm, let it sit for another 20-30 minutes to steam through. I cooked mine on the Multigrain setting and it cooked for about 1 hour.
Once cooked through, open the rice cooker and stir in the frozen peas to heat through. Serve with extra protein of your choice (I like using vegan "tuna") and enjoy!
Notes
*I'm using an instant mushroom stock powder (similar to the broth powder granules I use) but you can substitute with your favourite broth/bouillion concentrate.
Instant Pot Instructions: Use 1.5 cups water to soak your mushrooms, and make sure you drain your rinsed rice and lentils well. Follow the recipe the same otherwise, and set the vent to Seal, and cook on the Rice setting for 12 minutes and allow natural release (20 minutes or so).