If you've been following my blog at all, you may have been made aware that soup is pretty much my favourite form of food. Not just any soup though, I have a weird preference for puréed soups. Minestrone? Bleh. "Chicken" Noodle? (well, veg broth noodle) On occasion, sure. But creamy butternut squash, cauliflower, or kale and spinach? Oh yes please.  This creamy, roasted tomato and mushroom soup is the perfect consistency of your childhood favourite. Creamy and flavourful with a robust umami flavour from the roasted mushrooms, this soup is full of of nutrients and minerals that are a great remedy for the common cold, a rainy day, or just a day where you crave something hot and delicious. And the best part of this soup is the fact that it's totally vegan! You wouldn't know it based on the pale, orange colour and the creamy texture, but there is no cream whatsoever!
I've made tomato soup before, and it was great, but being made with canned tomatoes, it didn't quite capture the pure, deliciousness that the locally grown tomatoes created. Don't get me wrong, canned tomatoes, especially from San Marzano, can be delicious and taste of Napoli, but there's nothing quite like the taste of locally grown tomatoes. I'm not sure what it is about locally grown food, but it ALWAYS tastes better.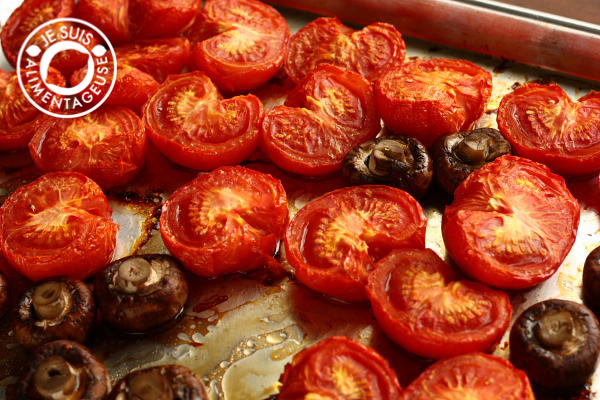 And the beautiful thing about this tomato soup is that it doesn't need to go with anything else to be delicious. Tomato soup is usually served with grilled cheese sandwiches, but this soup does not need some hot processed cheese between bread, it is delicious on its own. Velvety and creamy with every spoonful.
Normally people spoon out the seeds when roasting tomatoes, but I wanted to keep all the sweet tomato juices, so I kept the seeds in. If your blender (stick or Vitamix-style) is strong enough, it'll blitz all the seeds into oblivion and you won't even know they existed. It just means you have less water to add and more delicious tomato-y flavour to eat up!
Enjoy!
Yield: 4-6 servings
Roasted Tomato and Mushroom Soup
Cook Time
1 hour
20 minutes
Total Time
1 hour
30 minutes
Ingredients
11 medium/large sized vine tomatoes, halved and stems removed
1/4 cup olive oil
10 cremini mushrooms
1 large yellow onion, chopped
3 garlic cloves, chopped
5 cups water or broth
1/4 cup tomato paste
1 large sprig basil, chopped
2 bay leaves
1/2 tsp baking soda
1/4 tsp cayenne powder
1 tbsp smoked paprika
1/4 tsp cinnamon
1 tsp salt (+ more to taste)
1 tsp pepper (adjust to your taste)
Instructions
Preheat oven to 375F, and roast tomatoes cut side up with olive oil drizzled over the tomatoes. Roast for about 45 minutes, then add the cremini mushrooms, using a spoon to use the olive oil from the pan to drizzle over the mushrooms.
Continue roasting for another 15 minutes, then remove from oven. Tomatoes should be darker, a little blistered, but not burnt. They'll be soft, almost falling apart.
Cook onions and garlic over medium heat in the cooking liquid from the roasted tomatoes until translucent.
Add 5 cups of water and add the 1/4 cup tomato paste and mix until the paste has been mixed in.
Add the tomatoes and mushrooms to the pot and stir in. Bring to a boil, then lower heat and add in basil leaves and bay leaves. Let simmer for about 20 minutes.
Remove the bay leaves, then use an immersion blender or regular blender and puree until smooth and velvety.
Add the baking soda and stir. The soup will bubble a little but then it won't taste as acidic.
Add the spices and blend to incorporate the ingredients. Adjust spices to your taste.