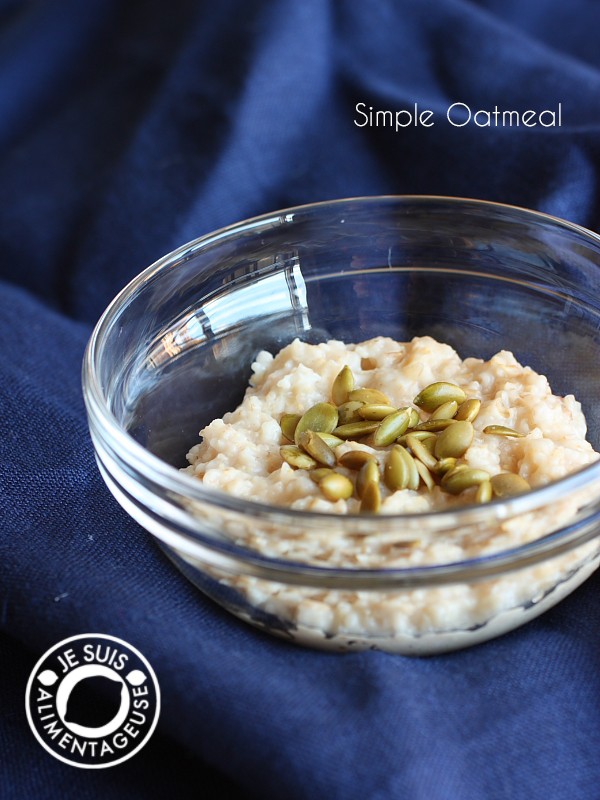 "THIS IS THE BEST OATMEAL EVER!" exclaim numerous Ryerson film students as they excitedly top their oatmeal with shredded coconut and brown sugar. "Coconut?! That's genius."
The actors come in and grab a bowl and a small smile spreads across my face. I'm bashful of all the compliments, I just want them to be fed and happy while they work outside in the cold, but there's a sense of satisfaction that builds inside.
"Oh man I haven't had oatmeal in years. I LOVE OATMEAL. How did you make it taste so good?!" asks another member of the camera crew.
"It's simple oatmeal: just three ingredients, oatmeal, water, and a bit of salt," I assure them. "You're the one adding the toppings, it's all you!"
Breakfast has a special place in my heart. It's the beginning of the day and with 30 people groggy and trying to get the wheels turning to start working on their film, they need good fuel to pull them through to lunch. Granola and yogurt was supposed to be on the menu for the other days, but oatmeal was requested day after day.
"Hey, that's easier for me. I just shove stuff in a pot and stir," I reply.
After four days straight of oatmeal, I've perfected the ratio. One part oatmeal to two parts water, the secret is a pinch of salt. Stir frequently to keep it from burning on the bottom, and serve it hot. Takes about 20 minutes to make a batch for 20 people (about 5-7 cups of rolled oats used every day) and with any leftover oatmeal, add some coconut oil, vanilla, sugar, baking powder, flour and chocolate chips and turn them into cookies. Those were a hit too.
The recipe below is a simple serving for one, but double, triple, or quadruple for your family.
To make this gluten-free, ensure that you are buying oatmeal that was processed in a GF facility because oats are naturally gluten-free.
Simple Oatmeal
Ingredients
1/3 cup oatmeal
2/3 cup water
a pinch of salt
Toppings: brown sugar, berries, dried fruit, seeds, nuts, etc.
Instructions
In a small pot, combine 1/3 oatmeal and 2/3 cup water with pinch of salt over medium heat.
Stir frequently to prevent burning and cook until you reach desired texture.
Serve with whatever toppings your heart desires.
To make a larger batch, keep the ratio of 1 part oatmeal to 2 parts water. Adjust water to whatever texture you like.