Pumpkin pie is unlike any other pie—creamy, luscious filling
With a crisp and flaky crust, pumpkin pie is THE KING of pies.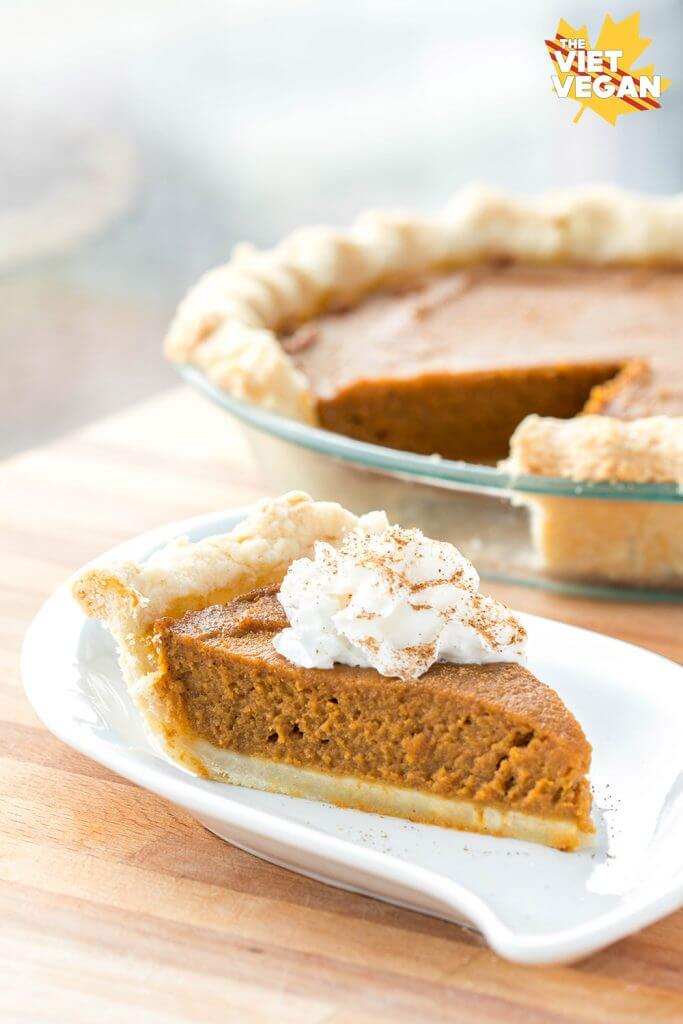 Eddie has been asking me for pumpkin pie since last year. I don't know what it was—maybe it was my eczema or maybe I was feeling really daunted about making a pumpkin pie that met my expectations—but I put it off for an entire year. We bought maybe 4 or 5 vegan pumpkin pies from Whole Foods because we wanted pie so bad.
Pumpkin pie is both of our favourite pies—it is actually the KING of pies. You get the luscious, almost custardy filling that is mellow and sweet with just a hint of fall pumpkin spices. Crisp, flaky pie crust gives this pie some structure and texture, and a wee dollop of vegan whipped cream on top adds a last light, creamy sweetness that brings this pie all together.
It took me a few tries to get the right pie I wanted, so I ended up making 4 pies total. I wanted something sturdy, creamy, light, not too heavy on the spices with a solid crust that is full of light, flaky layers. The first pie I made had this giant puddle on top, which I learned is a result from trying to speed up the cooling process creating condensation when stored in the fridge. The next couple pies were either too sweet or too spiced, and finally this last pie.
Oh this last pie was the winner.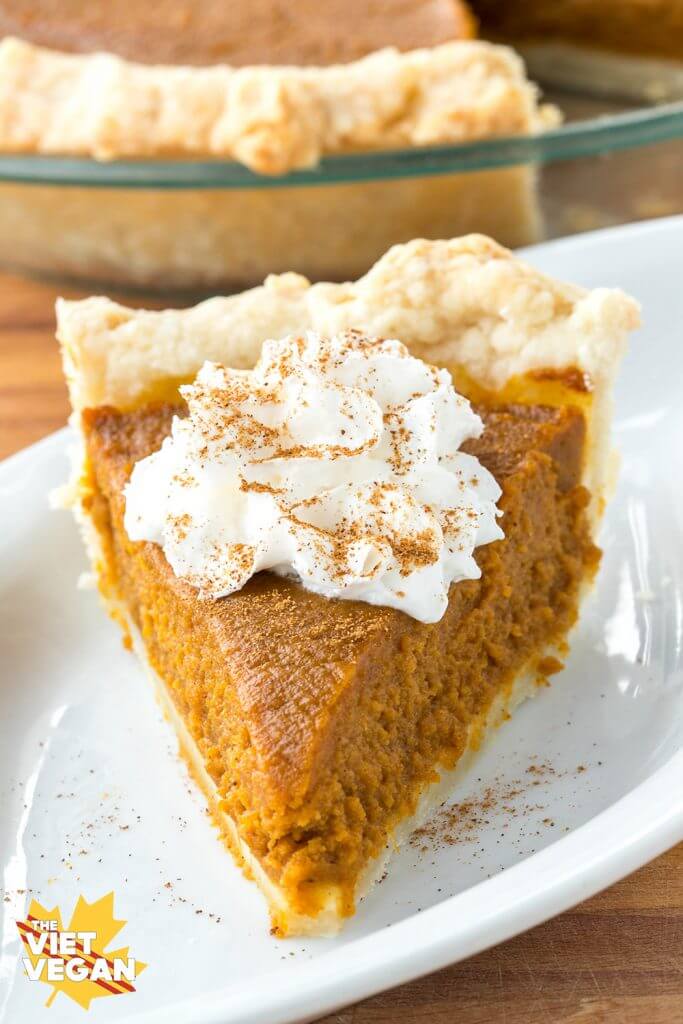 Anyway, enough about pie. I haven't been writing since the end of October and I feel terrible about that. Life kind of got the better of me, I had a big event at work that I had to hustle for, and I went on a day trip to Ottawa to speak to some students about finding a job in the digital age. I documented the day as a vlog if you folks want to see. But things have been honestly pretty good—life-wise. Eddie and I are starting to save up for a house, my eczema isn't being totally god-awful (it's not amazing but it's definitely bearable), work is good, blog things are good, friends are good.
It's not a bad time to be alive.
This time of year sometimes gets really hard for me—I think the lack of sunshine and the dryer temperatures make me sad and a little unmotivated. I went through a lull last week where I just wasn't being as productive as I wanted. I've also gained some weight which might be because of these four pies that I made—but also just the lack of activity since the cooler weather has set in. Living in the city meant that I had to walk everywhere, which I loved doing. Living in suburbia kind of means that you have to drive everywhere in order to get somewhere in under 15 minutes. I miss having my little neighbourhood at Bathurst and St Clair where everything was in this circle around my apartment, the subway was 5 minutes away, and all my friends were a lot closer.
But as I've mentioned in many posts before, things change, people spread out, and you have to make the move that's best for you. Eddie and I are looking around for places that are both close to our workplaces while also being close to friends, and it's pretty hard when everything is so spread out. In the meantime, we'll just keep ticking along, working, saving, driving out to see friends and bringing them extra pie.
To see how I made my pie with some extra technical baking tips, I did a video making some pie that I hope you'll like! I am a little weird in it, I think I was just on a sugar high because I had a slice of pie before I started recording because I was too lazy to make anything else for breakfast hah.
Yield: 1 12-inch pie
Vegan Pumpkin Pie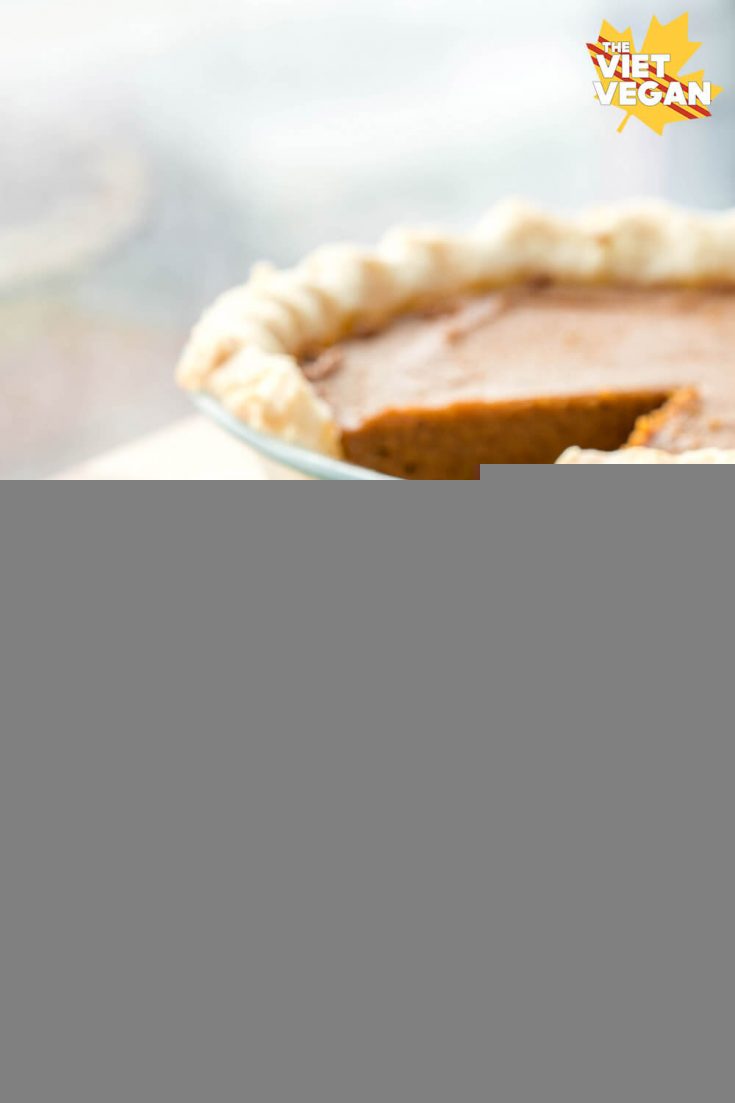 Ingredients
2 cups pumpkin puree (canned works fine too but fresh tastes better)
1/2 cup white sugar (or dry sweetener of your choice)
1/4 cup packed brown sugar
1/4 cup melted coconut oil
1/4 cup soy milk (or whatever milk alternative you want)
1 1/2 tsp pumpkin pie spice
1 tbsp cornstarch
1/4 cup aquafaba (liquid from canned chickpeas—you can sub 1 flax egg instead)
1 batch of the BEST vegan pie crust
Instructions
Preheat oven to 350ºF
In a large mixing bowl, whisk to combine pumpkin puree, white sugar, brown sugar, melted coconut oil, soy milk, pumpkin spice, corn starch, and aquafaba. Set aside.
Lay your rolled out vegan pie crust onto a glass or dark metal pie pan. Crimp edges and use a fork to poke holes around the crust to prevent air bubbles.
Transfer mixture to the pie shell and spread evenly.
Bake for 40-45 minutes or until edges are lightly golden. Let cool completely** at room temperature and let set in the fridge overnight for best results.
Notes
*Ceramic pie pans won't yield best results as it does not distribute heat as quickly as metal or glass pie pans.
**Do not attempt to hasten the cooling process by putting pie in the fridge—this will create moisture puddle on top of your pie because science (condensation). It'll taste fine, but it'll look weird and have a wet top. It's weird. Just let it cool first =P