This vegan udon noodle soup is what I've been craving during the blustery winter mornings. Simple, savoury, and comforting!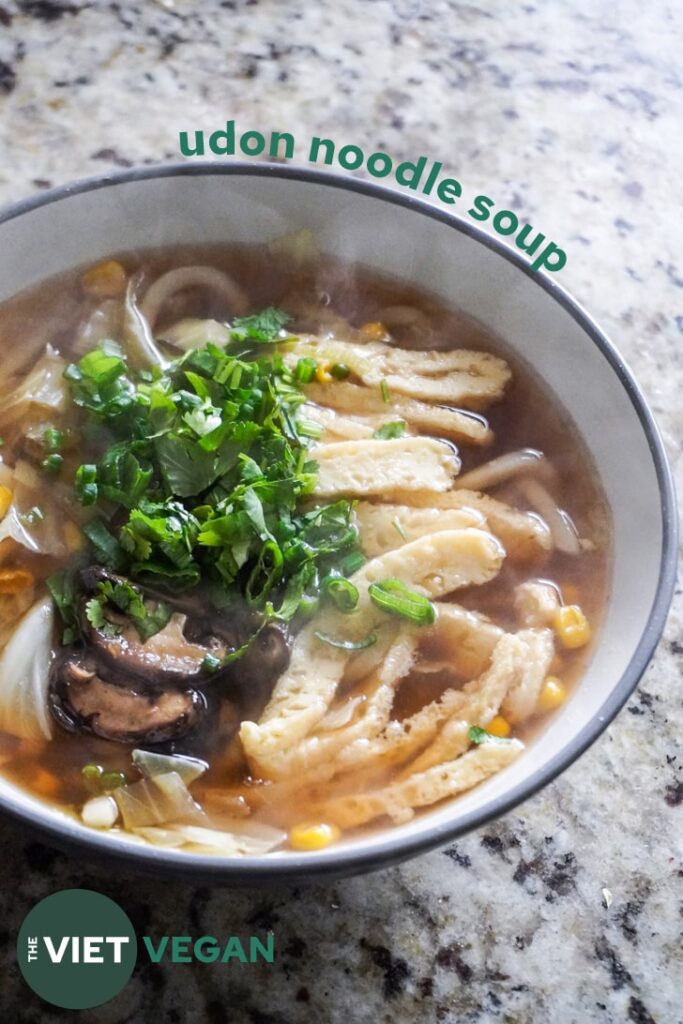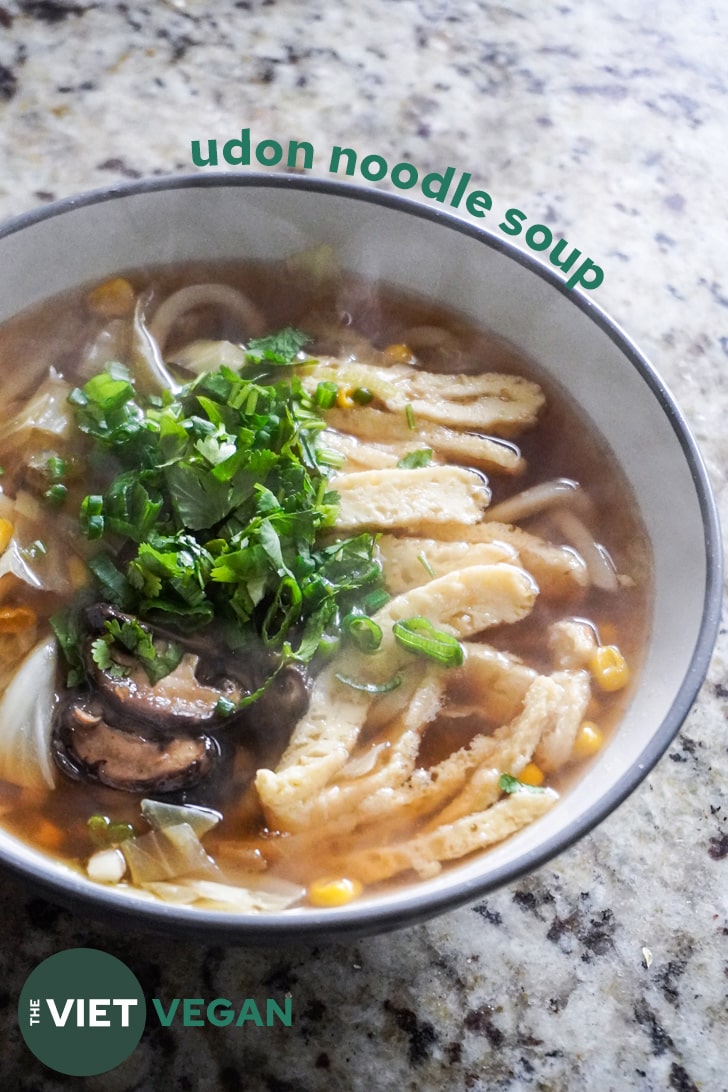 Lately I've been using soup as a vessel to clean out ingredients in my fridge. My typical morning soups tend to be miso or more of a wonton base, but lately I've been enjoying kimchi jjigae (I should write out a recipe for that soon) or this Japanese-style version of udon noodle soup.
I saw Nami from Just One Cookbook share on Instagram her recipe for kake udon with all the fixins (or the traditional simplicity in toppings). The broth looked so simple and easy so I took the traditional base of kombu dashi, soy sauce and mirin, and combined it with the aromatics from wonton soup (scallion and ginger), to make this version of udon noodle soup.
However, Nami's recipe post details how to properly cook udon (which is not how I cook it because I'm lazy), as well as listing all the different toppings you traditionally can find on kake udon. So please check out her recipe post!
This soup is great for cleaning out your fridge, so I used up cabbage, frozen sweet corn, and marinated mushrooms from my dolsot bibimbap banchan prep. The bonus of cabbage and corn add sweetness and flavour to the broth as well.
So this udon noodle soup is what happens when you combine kake udon, broth from wonton soup, and topping ideas from tteokguk. Is it traditional? Absolutely not. But it's what I've been eating lately, and people have been asking how I make it, so here it is!
Yield: 1 serving
Udon Noodle Soup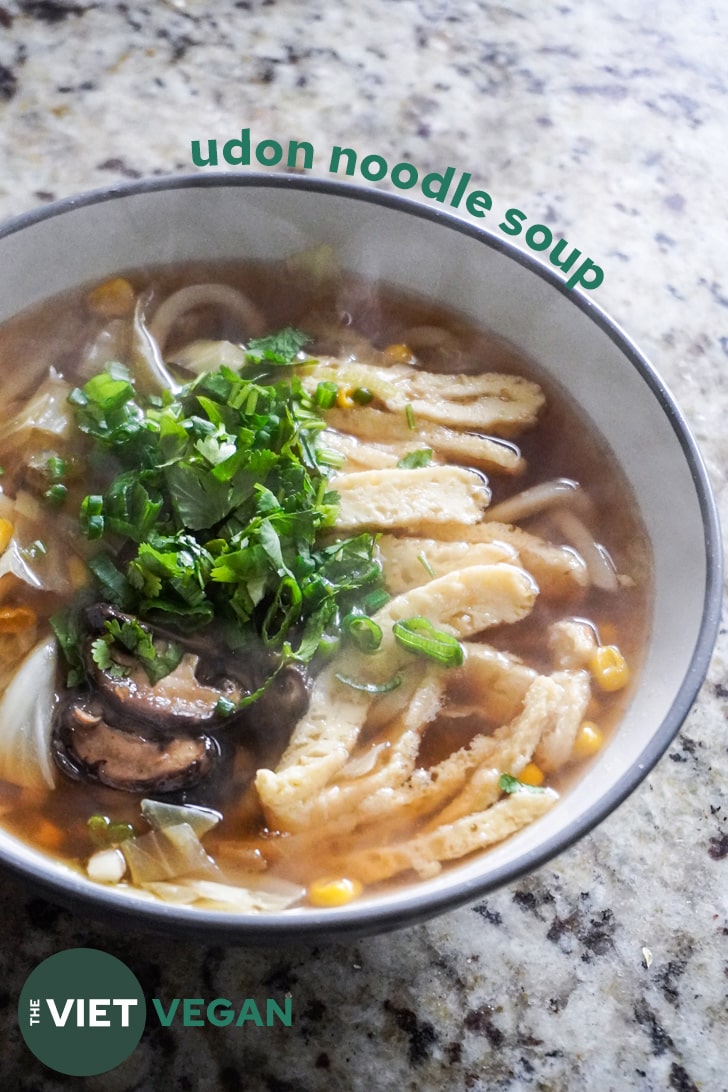 This verson of udon noodle soup is inspired by the Japanese Kake Udon, but made with a mash up of Chinese, Korean, and Vietnamese technique and ingredients because that's what's in my fridge!
Ingredients
Broth
2 cups water
3-5 pieces kelp or 1 piece of kombu
1.5 tbsp soy sauce
1 tbsp mirin
1.5 tsp mushroom broth powder
Optional: pinch of MSG
1 tsp grated ginger
1 green onion, greens and whites finely diced but separated
1/2 cup cabbage, diced
1/4 cup frozen sweet corn
To serve
1 portion of udon, frozen is better, but the shelf-stable one is fine
1 vegan folded egg patty, I used JustEgg, thinly sliced***
1 tsp toasted sesame oil
Diced tops of the green onion
2 sprigs of cilantro, finely chopped
Instructions
In a pot, bring water to a boil with dried kelp/kombu, soy sauce, mirin, mushroom broth powder, MSG, grated ginger and the whites of the green onion. Let simmer for about 5 minutes.
Add diced cabbage and frozen corn and let simmer for another 10 minutes.
It's typically better to cook the udon separately in a pot of water and then drain + rinse before adding to a bowl, but I am lazy. I add my frozen udon straight into the pot. Stir to submerge the noodles and cook for 5 minutes. In the last minute of cooking, add the sliced folded vegan egg patty to heat through.
Transfer to a bowl to serve, and top with toasted sesame oil, green onion tops, cilantro, and marinated mushrooms (optional).
Notes
***Since these are usually frozen, I usually toast them lightly until thawed, then slice to go on top of my soup.