This Vegan Apple Pie Filling recipe is sponsored by Ontario Apples in partnership with Produce Made Simple. I'm a huge fan of Ontario Apples! I've had the privilege to visit a bunch of apple orchards across Ontario and enjoy the literal fruits of their labour. So naturally I'm thrilled to share about them!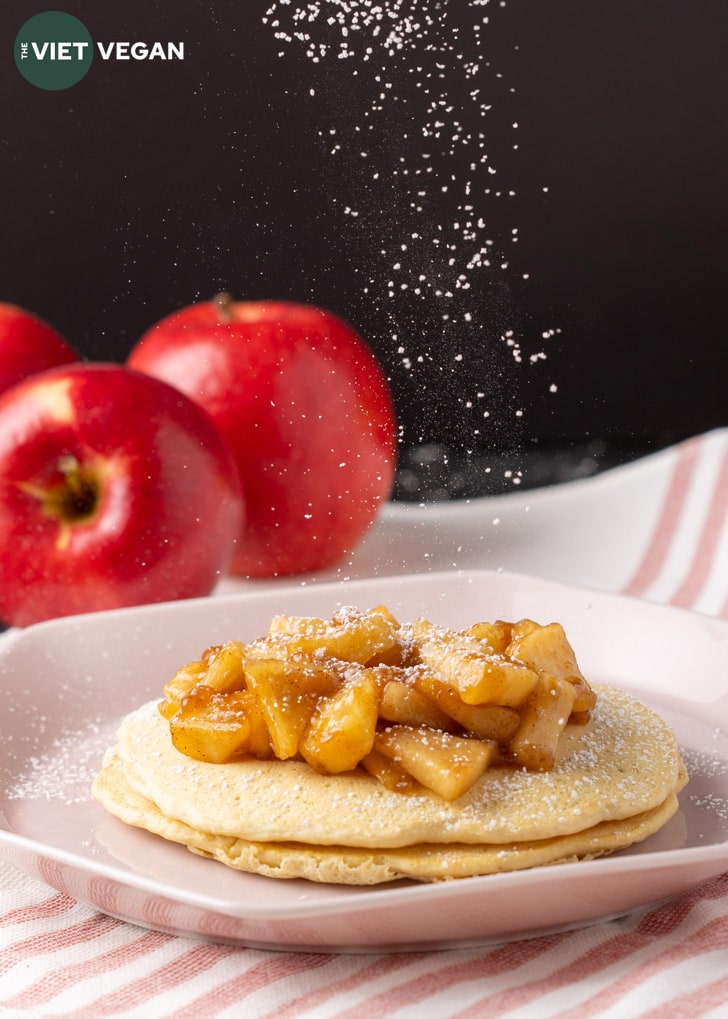 Wait, isn't it already vegan?
Apple pie filling is generally vegan friendly, but sometimes with storebought apple pie filling, it can be hard to know if the sugar used in that apple pie filling is vegan-friendly. Sometimes sugar is refined with bone-char, so there is no animal products directly in the sugar, but it's a part of the process.
With that in mind, it can be easier to just make your own vegan apple pie filling so you can control the sweetness, the ingredients, and of course, support local Ontario apples while you're at it!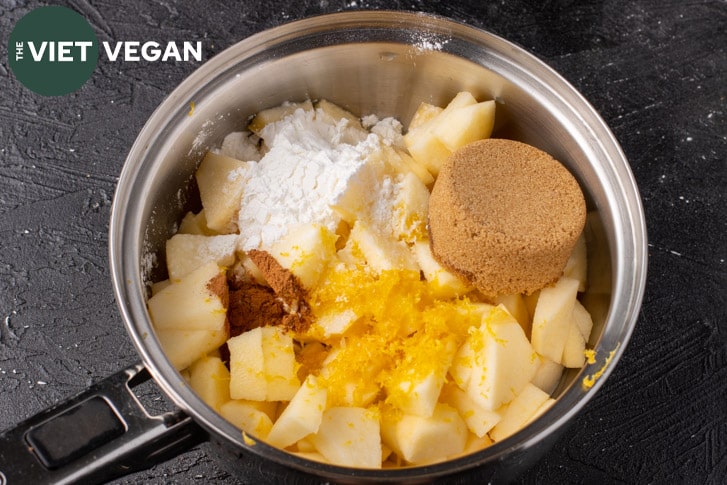 If you've been around here before, you'll know I have a long history of love for Ontario Apples and Produce Made Simple. As a vegan, apples are such an amazing, versatile and delicious snack but are so easily incorporated into both sweet and savoury recipes!
Produce Made Simple has a thorough and extensive guide for everything you've ever wanted to know about apples, so I highly recommend checking them out! They have info about how to store apples, flavour pairings, interesting apple tips, and of course, recipes!
More of My Apple Recipes
The best part of apple pie filling is the caramelly, sweet, cinnamon goodness that just brings out the deliciousness of apples. I prefer using apples that will hold their shape well, so apples like Ambrosia (which I used here), Northern Spy, and Red Prince work really well here.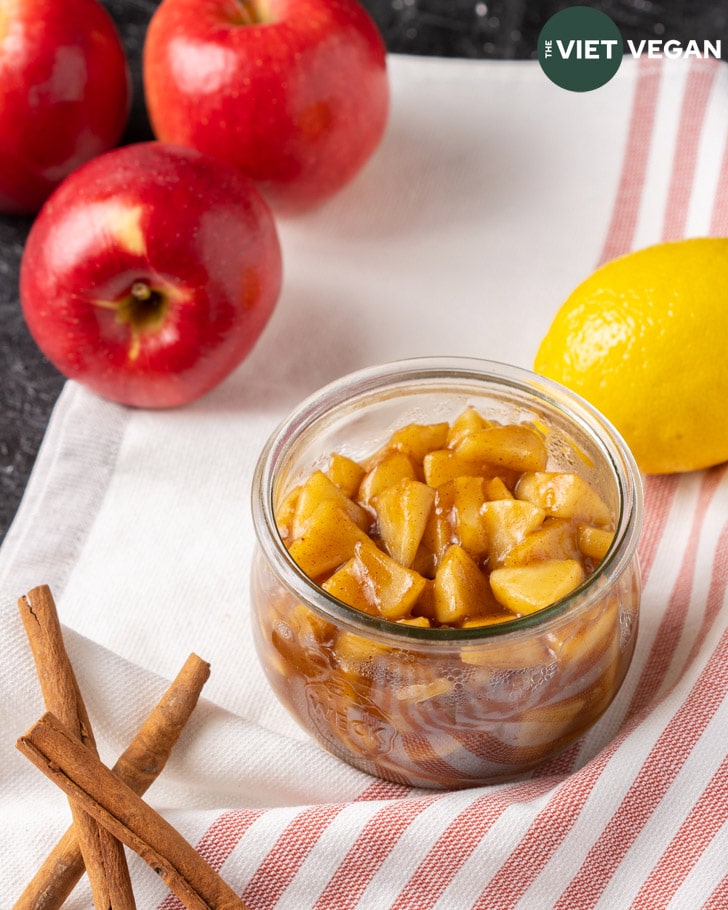 Ontario Apples
We're really lucky that Ontario has the technology and storage facilities to ensure that we have various apple varieties available from September until July, sold both in local grocery stores and across farmer's markets in Ontario
You want a balance of sweetness and acidity, and Ambrosia apples have a great balance of sweet and tart that make for a great apple pie filling. It's important to cook up your apple pie filling BEFORE putting it in your pie.
Apples tend to have a fair amount of water in them, so cooking them before baking them in your pie ensures that you won't have any crunchy, uncooked apple pieces. More water will reduce out and your filling will hold up better in the pastry. No soggy pie here!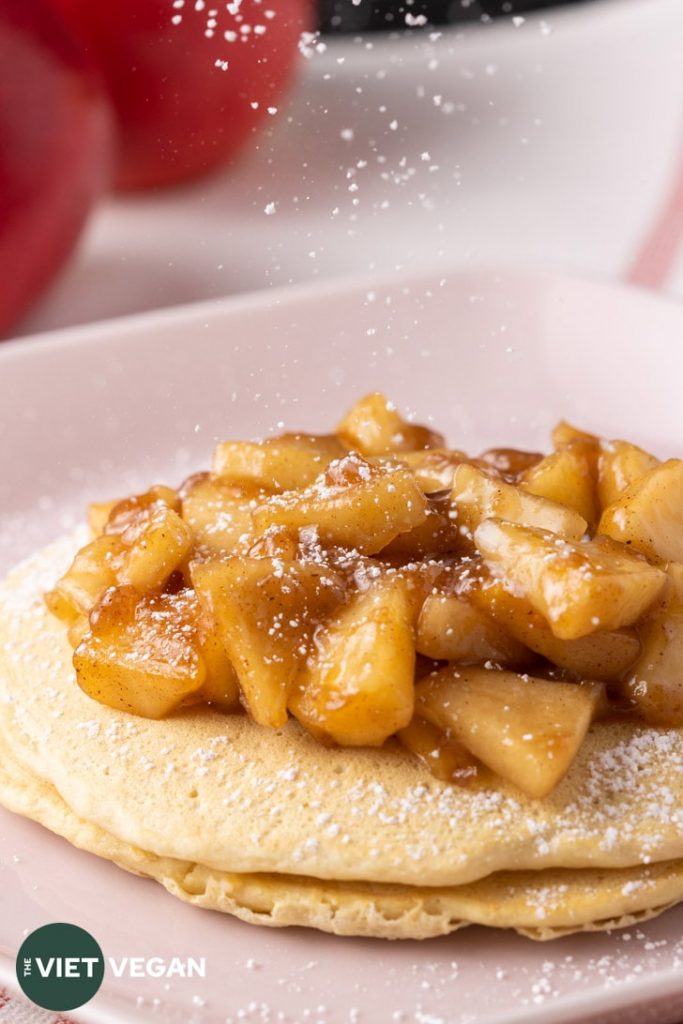 Why Make Your Own Apple Pie Filling?
I think it's just a matter of me getting older and inheriting my mother's taste buds, but I can't really handle things that are too sweet anymore. In addition to picking more tart Ontario apple varieties (there are 16 available commercially here in Ontario!!), you can control the sweetness by using less sugar and rely on the natural sweetness of apples to bring that apple flavour to life!
I also really like using both lemon zest and lemon juice to add more brightness and acidity to the filling, and of course, some cinnamon to add a warming spiced flavour. You can also add more spices like allspice, nutmeg, and cloves, but adjust to whatever you like. Sometimes it's nice to just keep it simple.
Yield: Filling for 1 x 9" pie
Vegan Apple Pie Filling (that's not too sweet!)
This vegan apple pie filling is a simple and delicious topping for ice cream, meringue nests, waffles, pancakes, or used as expected: for apple pie! It's not too sweet, has a lovely bright flavour from the lemon zest and lemon juice, and is super easy to make.
Ingredients
4 Ontario Ambrosia Apples (or other varieties that hold up well with cooking like Northern Spy, Red Prince, or Honeycrisp), peeled, cored and diced
Zest of 1 lemon
Juice of 1 lemon
1/2 cup (100 g) brown sugar (you can also use coconut sugar)
1 tsp (2.5 g) ground cinnamon
1 cup (250 mL) water
1/4 cup (30 g) cornstarch
1/4 tsp salt
Instructions
In a medium sized pot over medium heat, combine your diced and peeled apple pieces, lemon zest, lemon juice, brown sugar, ground cinnamon, water, cornstarch, and salt and mix until everything is nicely coated and the cornstarch is dissolved.
Allow to cook for 30 minutes, stirring every 2-3 minutes so the apples can get cooked through evenly.
Once apples are cooked as desired, transfer to a clean jar to store in the fridge, or serve warm over your favourite desserts! Allow to cool to warm or room temperature before using in a pie so it doesn't melt your pastry dough!