Disclaimer: These Vegan Apple Sage Seitan Meatballs were created for Ontario Apple Growers and these photos & recipes are shared with permission from the OAG. I love supporting local growers whenever I can, and with OAG, I've learned so much about the amazing work apple farmers do! Thanks for reading and supporting The Viet Vegan <3
Another Friendsmas has come and gone and it feels so good to have made so much food and fed my friends at another Christmas party. I am always a little bummed afterwards though, because after the adrenaline of getting everything done fades away, I'm left with a bit of sadness because neither my family nor Eddie's family have any sort of set traditions that take up our holidays. In some ways it's great, because we are free to do whatever we like and we don't have to worry too much about hurrying this way or that to go to a family gathering.
For the most part, it's just been a family brunch on Christmas and a random night hanging out with my family for a little face time at some point. But this year my mom is taking my brother to visit some old high school friends for Christmas and our usual Christmas plans have been moved to Red Lobster a few days later.
I'm sure I've mentioned this before, but I've always wanted to have Christmas traditions with family. I used to have such huge family gatherings with my dad's side of the family, but with my not having a relationship with my dad anymore, those gatherings haven't been a part of my life for several years now. There's just so much left unexplained, so many rumours and lies have been spread, honestly I don't know if I have the energy to confront them with that side of the family.
The truth is, I kind of miss them. Those gatherings tended to be huge dinners centred around meat, but they're such a lively, loving, caring group that made me really understand what it meant to be Vietnamese. It was loud, full of karaoke, Heineken beer, and a LOT of children. Like a lot.
My mom's side of my family is wonderful and hilarious, of course, and I do spend time with them, but everyone seems to be gone this year so Christmas this year is just me and Eddie. It's nice to be just us, but I can't help but feel a little lost without some sort of tradition that anchors us home.
I guess that's the whole thing with family; eventually you start your own. With your own traditions, a blank slate full of possibilities. We've started to make our traditions include a Friendsmas here and there, but it's always before Christmas because most people have their own family gatherings to attend. Maybe we'll visit Eddie's grandma, and I'll bring her another apple crisp. Maybe I'll finally bring another pumpkin pie to Eddie's dad who has been bugging me to bring him one ever since I brought him one of my test pies from last year.
It's yet another thing Eddie and I need to figure out as we do this whole marriage thing, huh? He's been pretty pumped with all the meatball testing I've been doing, because it means I've been buying bags and bags of apples. I don't know what it is with apples this year, because I've always loved apples, but I think we've gone through at least 50 lbs of Ontario apples this year.
From making three giant batches of apple sauce, to juicing, to incorporating them into salads and in these meatballs, I've been apple-obsessed and it's a train that ain't stopping anytime soon.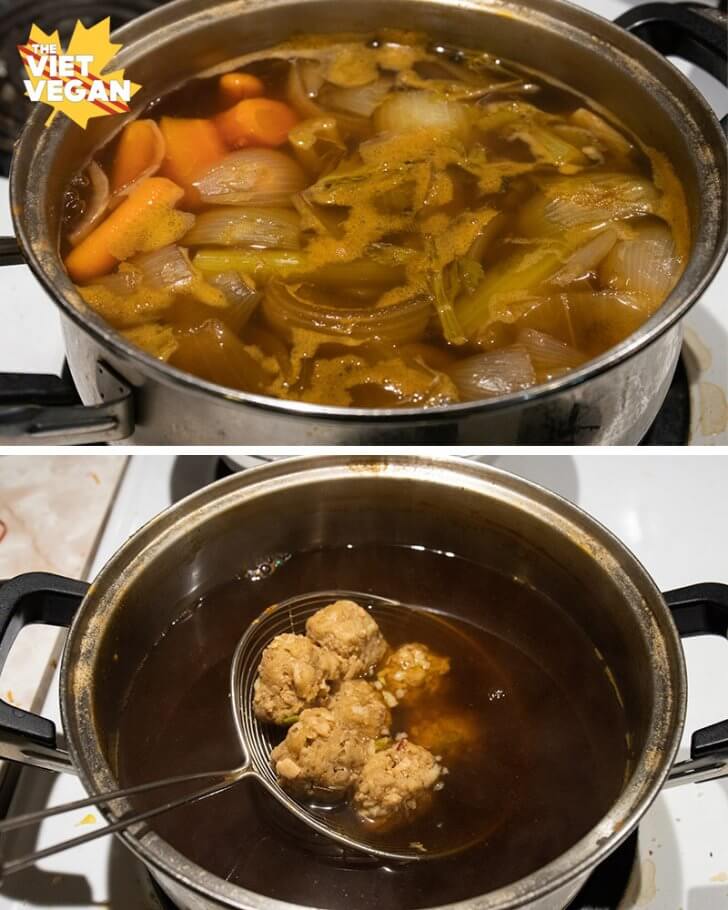 These apple sage seitan meatballs have been something I've been cooking up in my brain for a few months now, and after testing what feels like 20 times (it probably was actually just 4 times), I am so excited to finally share this recipe with you. They're savoury, spiced with sage and a little heat from the BBQ sauce, there's tons of fun texture and luscious tenderness from combining the wheat gluten with TVP. Grated apple helps create more little pockets of flavour where more simmering broth and BBQ sauce can seep in.
I know this seems like a million pictures, but since I didn't release a video with this recipe, I felt like the photos were necessary to show you the steps to creating this recipe.
After testing them a few times, I found the best technique for yielding optimal texture was baking the meatballs for 20 minutes first, then simmering for 40 minutes, then finally baking with the apple BBQ sauce for the final texture. You will get these wonderful flavourbombs of savoury apple goodness that is totally worth all the work.
The seitan itself is relatively easy to put together, honestly it's just the cooking and the sauce. You could easily use your favourite BBQ sauce instead, but the extra apple sage in the sauce really does make a difference. I think I'll start making these meatballs to keep in the freezer if I ever need something last minute for a potluck or a lazy night. How can you go wrong with seitan meatballs?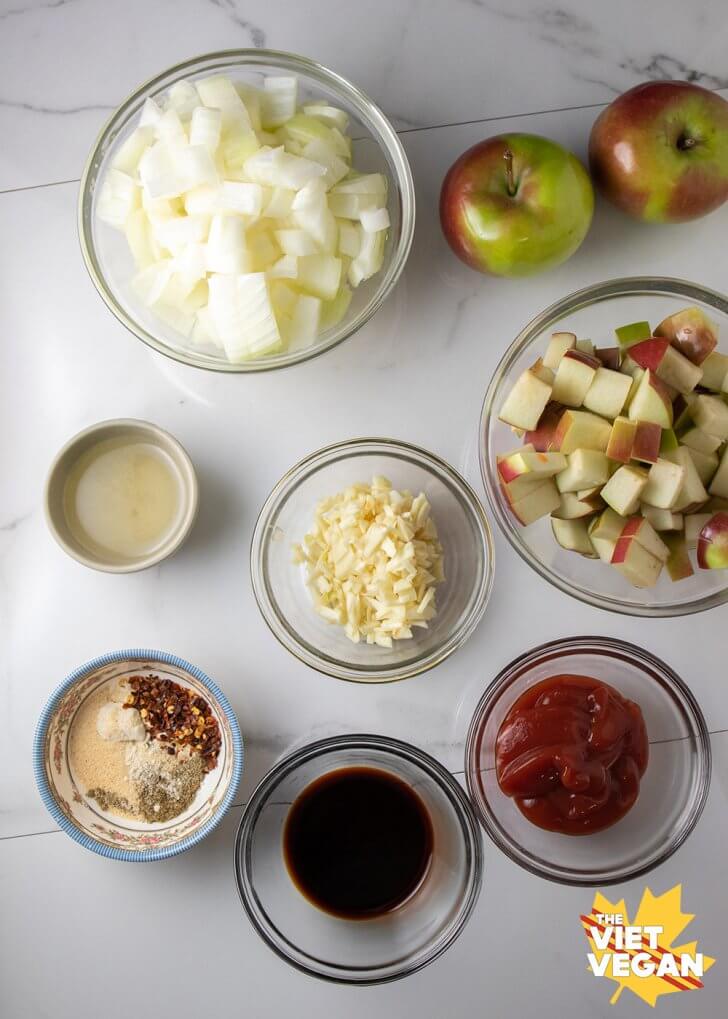 Anyway, I hope you have all been enjoying my apple obsession this year. It's been really fun discovering all the different ways to use it, and with my efforts to eat less processed food (aka not buying vegan meats as often), it's been great figuring out ways to eat more local food and reduce my plastic impact on the world. Plus, more local food = better for the economy, so I feel like I'm helping ;)
I have one more recipe coming up with Ontario apples, and I have a sneaking feeling I'll probably do something with Red Prince apples, since they don't show up in stores until winter because they get cellared in the fall before going out. It's honestly so cool how many different varieties of apples we have here in Ontario. Some new varieties, some old–actually, this year I brought a bag of Northern Spy apples to a friend who hadn't seen them around since he was a kid and was feeling nostalgic about stealing his grandma's baking apples to snack on.
So I hope you try out these apple sage seitan meatballs! They're really tasty and were a huge hit at Friendsmas, and I'll definitely be making more variations of these in the future. Eddie's been on my case for making sweet and sour meatballs for a while and now that I have a go-to-recipe, I really have no excuse.
A big thank you to Ontario Apple Growers for sponsoring this recipe! Please check out their website for more tips on apple varieties, it's super helpful for figuring out which apple you want for whatever application you need :)