These chickpea tuna melts are so easy and affordable, they're the perfect meal prep for a quick hot lunch in 10 minutes!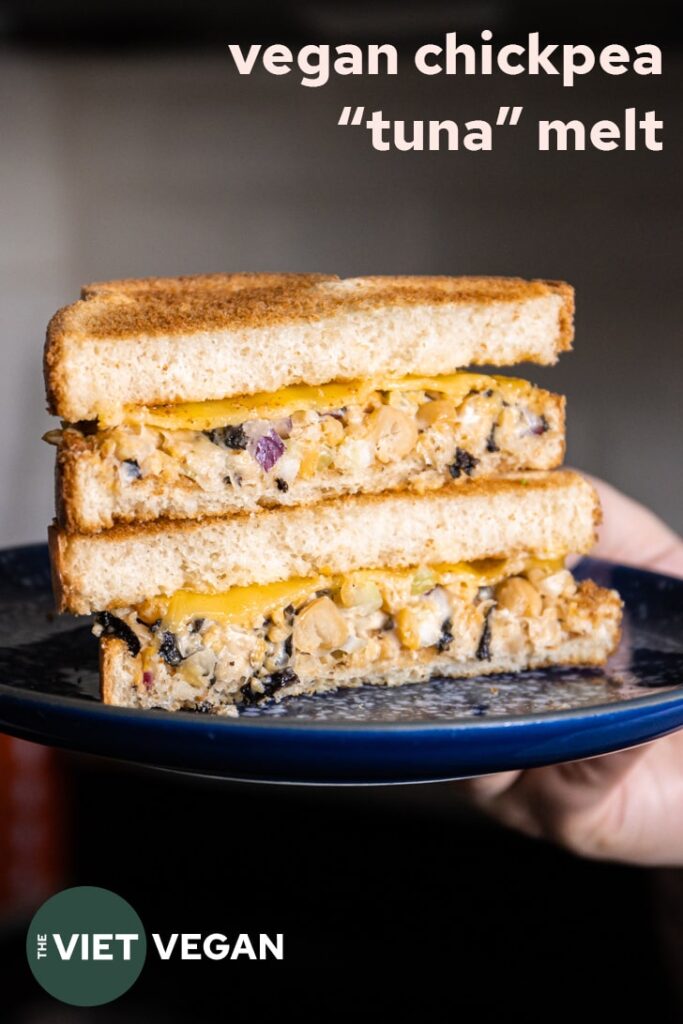 I never ate a lot of tuna melts when I did eat tuna, but I did eat a lot of tuna salad. I've made a version of this chickpea salad as a pasta salad, which is what I had a lot for my school lunches as a kid.
But Eddie said his go-to sandwich at Subway used to be the Tuna Melt, so I figured I'd try to make a vegan tuna melt for him. There are some vegan tuna products out there that are alright, but they're pretty expensive and harder to find.
The Best Vegan Tuna Replacements
Most of the canned vegan tunas I've tried is often soggy or reminds me of cat food. I haven't found any worth the money. So, my top fish substitutions tend to be either flaked chickpeas or the Gardein fishless fillets.
As you can see, chickpeas have a great texture for a tuna salad replacement. The flaked chickpeas and their skins not only provide an decent texture, but they also have a fairly neutral flavour that takes on fishy flavours well!
They also are nutritious: iron, protein, fibre, what's not to like? Most plant-based tuna replacements I've tried are not worth the money! Especially when it comes to nutrition, $6-8 per serving is not worth it for me.
The Gardein fishless fillets have the great, fish & chips flavour and texture: flakey and fishy, with a really tasty battered coating. I can usually find it on sale for $5 per bag, which has 6 fillets per bag. I usually eat 2 or 3 in one serving, and they're really delicious while also filling.
How to add "fishy" flavour:
There are more creative and innovative ways you could add fishy flavour to chickpeas! While cooking from dried, you can add kombu or kelp to the water to add some of that flavour.
I've taken the shortcut of adding cut up dried nori. In my opinion, it adds the perfect amount of fishy flavour to make this tuna-esque.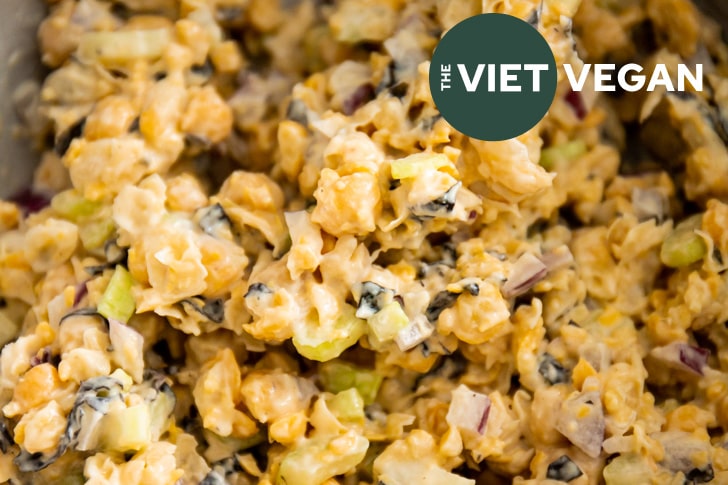 Making the Vegan Tuna Melt
But the main parts of this vegan tuna melt are a creamy, fishy filling and melted cheese on toasty bread. I add celery and red onion for crunch and flavour, but the red onion can be a bit overpowering.
To take the bite off of red onion, soak it in some cold water for 5-10 minutes. Do this while you flake the chickpeas! Then you have the right amount of red onion flavour without the stinky punch. Soaking in the same water is great for reviving some wilted celery too. I have had some sad celery lately, so add that in with the soaking red onion to crisp it up.
I used storebought vegan mayo, but you can definitely use your own aquafaba mayo to save yourself some money. We like the shelf-stability (or rather, fridge stability) of the storebought stuff, so I have been using storebought a lot more. But since you're using canned chickpeas here anyway, save that chickpea water to make mayo!
Add a hefty scoop of the vegan tuna salad to a piece of toast, then broil some vegan cheese on top. I used Field Roast's Chao original, because that's my favourite classic American cheese replacement. Once it's adequately melted, slap a piece of buttered toast on top, slice in half, and enjoy!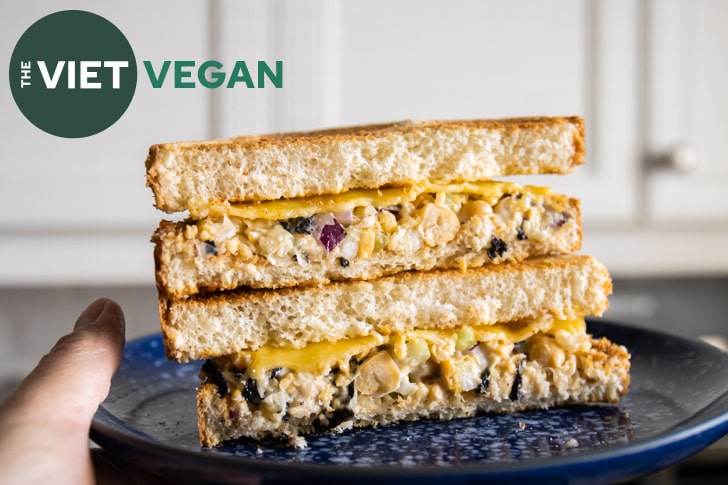 This vegan tuna melt has been a go-to sandwich lately for the brief 10-15 minutes I tend to get for lunch. Speaking from experience, this vegan chickpea tuna melt is not the easiest to eat while holding a baby haha. I have found a few breadcrumbs in some baby neck rolls, which I can't imagine was very comfortable.
Yield: 4-6 servings
Vegan Chickpea Tuna Melt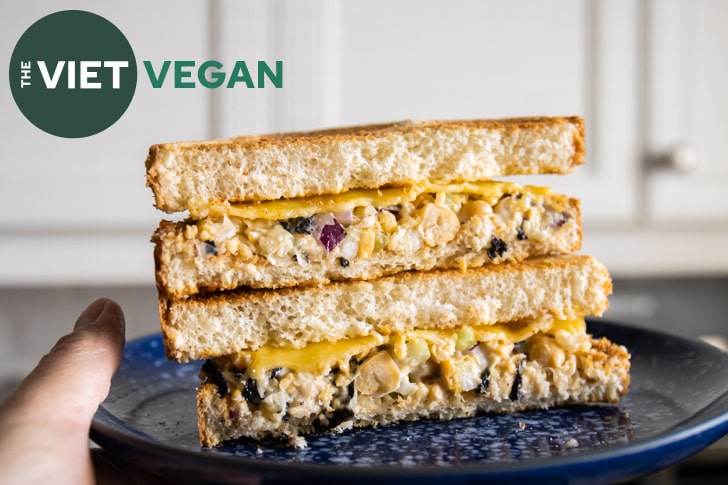 This has been an easy and filling sandwich that I've been meal prepping for easy and quick, hot lunches! To make this gluten-free, use your favourite GF bread or use lettuce to make chickpea tuna boats!
Ingredients
1 rib celery, finely diced
3 tbsp minced red onion
1 14 fl oz/400 mL can chickpeas, rinsed and drained
1 tbsp Dijon mustard
1 sheet nori, cut into slivers
1/4 tsp pepper
Per sandwich
2 slices bread of your choice
1/3 cup chickpea tuna mix
1 slice vegan cheese (I used Chao original)
2 tsp vegan butter
Instructions
For the Chickpea Tuna Mix
In a small bowl of cold water, soak finely diced/minced celery and onion while you flake your chickpeas. Soaking in water makes the celery crunchier and takes away the stinky onion bite while leaving you sweetness and crunch.
In a large mixing bowl, use a fork to flake the chickpeas. Do your best to get each bean, and don't worry about the skins coming loose. It adds extra flaky texture to be like tuna!
To the bowl, add the vegan mayo, Dijon mustard, nori cut into small, thin slivers, pepper, and the drained celery and red onion.
Mix well and taste for seasoning (I didn't need to add any extra salt but feel free to if you like)
For the Chickpea Tuna Melt
Toast your bread to your desired amount. Once toasted, add 1/3 cup of chickpea tuna mix to one slice.
Add a slice of vegan cheese on top of the chickpea tuna mix, then pop that in the toaster oven on broil for 4 minutes or until it is melted to your liking.
While that's toasting, butter the other slice of bread.
Once the cheese is melted, add the buttered slice on top, and slice in half to enjoy!