These vegan fire noodles are inspired by the Samyang chicken flavour ramen noodles that are vibrant red and spicy! The original contains artificial chicken flavour, which a few people have been concerned about being not vegan, so I decided to go ahead and attempt to make it from scratch!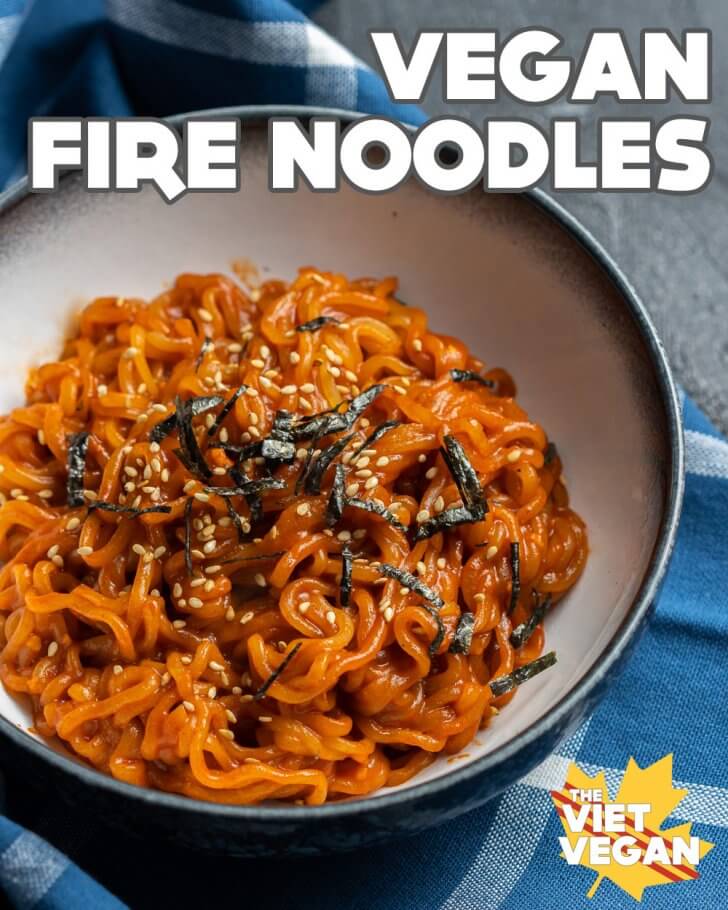 I'm not sure what it is about 2020, but with everything that's been happening lately, I've been craving comfort food. To me includes lots of rice, noodles, and flavours from Asian cuisines that I have turned to when things get a little stressful. I've been cooking up so much rice, stir-fry, and noodles, and if possible, dunking everything in nuoc cham if I can. For example, the pumpkin curry I made last week was delicious and reminded me how much I love the magical trio of garlic, coconut milk, and curry pastes.
Lately I've been experimenting with this vegan fire noodle dish, which has reminded me how chewy noodles smothered in a spicy, vibrant red gochujang-based sauce is such a comforting way to warm you up from the inside out (not only with just hot noods but also spice haha)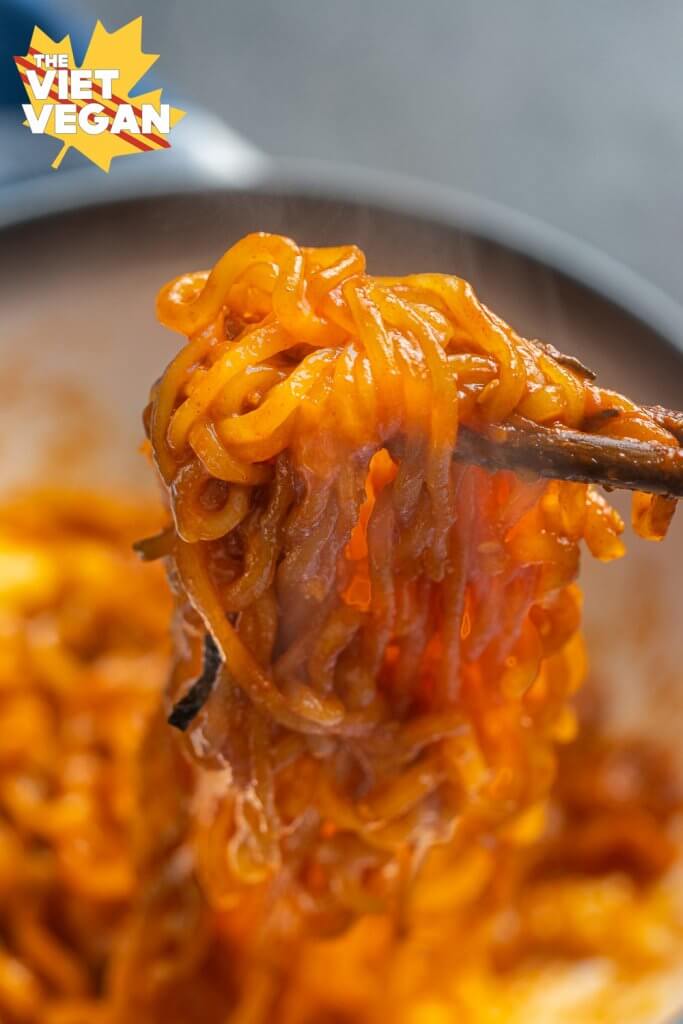 I made my first homemade version of this in a recent YouTube vlog and I wanted to revise the recipe to really be saucy and stick to the noodles the way the Samyang chicken noodles' sauce did. After deep diving on some Reddit forums and reading other people's renditions of this recipe, I finally figured out that cornstarch is all I needed to get it to that consistency.
Duh.
I should have known that.
The umami is typically brought on from their artificial chicken flavour, which I tend to mimic in other dishes with mushroom broth powder and I decided to add a touch of MSG for that extra layer of umami. You can leave that out if you don't have that, but the the MSG and mushroom broth powder fulfills a certain component of the savoury body that the soy sauce alone cannot. It really does elevate the savoury flavour.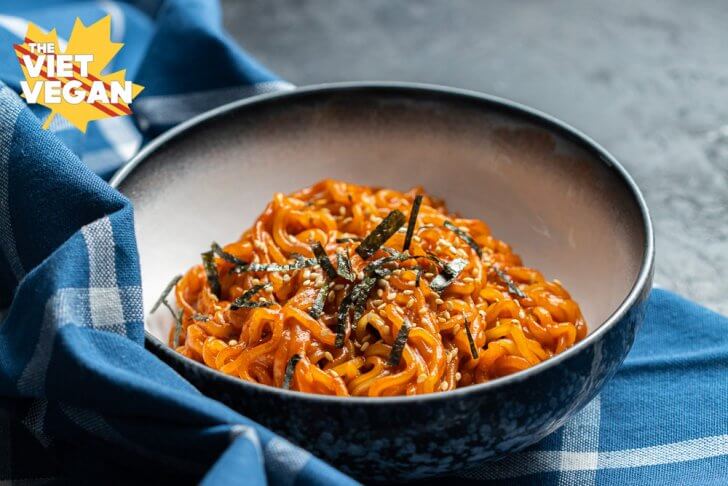 And like in my video, if you want to melt a slice of vegan cheese on top (I used Chao cheese, original flavour), it adds another layer of creaminess that is simply delicious. But totally not necessary. But the cheesy creaminess helps mellow out the spice a little bit if you can't handle that spice level. If you want to dial back the spiciness of these vegan fire noodles, you can reduce the gochugaru (the red pepper powder) down to 1 tsp instead of the 1 tbsp, but the gochugaru is what gives this dish that vibrant red colour. Plus the spice is kind of the point hahaha.
Adding some stir fried greens like bok choy, yu choy, or gai lan on the side can help mellow out the spice and give your digestion some fibre to work with in tandem with the spice XD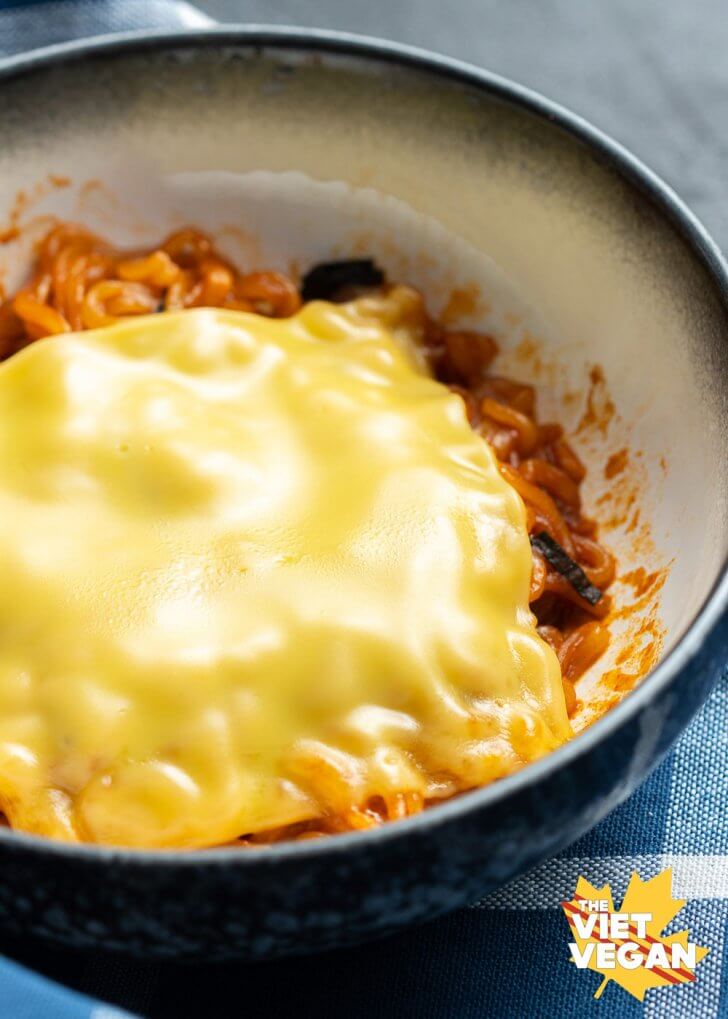 Yield: 1 serving
Vegan Fire Noodles
A veganized version of the firey korean chicken flavour ramen noodles that is nearly as easy as the packet noodles!
Ingredients
For the sauce
1 tbsp (15 mL/16 g) gochujang (red pepper paste)
1 tbsp (15 ml/ 4 g) gochugaru (red pepper powder)
1 tbsp (15 mL) soy sauce
1 tsp (5 mL) brown sugar
1 tsp (5 mL) sriracha
1 tsp (2 g) cornstarch
1 tsp (5 mL) sesame oil
1 clove of garlic (I used a fat one)
1/4 cup (60 mL) of water from cooking ramen noodles
Optional: 2 pinches of MSG and/or 1/4 tsp mushroom broth powder
For the ramen
1 ramen noodle cake (whatever you prefer, but I love the Samyang ones)
Optional Garnish:
Toasted sesame seeds to top
Roasted nori on top, cut into small strips
Instructions
To make the sauce, in a bowl, combine gochujang, gochugaru, soy sauce, brown sugar, sriracha, cornstarch, sesame oil, a crushed clove of garlic (or finely minced) and if using, MSG or mushroom broth powder (this really improves the umami/savouryness).
In a pot, cook your ramen noodles until done, strain and reserve 1/4 cup (60 mL) of liquid in the pot.
Add the sauce to the water and cook for about 1 minute over medium heat, stirring well to incorporate and allow the cornstarch to thicken the mixture. Add the noodles back into the pot and stir well to coat the noodles. Transfer to a bowl and garnish with toasted sesame and nori!
Serve alongside your favourite protein: I tend to just panfry some tofu to put on top or air-fry some of your favourite frozen vegan mock meats to enjoy with it.