It's soup season! This vegan kale, barley & lentil stew
is super hearty and packed full of protein, fibre, and fresh flavour!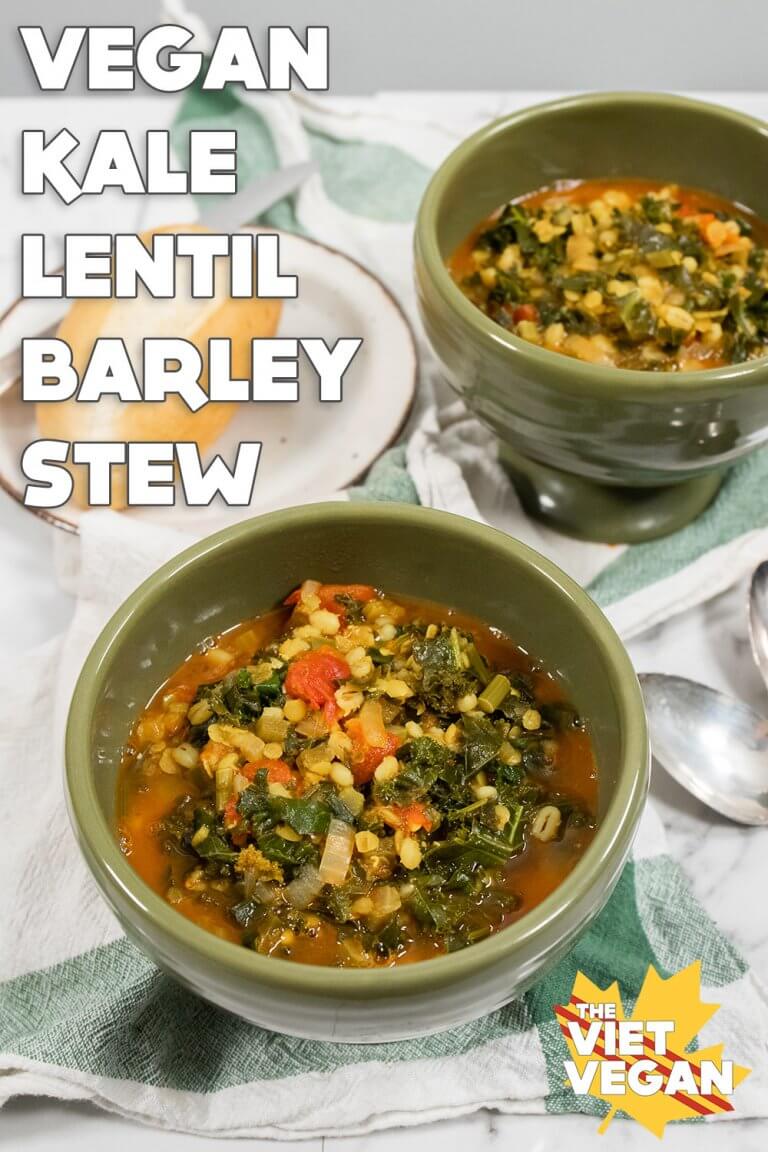 Wow, I thought I could magic it up a little when editing the photos for this recipe, but this soup is just not very photogenic. But I promise it tastes way better than it looks! The lentils and barley really soak up the flavour and give you a nice little bite while the kale, kale stem give you even more fibre. Tomato goodness, flavourful broth, and a kick from the jalapeno makes this one of my new favourite soups to make because it's so hearty and tasty.
This was one of the soups we had at Friendsgiving this year and it wasn't popular at first because the colour of kale tends to die a bit, but once people had a ladle-full to try (there were 4 soups to choose from, so they had to be aware of how much they could actually eat haha), people were surprised at how good it was.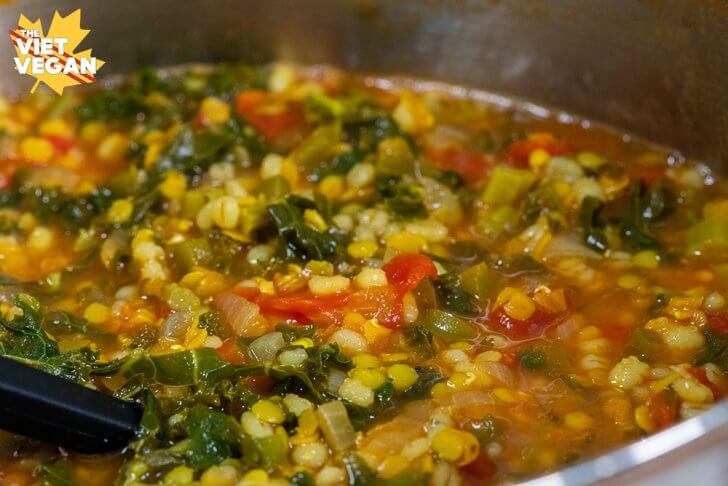 But now that Friendsgiving has come and gone, we've been cleaning out our fridge by trying to eat up all the bits and bobs from recipe testing over the past couple weeks. We've also been trying to clean out our pantry because we found a little mousey friend who decided to eat all of my extra bags of spices and seeds I leave on the top shelf because they don't fit in my containers. Unfortunately I ended up having to clear out about 1/3 of my cupboards, but it made me aware of how many of the same beans, lentils, and grains I have in multiple jars. Whoops. Definitely will have to be eating through all of those before we move.
Did I mention we're moving?
We're at a point now where our living arrangements are changing and we have to move sometime in Jan/Feb, and Eddie being so tired of moving all the time wants to buy a place. So with our modest income, we're sort of forced to settle for a tiny shoebox condo in the city or move out to some of the industrial towns and find a cheaper fixer upper if we want some actual space.
It's been an exciting but also terrifying process, making me doubt my decisions and wonder if I should have jumped into a more lucrative career or at least be more disciplined than I am now. Either way, I have to just breathe, hope for the best and see what we can get. It's been fun talking through our imaginary lives with Eddie as we scroll from listing to listing. It makes me feel nervous and silly, but I know that even if our house looks like a sketchy little shack, it'll be our sketchy little shack and we'll be okay.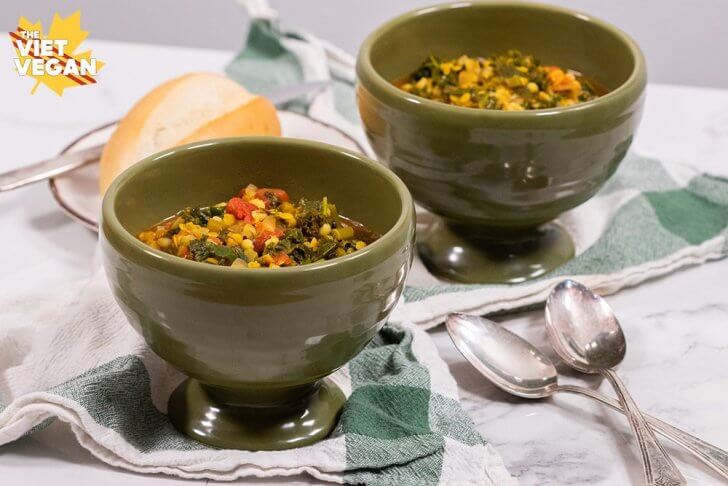 Anyway, having to hunker down and put all of our life's savings (which, frankly, we don't have much of already) into a house and the prospect of a mortgage has made me acutely aware of how much I could save if I really did just eat more whole foods and fewer processed vegan foods. While I'll still gave for the occasional bit of vegan cheese, we're going to be a lot better about prepping food at home so we don't eat out as much. I've been having a lot of fun experimenting with beans in the instant pot lately, and while I didn't love the IP at first, the BEANS in this thing are a whole new level. Never have I had more buttery, luscious beans. Never have I been this excited for my next batch of beans, haha. But that's for another blog post.
This vegan kale, lentil and barley soup definitely can accommodate any of the random vegetables or grains you have in your fridge and pantry if you need to use them up, and because it's so hearty, it's great for freezing and eating later when you're simply not in the mood to cook. I hope you enjoy it and give it a try, either on the stovetop or Instant pot, but I prefer the flavour you get from stovetop :)