Often confused as "Korean sushi", kimbap, aka gimbap, are actually Korean rice rolls that are filled with pre-cooked and pre-seasoned components to create one perfect bite!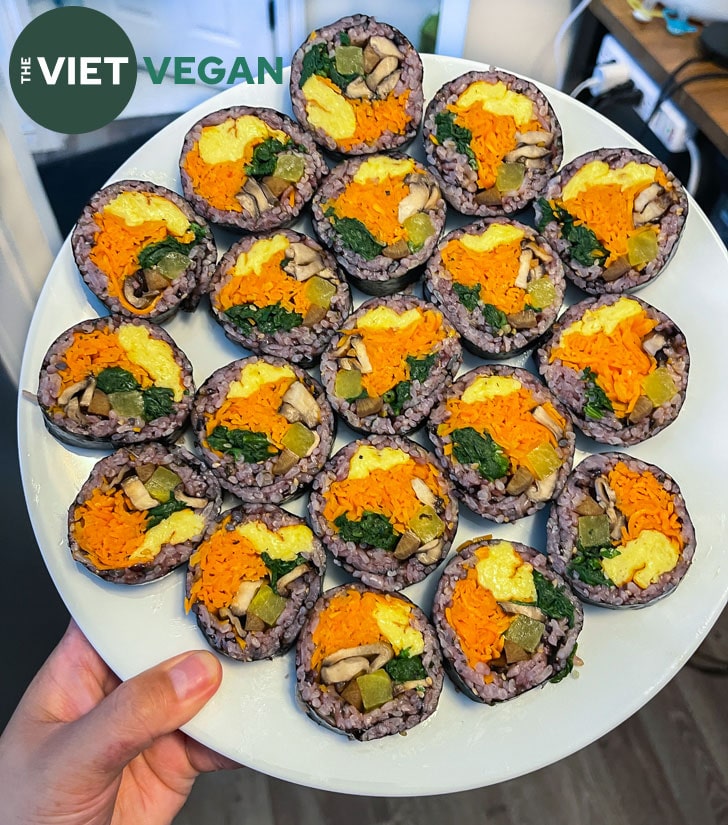 Throughout my pregnancy and through the early days of postpartum, I was OBSESSED with kimbap. I couldn't get enough of it. I had endless cravings for these perfectly seasoned bites. My gimbap was full of tender crisp carrots, garlicky spinach, savoury bulgogi mushrooms, tender JustEgg, and of course, marinated burdock and sweet pickled turnip.
I think I've made vegan gimbap at least a dozen times now, to the point where people kept asking me for the recipe whenever I'd share it on Instagram. I would just tell people to use my bibimbap ingredients, but season the rice, and also add pickled turnips and burdock. But I had too many people tell me that enough was enough, and that I should just have a dedicated blog post for it. So here it is.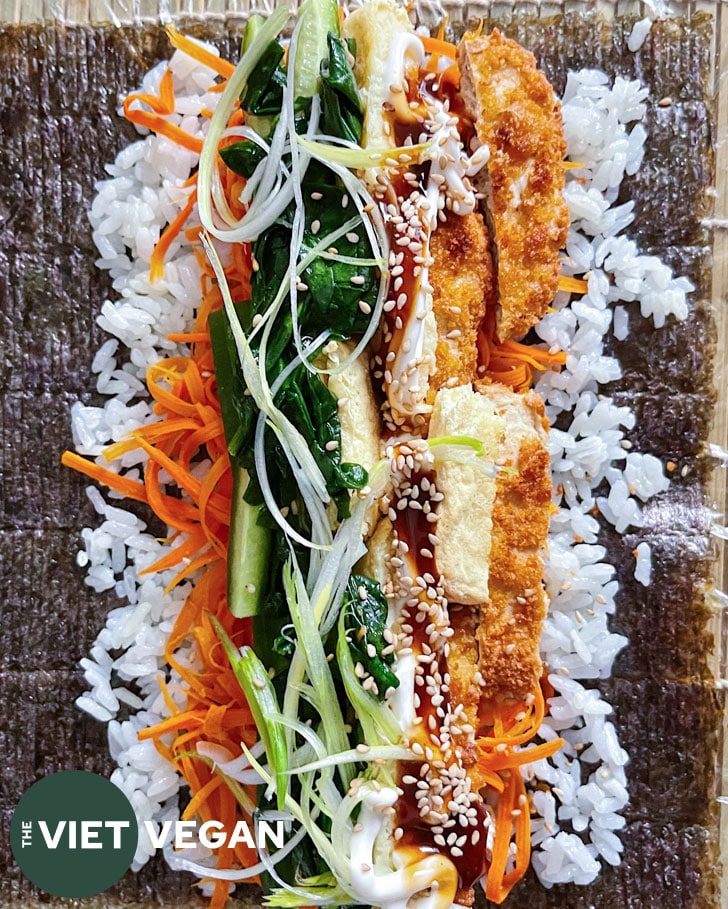 Pictured above is one of my first experiments of kimbap: I didn't use enough rice, I didn't have the pickled turnip or burdock, BUT I did add vegan fried chicken, vegan mayo, tonkatsu sauce and spring onion. It was a tonkatsu kimbap hybrid, since it also included seasoned carrot and spinach. It was delicious but not structurally well made haha.
What goes inside vegan kimbap?
There are so many variations of gimbap, but this one is very standard. I love to pack it with veggies! The fillings include:
Seasoned spinach
Julienned carrots, cooked until tender crisp, I add A LOT in a roll
Bulgogi-marinated mushrooms instead of beef
Pickled Turnip and marinated burdock
vegan egg or tofu
What rice should I use to make gimbap?
I always use short grain rice as it is sticky and works the best with making rolls. I've used both regular white short grain rice, brown short grain rice, a mixture of white and brown, and even purple. Purple rice is always beautiful, but white rice is a classic!
You can use other rice varieties, but IMO, short grain is the best for kimbap.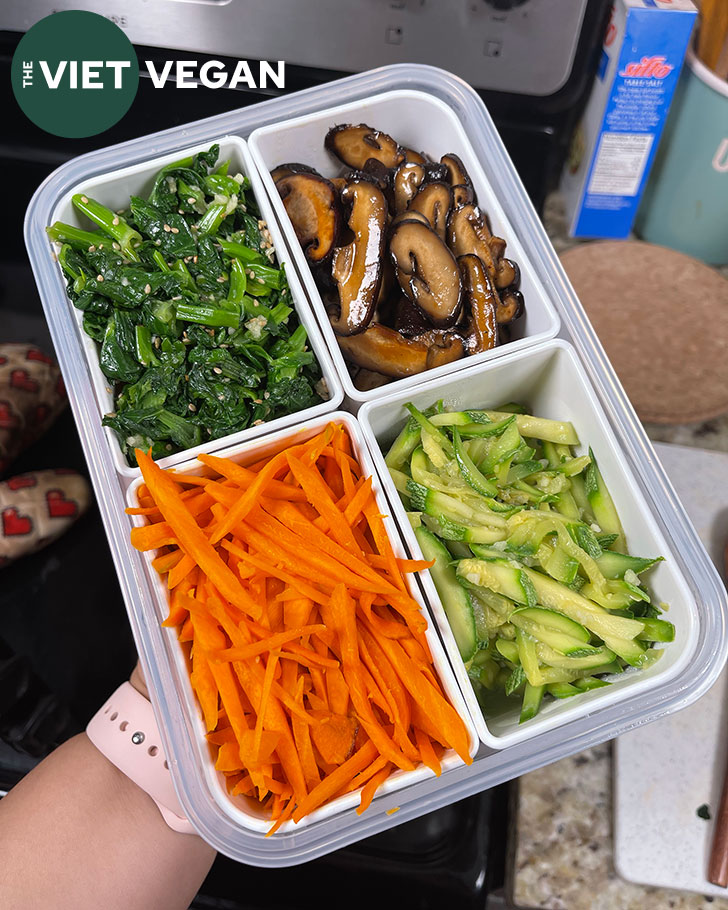 Much like my bibimbap or japchae recipes, I often will make huge batches of the seasoned spinach, carrot, and bulgogi mushroom banchan. Then I can use those components in bibimbap, japchae, or kimbap, whichever my heart desires.
Vegan kimbap is perfect for packed lunches, and with all the banchan prepared ahead of time, you could easily make a batch of kimbap for packed lunches. This and onigiri are some of my favourite foods to pack for an on-the-go meal.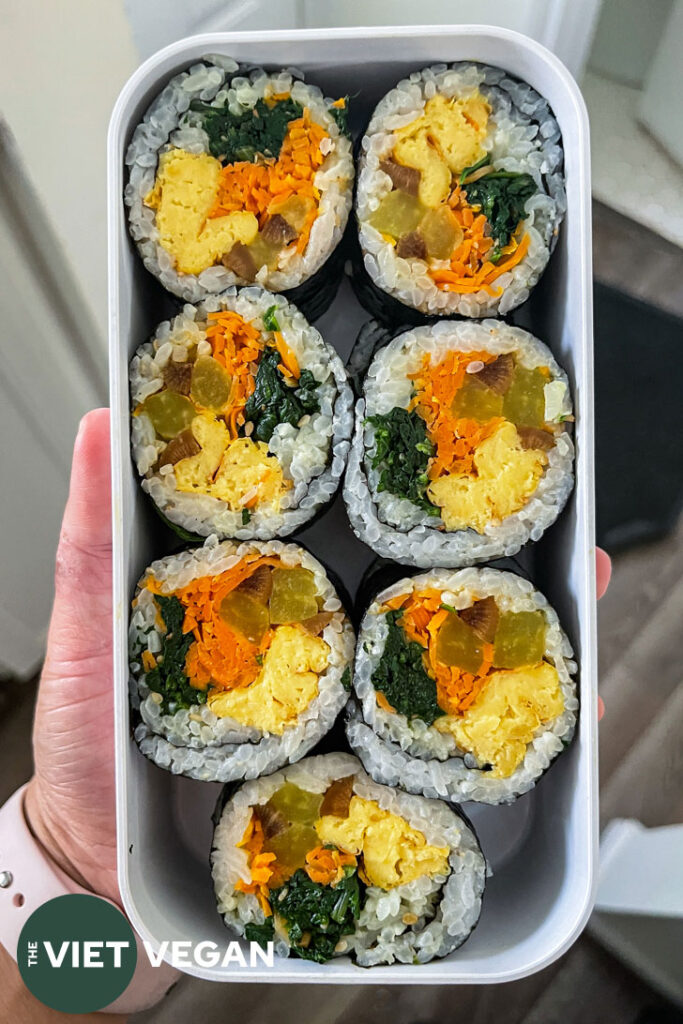 Can I meal prep vegan kimbap?
In a sense, yes! You can meal prep all the ingredients that go inside kimbap (so the veggies, the vegan egg, etc, but the rice should be prepared fresh. It is stickiest when freshly cooked, which makes for rolls that stick together well.
You can prepare a HUGE batch of kimbap for a gathering and eat it all that day (a very common thing in Korean culture). But leftover kimbap does not taste great when eaten as is post-refrigeration.
For best make prep results: make the banchan 1-2 days in advance, but make the kimbap fresh the day you plan on eating it. Bibimbap and japchae are much easier to meal-prep!
How to eat leftover kimbap
If you do have leftover gimbap, don't throw it away! Use a vegan egg replacement like JUSTEgg to fry up. This is typically done with chicken egg, but since I'm vegan, I use a vegan alternative. This egg-battered kimbap is called kimbapjeon!
You could also get a little wild and batter it with my tempura batter to make kimbap twigim. Normally one would batter a whole roll and then slice, but sometimes you gotta zhuzh up kimbap leftovers to eat em.
Recipe Inspiration:
Kimbap is a Korean classic, I wouldn't know what to do if it weren't for these incredible Korean creators:
Yield: 4 kimbap rolls
Vegan Kimbap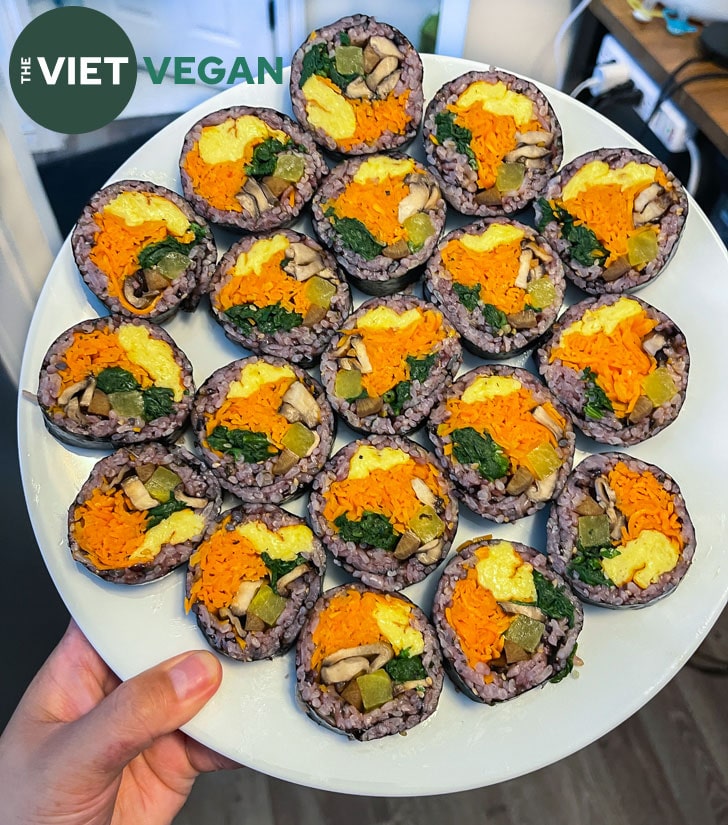 My favourite way to eat vegan kimbap is with a cup of instant noodles (vegan Shin ramyun or soon ramyun), and enjoy with oi muchim (cucumber kimchi) or regular kimchi.
Total Time
1 hour
45 minutes
Ingredients
For the rice:
1.5 cups short grain sushi rice
1 tbsp pure sesame oil
1 tbsp toasted sesame seeds
½ tsp kosher salt (to taste, add more if you like it saltier, or omit, up to you)
Sigeumchi namul (seasoned spinach)
1 box of baby spinach (454 g)
1 tbsp toasted sesame seeds
1 tbsp pure sesame oil
½ tsp kosher salt
4 cloves garlic, crushed/minced
Danggeun Namul (seasoned carrot)
2 medium/large carrots, finely julienned
½ tsp kosher salt
Vegan Egg:
1 340 mL bottle of JustEgg OR 3 JustEgg Folded
Oil for the pan
Beuseus Namul (seasoned mushrooms)
1 lb (454 g ) shiitake mushrooms (you can use any mushrooms you like)
3 tbsp (45 mL) soy sauce
3 tbsp (45 mL) oliosaccharide (brown sugar or a liquid sweetener of your choice works here)
1 tbsp (15 mL) pure sesame oil
1 tbsp (15 mL) rice vinegar
Black pepper to taste (I do a dash because I like it but Eddie doesn't like black pepper)
For the Kimbap
4 sheets of seasoned laver for kimbap/gimbap
4 strips of pickled turnip
4 strips of pickled burdock
1 tbsp pure sesame oil to top
Instructions
For the Rice:
Using a rice cooker, cook the rice according to your rice cooker's directions. I use 2 cups of the cup that comes with my rice cooker (180 mL per cup, so 1.5 cups of rice total), and I just fill the water up to the 2 cup line in the rice cooker. Hit cook, and set aside to prepare the kimbap filling.
Seasoned Spinach:
In a large pot of boiling water, blanch the whole box of spinach until wilted, about 1 minute total. Drain and shock with cold water to stop the cooking process.
Squeeze the spinach to remove excess water, then season with sesame oil, toasted sesame seeds, garlic and salt.
Mix well and then set aside.
Seasoned Carrot:
In a large pan, season your carrots with salt, let sit for about 5 minutes, then stir fry for about 5-7 minutes until the carrots are tender crisp. They should be soft but still a little crunchy. The thicker your julienne, the longer this will take. My julienne peeler does a really fine julienne, so this doesn't take very long for me.
Transfer to a bowl, then set aside.
Vegan Egg:
In the same large pan, cook 1/3 cup amounts of JustEgg and use a spatula to shape one long strip the width of your kim (seasoned laver). You should have about 4 strips cooked to make 4 rolls, but you may need to make more depending on how you distribute the ingredients.
If you're using JustEgg Folded, I pan fry those until warmed through and cut into ½ inch strips. I use about ¾ of 1 patty in each kimbap roll.

Seasoned Mushroom:
In the same large pan, combine sliced mushrooms, soy sauce, liquid sweetener of choice, sesame oil and rice vinegar. Cook over medium high heat until the mushrooms have released all their liquid and have
absorbed all of the sauce.
Season with a dash of black pepper, then transfer to a bowl to set aside.
To prepare the kimbap:
First season your cooked rice by fluffing with the rice paddle, then mixing in sesame oil, toasted sesame seeds, and salt. Mix until everything is well seasoned.
Spread out about 1 cup of seasoned cooked rice onto the rough side of your seasoned laver (gim). Spread it evenly but loosely, leaving about ½ inch of room at the top. You don't want to press or crush the rice grains, but simply spread it out so it adheres to the seaweed. This is optional, but I like to take about 4 grains of rice and smear them along the
top to use as "glue" for the roll.
Then add your fillings: in each roll, I add about 1 cup (yes, 1 cup) of the julienned carrot, ½ cup of seasoned spinach, 1 strip of vegan egg (or 6 slivers of JustEgg Folded), 1/3 cup of mushrooms, 1 sliver of pickled turnip and 1 sliver of marinated burdock.
Use a sushi mat to roll together tightly, then set aside seam-side down to rest while you make the remaining kimbap. Once everything is rolled, season the kimbap with the sesame oil and evenly brush or rub the oil across the whole roll.
Using a sharp knife (you can oil to keep the rice from sticking to it), slice the kimbap into thin ½ inch thick coins. Arrange on a plate and enjoy!
Notes
Storing Leftovers: Kimbap does not taste very good eaten from the fridge. The best way to enjoy leftover kimbap is to use vegan egg mixture to batter the sliced kimbap, and then fry on both sides to reheat. This is called kimbapjeon!