These vegan unagi onigiri (vegan fish rice balls) make for a delicious portable lunch! It's very kid-friendly and super cute too :)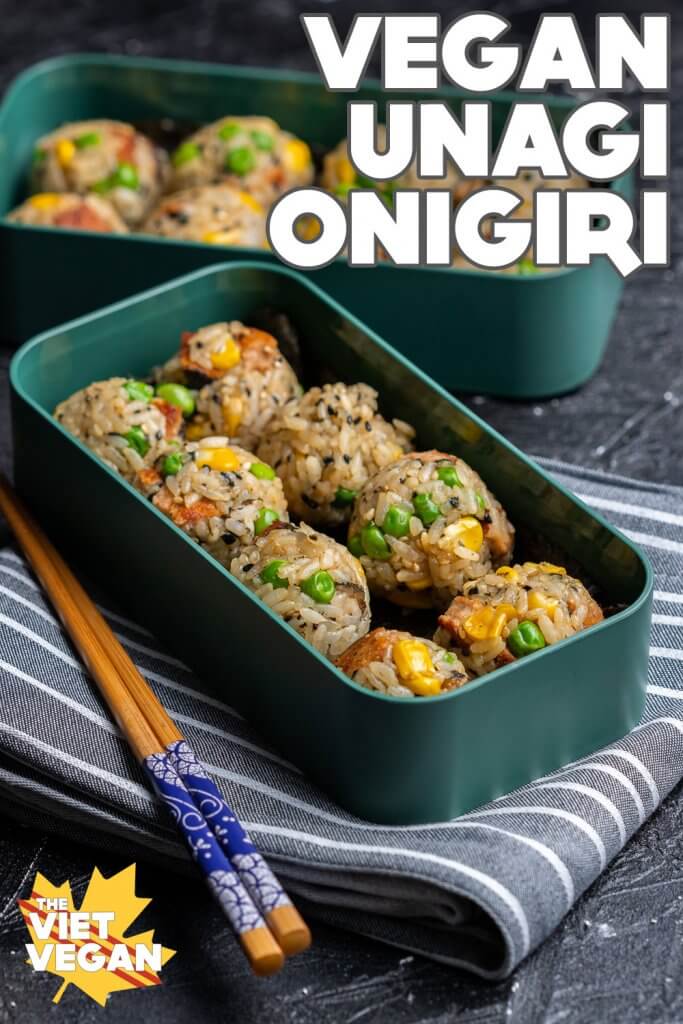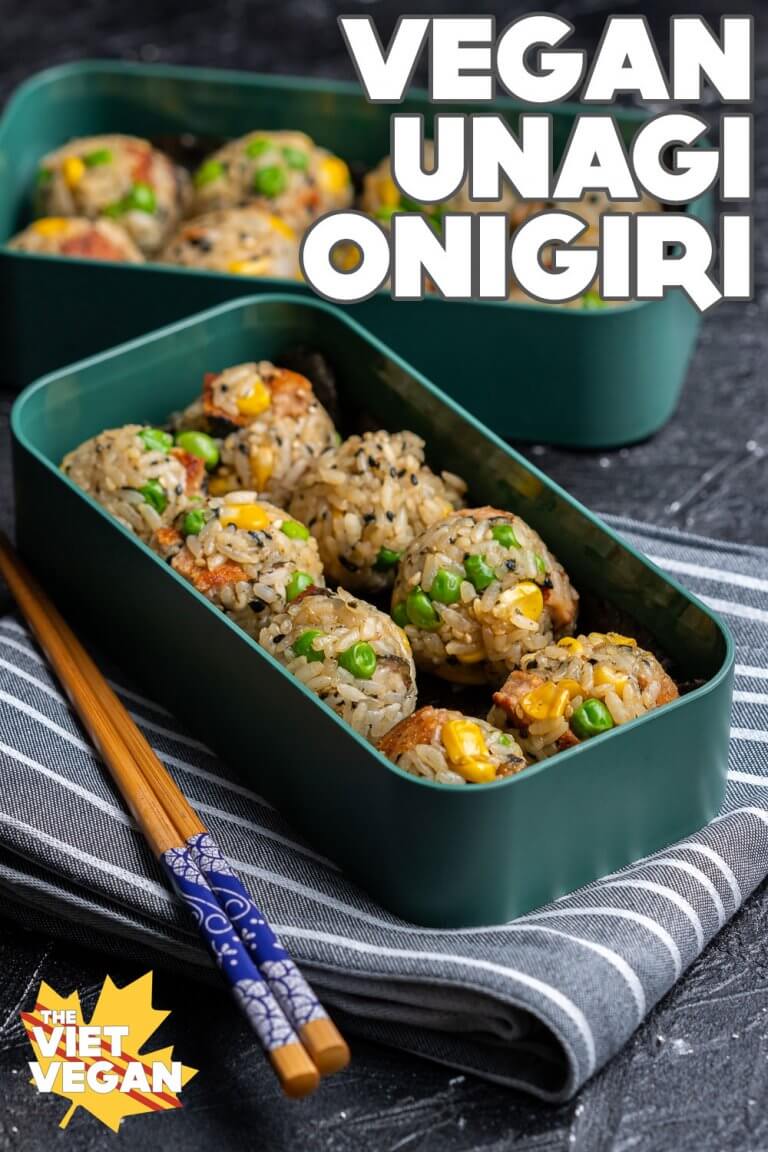 Fall is here, which means it's the best time to go hiking. And besides beautiful views, the smell of crunchy leaves, and beautiful trees to peep, you need epic hiking food! I've made these vegan unagi onigiri for lunch after tubing during the summer, but it's perfect for a compact bento box to bring on a hike (or for work or school lunches). The more you make them, the better and faster you get, and it's easy to make a batch of this if you're making lunches for multiple people (i.e. children).
My mom would make plain rice balls to eat when we were feeling lazy for dinner, so these would be easy as an "interactive" dinner as well, but I don't have kids, and when my brother was a kid he didn't enjoy getting his hands dirty so meals like this were not his favourite.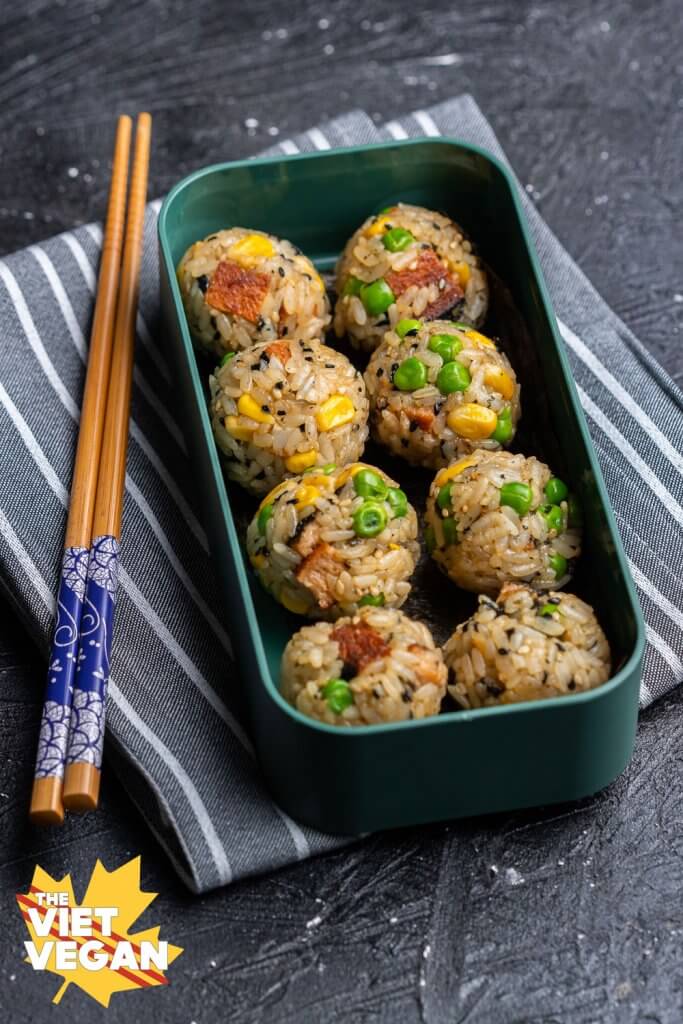 I've found myself missing sushi a lot lately and wanted more variety than just cucumber and avocado rolls and simple miso onigiri, although I did really enjoy this vegan chicken salad onigiri but I'm still not that great at making sure they keep their shape in the triangle form. I recently bought umeboshi (Japanese pickled plums) for more traditional onigiri as well, so I'm sure you'll see some of that pop up on the blog or Instagram soon!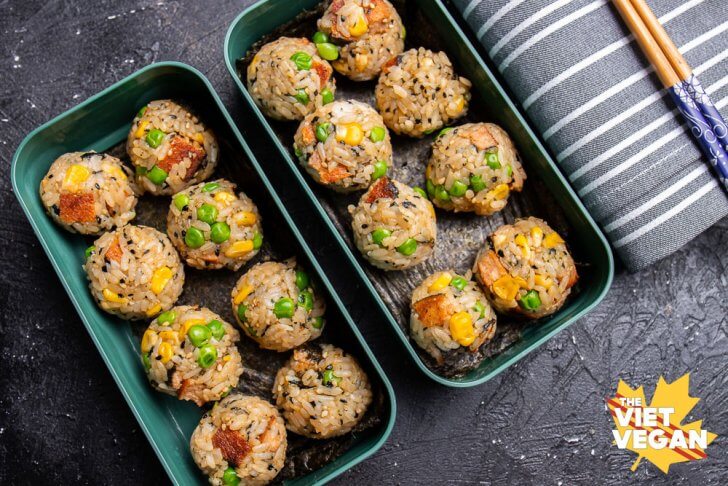 If you want to see how I made these, be sure to check out my YouTube video, or a very quick and simplified version on my Instagram.

Yield: ~2 servings
Vegan Unagi Onigiri
Ingredients
For the Unagi Sauce
1/4 cup (60 mL) tamari
1/4 cup (60 mL) seasoned mirin
1/4 cup (50 g) white sugar
For the Onigiri
1 cup (160g) of short grain rice, cooked
1/2 cup (125 mL) frozen corn, blanched and drained
1/2 cup (125 mL) frozen peas, blanched and drained
1 scant cup of vegan fish, panfried (you can sub smoked tofu, fried tofu, or baked tofu)
1 tbsp (15 mL) seasoned mirin
3 tbsp (45 mL) of unagi sauce
2 tbsp (30 mL) furikake (or 2 tbsp of shredded nori + 1 tsp toasted sesame seeds)
Instructions
Make the unagi sauce by combining tamari (or soy sauce), seasoned mirin (a type of Japanese sweetened rice wine), and sugar. Cook over medium heat to dissolve sugar for about 5 minutes until reduced to half the liquid amount (you should have about 1/3 cup).
If you're using vegan fish like I did in the video, slice into 1/4 inch pieces and panfry on each side until crisp. Cut into pea-sized cubes.
To make the onigiri, combine cooked rice, drained peas and corn, diced vegan fish, 1 tbsp mirin, 2-3 tbsp unagi (start with 2, taste, then add more if you want more), and 2 tbsp of furikake. Mix well until everything is evenly seasoned.
Use a piece of plastic wrap to form 1-inch rice balls, press just until the rice sticks to each other (avoid breaking the rice). Place in bento box on a sheet of nori, shiny side up. Alternatively you can use silicone mini-muffin molds to separate the onigiri.