Making your own vegan kimchi is easier than you think! All it takes is a couple hours and some patience.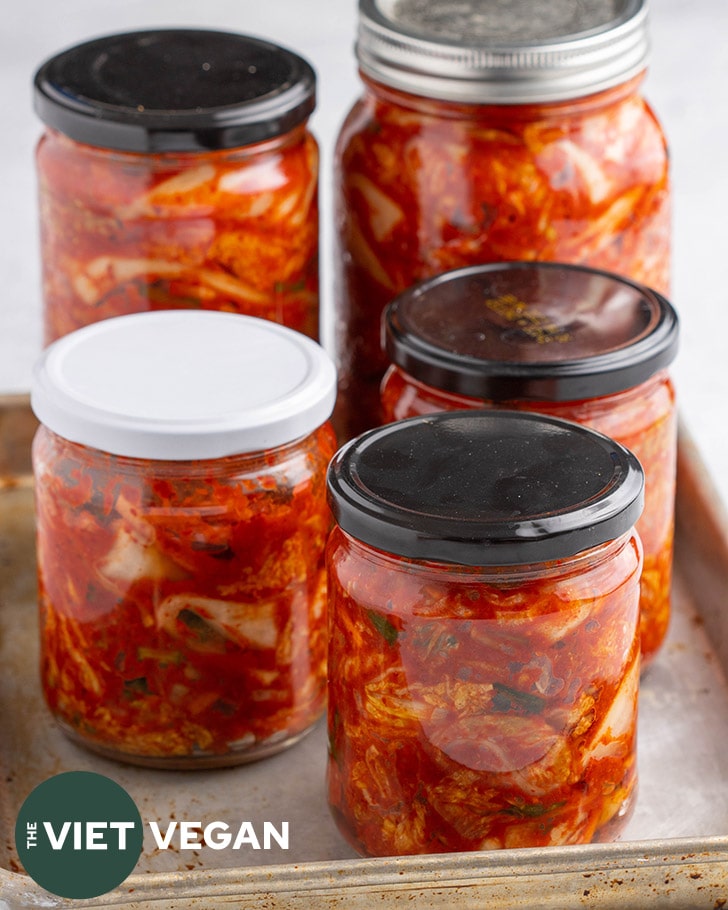 Making your own vegan kimchi is way easier than it looks! The whole process may seem daunting, and after the extensive experiments and time I put into sourdough, I had a better grasp of fermenting foods. All it takes is time and clean preparations!
What Makes Kimchi Not Vegan?
Most traditional kimchi has fermented anchovies and/or salted shrimp (Vietnam uses those lil shrimps a lot too), which adds to the fermented flavour and overall umami taste. Since I'm not using either of those, I've opted for a vegan fish sauce instead.
I buy my vegan fish sauce from Coven in Hamilton, Ontario, but I've found it at local Asian markets too. Use a vegan fish sauce that is slightly salty (it'll provide the sodium for the kimchi), and has a deep, funky flavour.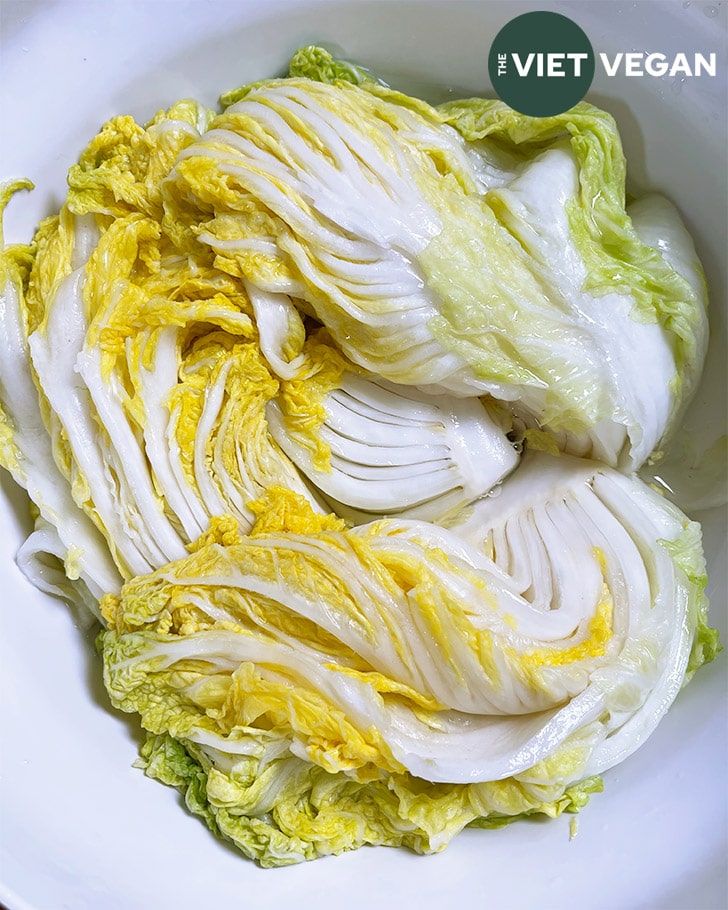 Key Components of Kimchi
There are a lot of different variations of kimchi, but the most important ingredients for this traditional version are the following:
Napa Cabbage (the fresher, the better) BUT you can make kimchi out of so many different vegetables like green cabbage, cucumber, and daikon radish!
Coarse Kosher salt

There's actual a traditional type of Korean coarse salt that is common for using in the recipe itself, but since I rely on my vegan fish sauce for sodium, any coarse salt works for me to wilt the cabbage

Gochugaru

I've bought lower quality gochugaru that was cheaper, darker, and had a bitter smell and aftertaste. This will lead to a bitter and less delicious kimchi. Make better kimchi with gochugaru that is bright in colour and smell. It should have a balanced flavour of spicy, smokey and is minimally bitter.
You can also make vegan kimchi WITHOUT gochugaru, but you'll be making the non-spicy white kimchi though! This recipe from Sue at My Korean Kitchen is already vegan and would be delicious. This would be great for any friends or kids who can't handle spice.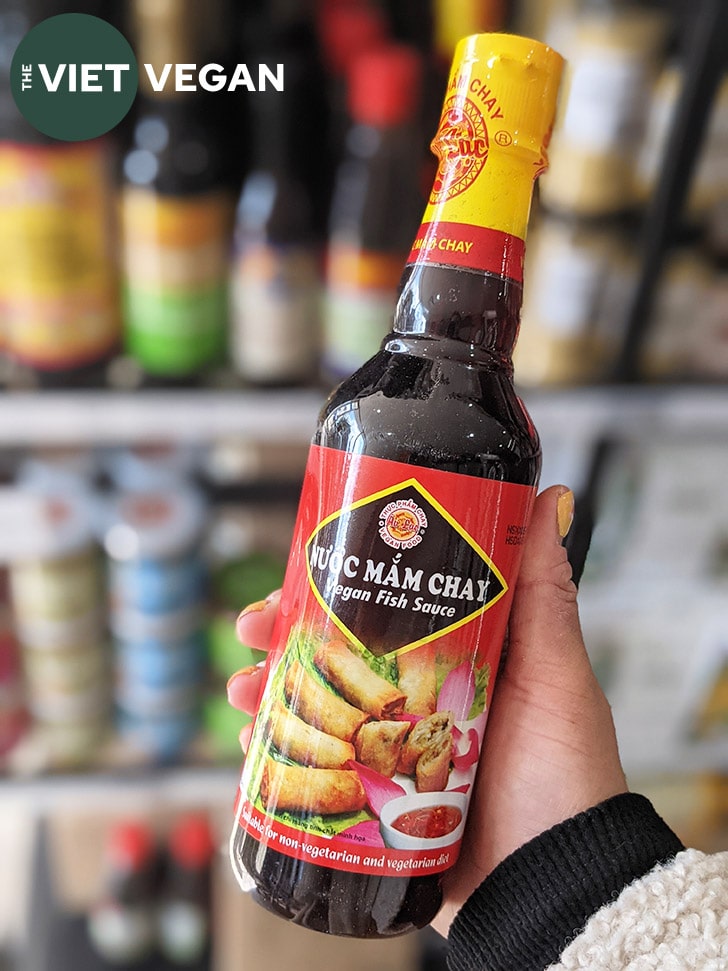 Umami component

I found vegan fish sauce, so I reduced the liquid amount from the glutinous rice porridge to account for the 1/2 cup of liquid I added.

If you can't find vegan fish sauce, Rose from Cheap Lazy Vegan uses kelp powder and salt for her umami portion, and also suggests using a kelp broth to make the glutinous rice porridge

Julienned vegetables

Carrots and Korean radish are the most commonly used from the recipes I've seen. I couldn't find any Korean radish so I substituted daikon radish instead. They have a very similar flavour and texture so it worked great :)

Aromatics

I used green onion, garlic, and ginger for my aromatics, but I've seen flat chives too. Use some garlic and green onion for sure, and I find that ginger balances the umami components.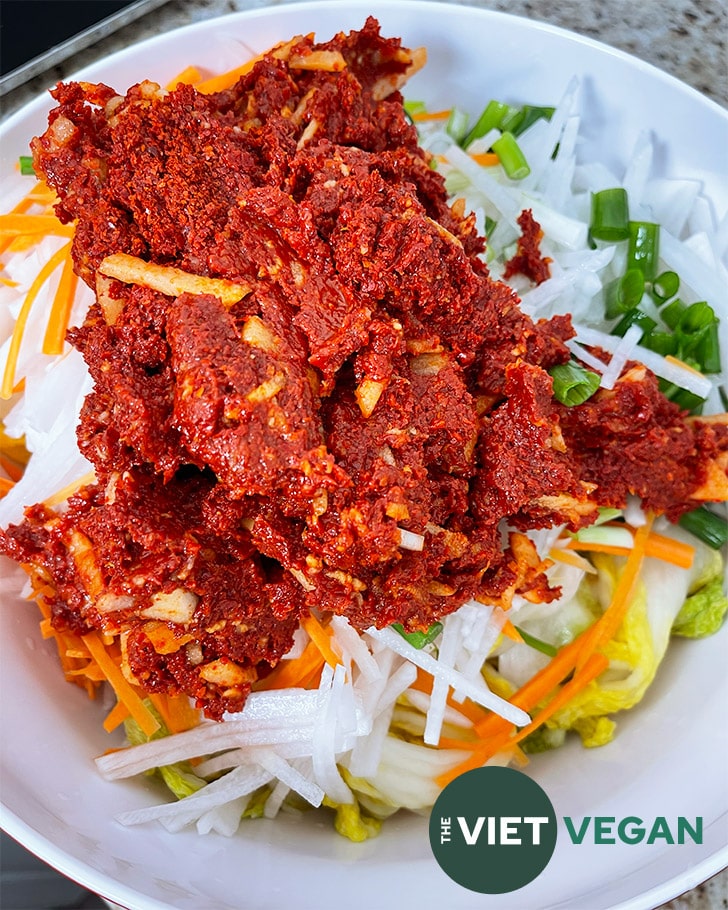 Variations in Vegan Kimchi
So this was my first time making vegan kimchi on my own, but I've watched so many different kimchi and fermentation videos over the last few years! I've seen how different kimchi can be from batch to batch, and from cook to cook, so you can adjust the recipe as you like.
As an example, my brother doesn't like ginger at all and refuses to use it in any of his batches. I added both sugar and a full Korean pear into mine because I reduced the amount of liquid for the porridge. A lot of recipes I see use 1/4 of the Korean pear or 1/2 of the Korean pear, but I wanted to kick-start the fermentation with more sugar so I used the whole pear. EDITED Sept 1, 2022: I've since just started using canned Korean pear juice, and I no longer add sugar, so it has been omitted from my recipe below :)
Vegan Kimchi Resources:
I learned how to make kimchi from these fantastic creators (and Korean culinary experts!) Please do have a read of their versions to see the variations in their preparations and adjust your batch as you like.
Yield: ~3 L of kimchi
Vegan Kimchi
Homemade kimchi has become one of my favourite foods! When I was pregnant with Beanie, I had a lowkey obsession with kimchi, and when I got home from the hospital, kimchi was the first thing I wanted to make!
Since I've made the kimchi a few more times, I've tweaked my recipe from my original YouTube video. I toned down the vegan fish sauce, garlic and gochugaru content, and changed up the vegetables. I've also used a can of Korean pear juice instead of using a fresh Korean pear because it's more convenient.
Prep Time
2 hours
30 minutes
Total Time
2 days
2 hours
30 minutes
Ingredients
For salting the cabbage
1 large head of napa cabbage (2.5kg)
1/4 coarse kosher salt
For the spice mixture
1 can Korean pear juice (238 mL, or alternatively, blend 1 Korean pear with 1/2 cup water)
2 tbsp sweet rice flour (glutinous rice flour)
3/4 cup gochugaru (Korean red pepper flakes)
1/2 head of garlic (~6 cloves), peeled and minced
1/2 inch ginger, grated (~1-2 tsp of ginger)
1/3 cup vegan fish sauce (you can substitute kelp powder, but add 1/3 cup water to sweet rice flour paste)
Vegetables
1.5-2 cups Korean radish (I used 4 inches of daikon) peeled and julienned
2 medium carrots, peeled and julienned
1-1.5 cups of flat chives, cut into 1 inch pieces (you can also use green onions if you don't have flat chives)
Instructions
Salting the Cabbage
Cut the cabbage into halves by slicing through the bottom white part of the cabbage (like the bottom half of the cabbage), then pull to split apart the leaves.
Cut the halves into quarters by using the same method. You can choose too ferment your kimchi in quarters like this, but now I chop into 1 inch pieces because it's faster and easier to eat.
Give the cabbage a quick rinse, ensuring the leaves are dampened for the salt to stick to the leaves.
If making as quartered cabbage, layer about 1/2 tsp of salt in between each layer of leaves, focusing mostly on the whites of the cabbage. When I cut up all the cabbage, it uses less salt overall, so now I just sprinkle 2-3 tbsp of pickling or kosher salt onto the cabbage, and mix well to coat.
Place in a large bowl to brine and release the moisture content for 2 hours, rotating the pieces every 30 minutes to ensure they are evenly brined. Meanwhile, prepare the vegetables and spice mixture.
For the spice mixture
In a pot, combine water and sweet rice flour and cook over medium heat, stirring constantly. If you're using kelp powder instead of vegan fish sauce, add another 1/3 cup of water to this mixture. Cook until it bubbles for at least a minute.
Transfer to a large clean bowl (to accommodate the remaining spices) and allow to cool (prepare the vegetables during this time)
To the bowl of glutinous rice flour mixture, add gochugaru flakes, 1/2 head of garlic, minced, grated ginger, vegan fish sauce, and blended Korean pear (it is kind of the shape of an apple). Mix until incorporated. If you're using kelp powder, add it and 1 tbsp of kosher salt here.
To prepare the kimchi:
Once your cabbage is fully wilted in the salty brine water, pour out the brine and rinse the cabbage well. You can trim the inner core of the cabbage here to separate the leaves, or you can leave it intact if you're fermenting the kimchi in a flat container. Cut your cabbage as preferred (see note)
Rinse well with cold water and then drain well, squeezing out as much extra moisture as you can.
Combine the spice mixture and all the cut vegetables with the cabbage and mix until everything is evenly coated in the spice mixture.
Transfer to sanitized jars or containers.
Press down the mixture well and leave about 1/2 inch to 1 inch of space at the top. Cover loosely with lid (don't screw tightly), and let ferment on the counter for 1-2 days (1 day if it is quite warm in your kitchen, 2-3 days if it's cooler).
During fermentation:
Store your jars of kimchi on a tray to catch any liquid that bubbles over. "Burp" your jars by opening the jars to release the gases. You can also use a clean spoon to press down the kimchi to release the extra gases. I'm not sure if this is actual science, but I feel like eliminating the air pockets will make the kimchi last longer too.
After each day, open a jar and smell to see how it's fermenting. If it's quite warm, it might be ready within a day. If it's cooler (currently 19-22C in my kitchen), so it took two days.
It's ready when it tastes tangy and smells slightly tart. Tighten the jars and store in the fridge! The kimchi continues to ferment over time, but as long as you use clean utensils whenever you use any from the jar, it should last for a long time! If your kimchi gets very sour, it may cause indigestion, so use sour kimchi for well-cooked dishes like kimchi stew or kimchi fried rice (where you fry the kimchi very well first).
Notes
I was fermenting in jars, so I trimmed the inner core and then cut the leaves so they were only 1 inch wide (same method as quartering, cutting through the white then pulling to tear the leaf). You could also chop them into 1.5 inch square pieces so they pack more compactly into jars.