I noticed that the past few posts have been all meals and savoury type foods, so I decided to switch it up today and add this amazing vegan peach cobbler for those last straggling peaches from the summer. I recently found an article that explains the difference between crumble, cobbler, crisp, and other fruit/pie related desserts, but basically, cobblers have a biscuit top that resembles cobble stones (hence the name). This vegan peach cobbler is summery sweet with fluffy biscuits on top, you wouldn't even notice that it's vegan. Although let's be honest, just because it's a VEGAN peach cobbler doesn't mean it's easy on the hips, it just means that it's plant-based extra delicious.
But speaking of hips, it's been about 4 months since I started exercising regularly and transitioning towards a vegan diet (although I'm still a sucker for dairy). My progress: I've lost about 5 lbs, but I've gained a TON of muscle. My pants still fit about the same because even though I'm losing weight, I'm building a lot of leg muscle, but my shirts are definitely looser, especially in the ta-ta area.
Unfortunately, lady lumps are mostly fat, so naturally me losing fat means the hoo-has get smaller. It's a sad day. But hey, all for health right? Smaller girlies means that exercising is a little less full of painful bouncing (ladies, you know what I'm talking about). Also, for funny comics about boob problems, see the other comics by RamPaige (Busty Girl Comics)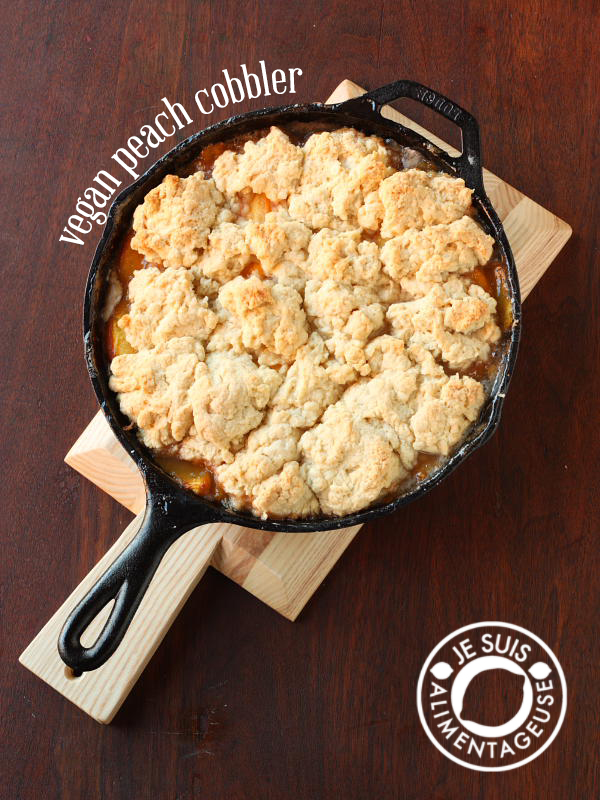 But enough about sweater puppies. I recently joined a food blogging group initiative called Weight Loss Wednesdays (#wlw), where we all feel the pain about gaining weight as a food blogger and trying to lose that extra weight. Since I've already lost most of the weight I want to lose (I still have maybe another 5 lbs to lose), I'll be using the group for more accountability and to share my progress. This week's theme for WLW is defining an exercise plan, and those who've been following me before know about my different yoga and strength training routines. See here, and here.
I'll be trying to incorporate cardio through swimming as well, but with my fall semester is full of random things like classes starting in October, Blissdom, and my trip to Brazil (I leave tomorrow night!), having a regimented routine is hard. Hopefully after all the craziness of September winds down and I'll be able to start exercising regularly again. In the meantime, I'll just be doing a quick 20 minute yoga session on the go, to keep me flexible and feeling good.
I've talked a lot about my weight problems before and I've gotten such great support from my readers, friends, and family. I want to say thank you and I hope to encourage you to also live active, healthy lifestyles and loving your body for whatever shape or size it may be. It's not easy loving your flaws. If any of you have other exercise routines or goals you want to maintain (start now before the Thanksgiving and holiday treats come in!), please share them below! I would love to see what other people are doing.
To see the other WLW posts, click on the links below:
In the meantime, enjoy this vegan peach cobbler =P I just wish summer fruits and vegetables would continue while the fall weather is here, but alas, I full embrace sweater weather and chilly times because that means it's squash season!!!
As I mentioned before, I'll be leaving for Brazil tomorrow to present at a conference (translation-related) and I have 2 other posts lined up for while I'm away. One of the posts will be a little snippets of my trip, taken from my point-and-shoot camera (I'm not bringing my DSLR).
If any of you are from Brazil or have ever been there, I'll be in Sao Paulo and Florianápolis so if you have any travel suggestions and/or food suggestions, I'm all ears! I have a feeling it might be a little difficult to be vegetarian there, but I'll just eat tons of fruits and veggies if I can't find much veg food =P
Ingredients
- 4 lbs peaches (about 10-12), peeled (score an X, blanch for about 1 minute, place in ice bath, and peel), pitted, and cut into thick slices.
- 1/2 cup + 1/4 cup sugar (divided)
- 1 Tbsp + 1 tsp cornstarch
- 1 tsp vanilla extract
- 1/2 tsp salt
- 1/2 tsp ground cinnamon
- 2/3 cup almond milk
- 1 tsp vinegar
- 1/2 cup Earth Balance (vegan butter), chilled, + 3 tbsp, melted
- 2 cups all purpose flour
- 2 tsp baking powder
- 1/4 turbinado sugar (for sprinkling)
Instructions
Preheat oven to 350F.
Mix the peaches, 1/2 cup sugar, 1 Tbsp + 1 tsp cornstarch, 1 tsp vanilla extract, 1/2 tsp salt, 1/2 tsp ground cinnamon and place either in a skillet or a greased baking pan.
In a separate bowl, mix almond milk and vinegar and let sit.
To make the biscuits topping, in a food processor (or with a pastry knife), process the chilled 1/2 cup of Earth Balance, 2 cups AP flour, 2 tsp baking powder until the butter is in pea-sized bits.
Add the almond milk/vinegar mixture and mix until a rough dough is formed.
Shape the dough into rough, flattened circles, and place over the peaches until all the dough is used up.
Using a pastry brush, coat the biscuits in the 3 tbsp of melted butter, and sprinkle turbinado sugar on top.
Bake for about 50 minutes, until the biscuits are golden and the peaches are bubbling.
Remove from oven and serve with a scoop of vanilla ice cream (soy or coconut based).
If you're baking in the skillet, be sure to either serve it all immediately, or transfer the cobbler to another container. Do not store in the skillet.
7.8.1.2
178
https://thevietvegan.com/vegan-peach-cobbler/