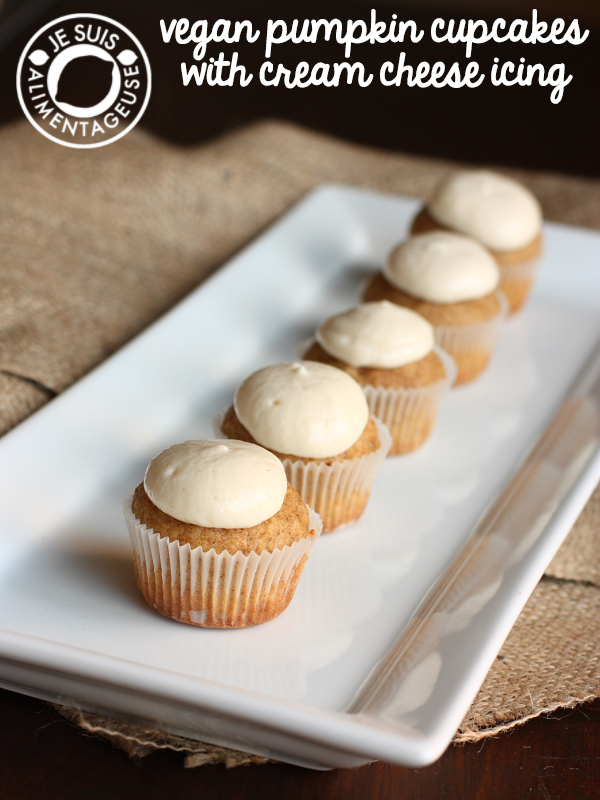 Before I get into the vegan pumpkin cupcakes with cream cheese icing, I've got to talk about Halloween and Weight Loss Wednesday. Halloween is tomorrow and I am yet again totally unprepared. I'm terrible at making costumes and dressing up, and September and October have been just flown by because I've been so busy. I've just started to get my routine back. If you've been reading JSA for a while, you'll know that every Halloween, I volunteer for Meal Exchange in Canada with their program Trick or Eat. Students go house to house collecting food donations to help out food banks.
As a student, I've used food banks before. Groceries can get really expensive as a student, and during my undergrad, the Food Bank at the University of Ottawa gave us access emergency food baskets that would last up to three days in a judgement-free space. They didn't care if you were a student or if you worked at the university, everyone deserves the right to food, and some students have to choose between textbooks and groceries. They shouldn't have to choose.
Check out this video from Meal Exchange that talks about food security, and the problems with our infrastructure of the food system in Canada.

This year I'm a little late with the fundraising, but hey. Better late than never. If you are in Canada and you have time on Halloween, think of joining some fellow students in Trick or Eat, and if you don't have time, set aside some non-perishable food items aside to donate either tomorrow night if people come to your house, or just to drop them off sometime. Even non-food-related things are important: diapers, feminine hygiene products, toothbrushes, shampoo, etc. These are all essential items that are expensive.
Please click here or click on the pumpkin below to sponsor me!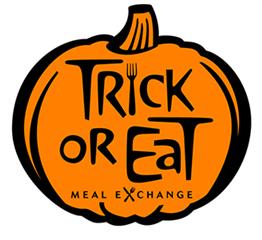 Thanks everyone for your support and I hope that you'll also help out and give some food donations wherever you are!
In other news, today's theme for Weight Loss Wednesday is the 2 month check in. I've only been participating in WLW for about a month because I was a bit late coming in, but this is about my 6 month check in for my overall fitness.
As a I mentioned before, my life is started to finally stop being so ridiculously busy and just being regular busy. I'm starting to get my groove back and I've started yoga again after about a month of inconsistent activity. Even after just two days of getting back into yoga, I feel stronger already. My body is so quick to pick up activity again and I feel less bloated, less tired, and a little more confident about myself.
I've also returned to eating mostly vegan for the past month or so and it's really interesting to start to notice the changes from the lack of eggs or dairy. I'm about 90% sure I'm lactose intolerant because last weekend I had some pizza, and my digestive system was not happy. Indigestion, pain, ridiculous gas. As I ate the pizza, I almost immediately regretted it.
So good, but is it worth it?
I don't know.
As you guys have probably noticed from my last month and a bit of posts, I'm really starting to commit to the vegan diet. I have a feeling that I probably won't go 100% vegan because I don't think I could go to family functions without feeling guilty of being some sort of burden to them and also I know I'll have lapses of really wanting cheese or ice cream. But in the end, I have a feeling that it's really great for my health in the long run.
My grandfather actually read my palm the other day (for my mom's sake), and after poking and prodding my hand to look at the lines, he concluded that my health line has changed for the better and that I will also be making lots of money in the future.
I'm not huge on palm reading, but hey, sounds good to me.
This past year of being more conscious of what I'm eating and how often I exercise has really changed me, both inside and out. I didn't think that I was losing that much weight because I've stayed around the 153 lb mark fairly consistently for the past 6 months, but one of Clara's friends mentioned that I looked significantly smaller.
O.O
Okay. Cool. If the jeans fit better (which now that I'm thinking about it, they do) that's all good to me.
To see what my other WLW friends are up to, click the links below!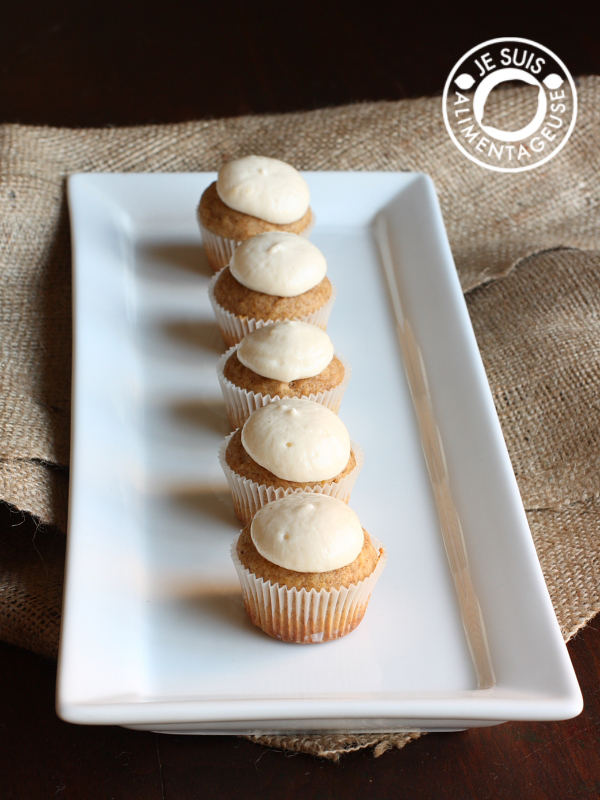 NOW, finally to these cupcakes. I was afraid that because I used Daiya cheese that these would taste funny. I could taste the Daiya-ness of them, but I kind of liked it. I mean cream cheese frosting essentially tastes like cream cheese, but with the vanilla and pumpkin spice, this frosting was amazing. Even my non-vegan classmates loved it! One of my classmates generally doesn't like cupcakes, but she said because the icing wasn't too sweet she liked it so much that she used the bottom half of the cupcake to mop up the extra frosting on my containers, Greek-style.
Sounds good to me! =P
Enjoy, and Happy Halloween!
Yield: 14
Vegan Pumpkin Cupcakes with Cream Cheese Icing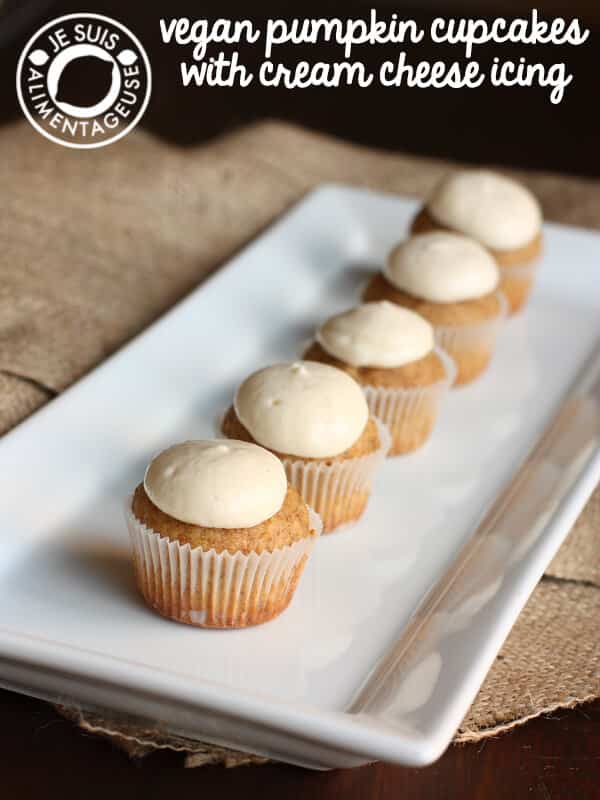 Ingredients
1/3 cup vegan butter (like Earth Balance)
3/4 cup white granulated sugar
3/4 cup pumpkin puree
6 tbsp almond milk (or other milk alternative)
1 tbsp vanilla extract
2 tsp pumpkin spice
2 tsp baking powder
1 1/4 cup flour
1/4 tsp salt
FOR THE ICING:
1/2 cup dairy-free cream cheese (I used Daiya)
1/2 cup vegan butter
2 cups powdered sugar (add more if you like it sweeter)
1 tsp clear vanilla flavouring (regular vanilla extract is okay too, it just won't be as white)
a pinch of pumpkin spice.
Instructions
Preheat oven to 350ªF
Cream together the butter and sugar.
Add the pumpkin puree, milk, and vanilla extract and mix until incorporated.
Sift in pumpkin spice, baking powder, flour, and salt and stir until just combined. Do not overmix.
Divide among lined cupcake pans and fill 2/3 full (they poof up a lot).
Bake for about 12 minutes if you're baking mini cupcakes, 15-16 minutes if you're baking regular sized cupcakes. To test that they're ready, use a cake tester/toothpick to poke in the middle. They're ready when moist crumbs cling to the stick as you pull it out or when it comes out clean.
Remove from pan and let cool completely on a wire rack before frosting.
To make the frosting, whip the cream cheese, vegan butter, powdered sugar, vanilla flavouring and pumpkin spice together until light and fluffy. Transfer to a piping bag and ice the cupcakes. Keep refrigerated because it'll spread at room temperature because I reduced the amount of powdered sugar.