Korean spicy rice cakes meets cheesy and smokey carbonara, but vegan! This vegan tteokbokki carbonara is rich, spicy, savoury, and perfect for a date night in.
This recipe was developed for Violife as a sponsored post on social media, but it's here on the blog to make things easier to reference with the printable recipe :)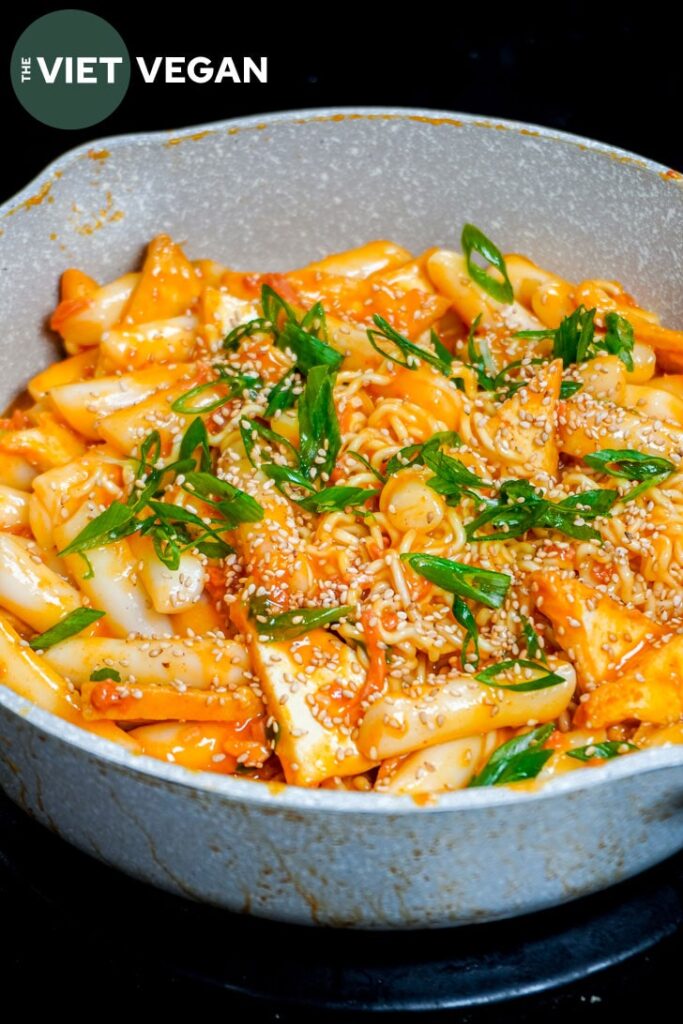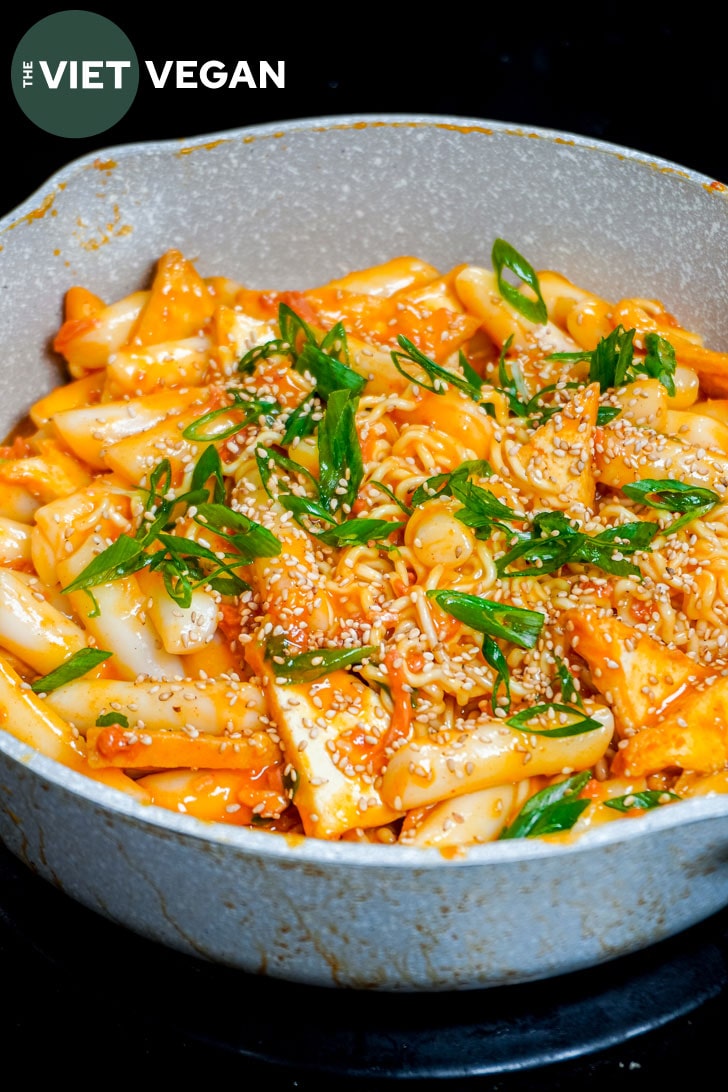 It took Eddie a lot time to get on board with gochujang, but now he regularly asks me to make rabokki for that savoury, saucy, sweet and spicy noodle moment. He loves bibimbap and always loads on extra sauce now.
This rabokki carbonara takes spicy and savoury rice cakes and ramen noodles, then adds a cheesy, bacony layer to it. What's not to like?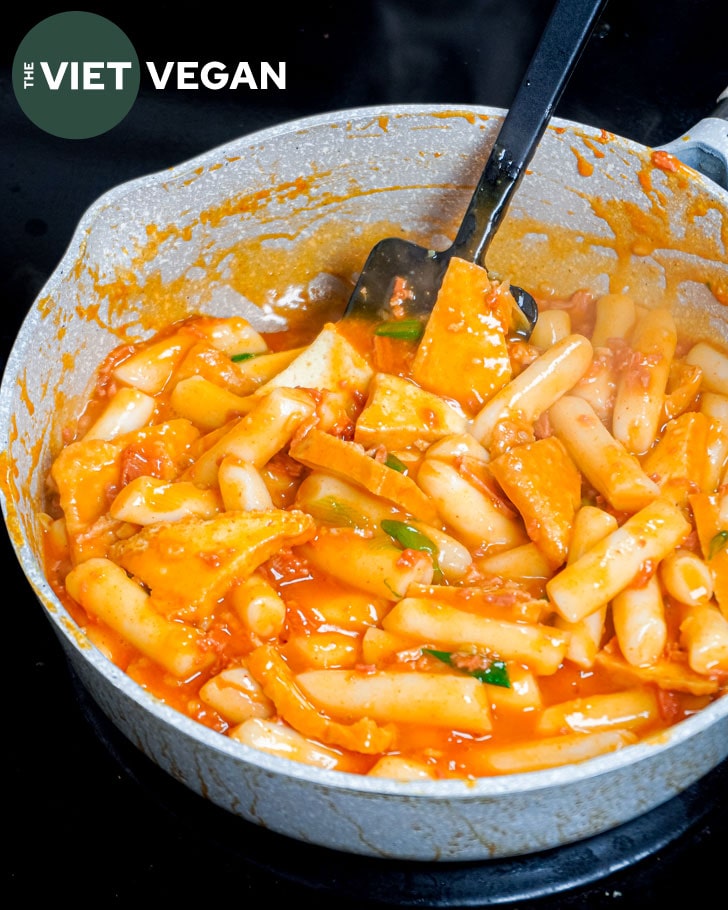 Where do you find tteokbokki?
I typically shop at Asian markets, and if they have a decent Korean selection, they should carry plain rice cakes for tteokbokki in the frozen or refrigerated section. There are also sliced rice cakes that I've used for tteokbokki before, but typically those are used in soups or stir fries.
At Korean markets, they even have them freshly made and they're so chewy and delicious. Rice cakes are such a fun texture, and adding ramen noodles and crunchy shredded cabbage makes regular tteokbokki a texture bomb!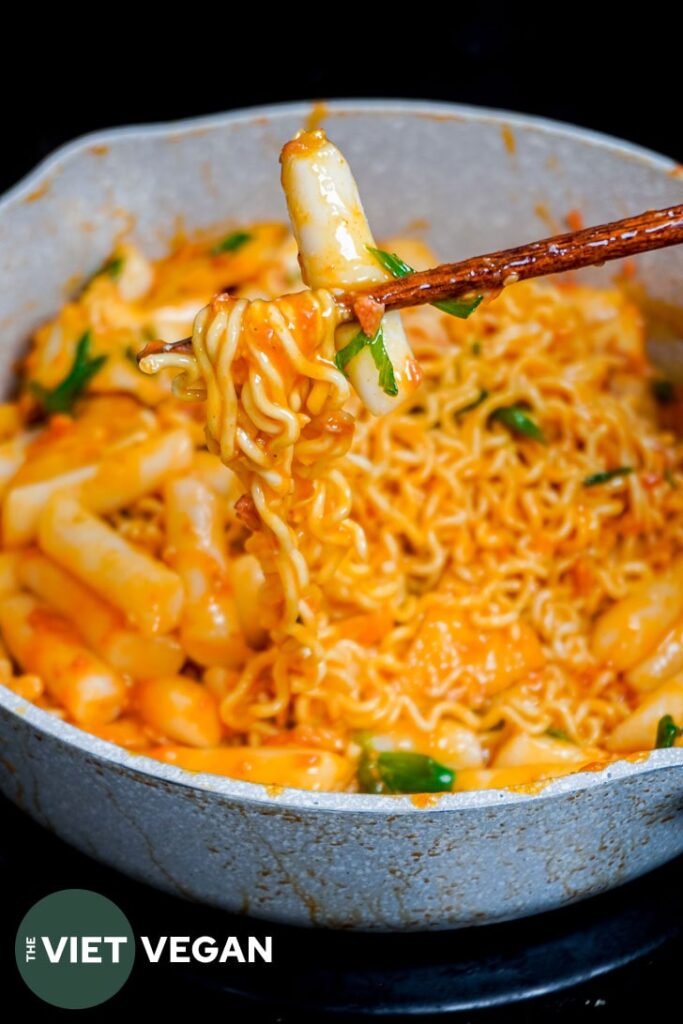 What makes this carbonara?
This is definitely not authentic carbonara at all, especially since it's vegan. I use vegan bacon (I use Nelakee's or King's vegan bacon), vegan cream cheese (instead of cooking cream), and vegan parm (both Violife brand) to get the flavours of carbonara into this classic Korean street food.
The vegan cream cheese and parm give the double whammy of cheesy, creamy comfort to offset the spice. Plus, the bacony flavour with a touch of vegan butter adds the perfect richness and underlying smoky flavour.
Rabokki Carbonara
To make this rabokki—ramyun + tteokbokki = rabokki—I just add slightly undercooked ramyun (Korean-style instant noodles) to the pot towards the end. It'll cook through once you stir through with the sauce. Eddie loves this so much that he won't have tteokbokki any other way.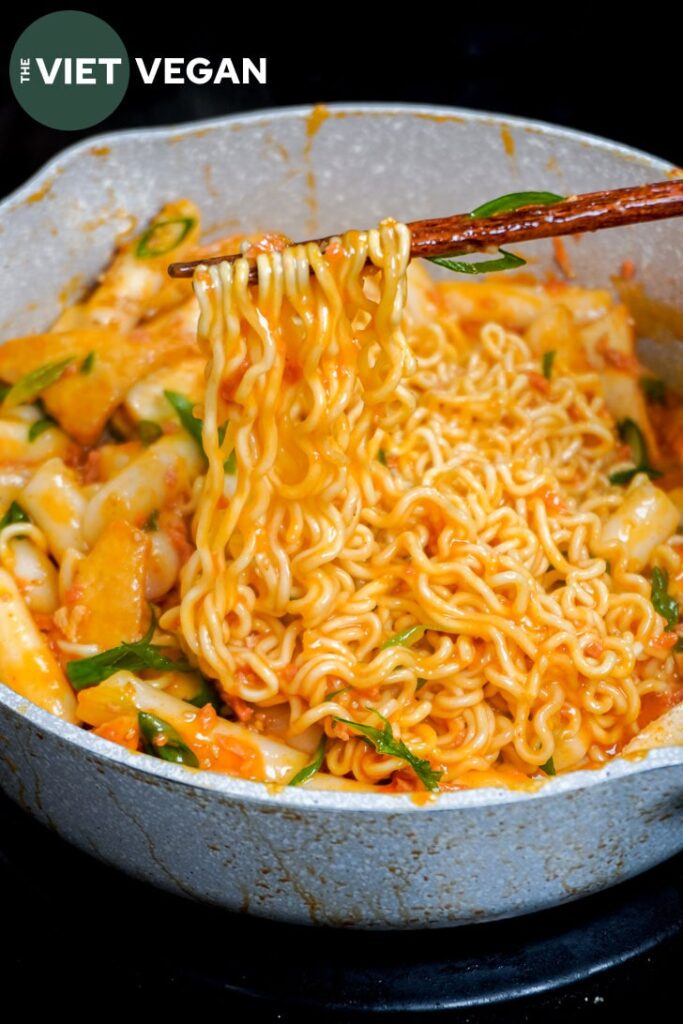 Recipe Tips
For this recipe, I added fried tofu instead of fish cake, since that's often in tteokbokki. You can add a dash of vegan fish sauce to get a touch of fishy flavour, but I didn't want to distract from the smoky bacon flavour. The fried tofu simply adds a protein element to make this dish more satiating.
You can also add shredded cabbage for some fibre and extra crunch. Using a julienne peeler on cabbage is my favourite way to prepare cabbage for this dish!
Recipe Inspiration
This recipe was inspired by the Buldak Spicy Carbonara instant noodles! I've never tried it, but I love the classic Buldak noodles so I figured I HAD to try making my own version. I think next time I'll add a couple drops of the original spicy Buldak sauce (it's vegan!) to try, but this version of rabokki carbonara is a great time.
I saw someone else make a (non-vegan) version of tteokbokki carbonara, but her website isn't loading for me. But if it loads, I did take a look at this recipe before making my version!
Yield: 2 servings
Vegan Rabokki Carbonara
Ingredients
500 g (1.1 lb) tteok (rice cakes) for tteokbokki
1 tbsp vegan butter/margarine
2 strips vegan bacon, chopped
2 cloves garlic, finely minced
2 tbsp vegan cream cheese
2 tbsp gochujang paste (can do 1 tbsp if yours is spicy)
1 cup water
1/2 tsp mushroom broth powder (can sub stock powder)
Optional: 1 pinch MSG
40 g vegan parm wedge, grated
2 sprigs green onion, whites and greens separated and sliced
1 ramen cake, cooked in boiling water for ~3 min
Toasted sesame seeds to garnish
Instructions
Soak the tteok in warm water for about 10 minutes while you prepare the ingredients.
In a large pan (high sides make this easier) over medium heat, melt vegan butter and cook the vegan bacon to infuse the oil.
Once the vegan bacon is lightly browned, add the garlic and stir to cook, about 30 seconds.
Add vegan cream cheese and gochujang, and stir until you get an evenly mixed paste.
Add water and then stir well. Add mushroom broth powder (or stock powder) and MSG, and stir.
Drain the tteok (that was soaking), and then add to the pan. Bring the mixture to a boil and then lower to steady simmer to cook the rice cakes. Once they start to get soft, add the grated vegan parm and stir to mix through.
Add the greens of the spring onions, then cook ramen noodles on the side until al dente (they'll continue to cook in the pan).
Drain the ramen noodles, then add to the pan. Stir to incorporate everything. Your sauce should have reduced to a glossy thick sauce that coats both the noodles and the rice cakes well. If yours is too thick, add a bit of water (I added water from the ramen noodles)
Garnish with the greens of the spring onions and toasted sesame seeds.
Enjoy immediately!