Vegan Rabokki, is vegan tteokbokki (spicy Korean rice cake) with ramyun in a savoury, sweet, and spicy sauce. Add fried tofu for protein and texture, and cabbage for extra crunch!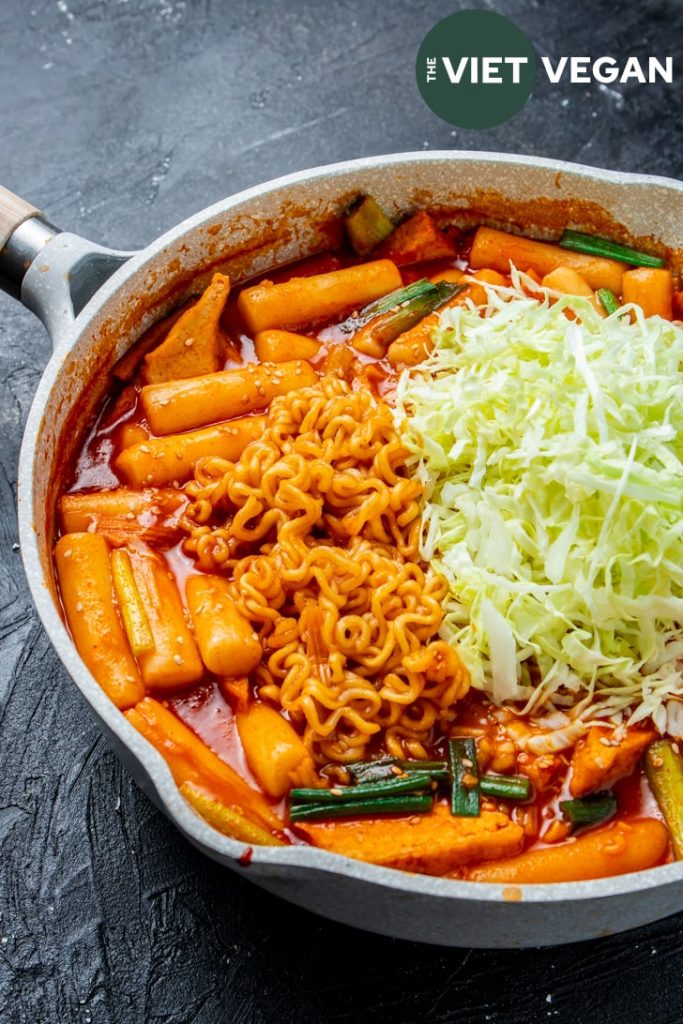 This is one of my favourite dishes to eat when I need something spicy and comforting. I've really enjoyed exploring Korean cuisine lately. Tteokbokki sauce is thick, savoury, and spicy with a hint of sweetness.
Balance the sweetness for this vegan rabokki to your preference: you can start with less sugar, taste, and adjust. I use oliosaccharide (a type of corn syrup) to create a silkier sauce, but brown sugar works just fine too!
Typically tteok (Korean Rice Cake) comes in the stick form, which is usually used for tteokbokki. Sometimes go for the sliced coin versions of it because it cooks faster. Both work here!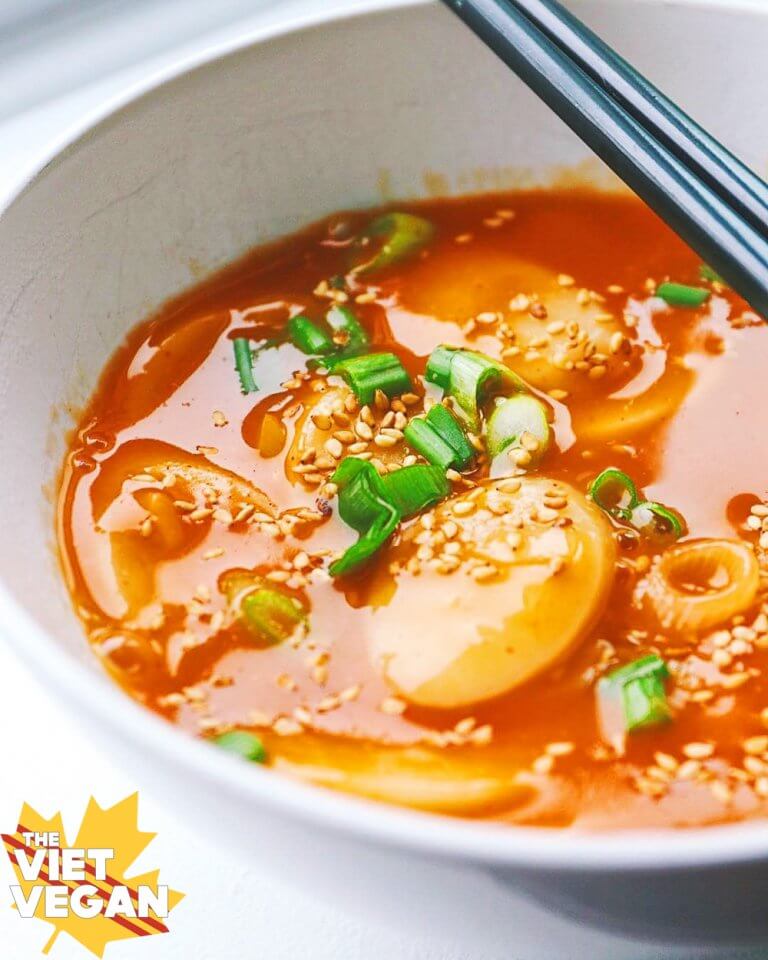 Traditionally, Koreans use anchovies to give it that salty punch, but I opted for soy sauce (tamari) and mushroom broth powder to deliver that same umami, fermented flavour.
Vegan rabokki (or without the ramen as vegan tteokbokki) has quickly become a staple for me because I like to stockpile frozen rice cake! It's easy to whip this up anytime I need something spicy and comforting fast. I've also been missing watching Mommytang's mukbangs and it's reminding me of her jovial laugh and penchant for life.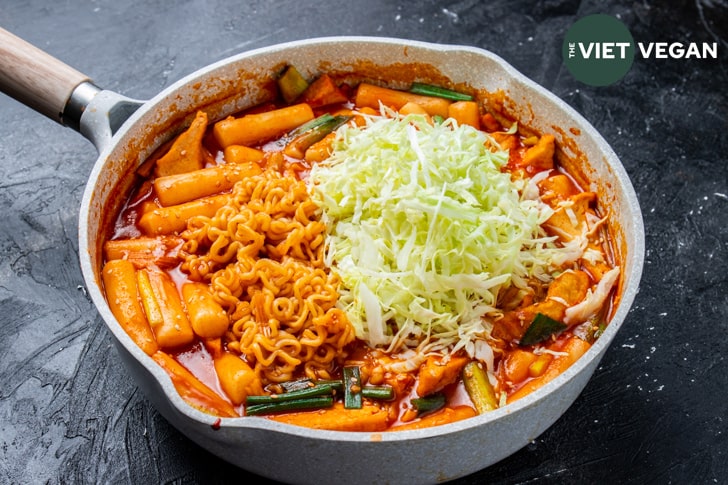 Recipe adapted from Mommytang & Maangchi
Yield: 3-4 servings
Vegan Tteokbokki/Rabokki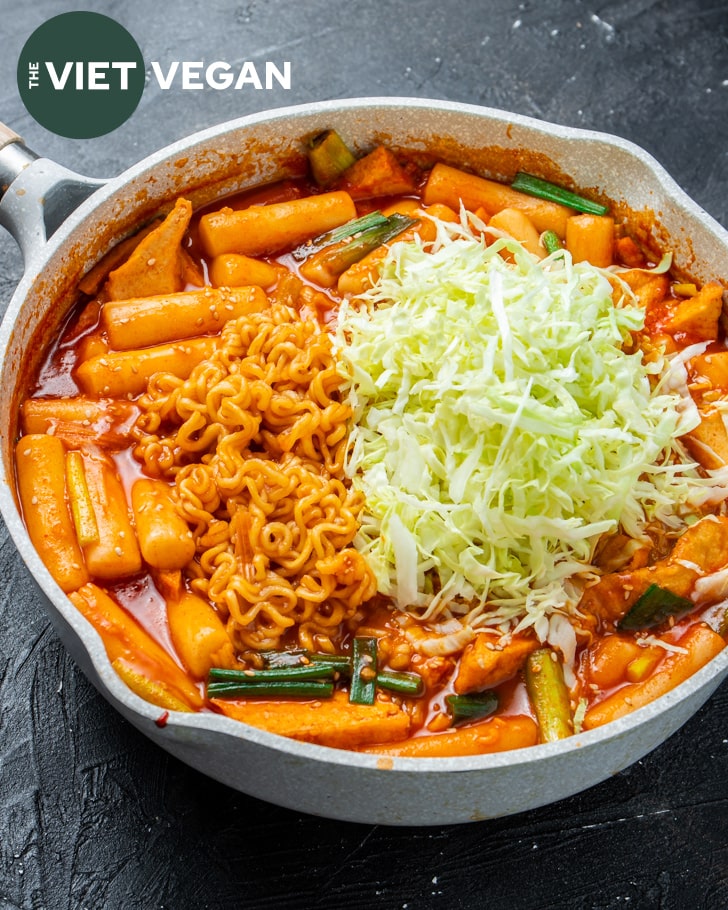 Ingredients
3-4 cups water (add more if you like it saucier, stick with 3 cups for a regular sauce)
Optional: 4-5 squares dried kelp
1 package of rice cakes (630 g/23 oz) - fresh or frozen, soak in some water to thaw if frozen
For the sauce
1/4 cup gochujang
2 tbsp tamari (you can also use 1 tbsp tamari, 1 tbsp vegan fish sauce)
2 tbsp gochugaru (can reduce to 1 tbsp if you want it to be less spicy)
2 clove garlic, minced
1/2 tsp MSG or 1 tsp mushroom broth powder
2 tbsp oliosaccaride OR brown sugar
2 tsp toasted sesame oil
3-4 green onions, cut into 1-2 inch pieces
Optional: fried tofu, thinly sliced into triangles
Optional: ramyun/ramen cake
To Garnish
toasted sesame seeds to garnish
1/2 cup shredded cabbage (I used 3-4 leaves of Taiwanese cabbage)
Instructions
In a wide saucepan, bring the water and dried kelp and boil for 10-15 minutes to start the broth. If you don't want to add kelp, simply bring the water to a boil.
Meanwhile, thaw the rice cakes if needed.
In a bowl, combine the gochujang, tamari, minced garlic, msg/mushroom broth powder, oliosaccaride/brown sugar, and toasted sesame oil. Stir to make a paste.
Once the broth has boiled for 10-15 minutes, remove the kelp, then add the thawed rice cakes, sauce paste, and stir to dissolve the sauce. Cook for 10 minutes until the rice cakes are tender and nearly cooked through.
Add the green onion, sliced fried tofu, and a ramen cake if you're making rabokki, and stir to heat through, another 2-3 minutes. The rice cakes should be tender and cooked through, and the sauce thickened.
Serve with shredded cabbage and toasted sesame seeds on top!
Notes
If you want to make this into rabokki, use 4 cups of water for the broth and add the ramen cake when you add the green onions and cook until tender!