Spanakopita is a Greek party classic that is perfect as an appetizer for any occasion. Make vegan spanakopita as these individual triangles or as a big spinach pie. This filling is creamy, savoury, and full of spinach and cheesy flavour.
This recipe was developed in partnership with Violife on my Instagram, but I always share written recipes here because it's easier to access.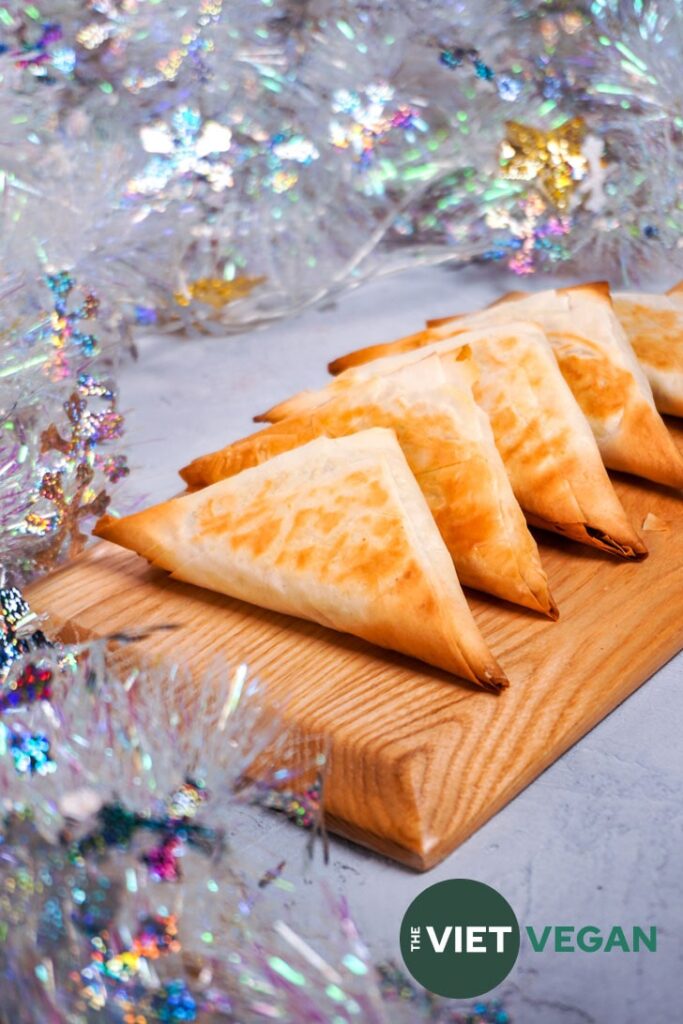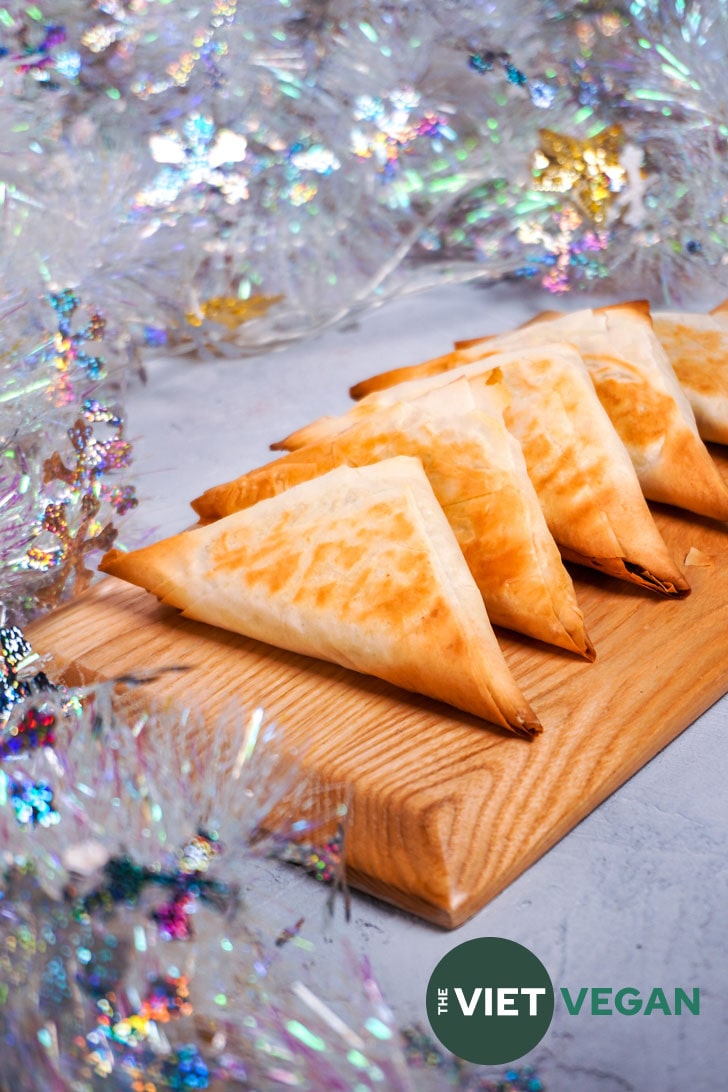 'Tis the season for parties and finger foods, and Greeks know the best party food, and that is this spinach pie! According to Eli from MyGreekDish, Spanakopita isn't just a party food, it can be a main, a side dish, or a snack! It's traditionally made with feta cheese, aromatics like green onions, herbs, and of course, spinach. And from what I've seen, authentic spanakopita has a touch of nutmeg too.
I realized recently that I don't really like nutmeg, so I've omitted that. But feel free to add that for some of that je ne sais quoi that nutmeg adds.
My version of vegan spanakopita is a bit more dialed down: the only green I've added is frozen chopped spinach that has been thawed and squeezed dry. Feel free to add chopped green onions, dill, or fresh garlic. I've tried to make this as simple as possible to suit our family's tastes.
What You'll Need To Make Vegan Spanakopita:
Phyllo pastry – most phyllo pastry is already accidentally vegan! Check in your frozen pastry section at your grocery store, and you should be able to find it there
Frozen chopped spinach – You could absolutely prepare this from fresh spinach, but I'm going for convenience and frugality here. 1 box of frozen chopped spinach is typically $3, and there's no need to sort through wilted spinach.
Extra firm tofu – This is my favourite ingredient to replace the firmness and protein of eggs and cheese in any dish.
Vegan cream cheese or feta – I'm using Violife's Original Creamy product but they also have a feta style product that would work really well
Vegan Parmesan – Again I've used Violife's parmesan style wedge here. It adds the perfect amount of salty cheesy flavour that is so delicious in this recipe. I finely grate it with my rotary cheese grater so it will melt faster in the oven.
Vegan margarine and/or olive oil – Most recipes will say either or to brush between layers of phyllo pastry, but I decided why not the best of both worlds. You can definitely use either or if you like.
How to freeze spanakopita
Vegan spanakopita is one of the best foods for a party because you can make it ahead of time! You can either prep the filling in advance and assemble the day of. OR you can make it all in advance and freeze!
I freeze my assembled spanakopita triangles and flash freeze on a baking tray for at least an hour before transferring to an airtight container. You can do this up to a month in advance, and then bake from frozen. I've already done this for Bean's upcoming birthday party. I do this with things like sausage rolls and spring rolls, both of which are also on the baby birthday menu!
What do I do with broken phyllo pastry?
These vegan spanakopita triangles are really easy to do but phyllo pastry can be fragile and dries out quickly as you work. When I make these, sometimes a third of my pastry is broken, so I will hodge-podge it into a square 8×8 baking pan, layering with vegan margarine/olive oil, add a layer of the spinach filling, then use the last half of the broken phyllo on top. It's perfect and flaky and nobody would know the difference anyway!
You can bake it at 375 for about 40-50 minutes, depending on your oven. Don't forget to brush the top with oil or melted margarine for a golden, flaky top.
Yield: 28-30 triangles
Vegan Spanakopita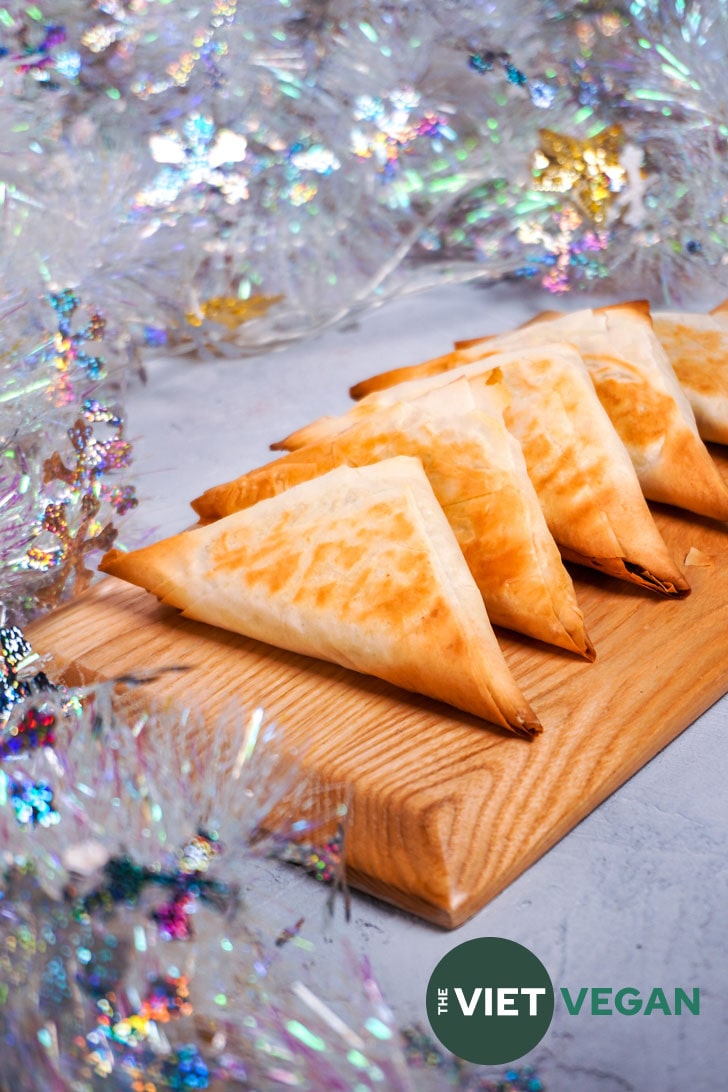 Spanakopita is a Greek party classic that is perfect as an appetizer for any occasion. Make it as these indiviudal triangles or as a big spinach pie. This filling is creamy, savoury, and full of spinach and cheesy flavour.
Prep Time
1 hour
15 minutes
Total Time
1 hour
45 minutes
Ingredients
1 tub (200 g) Violife Original Creamy
1 block (400 g) extra firm tofu, drained
1/4 cup lemon juice
2 tbsp nutritional yeast
1 tsp garlic salt
1/4 tsp black pepper
60 g Violife Parmesan Style Wedge, grated
1 box (300 g) of frozen chopped spinach, thawed and excess moisture squeezed
Optional: 1/4 cup chopped fresh dill
Optional: 2-3 springs green onions, diced
1 package (454 g) phyllo pastry, thawed and cut into strips, 3.5 inch/8.5 cm wide.
1/2 cup vegan margarine, melted
1/2 cup olive oil
Instructions
In a food processor, combine Violife Original Creamy, tofu, and lemon juice, and process until creamy. Add nutritional yeast, garlic salt, black pepper, and grated Violife Parmesan Style Wedge, and process until combined. Transfer to a mixing bowl, and fold in thawed spinach. If using dill and green onion, add those here. Mix well.
In a bowl, combine melted vegan margarine and olive oil and have a pastry brush ready.
Prepare the phyllo sheets into 3 inch wide strips. Use a clean damp kitchen towel to lay over the pastry so it doesn't dry out.
Lay 1 strip flat, then brush with the margarine olive oil mixture. Add another layer of phyllo, then brush again with the oil mixture. Add a third layer of phyllo, then add a scoop (about 1 tbsp) of the filling to one end of the strips.
Fold by bringing the bottom corner to the opposite side, and continue folding over the dough until you have a triangle. Lay the folded triangles on a parchment paper lined baking sheet in a single layer.
Repeat until all filling is used up! At this point, you can flash freeze, then transfer the frozen pastry to an airtight container to have an easy appetizer to bake whenever you like. Brush the tops
of the triangles with extra margarine/olive oil mixture.
Preheat your oven to 375F, and bake on a parchment paper lined baking tray for 25-30 min from freshly assembled, or 30-35 minutes from frozen, until golden brown.
Notes
If you find you have a lot of broken pastry dough, you can roughly layer in a baking sheet and have a spanakopita pie instead of triangles.