These Vegan Vietnamese spring rolls are the plant-based version of a family party classic – Chả Giò Chay!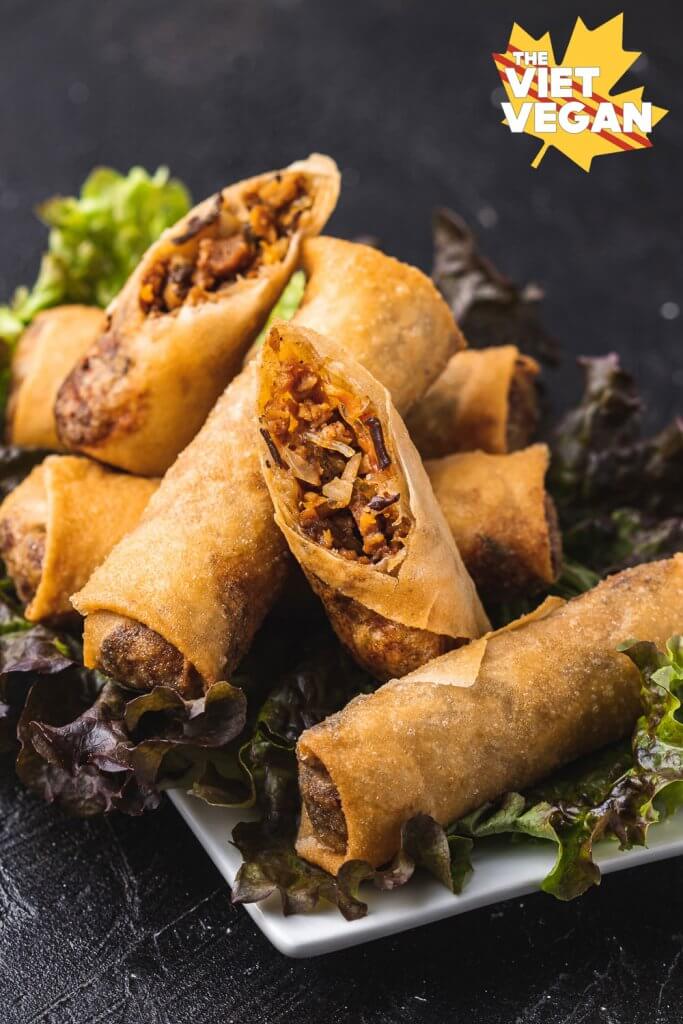 People have been asking me to make spring rolls for the longest time, and I think I've been reluctant to make intricate dishes like these because of my eczema. Lately (especially because it's summer), I've been learning to better manage my stress and wear protective gloves so that my skin doesn't get as mad at me for the excessive hand-washing when it comes to recipe development.
Lately I've been energized with cooking and finding it deeply satisfying to re-create so many childhood recipes (like the eggplant dish, thit kho dish, and hot pot), so naturally sharing these Vietnamese party favourites was definitely at the top of my list.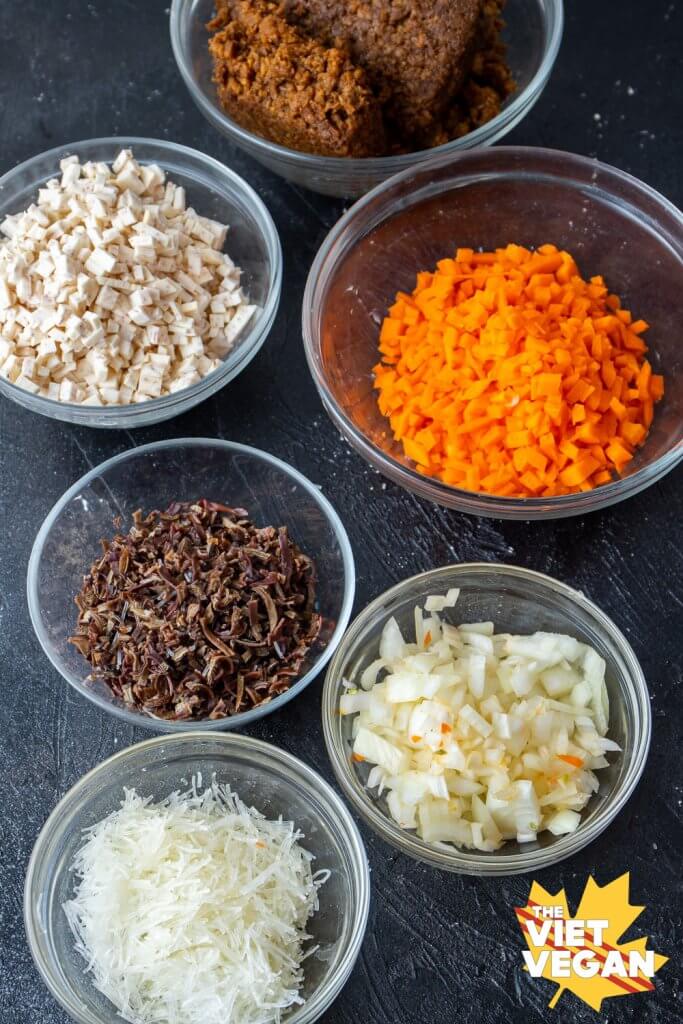 What is the difference between Vietnamese Spring rolls vs Egg Rolls?
Vietnamese spring rolls (chả giò) are different other fried egg rolls or spring rolls from other cultures. We typically have clear bean thread noodles and wood ear fungus used to add a bit of extra texture and moisture into the spring rolls.
In a lot of other cultures, I find the spring rolls studded with onions, cabbage, carrot, and pork. In my experience, I've only seen taro, fungus, and noodles in the Vietnamese ones.
I grew up associating egg rolls with the more bubbly, thicker, wheat wrapped vegetable rolls served with plum sauce at Americanized Chinese restaurants.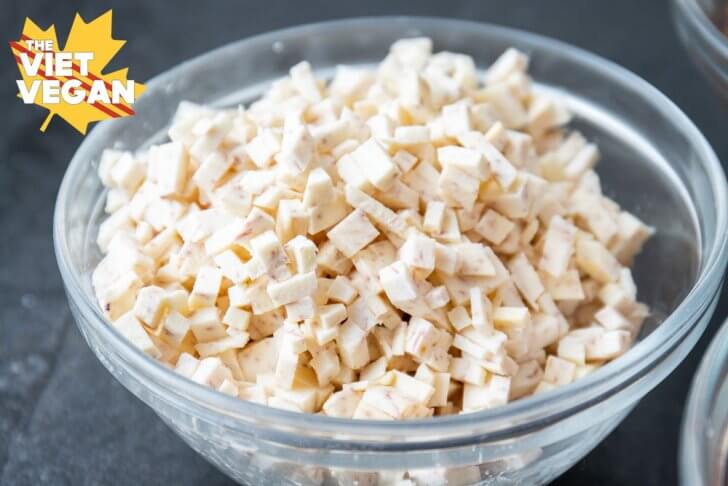 How do you traditionally eat Chả Giò chay?
You typically eat chả giò with Vietnamese fish sauce with pickled carrots & daikon and lettuce. The combination of lettuce, pickled vegetables and a fried spring roll gives a balance of fresh, crunchy, tender and savoury! With the tangy and savoury Vietnamese nước chấm, it is a classic appetizer and popular party food. We eat it on
My family would always have a platter of these fried on the table during one of our long-weekend family gatherings. I have so many memories of my grandparents plucking one to snack on while they were off entertaining their friends. My mom would wrap hot-fried ones in a paper towel for the kids to snack on!
I have memories of my brother as a tot, blowing gingerly over the spring roll to cool it down. He'd only to take a bite and immediately regret it. He would tearily return it to me or my mom, telling us it was too hot to eat.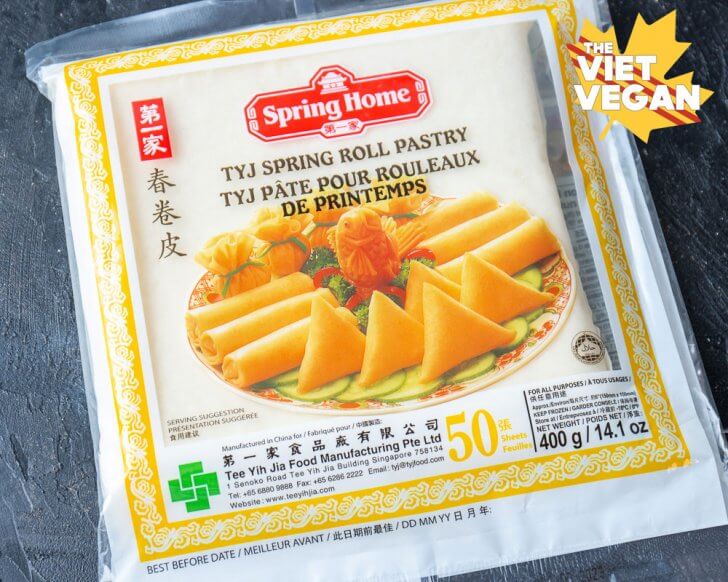 Where do I find vegan spring roll wrappers?
The recipe I'm sharing uses the medium sized spring roll wrappers. Feel free to use the smaller sizes if you like!
I've been able to find some other vegan brands–I can't find a picture of it but it has red packaging. If you can't find any vegan wrappers, use rice paper!
You can find rice paper for frying OR use regular rice paper–just make sure to wrap your filling well. Most rice paper says suitable for frying on it, but you can double wrap to ensure the filling is secure.
Fry just like you would the egg-roll ones. Turn the spring rolls frequently in oil and fry until golden brown. They bubble up and get really crispy! However, I would not recommend air-frying rice paper spring rolls, they always turn out with a stale crunch.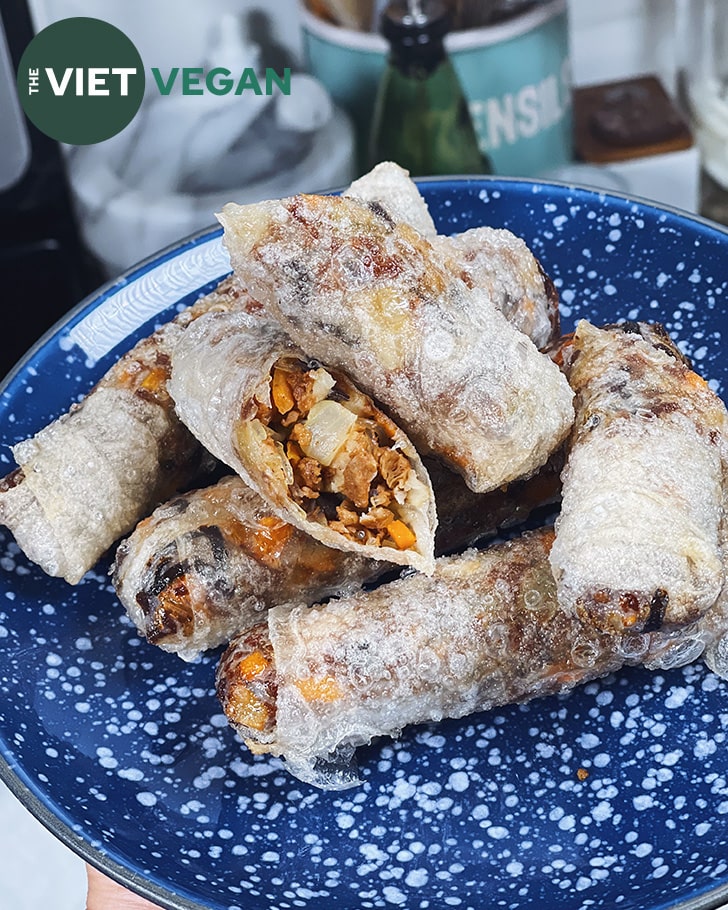 How do you freeze spring rolls?
You can feeze both the egg/wheat rolls and the rice paper rolls and store in an airtight container. For the rice paper rolls, I recommend freezing with space between each spring roll. Once frozen, transfer to an airtight container once all frozen. I like to place a layer of parchment paper between each layer of spring rolls.
My mom would buy a few packs of these from the Asian markets in Toronto, then we'd drive our 2 hours back home and store them in the freezer. On the off chance she decided to make spring rolls that week, she'd thaw them and we'd get to work making spring rolls on the weekend. After a few hours and an assembly line of wrapping, we would fill our freezer full spring rolls frozen. Our freezer would be filled frozen spring rolls on repurposed Styrofoam trays (like the ones meat is packed on) and wrapped in many layers of cling film.
How do you cook frozen Spring Rolls?
You can deep fry frozen spring rolls without thawing! In fact, they keep their shape better that way. I like to heat my oil to around 350F (until the oil is shimmering) and fry until golden brown, turning frequently to cook evenly.
Any time my school or my mom's work would have a potluck, everyone would ask us to bring spring rolls. With heaps of chả giò at the ready in the freezer, my mom would get to work in the garage, deep-frying a tall pot of these frozen spring rolls, yielding a beautiful stacked pyramid of golden spring rolls.
As far as I know, she still does this for her co-workers and my brother's school potlucks, but she's vegetarian now and even still, they are highly requested and devoured despite being meat-free.
Yield: 36-40 spring rolls
Vietnamese Spring Rolls
These are a veganized version of the classic, savoury Vietnamese spring rolls. They use a myriad of vegetables with glass noodles and wood ear mushroom to get a balance of texture and umami goodness in the filling.
Prep Time
1 hour
30 minutes
Total Time
1 hour
45 minutes
Ingredients
1 loose cup (20 g) dried wood ear fungus (buy sliced if you can, if not, sliced into thin strips about ½ inch or 1 cm long)
1 bundle (40 g) of mung bean thread (sometimes labelled vermicelli)
1 tbsp vegetable oil
1 medium onion (170 g), very finely minced
2 medium carrots (150 g), peeled and minced
1 heaping cup (~180 g) taro root, peeled and minced
24 oz (680 g) veggie ground crumble (two packages of ground round, or about 3 cups of frozen beefless crumble)
½ tsp (2 g) ground black pepper
3 tbsp (45 mL) vegan fish sauce OR soy sauce
1 package of 6 x 6 inch vegan spring roll wrappers**
1 tbsp (7 g) cornstarch
2 tbsp (15 ml) water
Oil for frying
Instructions
To Make the Filling
Soak the wood ear fungus and mung bean thread by submerging them
in two bowls with warm water. Let reconstitute for about 5-10 minutes.
In a large wok or pan over medium heat, combine minced onion, carrots and
taro root, the veggie ground crumble, pepper, and vegan fish sauce (or soy
sauce). Cook until vegetables have started to soften.
Drain the mung bean thread and wood ear fungus and chop to about ¼
inch-1/2 inch (1/2 cm to 1 cm) long pieces. Add the chopped mung bean thread
and wood ear fungus to the mixing bowl and mix well until everything is evenly
distributed, and cook to heat through. You'll see the noodles start to absorb some moisture and make the mixture thicken. Remove from heat and set aside.
Separate the layers of spring roll wrappers and arrange for easy
access on a plate. Cover with foil or a clean, damp tea towel so they don't dry
out.
Prepare your cornstarch mixture (water + cornstarch) in a small bowl to
seal the spring rolls.
To fill the spring rolls, arrange a wrapper like a diamond with a
point facing you. Add about 2.5 tbsp of filling to the bottom third of the
diamond, and centre it as a horizontal log. Take the bottom corner and start to
roll, tucking it tightly around the filling, rolling it up about halfway up the
wrapper. Tuck in the left and right sides tightly, and continue to roll
tightly, sealing the top tip with a dab of water and then completing the roll.
It takes a bit of practice, but you'll find the balance between rolling tight
enough that everything is in place but not so tight that you tear the wrapper. Use
a finger to stir through the cornstarch mixture and apply a slight layer to the
outside corner of the spring roll to seal the spring roll.
Repeat until all the filling is used up, and arrange the spring
rolls in a single layer on plate or a freezer safe container. Separate each
layer with parchment paper for ease of use. Freeze while the oil is heating up
so that the spring rolls stay intact better while frying.
To fry, heat up about 2 inches of oil in a medium-large pot until
about 375F (190C). Carefully fry the spring rolls, about 4-6 at a time
(depending on the size of your pot) flipping occasionally until golden all
around. Remove once you get a nice golden brown (the ends will get a bit of a
dark brown). Drain on paper towel or on a wire rack over a sheet pan. Enjoy on
their own, dipping in Nước Mắm Chấm Chay, sriracha sauce, or over a classic bowl of bún!
These freeze well for 4-6 weeks, and you can fry from frozen. If
freezing for storage, be sure to store in an airtight container to prevent
freezer burn.
Notes
I've been informed that there is a mislabelling of the spring roll wrappers I used in this recipe and that they are in fact, not vegan. I suggest using rice paper instead, I have rice paper that says for frying or for eating fresh. Some of the frying rice paper is thicker! I use regular rice paper and just wrap with one layer. When you freeze, make sure none of the sides touch (they'll stick together), and then once frozen, you can freeze stacked together. You can fry from frozen or fresh, they will bubble up a lot more than the egg-roll style wrappers, but both are delicious!