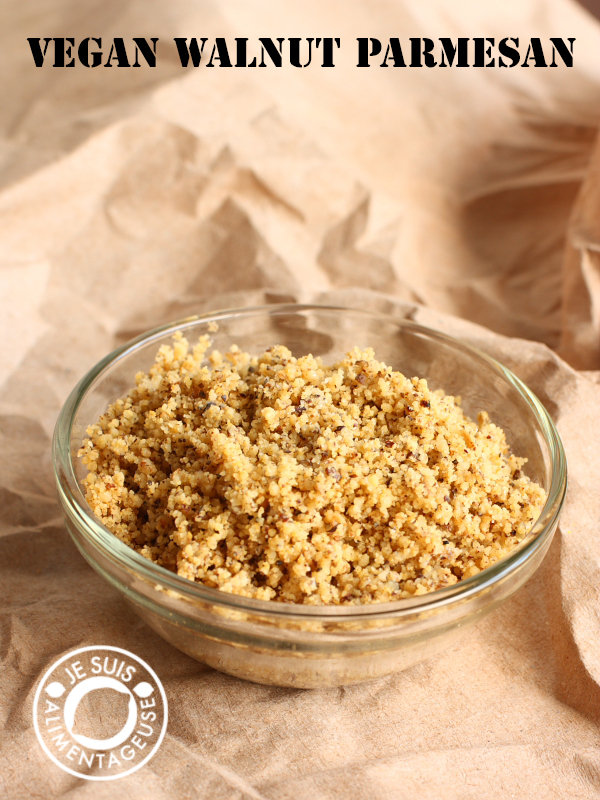 I used to be a parmesan FIEND. I would cover my pasta under a blanket of that cheap, non-refrigerated grated parmesan before I discovered the magic that is shredded brick parmesan. The salty, undeniably cheesy flavour, the dry bite of its texture, and with some garlic and olive oil? I felt like I was back in Italy, dining with the Italian gods of cuisine. I would snack on the flakes of parmesan that they sell in massive tubs from Costco, nibbling on each piece like a mouse.
It wasn't until earlier this year that I discovered that a lot of parmesan is actually not even vegetarian, due to the animal rennet (stomach enzyme) that they use as a catalyst to make the curds and whey. I was devastated at first. One of my first hurdles towards becoming vegan was getting over my love for cheese.
As I'm sure many other people know, cheese in Canada is HUGE. Looking back to my childhood, I realize how ingrained dairy was to the Canadian Food Guide, and how that was key into instilling in my generation of Canadians that milk is necessary and healthy. After school snack usually consisted of a glass of milk with some yogurt. I hated milk, but yogurt? I used to have 2-3 cups of yogurt per DAY.
It explains why I tower over the everyone anytime I go back to Vietnam. Dairy and a balanced diet will do wonders for those who were genetically doomed to be short.
So not only was dairy an integral part of my childhood, my mom and I shared a ravenous hunger for cheese.
Our special breakfasts included a toasted bagel with oozy, melty cheese. We had to be careful not to burn the roof of our mouths while devouring it, but it was so worth it. My mom used to tell me that in Vietnam, when she had to choose between chocolate or cheese for a snack/dessert, she would always pick cheese.
ALWAYS.
But I digress. Cheese continues to be one of the biggest hurdles for me in my transition to a vegan diet. One of the things that has helped a lot are vegan parmesans. I've tried Parma's chipotle parm and garlicky parm, which both add a zing of undeniable flavour that's unparalleled from regular old parmesan.
As a food blogger and someone who is curious about what's in food, I wanted to make my own. And it is SO. EASY. Honestly I think my food processor is my most used kitchen appliance ever. My immersion blender got usurped.
Toss 4 ingredients into the food processor and you get vegan walnut parmesan. The walnuts add a nutty, meaty flavour while the nutritional yeast adds B vitamins and a cheesy flavour. The oil acts sort of like a glue and if you add toasted sesame oil, it adds another dimension of umami flavour, but olive oil tastes great too. Add a dash of salt for good measure and you have yourself some magic to sprinkle on whatever your heart desires.
The original recipe I had used both walnuts and almonds, but I've seen recipes with walnuts and pecans, just almonds, basically any kind of nut. If, however, you're nut-free, I usually substitute sunflower seeds and/or pumpkin seeds for the same sort of meaty, nutty texture.
I'll probably do something in the future with different flavours, maybe my own take on chipotle Parma or their garlicky parm flavour, but for now, here's the base recipe.
Recipe adapted from a recipe used at The Stop's Community Food Centre BOOST: Mood cooking class
Vegan Walnut Parmesan
Ingredients
1/2 cup walnuts (raw, unsalted)
1 Tbsp (15 mL) nutritional yeast
1 tsp (5 mL) toasted sesame oil (or olive oil)
a dash of salt
Instructions
In a food processor, blitz the walnuts until it's like a chunky flour. Add nutritional yeast, oil, and salt, and blitz until evenly incorporated. Sprinkle on pasta, soup, salad, or even on your popcorn!
Store in an airtight container in the fridge for up to a week.