Vietnamese hot pot is such a nostalgic meal; it's a great communal family dinner where people get to stew their favourite noodles and vegetables and enjoy them together! I've veganized it with my mother's guidance to recreate this as a vegan hot pot for you to try at home!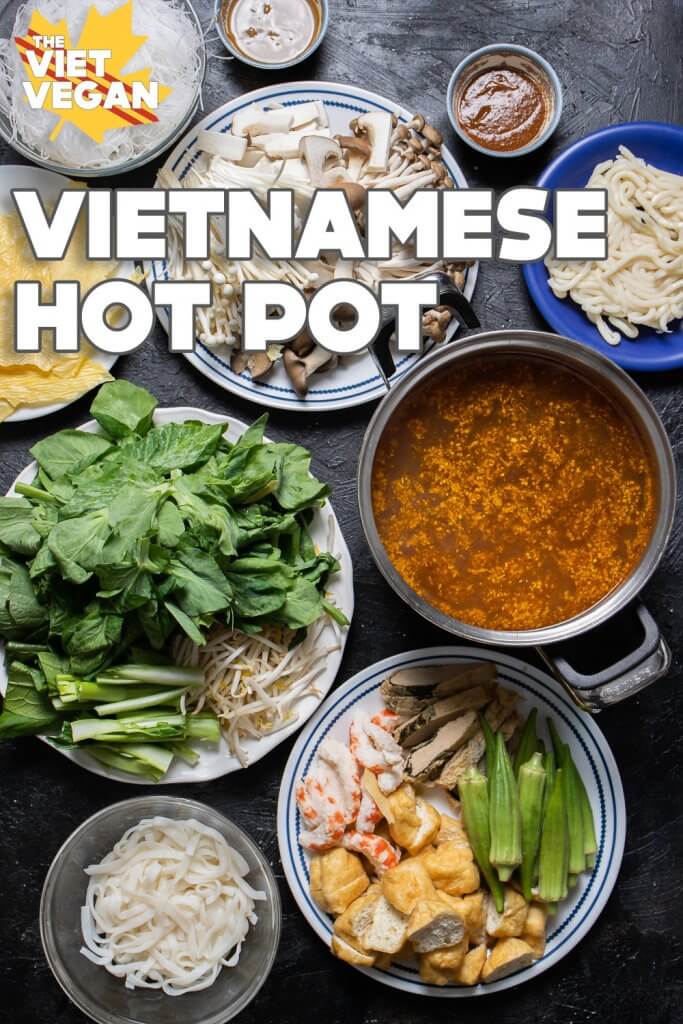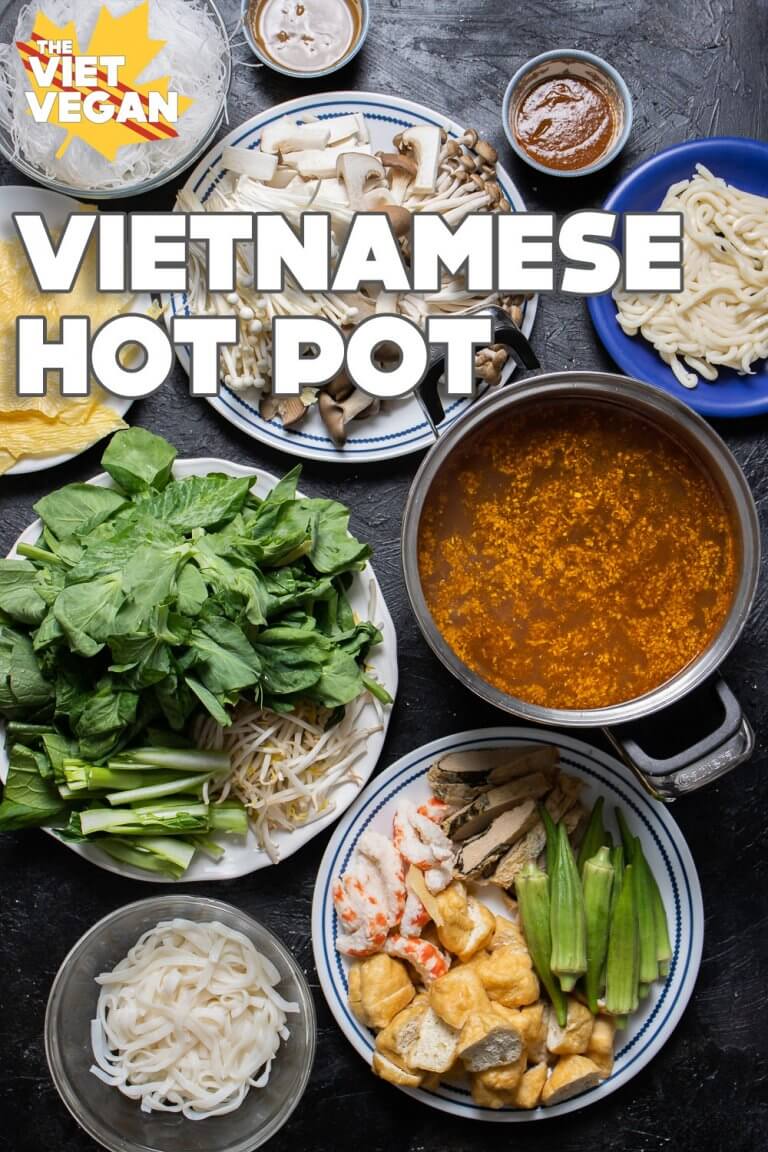 Hot pot is such a multicultural meal that is so common all across Asia. There's something so comforting and bonding about sharing a meal together with family and friends, and having one pot for everyone to mix different and varied ingredients together infuses the broth with more and more flavour as the meal goes on. Different cultures will have different styles of hot pot, and I haven't really tried it any other way except with my family, so I'll just take an educated guess that my family's way (and the way I've had it with different members of my family) is the Vietnamese style of hot pot, so that's the flavour profile this vegan hot pot is based on!
Growing up, my family had a lot of fish, seafood, mushrooms, noodles, and greens to choose from, and my dad was typically the designated person who put stuff into the soup, while my mom tended to be the one that scooped the food out once it was done cooking. Our table was lined with newspaper to catch all any spills and for us to spit out bones and bits of food we couldn't eat, and our portable gas stove sat in the middle while we all sat at the table (or on the floor) around it.
My memories of this meal mostly include me trying to shield my bowl from my mom putting more fish or bits that I didn't like into my bowl. All I wanted was noodles and vegetables and maybe the occasional squid, but mostly I just wanted to stop eating so I could go back to reading my book. Nowadays, I could sit and eat forever XD As long as I have a show or movie to entertain myself though haha.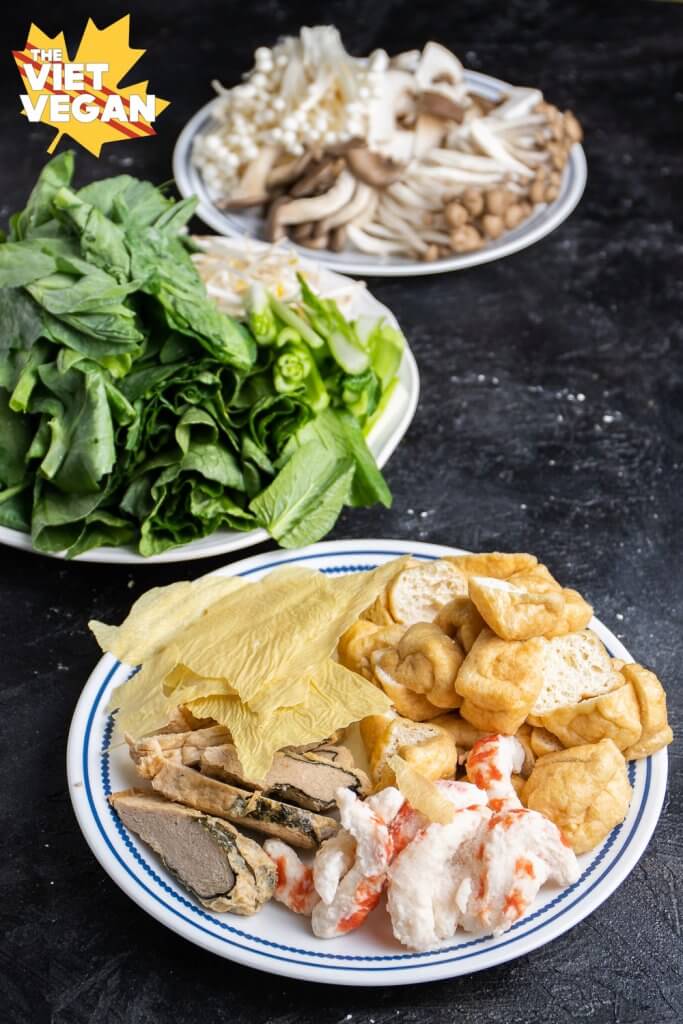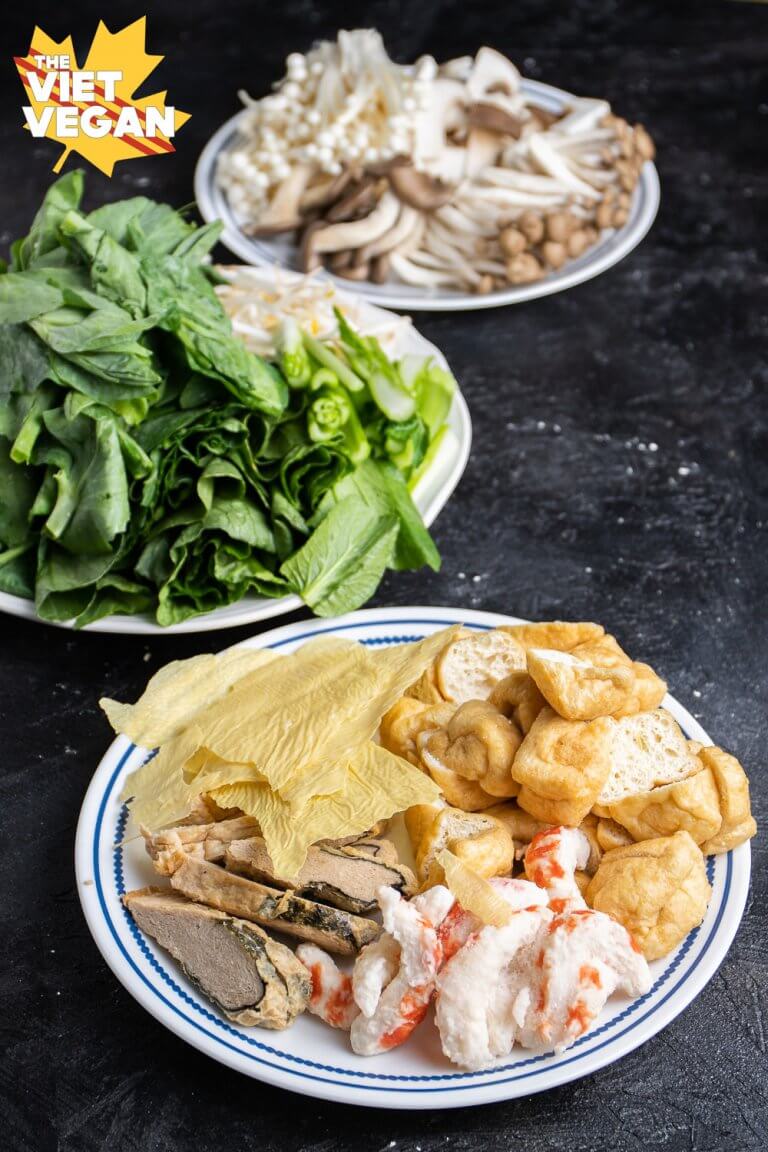 What I've heard from Janelle (since she's not vegan) is that at hot pot places, the dipping sauces range from various hot sauces, toasted sesame paste, or a smattering of different fancy dipping sauces that range from sweet to savoury to spicy. Growing up my family mostly just used sriracha or hoisin sauce, but maybe that was just my family. I found a vegan hot pot sauce at Nations (the Asian market in Hamilton) and it was really tasty! Spicy and savoury with a touch of nuttiness. I would definitely use it again since the broth is flavourful but it is after all just soup, so the sauce does make a difference.
The most important thing is that you have a variety of different things to cook up! I like to have puffy tofu, bean curd sheets, vegan shrimp and tons of mushrooms, but greens are very important and tasty too!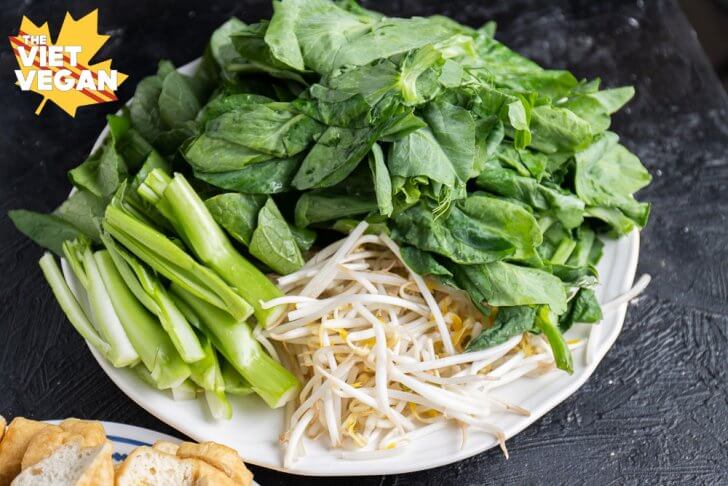 For this hot pot, I used snow pea tips (or shoots) and yu choy for greens, and some mung bean sprouts for a bit of crunch and freshness. You'll want to pick vegetables that can wilt quickly and cook quickly in the pot (nothing too hardy like gai lan or broccoli) as it takes a little too long for them to soften. Shanghai bok choy, baby bok choy, yu choy, watercress, snow pea tips and mustard spinach are my favourites because of how wilty they get but they also have a stem to help you pick things up and keep their structure in the soup. If you like herbs too, don't forget those! Thai basil, mint, and culantro are tasty alongside hot soup on any day.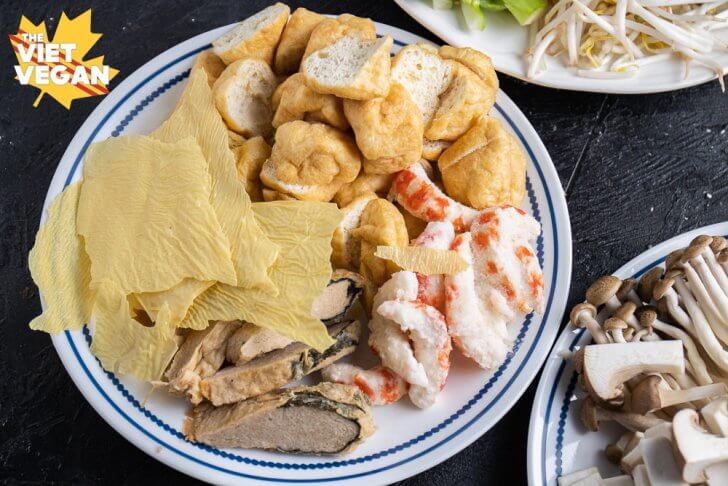 For protein, I found some vegan fish steaks that I sliced into pieces. They were okay; they got a bit soggy, but I did quite like it dipped with my sauce after it cooked through. My favourite by far are the tofu puffs and these thin sheets of dried bean curd had a really great texture in the soup! I highly recommend it, it was a lot of fun to eat.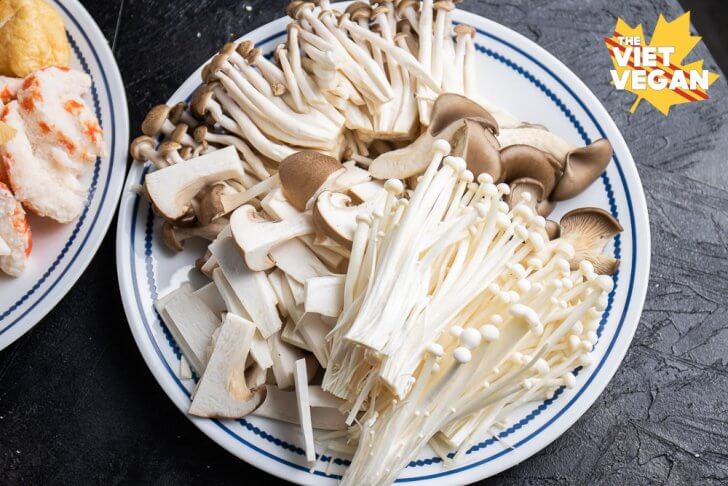 Since I was eating hot pot with Janelle and not just with Eddie, we were able to get a wonderful selection of mushrooms to eat. Shimeji are the ones at the top of the plate, they're so fun and soak up a lot of delicious flavour from the soup. Enoki mushrooms are the thinner alien-looking ones that get kind of crunchy and soft at the same time, while the king oyster and the oyster mushrooms have a wonderful silky savouriness that is so delicious in both stir-fry and soup. Mushrooms are so great, and I'm really glad Janelle likes them as much as I do!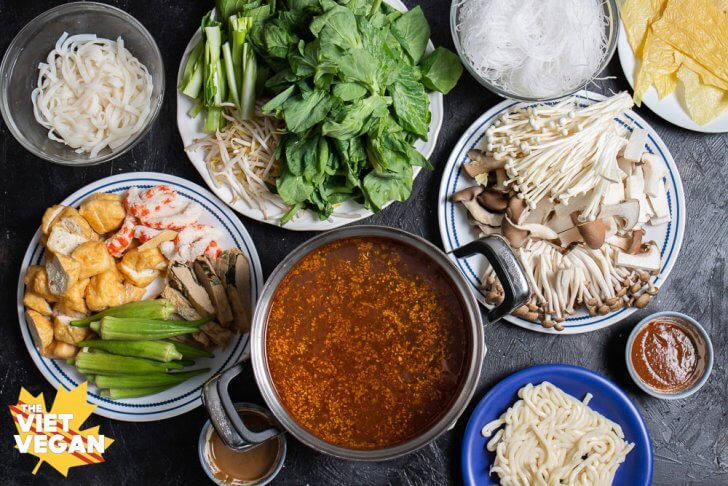 To see how I made this broth, be sure to check out the video below. Especially for the kind of not intuitive part about the lemongrass since it can be a bit of a trickier ingredient. It's well worth it though, and you can skip that step altogether if you find frozen chopped lemongrass in the Asian market. My mom always likes to batch process her own lemongrass with garlic though so she has this mixture on hand any time she needs it (which is a lot because my brother's favourite dish uses this broth).
Yield: 3 L of broth
Vietnamese Vegan Hot Pot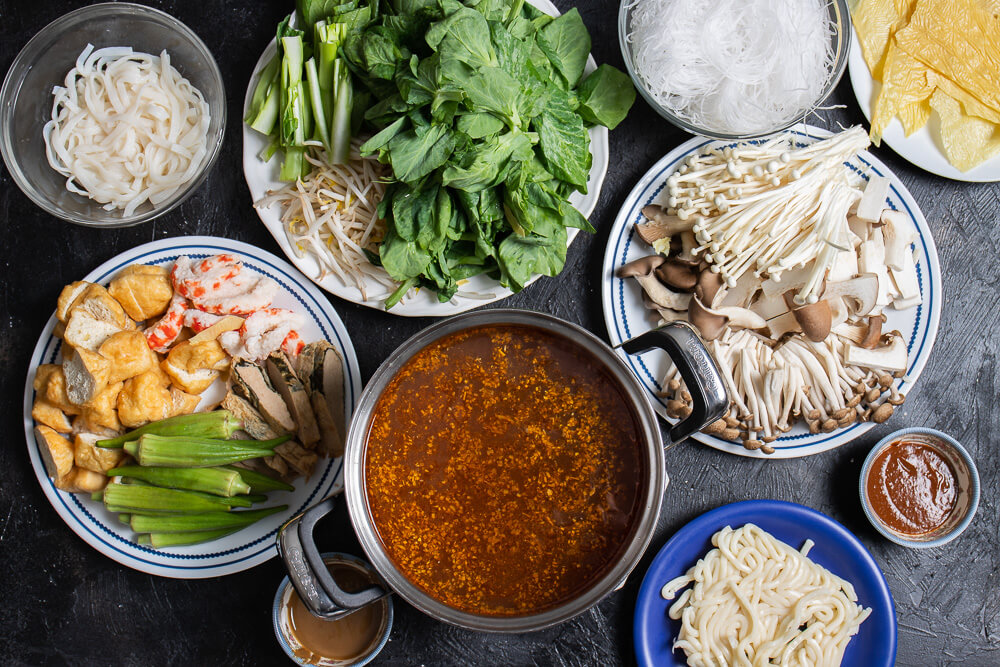 Total Time
1 hour
15 minutes
Ingredients
For the broth
3 L (12 cups water)
1 cup (~12 g or .4 oz) dried mushrooms, soaked for 10 minutes then rinsed twice
5 ears of corn, shucked and broken in half
3 stalks of lemongrass (prep in instructions)
1 large daikon, peeled and cut into large chunks
4 medium carrots, peeled and cut into 2 inch chunks
2-3 cooking onions, peeled and halved
3 inches of ginger, peeled and roughly cut into 1/2 inch (1 cm) thick pieces
1 bulb of garlic (9-12 cloves)
2 tbsp (30 mL) of paprika
Optional: 1-3 tsp of chili flakes for spice
3 tbsp (45 mL) of neutral-flavoured vegetable oil (like canola or sunflower)
3 tbsp (45 mL) mushroom broth powder
For the hot pot (no measurements since it depends on how much you like)
Variety of mushrooms: enoki, shimeji, king oyster, black oyster
Bean sprouts
Okra
Puffy Tofu
Vegan Shrimp
Bean thread vermicelli
Shirataki noodles
Udon noodles
Yu Choy
Bok Choy
Pea shoot tips
Bean curd sheets
Instructions
For the Broth
Prepare the lemongrass by removing the outer woody layers of the stalk, washing well and setting aside to simmer. Trim the green part (it's the woodier part), washing those well and reserving for simmering. The more tender white part is for the aromatic oil, so trim the root, then finely slice the white (like a green onion) into as thin slices as you can, ideally 2-3mm thick (1/8 inch).
In a food processor, blitz the lemongrass and garlic until the lemongrass is finely minced and the garlic is fairly pulverized. You may need to scrape down the sides a couple times. Set aside for the aromatic oil.
In a large pot, simmer in 3L of water your dried mushrooms, corn, lemongrass pieces (not the chopped bottom parts), daikon, carrots, onion, and ginger. Cover and cook over a steady simmer for at least 1 hour (up to 2 or 3 hours is great too).
Strain the broth and you can eat the cooked vegetables if desired but they're not part of the hot pot. Set aside.
Prepare the aromatic oil in another small pot by heating 3 tbsp of oil over medium heat. Add your garlic and lemongrass mixture and let infuse, cooking and stirring frequently to prevent any burning.
Once the garlic starts to become a little golden, immediately add the ground paprika (and chili flakes if you want it to be spicy). Stir until everything is completely coated and evenly dispersed. Turn off the heat.
Spoon in a few ladles of the strained broth into the oil mixture to lift up any of the spices from the bottom of the pan. Stir to pick up all the bits and then pour the whole mixture into the main broth. Season with mushroom broth powder to taste (about 1 tbsp per 1 L) and stir to incorporate.
For the Vietnamese Hot Pot
Over a portable stove, heat the broth, and add your desired items. Fish them out with a basket ladle (spider spoon) whenever they're cooked through and enjoy! It's a communal meal, so to keep things sanitary, use designated utensils for the soup and ingredients and individual ones for yourselves. Enjoy!