Three ingredients to rule them all,
Three hours to make them.
A couple friends to eat them all,
And in chocolatey bliss you'll find them.
3 Ingredient Vegan Coconut Chocolate Truffles. You're welcome.
Aside from a few mere mentions, the latest chronicles of Burrito Boy ended with our very first date. Our second date was an epic date that was only supposed to last a couple hours. I'm not sure what it was, but our 2 hour date turned into a 4 hour date, then a 6 hour date, then finally when the 7th hour rolled by, we both figured it was probably time to call it a night because who goes on a 7 hour date for their second date?
But first, let's rewind:
Call me crazy, but I invited Burrito Boy over for dinner for our second date.

Sidebar: Hi Mom (and other concerned readers), don't freak out, I told Janelle about it and she was checking on me every hour to make sure I was alive. Burrito Boy tells me now that he had a similar arrangement with one of his friends. We were both aware of stranger danger, I swear!
Just hear me out: After graduating from my Master's last year and even though I have a full-time job, I'm still quite deep in student debt. I invited him over for dinner because I didn't know a lot of places in my area that were wallet-friendly or vegan-friendly. My kitchen? Vegan AND free to dine in.
Plus, from our first date, Burrito Boy informed me that he was not a fan of broccoli. As someone who is very passionate about little trees, I deemed that a misjudgement until he tried roasted broccoli. So along with a pan of roasted little trees, I made us a fairly hefty soba noodle bowl with some added fried tofu and edamame.

A very hesitant Burrito Boy speared a tender floret and popped it whole in his mouth. I couldn't help but laugh as he gingerly chewed it, debating whether or not he still hated the flavour. A few more reluctant chews later, he swallowed the mouthful with a meek smile.
"Verdict?" I asked.
"…Well I didn't spit it out?"
Burrito Boy is not a fan of broccoli. But you know what? That's okay. He liked the soba noodle bowl enough to sit through a couple episodes of Brooklyn Nine-Nine with lil' ol' me. The second hour rolled by and normally, one would call that a sufficient date, but we both decided that we wanted the date to go on. We headed towards Yuk Yuks, a comedy club about a 10 minute drive away from my place and proceeded to laugh at inappropriate sex jokes and awkward comedy.
Two hours later, Burrito Boy drove me back home, us both rather teary-eyed from laughing too hard, but neither of us wanted the night to be over. Across the street from my apartment, there's a plaza with a bubble tea place, so I threw out an idea.
"How do you feel about bubble tea?"
"…You just can't get enough of me, can you?" he jested.
I scoffed and mumbled something akin to "Nevermind" but he just laughed.
"I wouldn't be opposed to some bubble tea."

I realized that I didn't have a game plan for what we'd do after we got the bubble tea. With no parks or fun places to loiter like two hooligans, the only place to retreat to was back at my apartment.
"Want to play some battleship?"
So with two colourful drinks in hand, we headed back up to play a couple rounds of battleship. I schooled him. TWICE. Few people realize how much of a mind game Battleship is. It's a game of wit and wiles, I tell you (I kid). But in any case, Burrito Boy had enough of being beaten by a small Asian girl sipping slushy peach bubble tea, so he stepped out onto my balcony to enjoy the view.

I live on the 11th floor, so it's not too high, not too low. The balcony faces east so you can see the CN Tower standing in the distance, twinkling among the rest of the city skyline. I felt Burrito Boy's arm wrap around me. We stood there for a while, quietly chatting and admiring the view.
By then, the two hour date had turned into a seven hour one, and it was time for him to leave. We slowly walked to the door and before he turned to leave, he pulled me in for a kiss. He pulled back with a mischievous grin and stepped into the hallway as I closed the door behind him. I silently freaked out until I heard the elevator doors open and close, before returning to the safe haven of my kitchen.
Now looking back, I feel like I should give him more credit for being such a smooth operator. Going with the flow of an epic seven hour date and finishing it off with a kiss. Well done, Burrito Boy, you silver-tongued devil, you.
Fast-forward a couple months…I made a birthday cake for him iced with chocolate ganache. I rolled the remaining ganache in shredded coconut and figured it'd be an easy treat for the upcoming holidays. And I even toyed with a little video, so I hope you enjoy and make these super creamy and decadent three ingredient vegan coconut chocolate truffles.
I have another recipe that uses this ganache coming that's a little bit fancier for when you're hosting some holiday guests. I hope you like this one as much as I did. They're dangerously delicious =)


Yield: 30-40
3 Ingredient Vegan Coconut Chocolate Truffles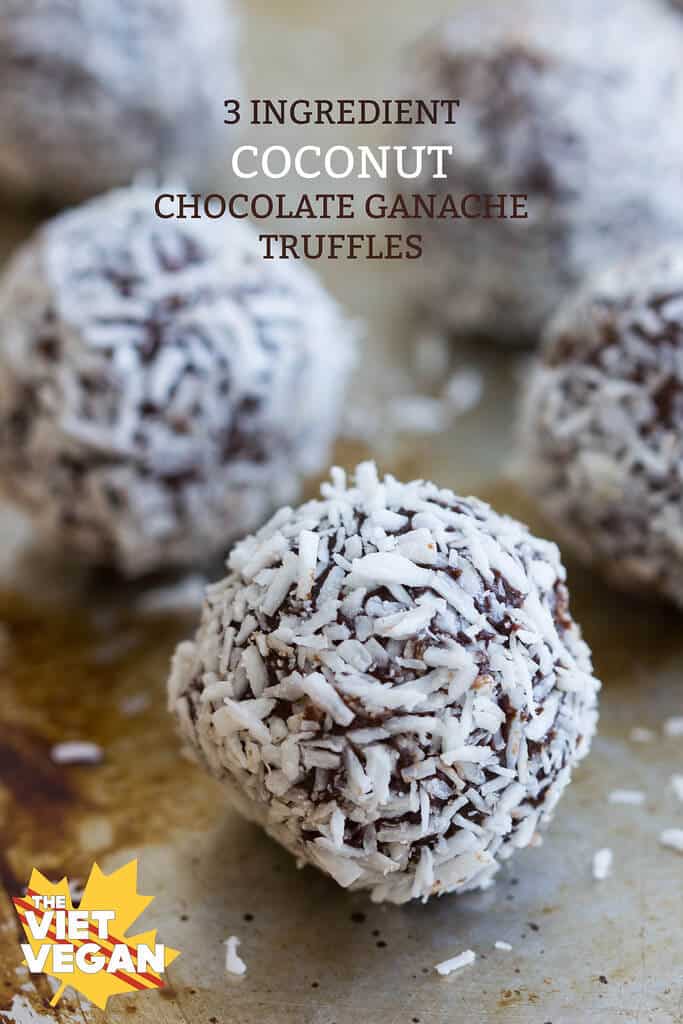 Total Time
8 hours
15 minutes
Ingredients
1 lb dairy-free chocolate chips, ~3 cups, better to weigh though (I used President's Choice brand, but Enjoy Life is good too)
1 15 fl. oz can of full fat coconut milk (I use either Thai Kitchen or 365 Whole Foods brand)
1 heaping cup unsweetened coconut shreds to coat
Instructions
Heat coconut milk until edges are slightly bubbling. You don't want it overly hot, just hot enough that the surface gives off a little steam. Pour coconut milk over the chocolate chips and let stand for about 5 minutes.
Stir to melt the chocolate chips until silky and smooth. Refrigerate overnight or for at least 2 hours until set.
Use a 2 tsp cookie scooper (or a regular spoon) and form 1-inch balls of the ganache. Avoid rolling in hands too much, the chocolate will melt in your hands. Coat in coconut shreds and chill to set again on a baking sheet. Once chilled, transfer to an airtight container.
Serve chilled, or if you plan on bringing to a party, freeze for a couple hours before you take them out so they are still cold when served at your next holiday party.