Avocado and rice are besties
Chipotle mayo and soy sauce are the friends that make everything better
And nori is what holds it all together.
Basically avocado nigiri is a metaphor for your epic friend circle. Just accept it.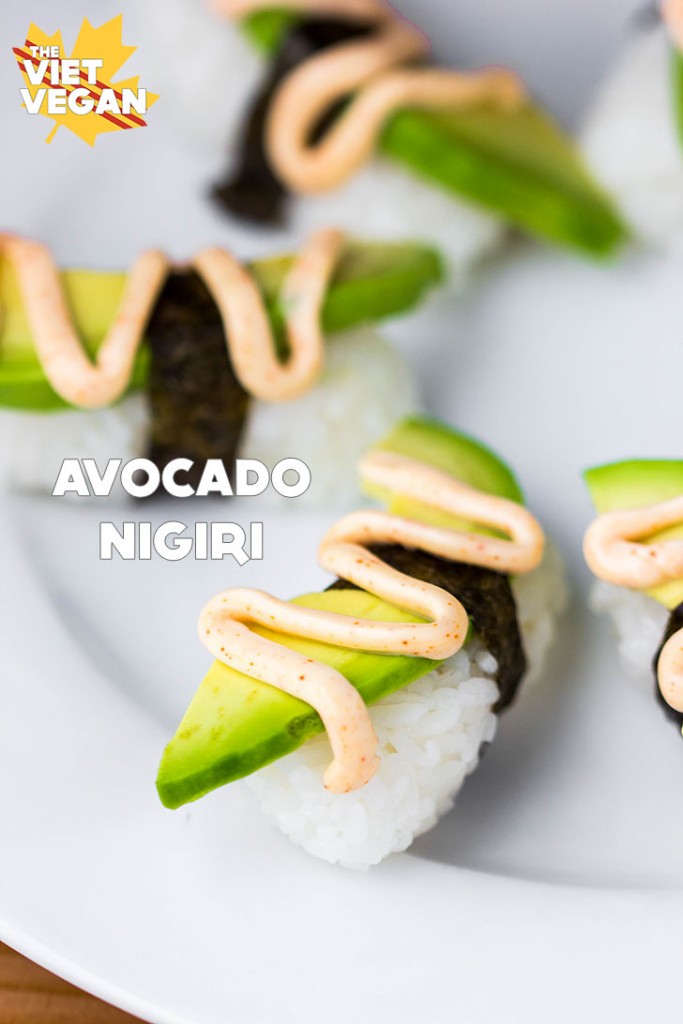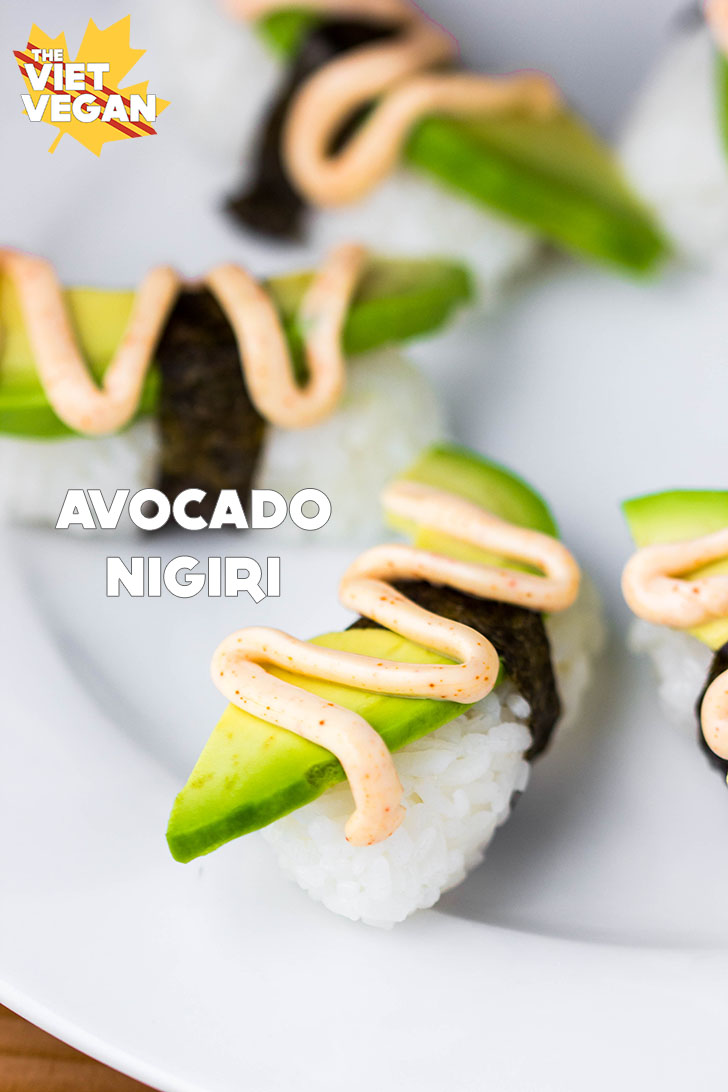 Okay so this isn't entirely that different from my avocado sushi recipe, but this takes it a little farther in terms of presentation and flavour. Chipotle mayo makes everything a little bit better. Sweet potato fries, black bean burgers, coconut BLTs—all better with chipotle mayo!
Anytime I go to an all-you-can-eat sushi place—which isn't that often because I can't really justify paying $30 for a ton of rice and avocado…but when I -do-, I basically order about 12 avocado cucumber hand rolls. But if they carry vegan mayo, you'd better believe that I'd just get a mountain of spicy avocado sushi with panko crumbs for crunch.
I only wish Burrito Boy shared my love of avocado. He thinks that it has a gross texture, but I think he'd eat it if I made it into my avocado chocolate mousse tart. He doesn't even like guacamole! WHO DOESN'T LOVE GUACAMOLE? But I learned from my past relationship failures that you need to accept people for who they are, and if they've given avocado and guacamole the chance, then you need to find a way to love them anyway.
I try to think of it this way: more avocado for me!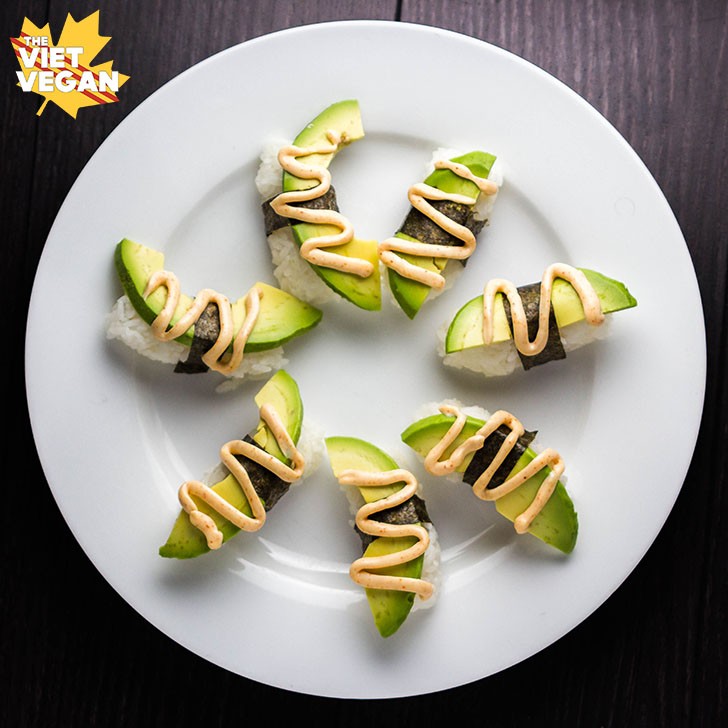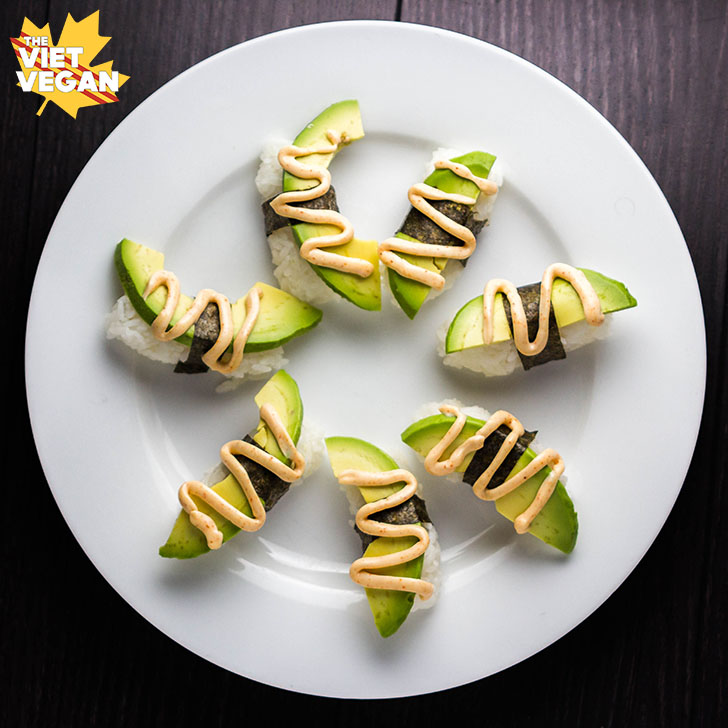 Funny story actually, my building has 24 hour security and because of all the parking passes I've had to get for Burrito Boy, I've gotten pretty chummy with my concierge. I called the desk one night to ask if she wanted some sushi, to which she answered she had never had any before. She didn't want to eat raw fish, to which I said, "Lucky for you, vegan sushi is fish-free," but not before I expressed my outrage for not ever having sushi before.
I wanted to introduce her to the wonders that is rice and avocado, so I plated a few of my leftover avocado nigiri (since BB can't help me eat these) and she hesitantly took a bite.
Then her eyes lit up.
"…Whoa. This is sushi? This is legit."
AW YISS VEGAN SUSHI IS THE BOMB.
So make yourself some avocado nigiri for the next time you want to impress some guests with delicious vegan finger food (or chopstick food if you want to be fancy about it). Or just make it for yourself because it's way cheaper than buying it at the store.
Get creative! You can make tofu skin nigiri, carrot lox nigiri, or some vegan egg tofu.
Enjoy!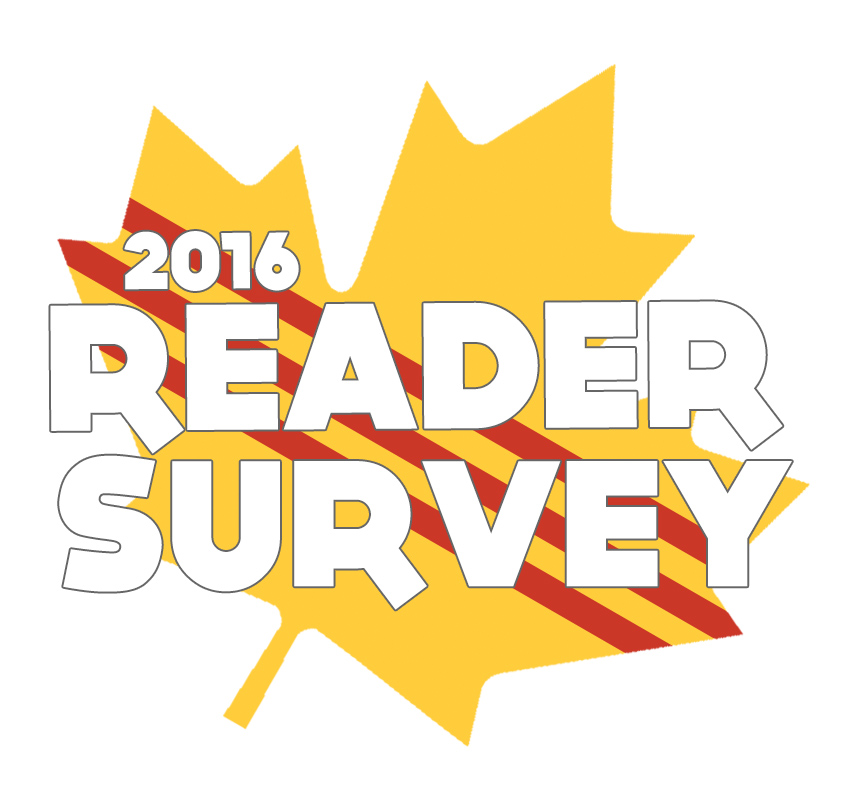 Oh and before I forget, could you guys do me a HUGE favour and fill out this 2016 Reader Survey? I'm hoping to grow TVV even more this year but I just want to take a moment to understand who you folks are and what you think of TVV before I go forward with these changes.
Click here for the survey!

Ingredients
1 cup sushi rice (short grain, sticky)
1 cup water (or cook according to your rice cooker or the package of race)
2 tbsp rice vinegar
1 tbsp white granulated sugar
1/2 tsp kosher salt
1 avocado sliced
1 sheet of roasted nori (seaweed), halved, and then cut into strips
3 tbsp vegan mayo
1/2 tsp chipotle powder
Instructions
Cook your sushi rice using a rice cooker or whatever way you cook rice.
In a small microwave-safe bowl, combine rice vinegar, sugar, and salt and heat for 30 seconds and stir until sugar is dissolved. Pour over cooked rice and use the rice paddle to gently fold the rice until the rice is sticky and evenly coated in the mixture. Set aside to cool.
Prep your avocado slices, nigiri strips, and set aside. Combine vegan mayo and chipotle powder and transfer to a piping bag or a zippered plastic bag. Snip a teeny little corner off and set aside.
Use wet hands to shape about 2 tbsp of sushi rice into a short log about the same length of your avocado slice. Top with a slice of avocado and secure with a strip of nori.
Pipe or squeeze the chipotle mayo on top and serve as is or with some low-sodium soy sauce/tamari/liquid aminos!