This simple vegan boba milk tea is based on the sweet, milky tea I had when I lived in Vietnam for a few months back in 2009! So creamy, lightly sweet and full of delicious boba!
This summer seems the be the summer of nostalgia for me and veganizing some Asian classics (like fire noodles, banh bot loc, thit kho, and braised eggplant)! This bubble tea is based on the original Taiwanese boba milk tea, which is a creamy, lightly sweetened black tea with chewy tapioca pearls (aka boba or bubbles)! Of course as you try different versions, there are more additions like grass jelly (usually vegan!), lychee jelly (also vegan!), popping boba (also vegan-friendly!)
Huh. I hadn't realized how many toppings for boba that are totally vegan, because most bubble tea places don't tend to have non-dairy creamers/milks. But now that places like Cha Time are introducing oat milk, now I can get more fun toppings that work better with a milk tea!
For most boba shops that aren't very vegan-friendly, I usually get a slushy-style bubble tea or a black tea/green tea boba without any milk; but the milky tea is just so good! I've tried various black teas, but the one that comes closest to the type of tea I remember is Hong Kong style breakfast tea (which from what I've learned is commonly served hot with evaporated milk). I see it in Asian grocery stores in tea bags or as a bag of loose ground tea leaves.
The one I used for this is ground so I brewed it in a larger cup, then strained through a coffee strainer. If you have a fine mesh sieve or tea strainer, that would work too! I was also told that this tea likes to be aerated, so people have told me to pour the tea from high up to "aerate" it? As someone who chronically spills and breaks glasses all the time, I feel like this is a terrible idea for me to do, so I aerate artificially with the coffee filter.
If you want it nicely chilled like at bubble tea shops, you can use a cocktail shaker with ice to quickly shake up and cool the tea, then pour the tea over your fresh boba, add milk and ice to your liking! Shaking up the tea quickly with the ice cools the tea faster so it has less time to melt the ice (and thus diluting the tea). If you were like me and inexplicably lost/donated/threw out your cocktail shaker somewhere in the last move, then you can just skip this part and just have slightly diluted tea.
For the milky part of this tea, traditionally Hong Kong milk tea uses evaporated milk, but I've also seen some people use sweetened condensed milk. Luckily, we have vegan versions of it now but it's typically coconut-based (and often kind of pricey). I find that swapping the milky component for a nice, creamy soy milk or oat milk, or a nice and rich coffee creamer will do just the trick! If I have Silk soy coffee creamer, that's usually my go-to choice, but if I only have soy milk, I just increase the amount of sugar (from 1 tbsp to 2 tbsp) in the sugar syrup, then use more soy milk. It's always been a delicious time!
Lastly, it's important to note that when you cook the boba, it's not sweetened at all, so if you add the simple syrup separately from the bubbles, they won't have absorbed any of that sweetness. I've found best results by cooking the tapioca pearls for an extra minute or so with the sugar syrup to be the best way to infuse some of the sweetness into the tapioca while also using the remaining simple syrup as a sweetener for the rest of the drink. Trust me, I learned the hard way!
Yield: 2 servings
Vegan Boba Milk Tea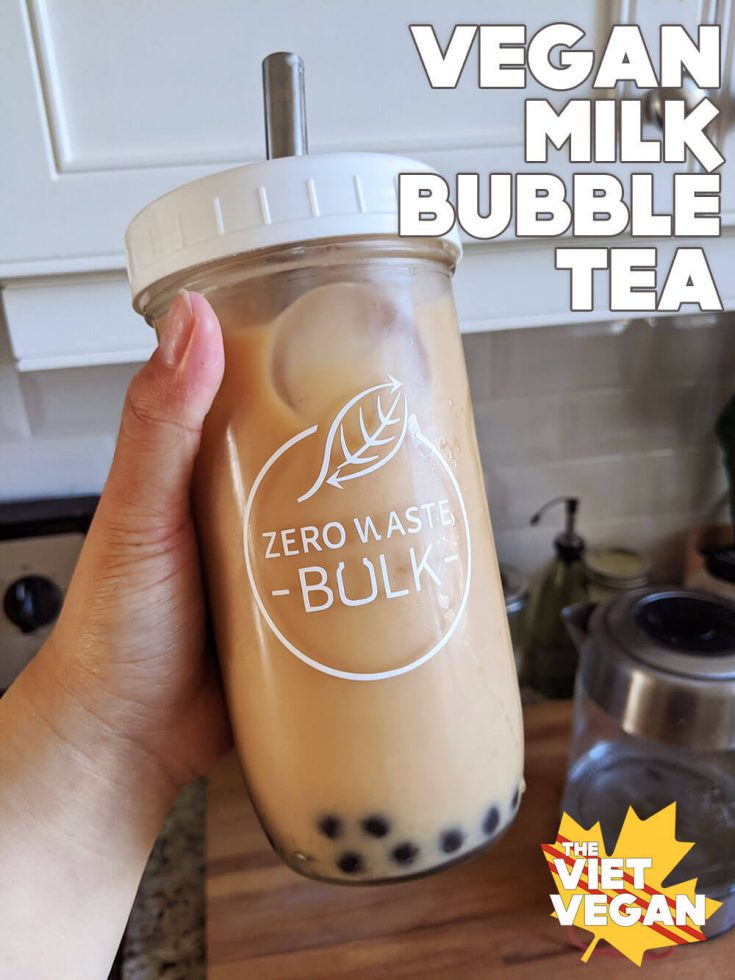 This is a simple and delicious milk tea with bubbles that is what made me fall in love with boba! Based on the original Taiwanese milk boba tea, this is the veganized bubble tea that made me fall in love with this fun drink!
Ingredients
For the tea:
2 tbsp Hong Kong style black tea (Ceylon black tea)
2 cups boiling water
For the pearls
1/2 cup tapioca pearls (use 1/4-1/3 cup per serving)
~1 inch water for the pot
1 tbsp (13 g) sugar
2 tbsp (30 mL) water
To serve
2 cups ice
2-4 tbsp vegan soy creamer* (mine is sweetened, but if yours isn't, increase sugar amount to 2 tbsp)
Instructions
For the tea
First brew the tea with boiling water and the tea. Since the tea leaves tend to be more finely ground in this tea, I prefer to stir the tea completely into the water, and then strain through a coffee filter. You can use a coffee filter in a mesh sieve if you don't have a coffee cone, or use a nut bag to strain the tea. Let cool or refrigerate while you prepare the tapioca.
Tapioca Pearls
In a small pot over medium heat, bring about 1 inch of water to a boil. Once at a rolling boil, add the tapioca pearls and cook until softened all the way into the centre (I tend to taste test to check). I have some quick-cooking boba so it only takes about 3 minutes, but I've had boba that takes 10-15 minutes to cook through. Stir so that it doesn't stick to each other or the bottom of the pot.
Once cooked through, strain and return to the pot with 1 tbsp of sugar and 2 tbsp of water. Continue to cook until the sugar is dissolved, and then transfer both the boba and sugar syrup to your two drinking glasses.
To serve:
Add 1 cup of tea per glass over your ice, and pour your strained tea over the ice. Stir to chill the tea, then add 2-4 tbsp of vegan creamer (I use coffee creamer) to your desired milky consistency.
Stir and enjoy!
Notes
If you don't have soy coffee creamer, use for your favourite non-dairy milk instead! My coffee creamer is sweetened, so when I'm using milk instead, I use 2 tbsp of sugar with the boba to make the syrup instead, then add about 1/2 cup soy milk to 1 cup of tea.