Only 10 minutes of active cooking results in this deliciously creamy and cheesy dairy-free butternut squash risotto in the Instant Pot!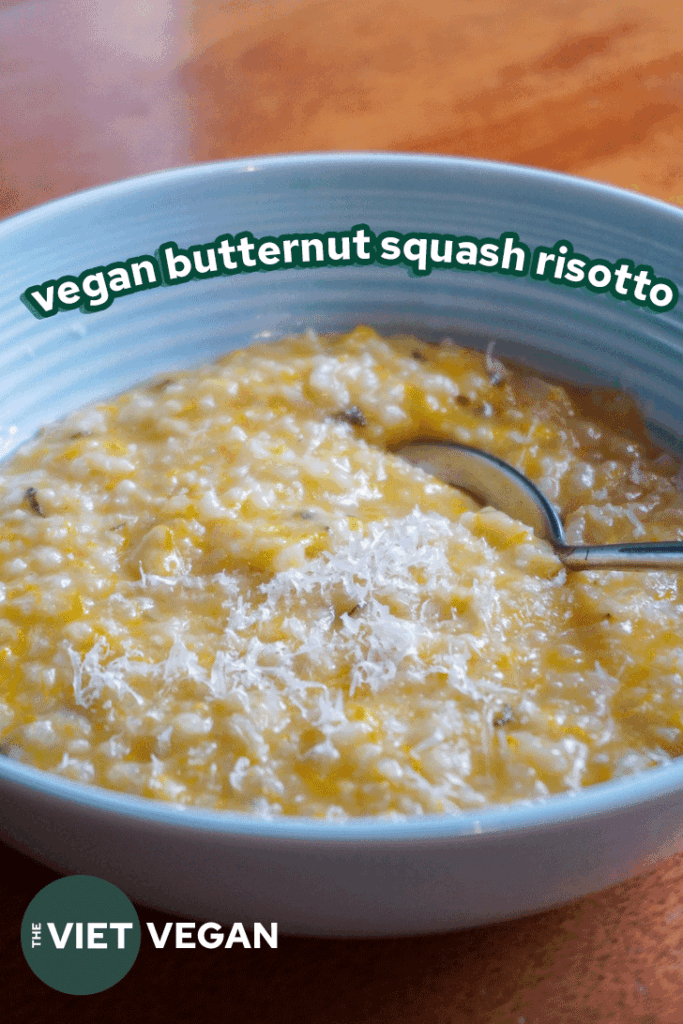 Lately I've been a big fan of quick dinners that I can set up in about 15 minutes and then come back to when it's dinner time. I've made a mushroom rice cooker meal and a lentil and barley one, and they've both been big hits with my kid (who naturally is a fiend for rice). Unfortunately due to the mushy texture of risotto, Bean was not a fan. They don't like oatmeal or Vietnamese rice porridge much either, so that tracks.
However, I was a big fan of this butternut squash risotto. It's creamy, it's quick, and it hits so many different savoury and tart notes in the best way. Hopefully with continued exposure, my kid will get on board with foods of this texture, despite eating (and LOVING) baby oatmeal for breakfast the first 6 months of eating solids.
Recipe Inspiration
This butternut squash risotto recipe was adapted from this version from Eating Well and this version from The Forked Spoon. Both versions are not vegan and also use white wine as a part of their recipe. But I derived the ratio of arborio rice to liquid and cooking time from both those recipes!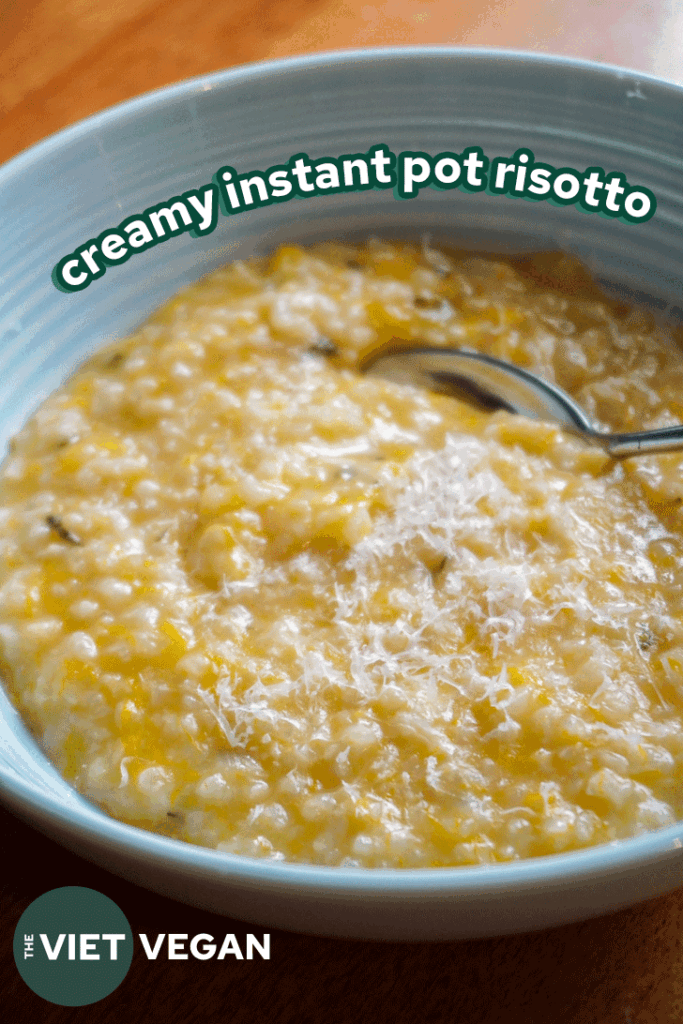 Wine Substitution in Risotto
Whatever reason you may need to substitute wine in cooking, you can definitely omit it in a risotto recipe! Most others say to just substitute with more broth, but if that were the case, why add wine in the first place anyway?
While researching for this recipe, I found that the role of wine is to add complexity and acidity to risotto. This totally makes sense since cooked arborio rice is a one note flavour and texture. Typically for risotto, we add richer ingredients like cream, cheese, (or in this case, dairy-free cheese). The acidity of wine helps cut through the richness and keep you coming back for another spoonful.
The wine alternative for risotto is typically something else acidic. Since most versions of butternut squash risotto I found used white wine, I also wanted something light, fruity, and acidic. Apple cider vinegar worked perfectly in this recipe! But you could also add extra lemon juice towards the end if you don't want both apple cider vinegar and lemon juice.
What to serve with butternut squash risotto?
When I was first testing this recipe, I was overthinking the different protein options to serve with this meal. Typically you'd see shrimp, beef or chicken served with risotto, but since I'm vegan, I don't eat any of those.
I was thinking of adding beans or lentils, but it would add a lot of bulk and starchy texture to an already starchy dish. I thought about baking some butter beans so they'd be crispy, but ultimately what won out was soy curls!
Mostly out of convenience. This is a Set It & Forget It recipe after all! I added whatever BBQ sauce we had in our fridge to a pan of lightly fried rehydrated soy curls, and it went perfectly with this butternut squash risotto.
This recipe was sponsored by Violife Canada and developed for Instagram.
Yield: 4 servings
Instant Pot Vegan Butternut Squash Risotto
Additional Time
20 minutes
Ingredients
1 tbsp dairy-free butter
1 onion, finely diced
3 cloves garlic, minced
4 leaves sage, stem removed and finely diced
1 cup (190 g) arborio rice
1/4 cup (60 mL) apple cider vinegar
3 cups (750 mL) water (or veggie broth)
2 tsp (10 mL) broth paste (omit if using veggie broth)
2 cups diced butternut squash
2/3 cup (160 mL) dairy-free mozza shreds (I used Violife)
1/3 cup (40 g) grated dairy-free parm + extra for garnish (I used Violife)
1/2 of lemon, juiced
Instructions
Saute onions in dairy-free butter until translucent (about 2 minutes). Then add garlic, and sage, and stir for about 30 sec.
Add arborio rice and toast for about a minute or so.
Add apple cider vinegar, veggie broth, and diced butternut squash and stir to coat everything.
Close the lid and set to sealing, then pressure cook on high for 6 minutes, and let pressure naturally release (about 15 min)
Set pressure cooker back onto Saute, then add dairy-free mozza shreds and grated parm style wedge. Mix in to melt.
Add lemon juice and mix in, then serve immediately!