This quinoa bowl is one of the many variations of "bowl food" that I find comforting.
Chilli spiced chickpeas are a staple in my home—canned chickpeas are easy and filling.
I always add some sort of wilted greens to give my bowl a pop of colour,
and sweet, crunchy pear contrasts all the elements.
I drizzle a generous amount of garlicky, chipotle mayo dressing because garlic is awesome.
Food in a bowl that's both nourishing and comforting.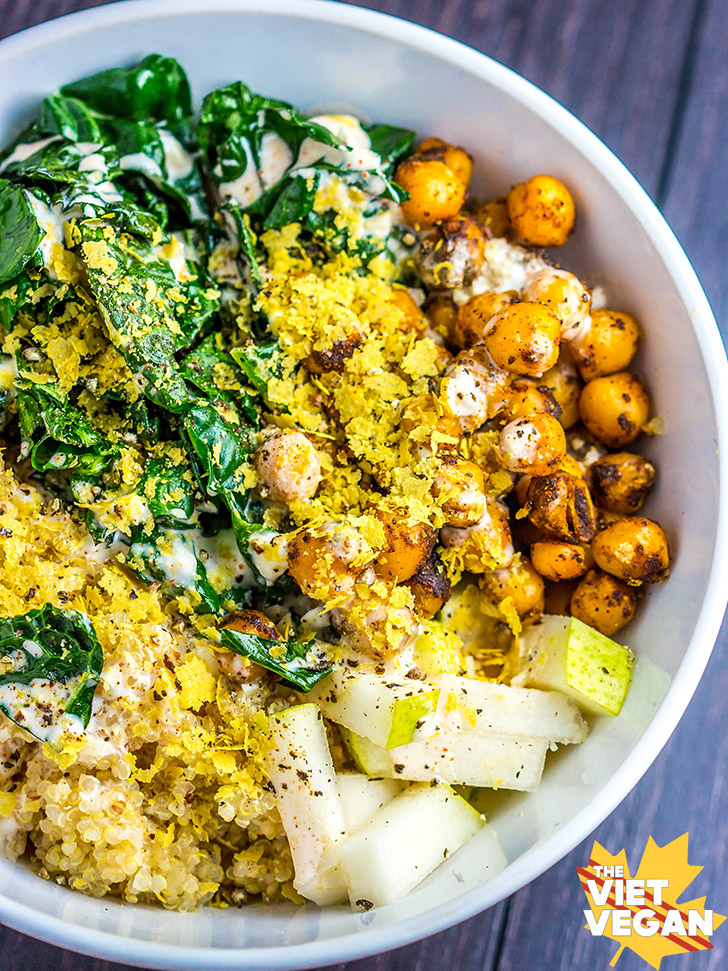 Last year around this time, I yearned for a shift. Something wasn't sitting right with me; I lost my creative spark. Looking back on it all, it makes sense. A lot of things happened: I broke off a 6 year relationship; I moved out of the city and into the outskirts of Toronto; and worst of all, I no longer made food that inspired me. I was a clouded version of me. Unfocused and unsure, all I knew was something had to change.
I'm a firm believer that change is good. When things get too mundane, too routine, too comfortable, I get that itch. It happened when I finished my undergrad in Ottawa and I made the move by myself to Toronto to do my Master's. Thus began my evolution. I started volunteering for organizations that mattered to me: the Toronto Vegetarian Association, the Stop Community Centre, and other food security-related events. I met new people and grew closer with good friends.
But that shift doesn't always happen because you want it to. Sometimes terrible things arise that force us to develop into different people. As some of you have read here before, I grew apart from my partner at the time and I denied our inevitable end for a very long time. Often, our bodies tell us when something is wrong, but sometimes we just simply don't listen. I encountered the worst eczema flare-ups I had ever had, and it forced me to look at all the elements in my life that weren't right. It implored me to make the hard call, cull the things in my life that weren't positive, and most importantly, it made me learn how to heal from the inside, because that's where it all begins.
Once all the dust settles, you'll find yourself in a new place. And then you learn that there's something wonderful about predictability. At least I have—I've found the merits of routine. Of course, this is at the whim of both Eddie's and my work schedules. Due to the nature of our jobs, Eddie and I work often odd hours, but at the end of the day, we both find ourselves together on the couch, watching some sort of nerd show and just being weird. It's a wonderful sort of sameness that grounds me every day. For so long, I didn't think I could have or want this sort of stability, but for a while now, I've noticed that I've wanted a home: not just a place where I sleep at night, but a safe place—my own space—where I come back to.
It seems as though all the change over the last couple years was meant to come to this. Happier, healthier, more balanced, and driven. I'm focused, even though I still have the attention span of a goldfish, I have a better idea of what I love to do and why I'm doing what I do now.
Change makes you look at yourself and wonder, "Am I better than I was before?"
The answer is almost always yes. And if it isn't, then you know what to do.

Lisa Le
Yields 3-4
Quinoa Bowl with Chilli Spiced Chickpeas, Wilted Kale, Pear, and Garlic Chipotle Mayo
15 minPrep Time
30 minCook Time
45 minTotal Time
Ingredients
For the bowl:

1 cup (250 mL) uncooked quinoa, rinsed and drained
1 1/2 cups (325 mL) vegetable broth (alternatively, you can use 1 1/2 cups water + 2 tsp vegetable broth powder)
1 tbsp (15 mL) olive oil
1 can (19 fl oz/540 mL) chickpeas, rinsed and drained
2 tsp (10 mL) chilli powder
1 tsp (5 mL) garlic powder
1 tsp (5 mL) onion powder
salt and pepper to taste
1 tbsp olive oil
6-8 ribs dino kale, stems stripped and leaves chopped
2-3 tbsp water
1/2 lemon, juiced
1 pear, seeded and diced
Fresh lemon juice to taste (I used the other half of lemon)

For the sauce

1/4 cup (60 mL) vegan mayo
1 lemon, juiced
1 cloves garlic, minced
1/4 tsp (1 mL) chipotle chilli powder
Salt and pepper to taste

To Garnish:

Nutritional yeast to taste
Salt and pepper to taste
Instructions
Over medium heat, combine quinoa and broth/water and bring to a boil. Once bubbling, cover with a lid and lower to a medium-low heat to cook for about 20 minutes. Once water is absorbed (avoid taking the lid off until after the 15-20 min mark), remove from heat and fluff with fork. Cover and set aside.
To make the chickpeas, preheat a pan to medium heat. Heat olive oil. Add drained chickpeas and stir to coat in oil. Add chilli powder, garlic powder, and onion powder and stir to coat. Continue cooking until it "sounds dry" or until the chickpeas are heated through and the outsides look lightly crispy. Season with salt and pepper if desired. Transfer to another container.
In the same pan, heat another tbsp of olive oil. Add kale and water and sauté quickly until it wilts. Take off the heat, sprinkle with the juice of half a lemon and set aside.

For the sauce:

Whisk together mayo, lemon juice, minced garlic clove, and chipotle powder. Add salt and pepper to taste (it depends on the brand you use and how salty it is).

To assemble the bowls

Layer quinoa, sautéed kale, pear, and chickpeas in a bowl. Add sauce, extra lemon juice if you like, nutritional yeast and pepper. Enjoy hot or cold =)
7.8.1.2
383
https://thevietvegan.com/quinoa-bowl-chilli-spiced-chickpeas-wilted-kale-pear-garlic-chipotle-mayo/