Disclaimer: This recipe for Summer Borscht has eggs in it because it was something I shared before I went vegan. The base soup itself is vegan (the only thing not vegan is the eggs) and I haven't had a chance to reshoot the recipe yet, so in the meantime, please forgive the photo with hardboiled eggs.
I had another Vietnamese recipe for you but because it's so hot here in Toronto today, I thought I'd share this refreshing summer borscht soup to cool you down on a hot day. My friend Anastasia, who is the musical director of Musica Reflecta, made me this Russian summer soup and it was the brightest, most refreshing lunch I had ever had.
It's full of brightly coloured beets in a vinegary broth and complimented with cool, sliced cucumbers, green onions, and lots of dill. The dill really makes this soup amazing, so it needs to be fresh. Topped with salt, and some vegan sour cream, this soup just really hits the spot on a hot summer day. Summer in Toronto is miserable. It's hot, muggy, and has this gross wind that's really just a gust of hot air, but this soup just takes you to a whole different place.
But don't be alarmed if you happen to have pink pee after eating this. I looked it up, and it's really common to experience what is called beeturia after eating beets. As Anastasia puts it, "It just means you're awesome and you ate beets," but I looked it up and some sources indicated that it means your stomach didn't properly break down and digest the pigments, which is either a result of not chewing your food properly (whoops, guilty. I wolf down my food) or not having a proper pH level in your stomach acid.
Basically, beets are AMAZING for you. They're full of a specific type of fibre, called beet fibre, rich in Vitamin C, potassium, manganese, and folate. See this website for a breakdown of nutritional facts for beets. Topped with fresh dill, green onions, cucumbers and a dollop of sour cream, this soup is delicious.
Yield: 4-6 servings
Summer Borscht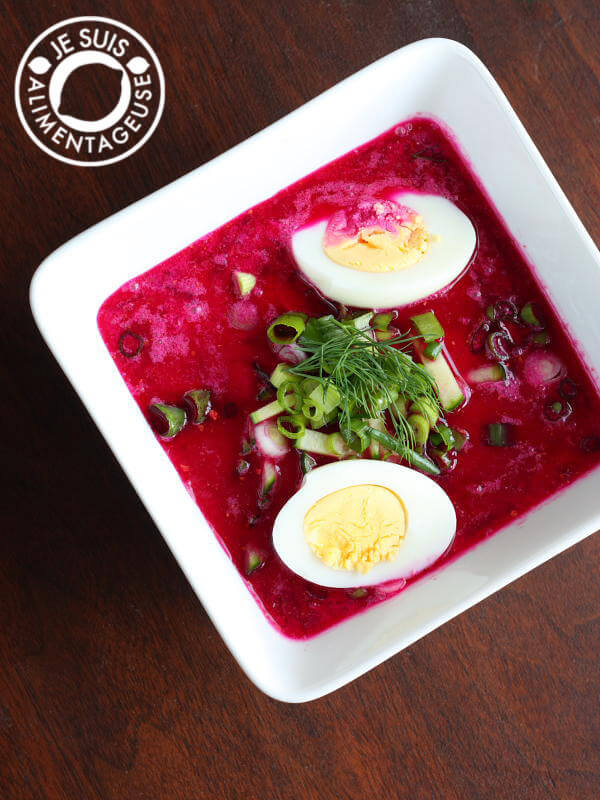 Ingredients
3 medium sized beets, scrubbed with, tops and bottoms trimmed
3 cups water/enough to cover the beets in a pot
1 tbsp vinegar
1 tbsp lemon juice
1 tsp salt (+ more to taste)
/2 cup of cucumbers, (sliced into coins, then cut into strips)
1/4 cup freshly chopped dill
3 springs of green onion, chopped (both white and green parts)
1/3 cup vegan sour cream
Instructions
Boil the trimmed and scrubbed beets for 30-40 minutes until the fork tender. Remove with a slotted spoon, then reserve and strain the cooking liquid (I had some parts of the skin from the beets from moving around)
Add vinegar, lemon juice, and salt to the cooking liquid, store in fridge to cool.
Rinse the beets with cold water, then peel them (the skin will just come off if you rub them or use a paring knife)
Let them cool while you prepare the rest of the ingredients.
Slice the cucumbers, chop the dill and onions.
Grate the beets with a cheese grater, and store in fridge to cool. Let all ingredients chill for about an hour or two before you assemble the soup.
To make the soup, combine all prepared ingredients (onions, cucumber, dill, grated beets, cooled cooking liquid, and vegan sour cream) and stir.