How to make taro paste that is naturally purple (no food dye) – keep in the freezer for homemade taro milk bubble tea anytime!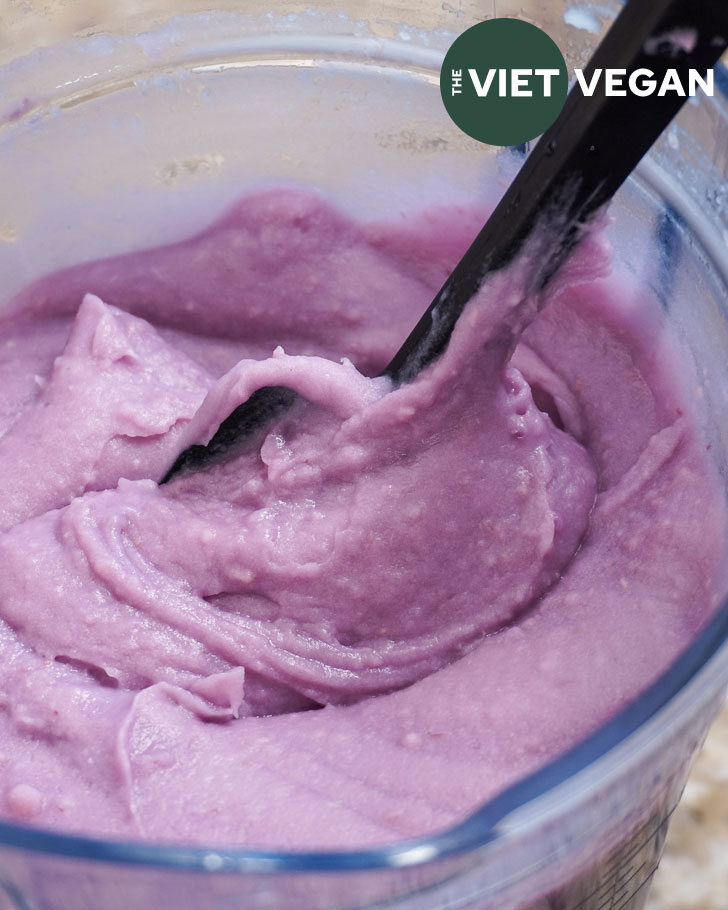 My first experience of bubble tea was with the iconic taro flavour. Creamy, lightly sweet, and earthy. It's hard to describe the flavour profile of taro. Taro milk bubble tea is a classic, and it's so hard to find vegan (in fact I haven't had it for years until now!)
What is taro paste?
I had experimented with making this taro paste in the past but I kept putting it off. Lately I've been making homemade bubble tea and café style drinks at home more, and taro milk bubble tea was at the top of my list.
Taro paste is typically used for Chinese and Taiwanese desserts, but this version is made specifically for bubble tea. Taro paste for desserts is typically a lot more mauve or muted in colour, whereas I wanted mine to be purple. This way I could have a more vibrant paste to make taro milk tea with that iconic lavender hue.
Since I made my taro paste in a blender, it is thinner than the paste required for baking or pastry. Feel free to mash with a food processor and use less liquid if you would like the it to be used in both taro milk tea and taro desserts!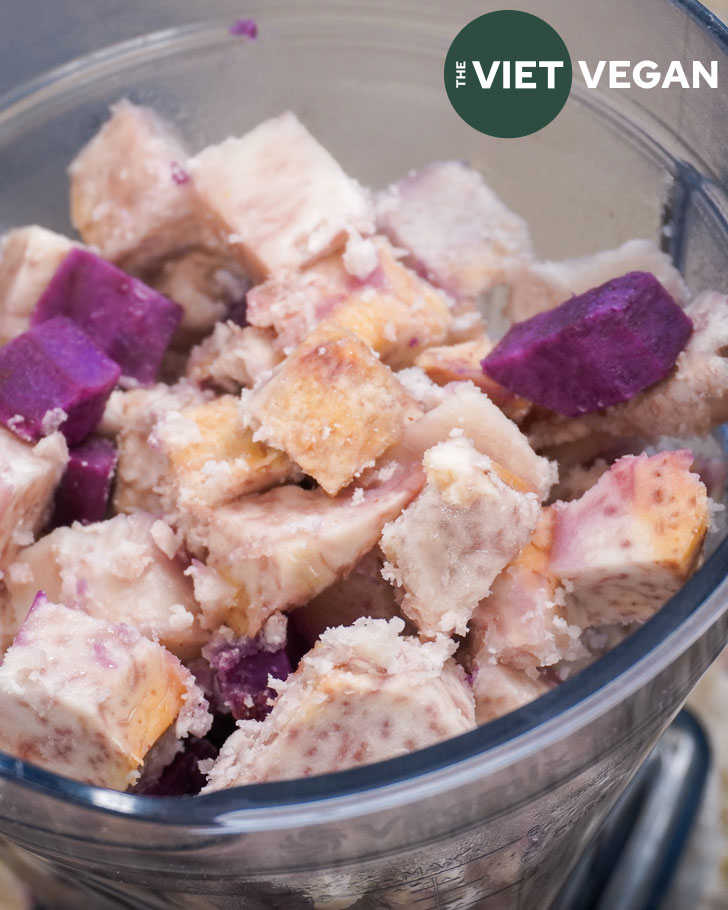 How to make taro paste naturally purple
When I was researching how to make taro milk, most recipes I saw would add ube extract or purple food dye. However ube and taro have different flavour profiles. Ube is absolutely delicious, but taro has a more subtle creamy flavour. Taro's subtle flavour can be overpowered by the vanilla-like ube flavour. To avoid this, I used purple sweet potato to maintain the colour but not pull the flavour out of taro territory.
This recipe is adjustable to what size taro you have around you. Taro root where I live can either be sold as foot long and thick chunks, or as small as 6-8 inches and 4 inches in diameter. I used a small taro root for this, yielding about 3 cubes of taro, because I only have so much freezer space.
How much does this recipe make?
Since the size of taro you have may vary, my rough estimation of the end result is about 48 oz of paste (aka the size of my blender jar). I made about 36 frozen cubes, each sized at 1.25 inch cubes, or about 2 tbsp per cube. Each batch of taro milk tea I make uses 3 cubes (6 tbsp) of frozen paste. So this recipe makes approximate 12 drinks worth of paste.
I store these frozen cubes in an airtight container and then I can have taro milk bubble tea whenever I want! It's amazing.
Recipe Inspiration
Taro Milk Tea from Honest Food Talks
Taro Milk Tea from Hungry Huy
For more Viet Vegan Café content:
Iced Vietnamese Coffee with Ube foamed milk
Basil Seed Drink (Nước hột é đười ươi)
Yield: approx 6 cups
Taro Paste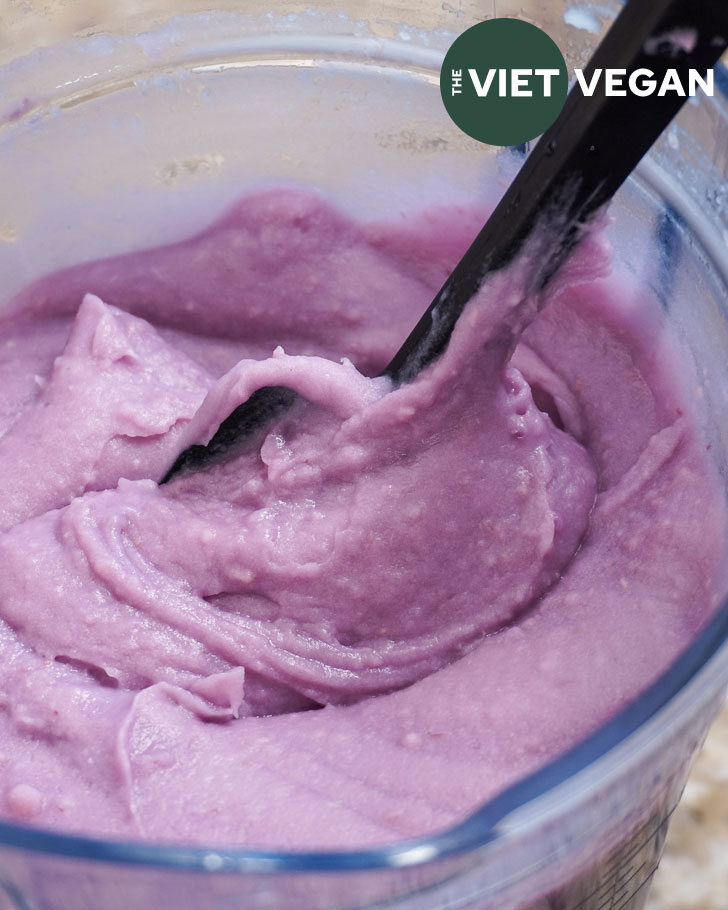 After years of missing taro milk tea, I've finally made the taro paste at home to freeze so I can have taro milk tea whenever I please!
Additional Time
10 minutes
Ingredients
1 small taro root, peeled and diced (about 3 cups once cubed)
2 small/medium purple fleshed sweet potatoes, peeled and diced (about 1.5 cups once cubed)
½ cup sugar*
~1 cup plant-based milk (I used soy, but you can use coconut for more richness), add more if needed for your blender/food processor
Instructions
Steam taro root and sweet potatoes for about 20-25 minutes or until they are fork tender. I used a steamer basket, but any steaming apparatus works.
Transfer the steamed taro and sweet potato to a blender or food processor and add sugar and plant-based milk, and blend until smooth. If you need to add more liquid for the mixture to blend, add as needed.
Transfer to an ice cube tray and freeze. Once frozen, transfer to an airtight container and keep frozen until needed!
Notes
*I prefer to stick on the lower side of sweetness and adjust to your liking when making your taro milk drinks